Adding Motion to a GoPro Time Lapse in GoPro Studio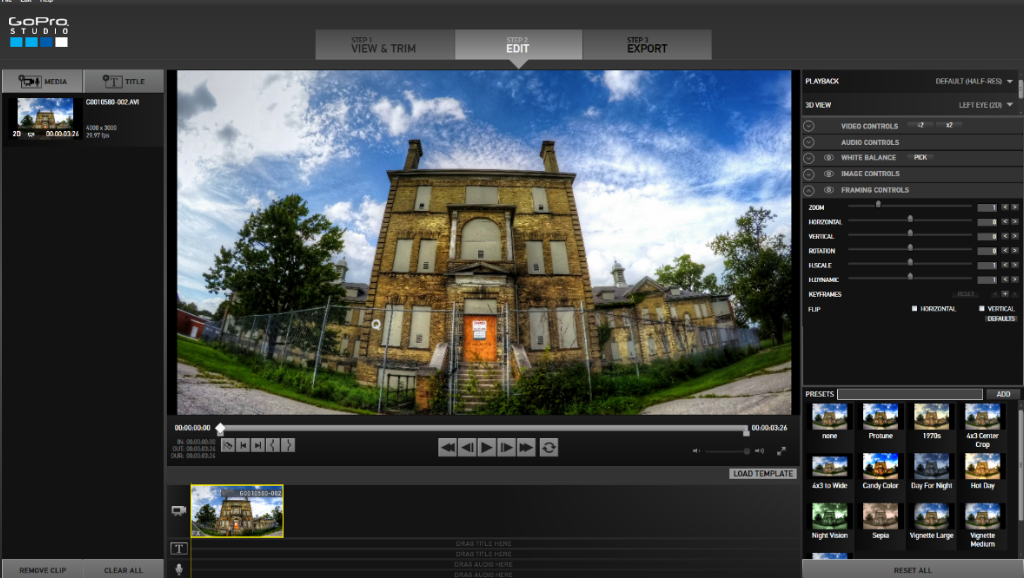 GoPro Studio is a simple to use yet extremely powerful video editor for your GoPro footage. If your new to the GoPro world or a seasoned professional, GoPro studio is one of the must have video editing apps in your arsenal. The best part it is free and can be downloaded from the GoPro website.
In this video tutorial I go over all the steps needed to add panning and zoom motion effects to your GoPro time-lapse. With GoPro studio you can easily add pan, tilt, zoom and slide motions to your existing time lapses easily with profession results using built-in key frames. Key frame editing is easy and can be used to apply many different effects including motion and fades. Once mastered it can help you create epic time lapses that are visually pleasing and stand out.
How To Add Motion With Key-Frames Using GoPro Studio.
Step 1: Launch GoPro Studio and load your time-lapse sequence. This can be either a time-lapse shot in video mode or photo mode.
Step 2: Like all GoPro footage it needs to be converted to an editable format. Under advanced settings at the bottom you can set your conversion parameters, it is important to keep the image size at 'Source". Zooming and panning require the highest quality possible.
Step 3: Add your time-lapse sequence to the conversion list and convert your file. When done proceed to step 2 at the top of the GoPro Studio interface.
Step 4: Load a blank project when you get to step 2 in GoPro Studio, drag your time-lapse to the editing time line.
Step 5: With your scrubber bar one the first frame, go to the framing controls on the right side of the page and click on the + to add a key frame. Now move the scrub bar to the last frame of your clip and repeat by adding a new key frame at the end as well.
Step 6: At this point you have to decide what types of motion you want to add. You can pan and zoom or a combination of both. To achieve this, simply select one of the key frames we just created and using the framing controls on the right hand side of the page, re-frame you image to either were you want to start or were to end.
Step 7: At this point you can preview your newly created time-lapse motion effect by selecting the play button. You can adjust the movement as needed. When your happy with the results, click on step 3 at the top and export your new time-lapse.
If you are new to GoPro Studio, you can watch the step by step video I posted above, It is easy to follow and once you have mastered adding motion to your time lapses you will be able to take them to a whole new level.
How To Import Fonts Into LumaFusion on iOS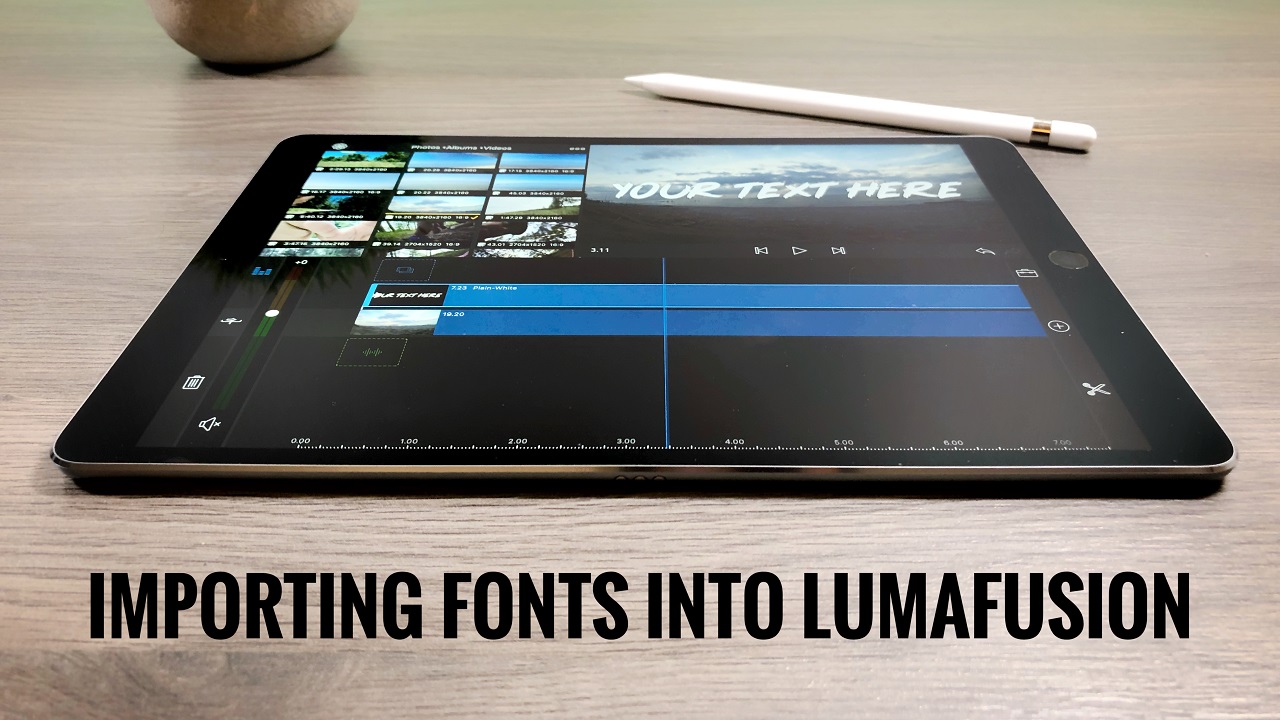 In this quick tutorial I show you how to easily import new fonts into LumaFusion on your iOS devices. LumaFusion has a nice variety of fonts to choose from when editing and creating titles but there are those times when you need a very specific font. Perhaps you are editing a video for a client and they want a font that matches their Logo or corporate font. This easy to follow tutorial demonstrates a few methods of getting new fonts into LumaFusion in seconds for free.
The first method shows you how to use free apps from the Apple App Store to browse different fonts and then import them directly to LumaFusion. The second method shows you how to brows for fonts via the Safari Web Browser and your favorite font website. This sometimes is the best way as there tends to be more variety. Lastly I show you how to import a font that has been sent you as a file from a client or a colleague. Watch our tutorial video for step by step instructions.
The equipment I use for mobile editing.
10.5 iPad Pro: https://amzn.to/2JyLSJt
Apple Pencil: https://amzn.to/2JvJUt3
Apple Card Reader: https://amzn.to/2I4McQD
Wireless Hard Drive: https://amzn.to/2KeDWy5
Rode VideoMic Me: https://amzn.to/2r3c9Zm
How To Use A Microphone With The Zhiyun Smooth 4 & iPhones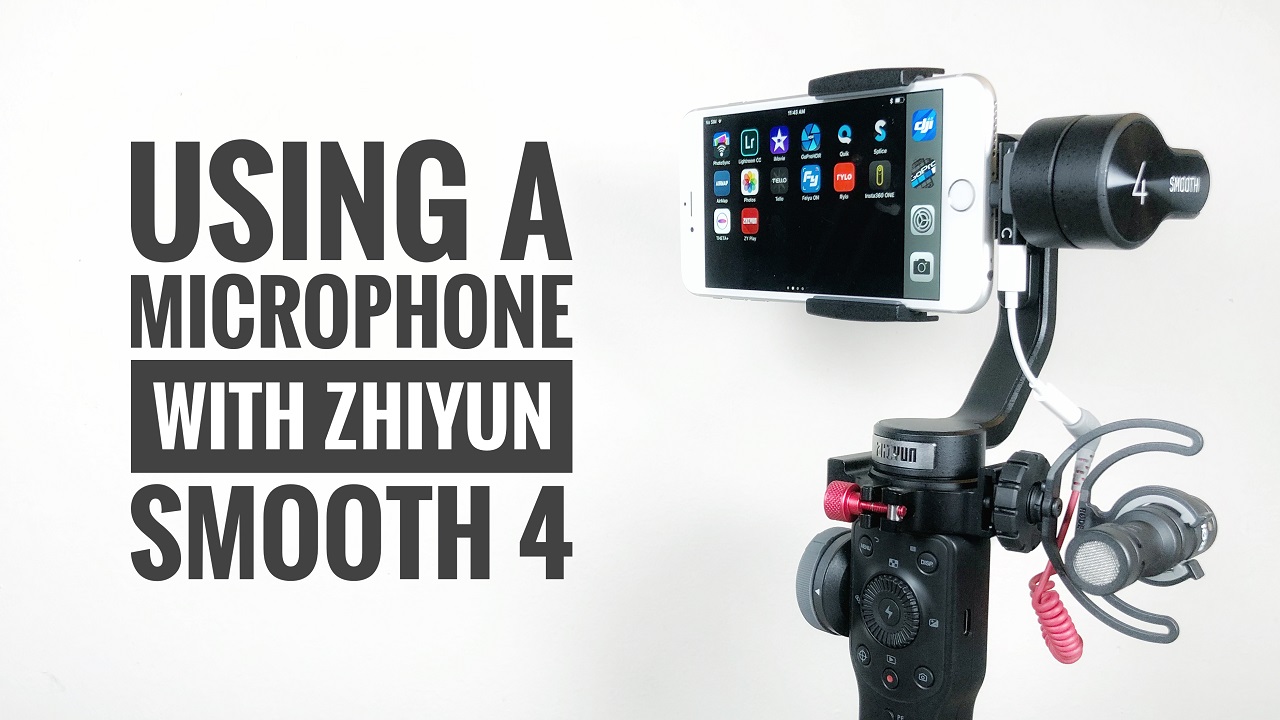 In this video I am demonstrating how you can attach and use an external microphone with your Zhiyun Smooth 4 and new iPhone models such as the iPhone 7, iPhone 8 and iPhone X that do not have an audio/microphone jack. This used to be a fairly straight forward task, bust since apple removed the audio jack from new models of the iPhone it has complicated things just a little. Now to connect a microphone to your iPhone you must use the lightning port. The problem is the lightning port is completely covered by a motor when mounted in the Smooth 4 gimbal, so how do you plug in a microphone? In this video I show you some tricks on how to solve this problem.
There are some accessories we will need to make the job a little easier. First we need an iPhone lightning adapter. This essentially takes the iPhone port and adds 2 90 degree elbows. This allows us to plug in the lightning cable when the iPhone is mounted. We are also using a clamp that has a cold shoe built-in. This make mounting the microphone very easy. In the video we are using the Rode VideoMicro. This is my favorite small portable microphone, its has great audio quality and affordably priced. It works well with iPhone's, GoPro's and many other DSLR's and mirror-less cameras. Lastly we will need a TRS to TRRS cable and the lightning audio jack adapter that came with you phone. When you purchase the Rode microphone it comes with a TRS to TRS cable and it is used to connect the mic to cameras such as DSLR's and GoPro's. The iPhone requires a special TRS to TRRS cable that Rode also sells. Links to all products needed are down below. Follow along with our video for detailed instructions on how to set up you microphone with the Zhiyun Smooth 4 and your iPhone
Zhiyun Smooth 4: https://amzn.to/2KsgE7q
Rode VideoMicro: https://amzn.to/2Otpxzl
Rode TRS to TRRS Cable: https://amzn.to/2vH4ouy
Lightning Adapter: https://amzn.to/2KOYfB2
Microphone Mount: https://amzn.to/2MLwfju