Aluminium Frame for GoPro Hero 5 Black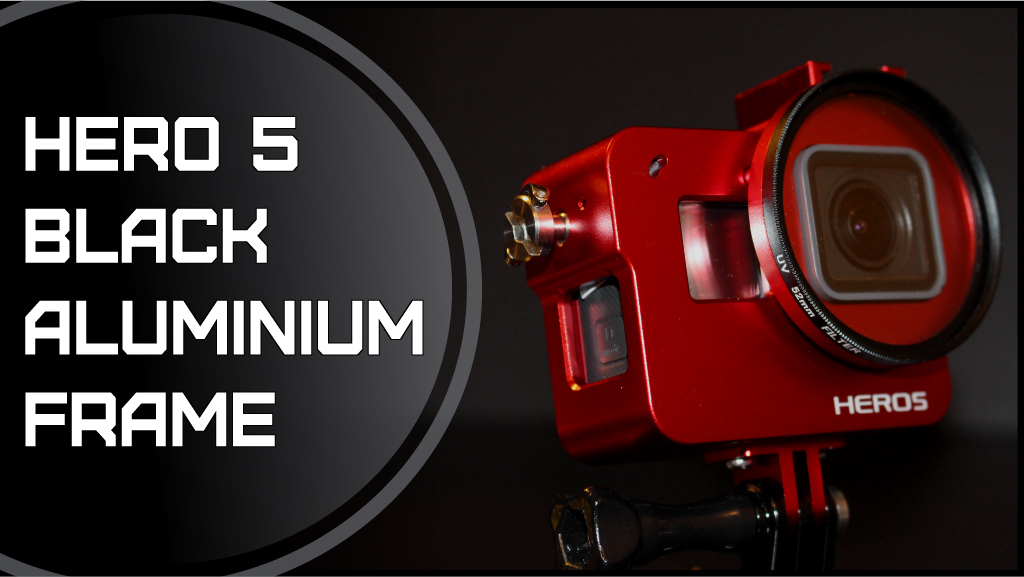 Here is a really interesting accessory for your new GoPro Hero 5 Black. It's an aluminum frame with a built-in cold shoe that can be used to mount a microphone or small LED light on your Hero 5. These frames have existed for the previous generation of the GoPro Hero and they are finally now available for GoPro's newest flagship camera.
The Positives
Some of the features this aluminum frame offers over the stock frame that comes with the GoPro is a cold shoe mount for accessories. This cold shoe mount can be removed if not needed or it can be mounted at the side or bottom of the frame. It has a very durable feel and rugged design which will offer greater protection for your GoPro if dropped or happens to get a hard knock. It does happen, unfortunately! This frame also comes with a wrist lanyard that can be used if desired. The standard GoPro mount on the bottom will connect to the large ecosystem of GoPro mounts, grips, and poles, but it can also be removed to reveal a standard tripod thread allowing you to mount it to your tripod without any other adaptors. Another nice feature is the lens cap! it comes with a UV filter pre-installed but can be removed if not wanted and the lens cap with still connect. You can install your own standard 52mm Camera filters with no issues. The manufacturer also includes a cloth bag to store your new Hero 5 aluminum frame.
This is a really sharp looking frame and I love how it looks, I opted to go with the red aluminum as it matches my tripod perfectly. It comes in a variety of colors to suit any taste and mood.
The Negatives
The frame is quite a bit heavier than the stock frame so that could be an issue for some. When filming in super wide view mode you may get some slight vignetting in the photo or video. I tested this thoroughly and didn't really notice anything worth noting but just thought I would mention it. For myself I rarely if ever shoot in superview mode so for me its a non-issue. Forget about attaching a floaty to the back or using a floating grip. Due to the extra weight, I do believe it would sink like a stone due to its weight, however, I have not tested that theory!
Aluminium Frame Weight 143g  –  Standard Hero 5 Frame Weight: 26g
American Amazon: http://amzn.to/2kirUc5
Canadian Amazon: http://amzn.to/2lhpqJy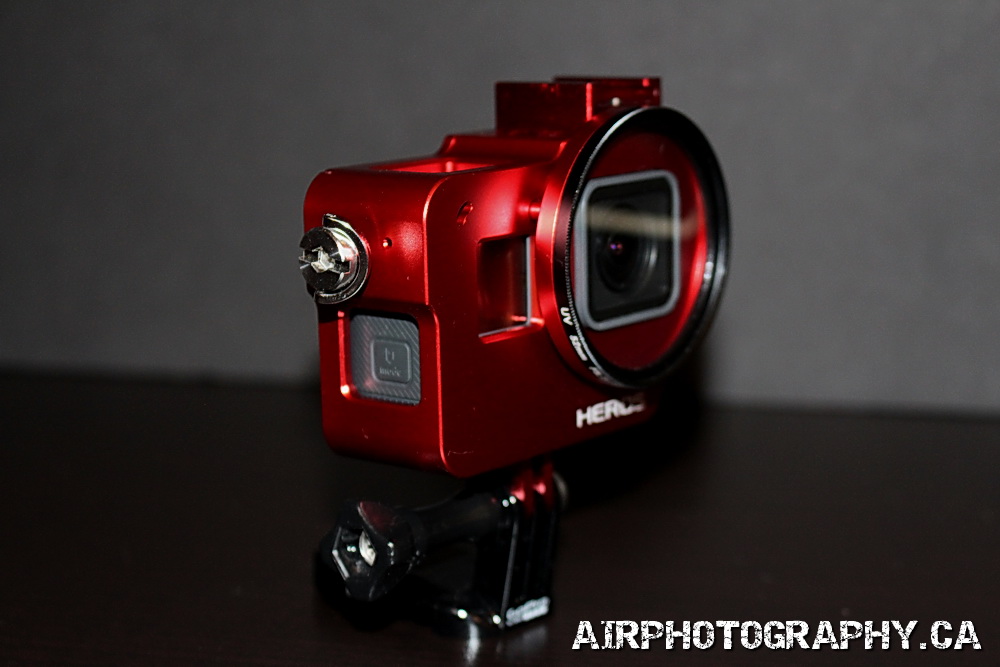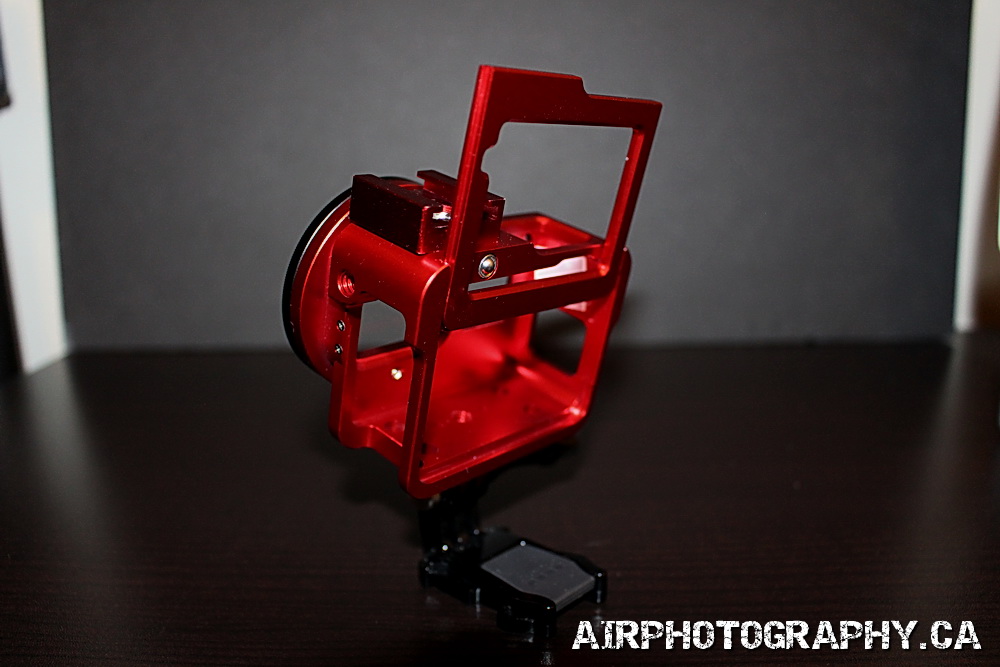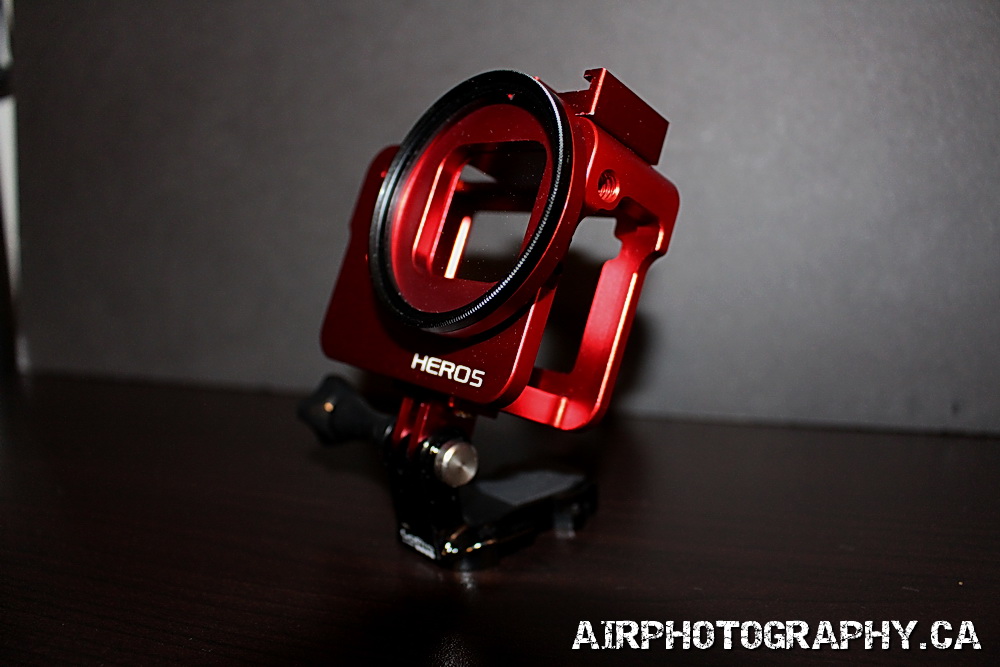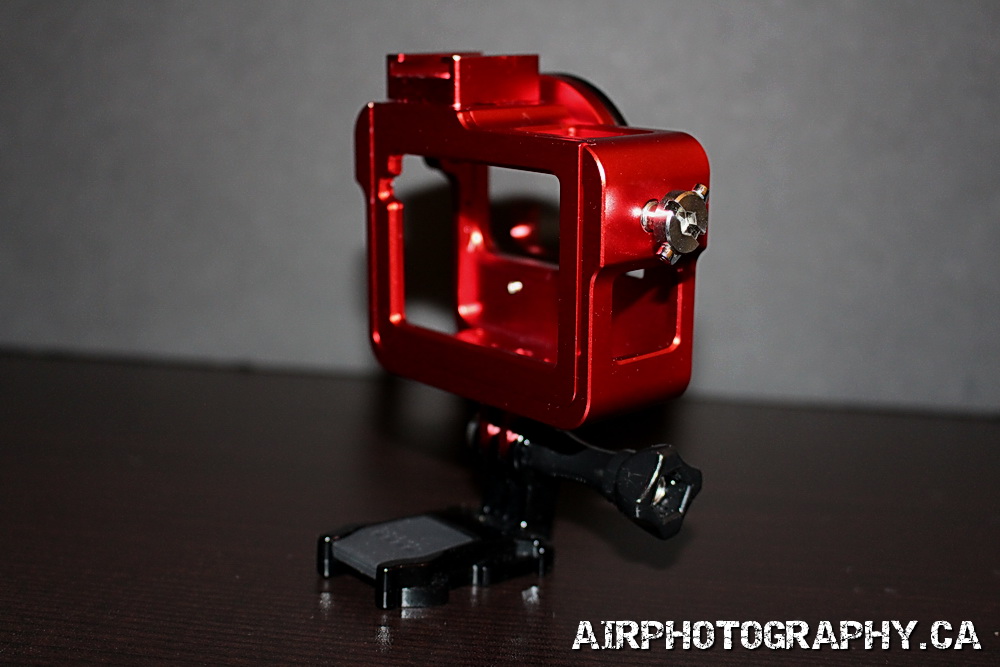 American Amazon: http://amzn.to/2kirUc5
Canadian Amazon: http://amzn.to/2lhpqJy
All in all, I am quite happy with this aluminum frame, for me the most important feature and why I purchased it was for the built-in cold shoe that allows me to easily connect an external microphone. Please feel free to comment if you have any question. You can head over to my YouTube page to watch a video of me unboxing this unit and going over all the features.
Have a great day!!!

Hero 7 Black Now Includes A Photo Timer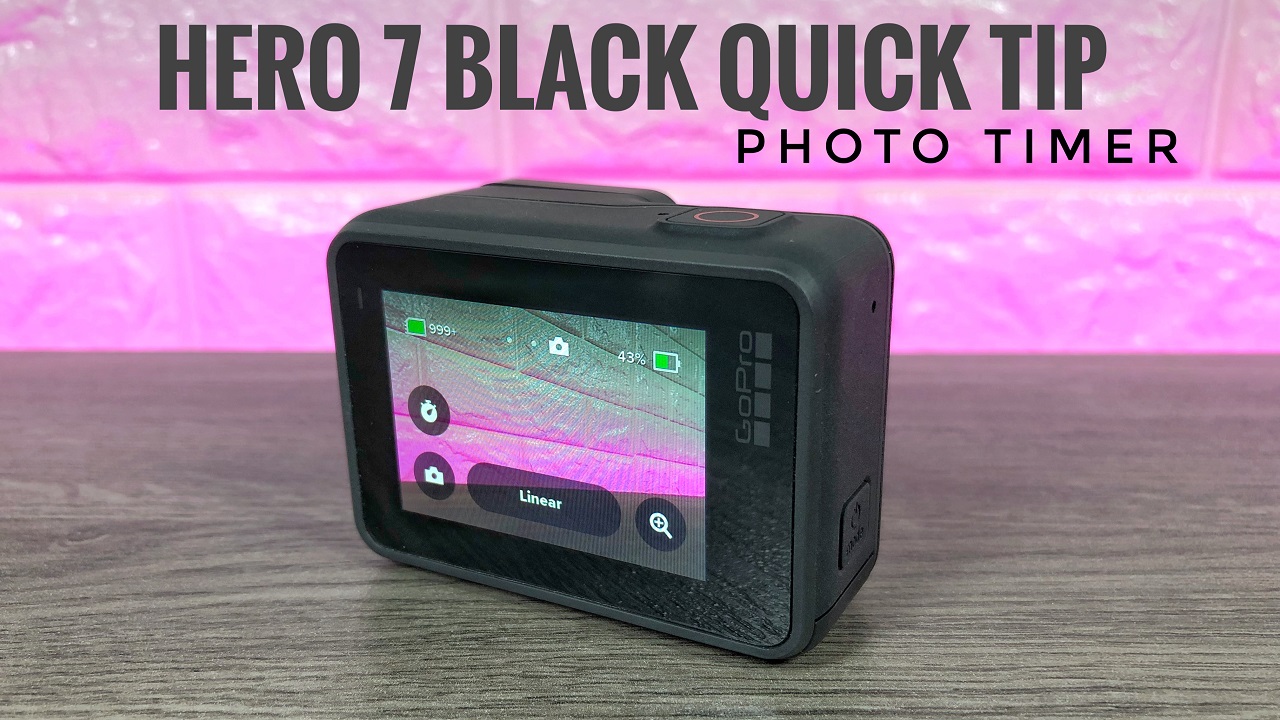 One little talked about feature that is included with the new GoPro Hero 7 Black is the addition of a photo timer. It is a small feature but a very important and welcome addition. In the past, if you wanted to get a shot of yourself you would have to set the GoPro to time-lapse mode, grab some frames and then choose the one you wanted. With the addition of voice commands with the Hero 5 series, you could shout at the GoPro to take a photo. This worked not to bad, however sometimes in noisy environments it did not always work, not to mention looking foolish in certain situations.
With the Hero 7 Black when in photo mode you will notice a new photo timer icon on the left side of the screen. You can select it and set a delay of either 3 seconds or 10 seconds. After the shutter button is pressed a countdown animation and audible beeps indicate when the photo will be taken. Such a simple but important feature. Watch our video demonstration of the new Hero 7 Black photo timer in action.
GoPro Hero 7 Black: https://amzn.to/2IoQ1QK
GoPro Hero 7 Black Unboxing and Setup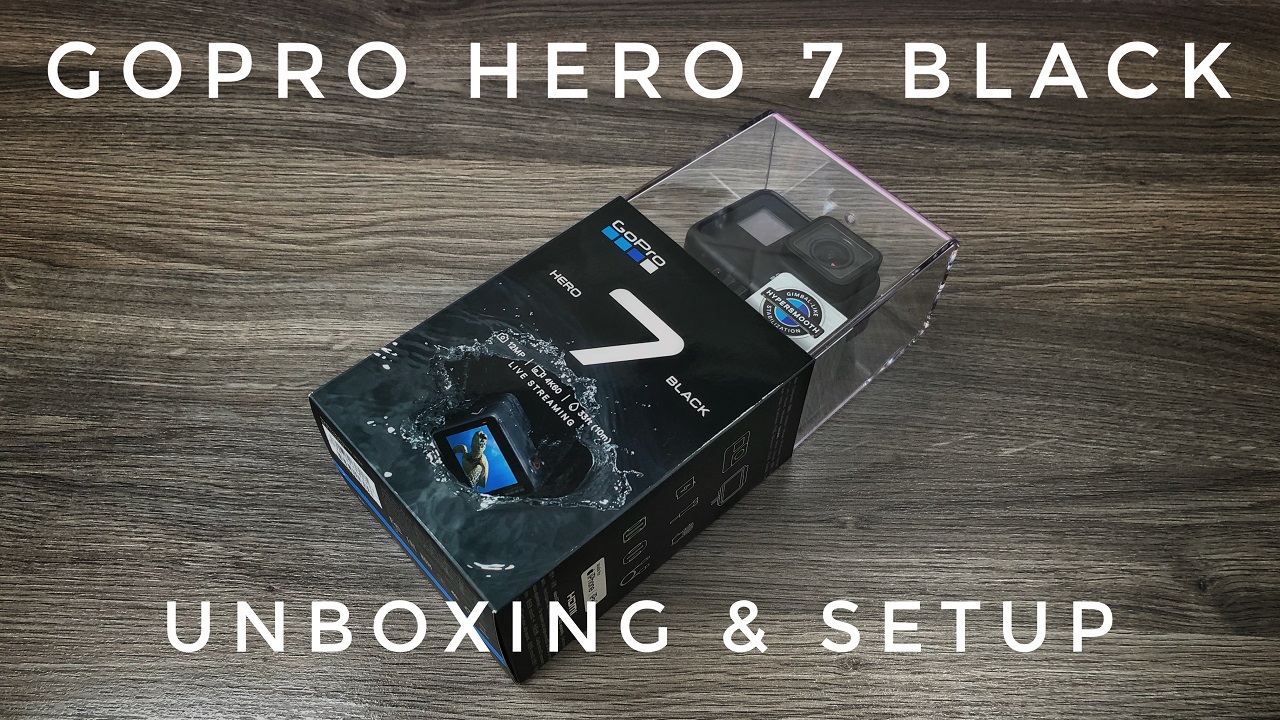 The Hero 7 Black was officially released yesterday and this is our first of many videos to come. We unbox and run through the setup of the new H7B. We talk about some of the new features of the Hero 7 Black and do a full walkthrough of the newly designed menu system. There are many numerous changes and although it does take some getting used to, I do like the new setup it does seem to be more convenient and efficient.
Some of the new features of the GoPro Hero 7 Black include:
HyperSmooth stabilization which also now included 4K 60FPS.
TimeWarp hyper-lapse style timelapses.
Photo timer. Such a simple but much need feature.
Live streaming to social platforms.
New portrait filming mode.
HDR photo mode also knows as "SuperPhoto"
Stay tuned as we will be making many comparison videos as we test out the new features over the coming weeks.
Hero 7 Black: https://amzn.to/2OkjLn9
Best Memory for Hero 7: https://amzn.to/2In7EQG