Charging The GoPro Karma Grip On The Go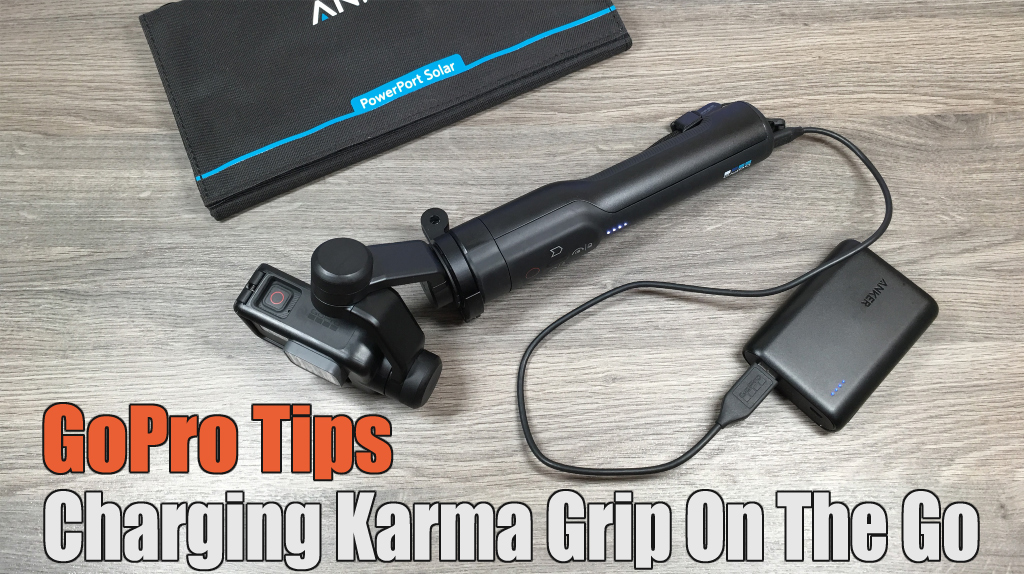 The GoPro Karma Grip truly is an amazing stabilization tool for your GoPro Hero 5 Black but one feature it lacks is the ability to replace the internal battery when it gets low. This can be an issue if you're out for the day hiking or using the grip when a traditional power source is not available.
Luckily there are a few simple solutions to this problem and they tend to work extremely well.
Solution 1: The first option we have is to use a power bank. If you're not sure what a power bank is, basically it is a large capacity rechargeable portable battery that can be used to charge our USB powered devices such as GoPro's, cell phones and cameras. These power banks also work to charge the Karma Grip and it can even charge the grip while it is in use. Simply plug in the USB-C cable you received with your grip into the bottom charging port as usual and then the other end into the power bank. A good power bank will charge the Karma Grip at the same rate as if it is plugged into a traditional wall USB adapter. If you plan on using the Karma Grip while you have it charging via a power bank. I would recommend picking of a longer 6′  USB C cable to allow for ample slack. The power bank can then slip into your pocket or backpack for a simple and streamlined charging solution.
Anker 10000 mAh Power Bank: http://amzn.to/2spsIhc
6′ USB C Cable: http://amzn.to/2pRpkec
Solution 2: Power banks are great but at some point, they will run out of juice. Most of the time this is not an issue due to the large amounts of power they can hold. However, if you are going to be away on a long trip and off the grid you may want to look at investing in a solar charger for your GoPro gear. Anker makes a really nice portable solar charger. Its powerful enough to charge up your Karma Grip and all your GoPro Cameras…it will even charge your cell phone. The unit can be attached to your backpack while hiking to continue to charge and power your Karma Grip while you are using it.
Anker Solar charger: http://amzn.to/2spvumr
Here is a video from our YouTube channel demonstrating both techniques in action.
How To Color Grade Your GoPro Footage In LumaFusion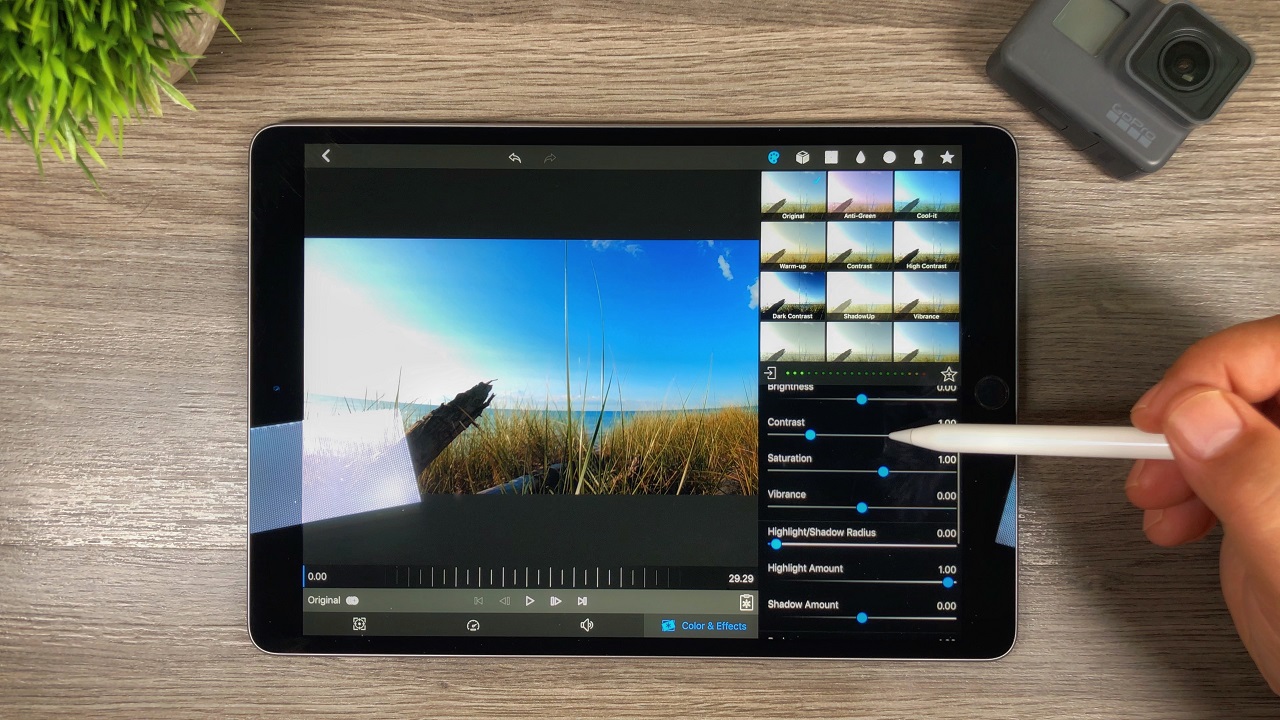 In this video tutorial, I show you how to easily color grade your GoPro footage both manually and with using GoPro Luts. When filming with a GoPro it does a really good job capturing stunning photos and video. The contrast and vibrancy of the content is good and ready to share. There are sometimes however you want to take your footage to the next level and do your own color grading.
If you decide to do your own color grading it is important to shoot in a flat color profile. GoPro offers two color profiles "GoPro Color" and "GoPro Flat. The flat profile basically has low contrast and low saturation thus allowing you to set your own levels in the grading room. You enable the flat color profile by enabling ProTune and selecting flat as the color option.
With today's powerful software and tools such as LumaFusion and the iPad Pro series, it is now possible to do professional level editing on your mobile devices, this includes the use of Luts.  Watch our video tutorial showing you just how easy it is to color grade your GoPro footage in LumaFusion on your iPad Pro. I go step by step to get you up and editing in no time. I show you two different methods of color grading and color correcting, both manually and how to import an use GoPro specific Luts by PolarPro.
The equipment I use for mobile editing.
10.5 iPad Pro: https://amzn.to/2JyLSJt
Apple Pencil: https://amzn.to/2JvJUt3
Apple Card Reader: https://amzn.to/2I4McQD
Wireless Hard Drive: https://amzn.to/2KeDWy5
Here is a screenshot sample of a video captured in GoPro Flat color profile and then after a GoPro Lut has been applied.
How To Import Fonts Into LumaFusion on iOS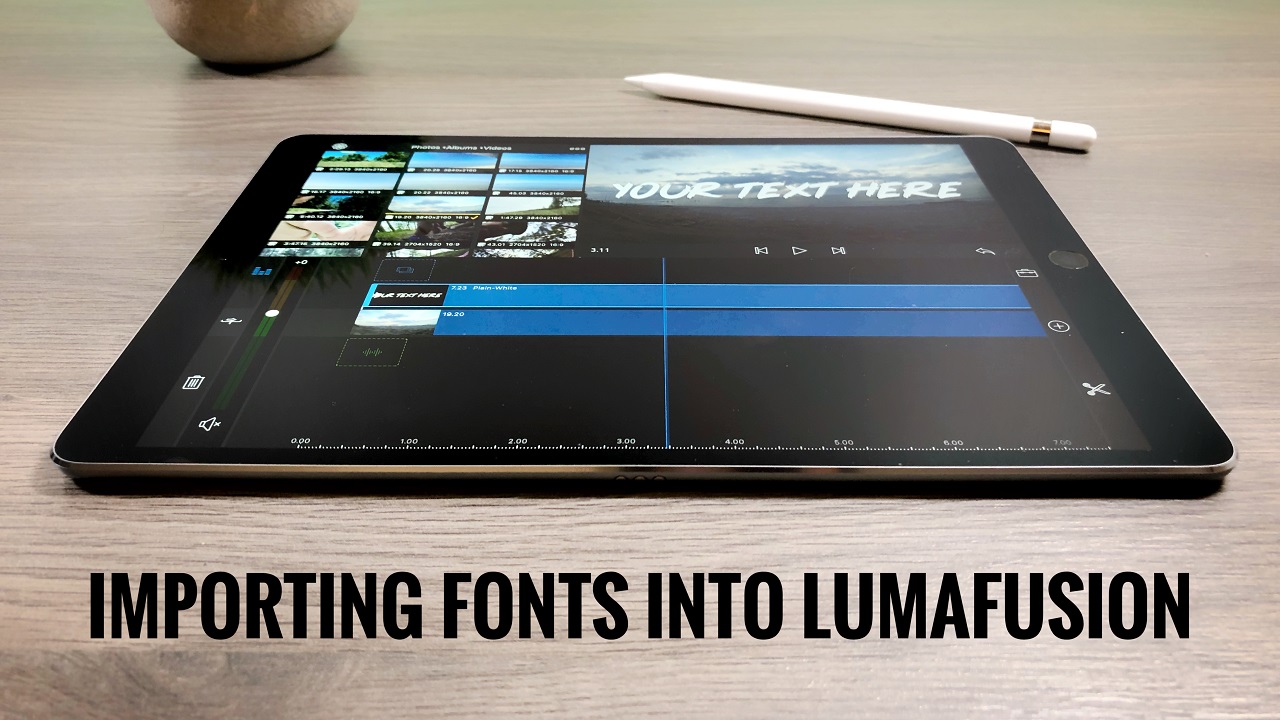 In this quick tutorial, I show you how to easily import new fonts into LumaFusion on your iOS devices. LumaFusion has a nice variety of fonts to choose from when editing and creating titles but there are those times when you need a very specific font. Perhaps you are editing a video for a client and they want a font that matches their Logo or corporate font. This easy to follow tutorial demonstrates a few methods of getting new fonts into LumaFusion in seconds for free.
The first method shows you how to use free apps from the Apple App Store to browse different fonts and then import them directly into LumaFusion. The second method shows you how to browse for fonts via the Safari Web Browser and your favorite font website. This sometimes is the best way as there tends to be more variety. Lastly, I show you how to import a font that has been sent to you as a file from a client or a colleague. Watch our tutorial video for step by step instructions.
The equipment I use for mobile editing.
10.5 iPad Pro: https://amzn.to/2JyLSJt
Apple Pencil: https://amzn.to/2JvJUt3
Apple Card Reader: https://amzn.to/2I4McQD
Wireless Hard Drive: https://amzn.to/2KeDWy5
Rode VideoMic Me: https://amzn.to/2r3c9Zm