DJI Spark Portable Charging Station Review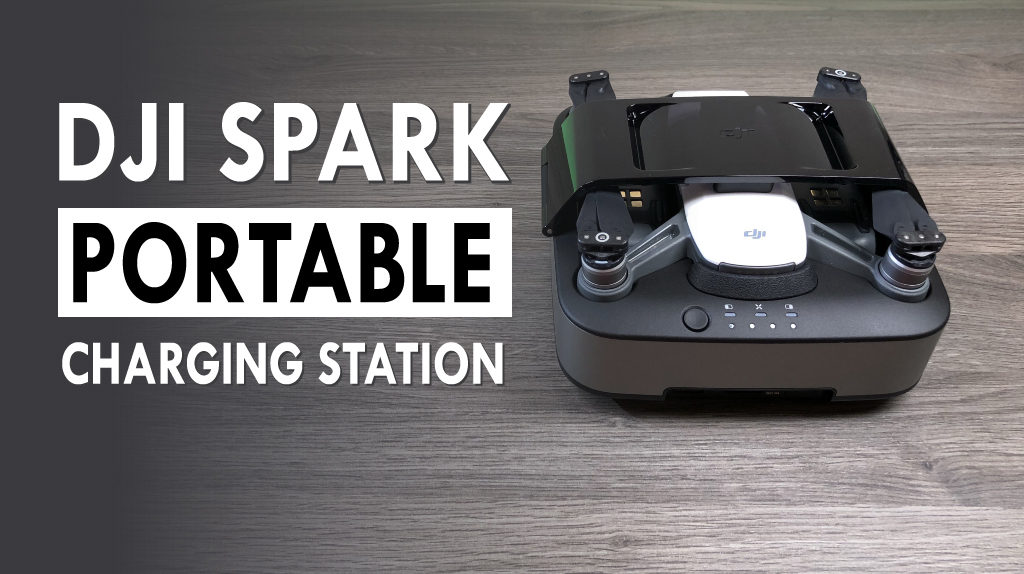 Today we are taking a closer look at the Spark Portable Charging Station from DJI. This portable charger first appeared during the Spark launch event earlier this spring when on display. However since the Spark launch there has been not a single hint of this portable power bank charger until now. DJI finally unveiled it a few weeks ago with a statement that it will begin shipping in 10 days.  I ordered it right away and it arrived on my doorstep a few days ago. Watch our YouTube Video Review.
Portable Charging Station: https://goo.gl/m4yZee
Portable Charging Pack with 2 Batteries: https://goo.gl/P1j1jJ
Portable Station Case: https://goo.gl/NBrf3P
DJI Spark: https://goo.gl/DvoqK1
The unit can be purchased in two different variations. You can buy just the stand alone charger or you can purchase it as a kit that comes with 2 spare DJI Spark batteries.
The portable charger can charge 3 spark batteries (including one mounted on the aircraft) traditionally by plugging the unit into a wall or use its built-in 5000 mAh power bank to charge away from home while on the go. When you plug the Spark portable charging station into a wall socket it will assess the batteries that are mounted inside. It will start charging the aircraft first and then the two side batteries one at time and from fullest to lowest. While the portable charger is charging the Spark batteries it will also charge its internal power bank.
In my testing I found that when charging 3 batteries while plugged into the wall it took about 2 hours (all batteries were between 15-18%). When charging using the built-in power bank I achieved similar results, a full charge took approximately 2 hours and 5 minutes.
The power cable that is included with the spark portable charger is the exact same charger that is included with the DJI Spark Fly More Combo so that is a nice bonus, you can use one charging cord for both chargers. You can purchase a nice little case for the "Spark Portable Charging Station" however I found that the case that comes with the fly more combo will hold the portable charger as well, now its a little snug but it does work.
All in all a very nice charging solution for your DJI Spark. The only negative comment I really have to make about the spark portable charging station is the arm at the top that holds in the aircraft scratches very easily. Even dusting it with a microfiber cloth left many marks. I wish it had been made of the same material as the body.
I really wish I had this unit this past summer, would have come in really handy. I would personally recommend this charger…a nice solid product from DJI.
Portable Charging Station: https://goo.gl/m4yZee
Portable Charging Pack with 2 Batteries: https://goo.gl/P1j1jJ
Portable Station Case: https://goo.gl/NBrf3P
DJI Spark: https://goo.gl/DvoqK1
Some Photos of the Spark Portable Charging Station.
Portable Charging Station: https://goo.gl/m4yZee
Portable Charging Pack with 2 Batteries: https://goo.gl/P1j1jJ
Portable Station Case: https://goo.gl/NBrf3P
DJI Spark: https://goo.gl/DvoqK1
Smatree Portable Charging Station For DJI Spark | Review and Thoughts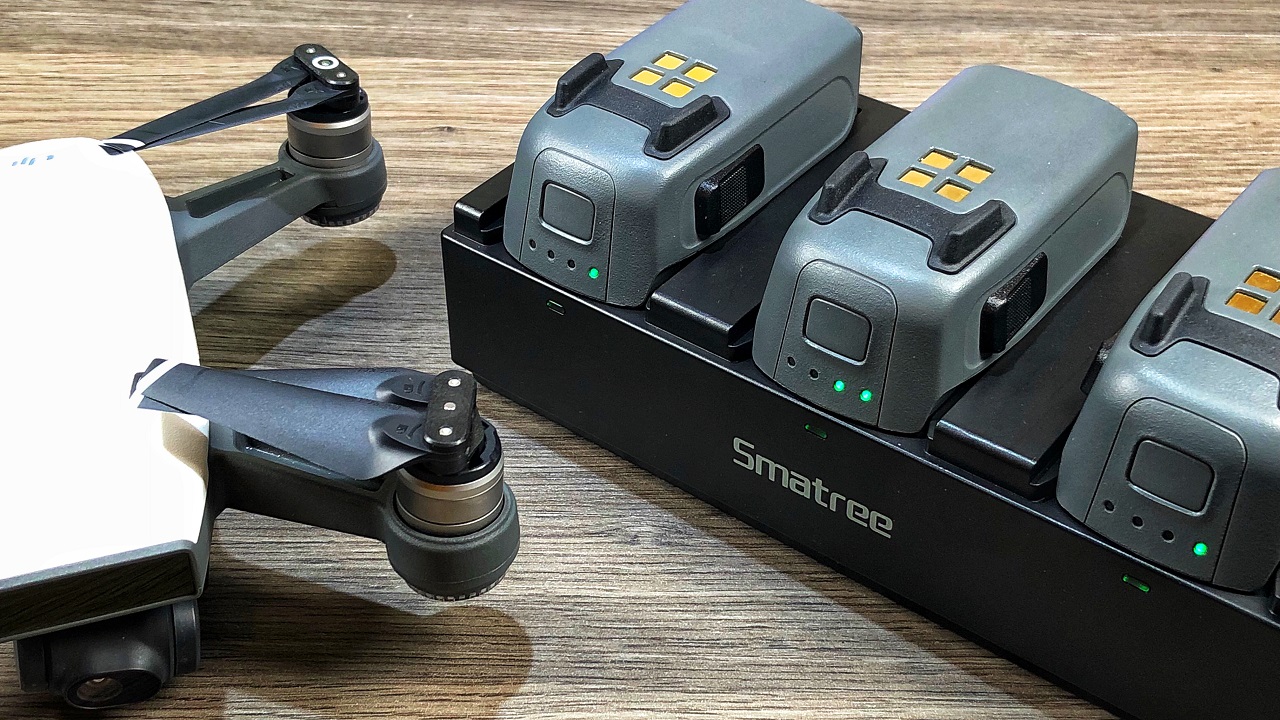 One of the nice features of the DJI Spark is the ability to charge it via a USB cable and a power bank. You can plug the Spark into a power bank and it will charge which is great when you out on location and you have burned through all your batteries. The problem is you can only charge one battery at a time and worse your drone is tied up while charging. This is where the portable charging station by Smatree comes in. Essentially this unit is a 8100 mAh power bank with battery charging bays for the DJI Spark built in. This portable charger allows you to charge 3 spark batteries simultaneously in about 45 minutes…that is supper fast. It can charge a total of 6 batteries before the entire unit needs a recharged. There is also a USB port on the side of the unit that can be used to recharge your Spark controller or even your smart phone. The charger does have some weight to it (12.8 ounces) but still very portable and easily packed in a backpack.
Smatree Portable Charger (Updated Version)
I want to point out that Smatree has updated the portable charging station since I filmed my video and what a great update it was. The old version used a micro USB connector to recharge the power bank at (5V/2A) this worked fine, however it takes over 14 hours to recharge at this rate. The updated unit now comes with it own dedicated charger that plugs into a wall socket and directly into the power bank. The new charging specs are (8.7V/4A) and the unit can now be recharged from empty in about 3.5 to 4 hours. Such a welcome upgrade!
This is a fantastic charger and I think it is a must have accessory for every DJI Spark pilot. I really wish all drones would adopt this method of USB charging, It would save a fortune not having to buy so many extra batteries just so you can have a full day of flying.
Updated Charging Station (USA) https://amzn.to/2ql9Gcp
Updated Charging Station (CAN) https://amzn.to/2v6Yp4u
DJI Spark (DJI Website) https://goo.gl/DvoqK1
DJI Spark (USA Amazon) https://amzn.to/2HoDaxi
DJI Spark (CANADA Amazon) https://amzn.to/2GM5eJX
Unboxing The DJI Goggles Racing Edition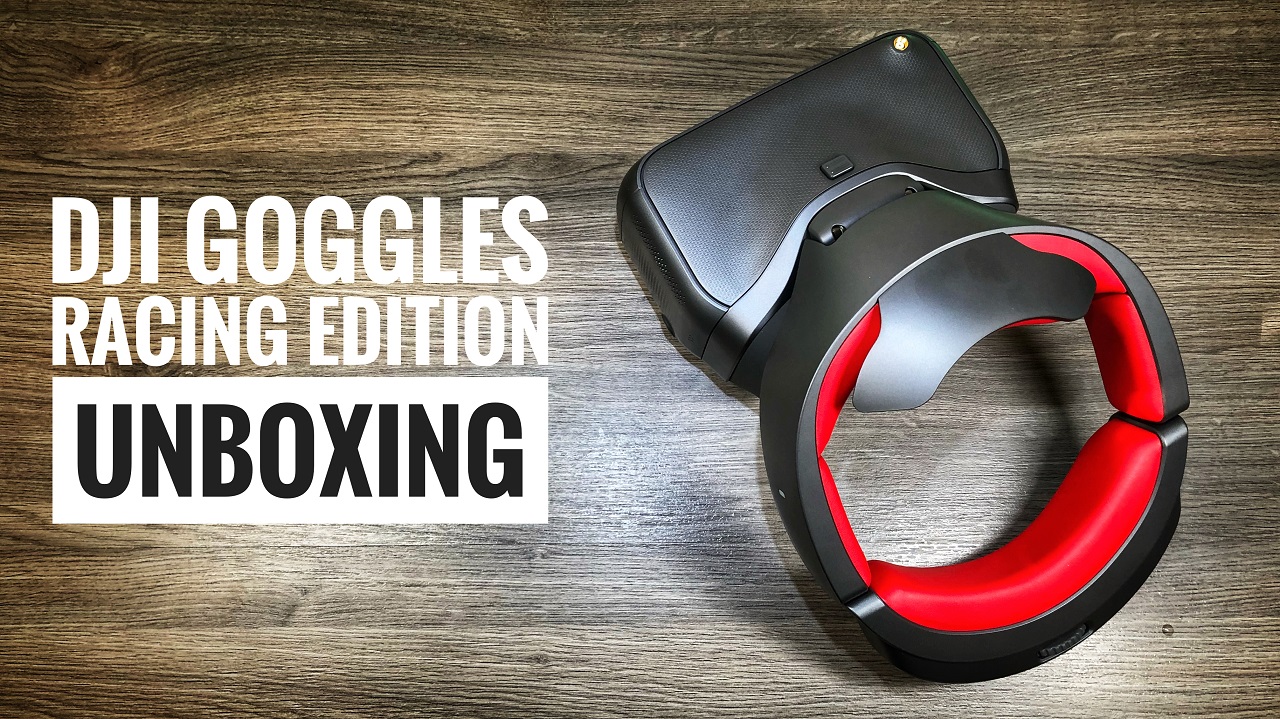 This is just a simple unboxing video of the DJI Goggles Racing Edition. We plan on making more advanced training and tutorial videos soon. We thought it would be best to split the videos up as not to have all the information crammed into one video.  Watch our YouTube unboxing video.
DJI Goggles RE (DJI Store) https://goo.gl/qaWFrQ
DJI Goggles RE (Amazon) http://amzn.to/2HC1meI
There are two versions of the DJI Goggles, the original version which are white and the racing edition which is black. The racing edition goggle have a few extra features and design enhancements. In the racing edition goggles DJI has redesigned the head band to make them a little more comfortable to wear as well as a redesigned face plate to make it fit a little nicer to the face and help prevent fogging of the goggles. The DJI Racing Edition Goggles also support non DJI drones such as analog racing drones. This is noticeable by the antenna that is not present on the original goggles. The racing edition goggles also supports viewing of 360 and VR panos shot on the various DJI Drones.
I opted to purchase the DJI Racing Edition goggles so I only need to carry one pair of goggles no matter if I wish to FPV with my DJI drone or with some smaller racing quads. As for DJI Drones the goggles work wirelessly with the Mavic Pro and variants such as the Mavic Pro Platinum via Ocusync. The DJI Goggles also work well with the DJI Spark, Mavic Air and the Phantom 4 series of drones via a wired connection.
Both versions of the goggles also support playback of any device that outputs HDMI. The goggles for example can be used to watch Netflix movies via an iPhone.
Like I stated this article is not a review of the goggles but I would like to add that I was extremely impressed when flying the Mavic Air with the DJI goggles. I have only had a few chances to get and fly with them but I really was amazing at how immersive it was. They are a little pricey but well worth the money in my opinion. There is not much more I am going to cover in this article but make sure you subscribe to our YouTube channel and bookmark our website for more detailed videos on how to use the DJI Goggles that we will be creating over the coming weeks.
A list of DJI Drones that are compatible with the DJI Goggles Racing Edition
Mavic Air (DJI Store) https://goo.gl/t74LaQ
Mavic Air (Amazon) http://amzn.to/2EccQaM
DJI Spark (DJI Store) https://goo.gl/DvoqK1
DJI Spark (Amazon) http://amzn.to/2GoBjYN
Mavic Pro / Platinum (DJI Store) https://goo.gl/ZA1UFP
Mavic Pro / Platinum (Amazon) http://amzn.to/2FII6Q1
Phantom 4 Series (DJI Store) https://goo.gl/e7th53
Phantom 4 Series (Amazon) http://amzn.to/2FLgtWN