FeiyuTech G5 vs Karma Grip | The One I Think is Best and Why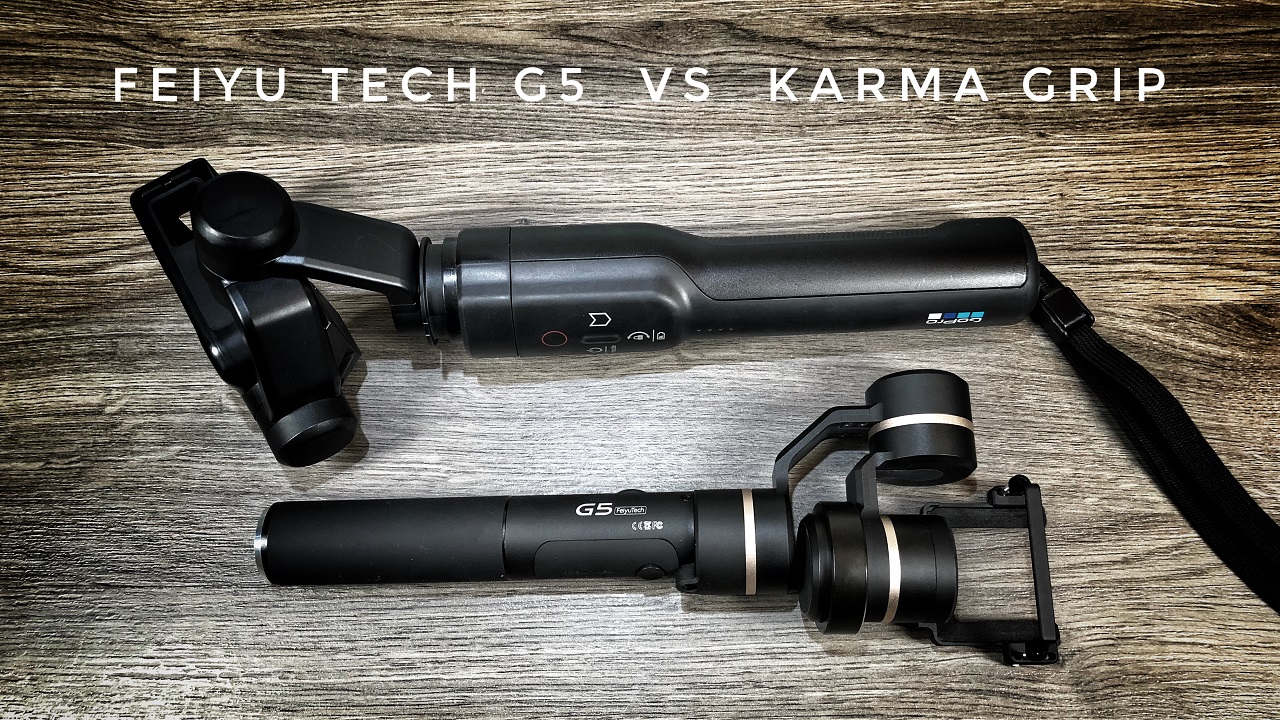 So I would have to say the most common question I get ask via all my social media channels is which hand-held gimbal is best to use with a Hero 5 Black or a Hero 6 Black. In this post I am going to offer up my opinion of what my favorite gimbal is and compare it to the Karma Grip which is another favorite of mine. Now I would like to say that both the FeiyuTech G5 and the Karma Grip are both excellent hand-held stabilizers and no matter which one you choose you will be happy with your purchase. Watch our YouTube video as I go over all the reasons why I prefer the FeiyuTech G5 over the Karma Grip.
Karma Grip: http://amzn.to/2BP1oQu
Karma Grip Case: http://amzn.to/2EULHKC
FeiyuTech G5: http://amzn.to/2F8z9hM
FeiyuTech Extension Handle: http://amzn.to/2EVI3jF
FeiyuTech BlueTooth Remote: http://amzn.to/2FCviHS
FeiyuTech Extra Battery: http://amzn.to/2EVdudH
Here are some of the reasons why I prefer the FeiyuTech G5 over the Karma Grip.
Size Matters / Case: When it comes to the size of the cases you can clearly see that the FeiyuTech G5 is quite a bit smaller. The smaller size of the case and gimbal make it easier to pack and takes up far less space in a camera bag or backpack. This is very important to me when I am out adventuring. I like to keep all my gear in a camera backpack and there is no way the Karma Grip case would fit in my setup. The unit itself is also a little smaller making it more comfortable in the hand. When the Karma Grip was first launch the package included a case, but now all new Karma Grip units ship with out a case, it is now a separate purchase. The official karma grip case retails for $39.99 and has a nice firm build offering more shock, drop and crush protection than the FeiyuTech G5 which is a soft sleeve styled case. But with all things considered I still prefer the smaller footprint of the FeiyuTech G5 and the case is included free.
Price: There is a significant price difference between the two gimbals, 100 dollars to be exact. The FeiyuTech G5 retails for $199.99 and the karma grips retails for $299.99. I like to save money!
Battery: The karma Grip has a built-in battery that is rated at about 1 hour and 45 minutes of usage. Where as the FeiyuTech G5 has a removable battery that is rated at about 8 hours usage. That is a huge difference. Then when you factor in the removable battery that can be swapped out if you need more shooting time, or just want to replace a weak or damaged battery the FeiyuTech G5 definitely has the edge. Both units are able to charge a GoPro while mounted.
Versatility: With the stock Karma Grip it is compatible with the Hero 5 Black and the Hero 6 Black. You can purchase (More Money) a separate harness that will make it compatible with the Hero 4 series. The FeiyuTech G5 come equip to handle the Hero 5/6 Black, Hero 4 series, Hero 3 series in fact it will fit many other brands of action cameras that have a similar form factor of the GoPro Hero line of cameras. In addition with a little trick I featured on my YouTube channel you can even mount a GoPro session. It's not officially supported but it does work quit well.
Controls: When it comes to controls the Karma Grip does have the edge when it comes to controlling the GoPro. The Karma Grip has buttons to start/stop recording, change modes and set a highlight tag, whereas the buttons on the FeiyuTech G5 are for controlling the gimbal only. Now with that said the FeiyuTech G5 has a few extra button features that are not included with the karma grip, including a 360 button that automatically turns the camera towards you if you want to do some vlogging. It also has a joystick for precision control of the gimbal. As for a dedicated start/stop record button it is not that important with the Hero 5/6 Black due to the camera being voice controlled. The FeiyuTech G5 also has the option of using a FeiyuTech BlueTooth remote (not included) which can really come in handy when using the gimbal remotely or mounted out of reach.
Mounting: The FeiyuTech G5 has two points where it can be mounted. A 1/4 inch tripod thread is located on the side and bottom of the unit. The camera itself can be mounted in different ways depending of you are right or left-handed. It can even be mounted upside down.
Better Audio: I would have to say that both units emit the same amount of motor noise which if find to be an acceptable level. However the FeiyuTech G5 can produce better audio due to the fact that the Hero5/6 black is notorious for having poor muffled audio when the side door is removed.
There are many other reasons why I would recommend the FeiyuTech G5 over the Karma Grip. Please watch our video to get the full list.
No matter what gimbal you choose you wont be disappointed. They both do an amazing job at keeping you video footage stable.
Create Your Own DIY Double Ended Extension Pole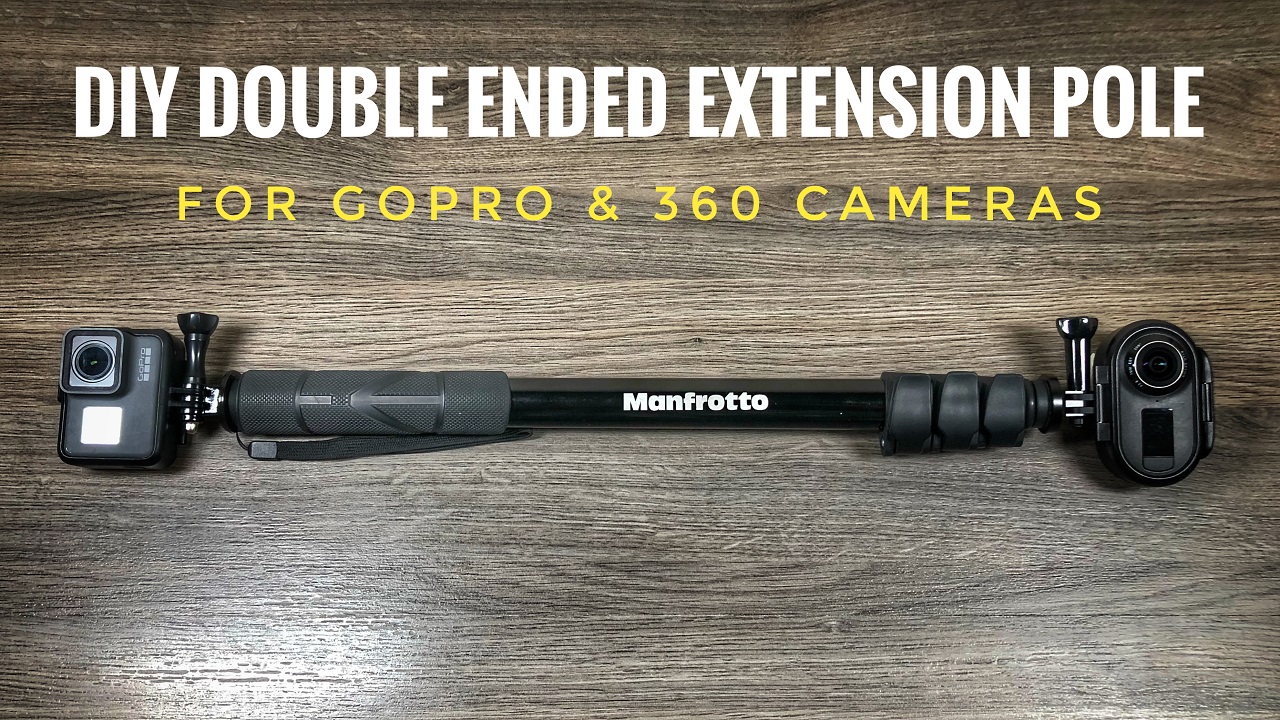 In this video I show you how to make your own DIY double ended extension pole for GoPro's and 360 cameras. Now you may be asking why on earth would you want a double ended extension pole? Well the answer is very simple. It allows you to film with two camera (one at a time) without having to constantly fiddle around swapping camera and wasting time. For me this invention came from necessity. I like to film my travels and adventurers with both my GoPro and my Rylo 360 camera. I was finding it frustrating to have to carry so much gear and was constantly swapping the cameras on different handles and poles. I came up with this solution and it does work extremely well. Now when I am out adventuring all I need to do is flip the pole around and can easily shoot with any camera I wish, and I only have one pole to carry around with me. Watch our video on how to create this handy extension pole and what parts are needed for this DIY project.
Parts featured and needed to build this double ended extension pole for your GoPro and 360 Camera.
Manfrotto Pole (USA) https://amzn.to/2LwlNvM
Manfrotto Pole (CAN) https://amzn.to/2JGdJa3
Tripod Base (USA) https://amzn.to/2uPorFP
Tripod Base (CAN) https://amzn.to/2LCeMcL
Tripod Base Adapter (USA) https://amzn.to/2uy0gfR
Tripod Base Adapter (CAN) https://amzn.to/2NyMGjt
GoPro Tripod Mount (USA) https://amzn.to/2JEKqVi
GoPro Tripod Mount (CAN) https://amzn.to/2Lz02vs
Rylo 360 (USA) https://amzn.to/2zXuJcq
Rylo 360 (CAN) https://amzn.to/2zWR8GA
GoPro Hero 6 Black (USA) https://amzn.to/2uTOsUG
GoPro Hero 6 Black (CAN) https://amzn.to/2LbciWD
iSteady Pro Gimbal Review | Budget GoPro Gimbal For Under $100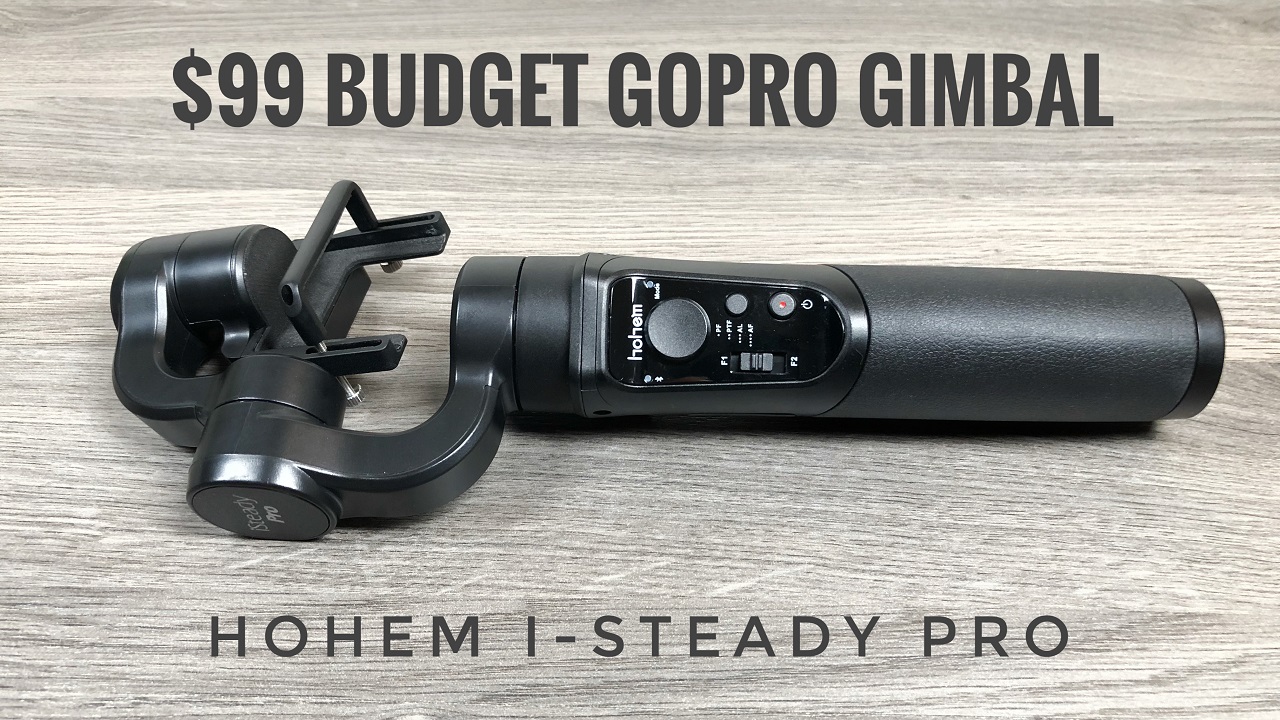 In this review we are taking a closer look at the iSteady Pro, a budget GoPro gimbal that you can pick up for under $100. Before I even get into the review of this new gimbal by Hohem, I want to point out how nice it is to see more competition of GoPro gimbals popping up on the market. Competition fuels innovation and improvements and not to mention forces more competitive pricing. We seen this happen with smart phone gimbals. A few years back DJI release the Osmo Mobile with a price tag of $299. Soon afterwards we seen third-party gimbals launching with prices as low as $99. This caused DJI to lower its price when they launched the Osmo Mobile 2 earlier this year to $129.99.
The Hohem iSteady pro is a simplistic GoPro gimbal that comes packaged in a nice case and even includes a mini tripod for those times when you want your gimbal resting on a suitable surface to create time-lapses. Also included with the kit is a micro USB cable for charging up the unit. I found the gimbal to be very comfortable to hold with its molded hand grip. It is a nice compact gimbal and very light to hold. First impression are good, it is a little plasticky but what do you expect from a $99 gimbal. All in all it does look to be well constructed and even includes a joystick for nice smooth movements.
The Good: The handle features a full-sized USB slot that can act as a power bank to charge any device that can be charged via USB. It also has a micro USB port near the camera mount that can be used to charge your GoPro while using the gimbal. Now this only works for cameras that you mount where the battery door is not blocked by the motor. I found the footage I shot with the iSteady Pro to be quite smooth and was pleasantly surprised. Like all gimbals there is some slight motor vibration noise, however I did find it to be of an acceptable level. Hohem has a nice little app for the iSteady pro that allows you to control the gimbal remotely and make some adjustments to how the gimbal behaves when in use. A very basic app but a nice touch for the price.
The Bad: I did find the gimbal handle would knock the camera on occasion when doing extreme moves/angles, so you have to pay attention to the angle at all times. I also found the horizon a little tilted when doing fast panning, it would correct it self but could be annoying to some film makers while other may like the fluid more natural motion.
All in all I found this to be a nice little gimbal for the price. If you're looking for a low-cost gimbal you might just want take a look at the Hohem iSteady pro, I am sure you will be satisfied with the purchase. Watch our full in-depth review on YouTube.
iSteady Pro (USA) https://amzn.to/2L5wclP
iSteady Pro (CAN) https://amzn.to/2NUUIUN