FeiyuTech G5 vs Karma Grip | The One I Think is Best and Why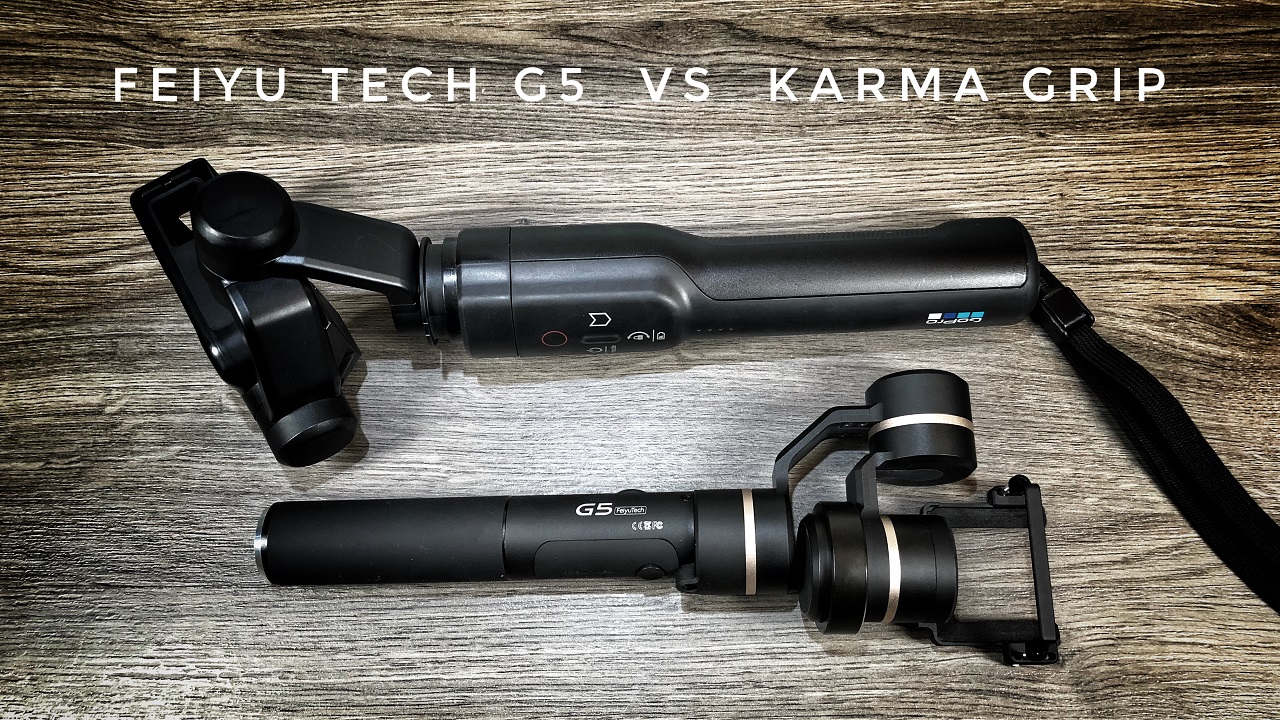 So I would have to say the most common question I get ask via all my social media channels is which hand-held gimbal is best to use with a Hero 5 Black or a Hero 6 Black. In this post I am going to offer up my opinion of what my favorite gimbal is and compare it to the Karma Grip which is another favorite of mine. Now I would like to say that both the FeiyuTech G5 and the Karma Grip are both excellent hand-held stabilizers and no matter which one you choose you will be happy with your purchase. Watch our YouTube video as I go over all the reasons why I prefer the FeiyuTech G5 over the Karma Grip.
Karma Grip: http://amzn.to/2BP1oQu
Karma Grip Case: http://amzn.to/2EULHKC
FeiyuTech G5: http://amzn.to/2F8z9hM
FeiyuTech Extension Handle: http://amzn.to/2EVI3jF
FeiyuTech BlueTooth Remote: http://amzn.to/2FCviHS
FeiyuTech Extra Battery: http://amzn.to/2EVdudH
Here are some of the reasons why I prefer the FeiyuTech G5 over the Karma Grip.
Size Matters / Case: When it comes to the size of the cases you can clearly see that the FeiyuTech G5 is quite a bit smaller. The smaller size of the case and gimbal make it easier to pack and takes up far less space in a camera bag or backpack. This is very important to me when I am out adventuring. I like to keep all my gear in a camera backpack and there is no way the Karma Grip case would fit in my setup. The unit itself is also a little smaller making it more comfortable in the hand. When the Karma Grip was first launch the package included a case, but now all new Karma Grip units ship with out a case, it is now a separate purchase. The official karma grip case retails for $39.99 and has a nice firm build offering more shock, drop and crush protection than the FeiyuTech G5 which is a soft sleeve styled case. But with all things considered I still prefer the smaller footprint of the FeiyuTech G5 and the case is included free.
Price: There is a significant price difference between the two gimbals, 100 dollars to be exact. The FeiyuTech G5 retails for $199.99 and the karma grips retails for $299.99. I like to save money!
Battery: The karma Grip has a built-in battery that is rated at about 1 hour and 45 minutes of usage. Where as the FeiyuTech G5 has a removable battery that is rated at about 8 hours usage. That is a huge difference. Then when you factor in the removable battery that can be swapped out if you need more shooting time, or just want to replace a weak or damaged battery the FeiyuTech G5 definitely has the edge. Both units are able to charge a GoPro while mounted.
Versatility: With the stock Karma Grip it is compatible with the Hero 5 Black and the Hero 6 Black. You can purchase (More Money) a separate harness that will make it compatible with the Hero 4 series. The FeiyuTech G5 come equip to handle the Hero 5/6 Black, Hero 4 series, Hero 3 series in fact it will fit many other brands of action cameras that have a similar form factor of the GoPro Hero line of cameras. In addition with a little trick I featured on my YouTube channel you can even mount a GoPro session. It's not officially supported but it does work quit well.
Controls: When it comes to controls the Karma Grip does have the edge when it comes to controlling the GoPro. The Karma Grip has buttons to start/stop recording, change modes and set a highlight tag, whereas the buttons on the FeiyuTech G5 are for controlling the gimbal only. Now with that said the FeiyuTech G5 has a few extra button features that are not included with the karma grip, including a 360 button that automatically turns the camera towards you if you want to do some vlogging. It also has a joystick for precision control of the gimbal. As for a dedicated start/stop record button it is not that important with the Hero 5/6 Black due to the camera being voice controlled. The FeiyuTech G5 also has the option of using a FeiyuTech BlueTooth remote (not included) which can really come in handy when using the gimbal remotely or mounted out of reach.
Mounting: The FeiyuTech G5 has two points where it can be mounted. A 1/4 inch tripod thread is located on the side and bottom of the unit. The camera itself can be mounted in different ways depending of you are right or left-handed. It can even be mounted upside down.
Better Audio: I would have to say that both units emit the same amount of motor noise which if find to be an acceptable level. However the FeiyuTech G5 can produce better audio due to the fact that the Hero5/6 black is notorious for having poor muffled audio when the side door is removed.
There are many other reasons why I would recommend the FeiyuTech G5 over the Karma Grip. Please watch our video to get the full list.
No matter what gimbal you choose you wont be disappointed. They both do an amazing job at keeping you video footage stable.
Stabilization Comparison Of The GoPro Fusion vs Hero 6 Black Mounted In Karma Grip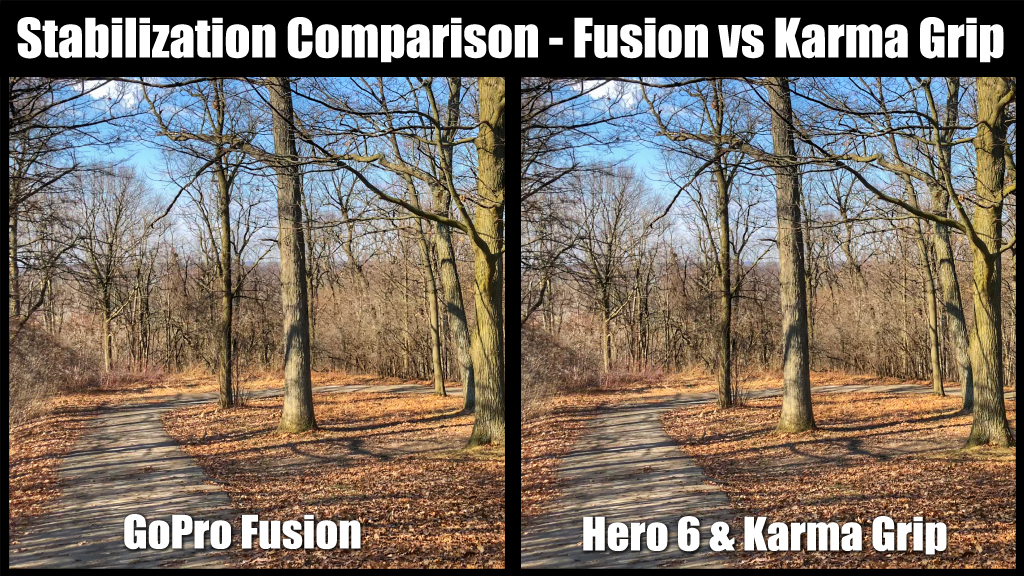 I thought it would be interesting to do a stabilization test of the GoPro Fusion versus the Hero 6 Black mounted in the Karma Grip. So basically a test of a mechanical gimbal verses 360 software stabilized video. There are pro's and con's to both setups. First off importing and editing the footage of the Hero 6 Black is very simple as the video recorded is already stabilized and ready to be edited. The video files on the GoPro Fusion have to be imported, stitched and then rendered to a 16:9 video which can take quite some time depending on the length of the clip. So when it comes to ease of use the mechanical stabilizer is the winner. Another thing to consider is using an action camera such as the Hero 6 Black will produce higher quality videos.
However when it comes to usability, ease of mounting, a 360 camera such as the GoPro Fusion or the Rylo 360 definitely has the advantage and sometimes that is the deciding factor. Of course we all want the best quality video we can get but there are those situation were using a mechanical gimbal such as the Karma Grip just isn't practical or even possible. Using a 360 camera opens up a whole new avenue to capture stabilized video during activities that used to be impossible. When you also factor in that many 360 cameras are waterproof such as the Fusion or have a waterproof housing that can also be a deciding factor. Most mechanical gimbals are not waterproof with the exception of a few and they are extremely delicate and can not be used in some situations.
I think we are just at the tip of the iceberg on what 360 technology will bring us in the future and I can really see it becoming a mainstream way to capture action video over the traditional action camera and gimbal setup. What are your thoughts? Watch our video as we show a side by side stabilization comparison of the GoPro Fusion and the Hero 6 Black mounted in the Karma Grip.
GoPro Fusion: http://amzn.to/2FxIqko
Karma Grip: http://amzn.to/2FB1HgQ
Hero 6 Black: http://amzn.to/2tDGvWa
RAVPower Upgraded USB-C 26800 mAh Power Bank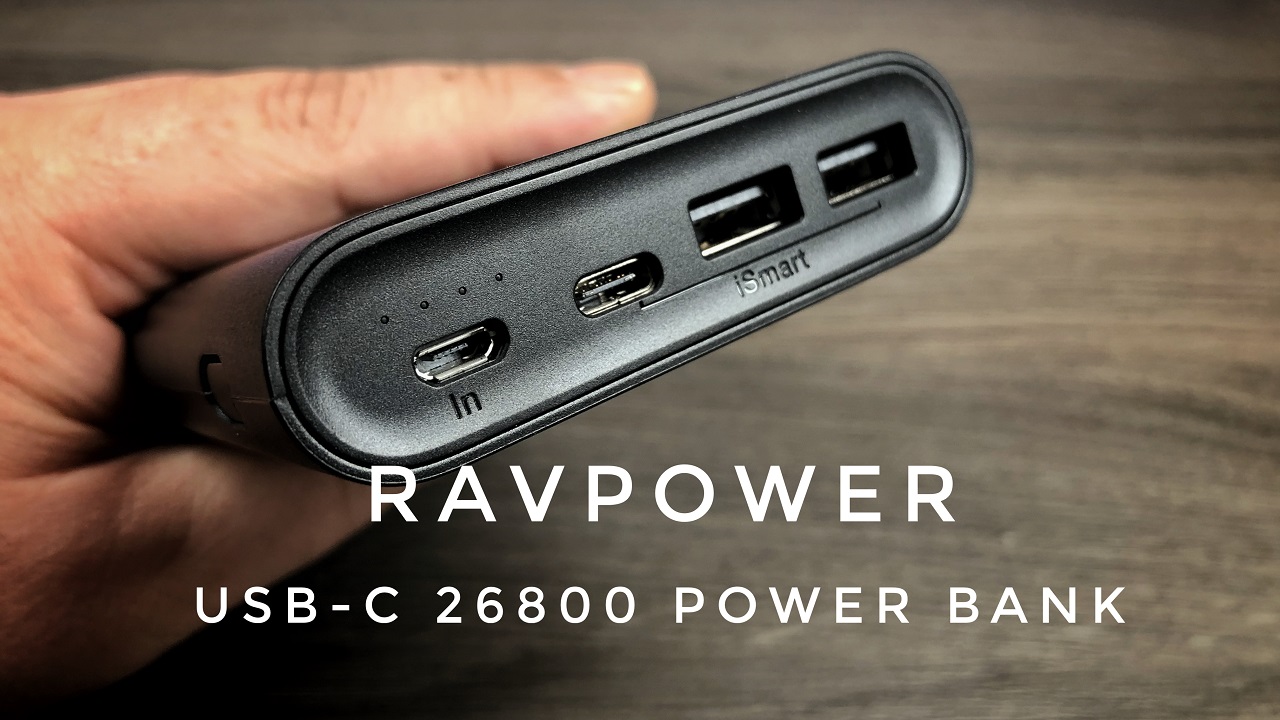 Power banks are an essential part of any "GoPrographers" camera bag. They help us keep our GoPro charged when not around traditional power and also allows us to create extended night-lapses and long time-lapses. Here we are taking a closer look at the new upgraded RAVPower 26,800 mAh power bank that now includes USB-C support. The USB-C port on this power banks is used for both input and output, you can charge your USB-C devices but you can also use the USB-C port to quickly recharge the power bank.
The power bank features two USB-A ports at 5V 2.4A max output for each port. It also has a USB C-Port that is capable of 5V 3A output for faster charging of devices such as the GoPro Hero 6 Black or GoPro Fusion. Lastly it has a micro USB port for recharging the Unit. When it comes to charging the RavPower 26800 mAh USB-C power bank there are a few different methods. Firstly you can charge the device via the micro USB Cable only and it will take approximately 15 hours. You can also charge via the USB-C port only using the included USB-C adapter, a full charge will take approximately 10 hours. But ideally the best way to charge this power bank is to use both the micro USB and USB-C simultaneously, this allows the unit to be charged in as little as 7 hours which is quite good for a power bank with this much power. All 3 charging ports including the USB-C port are iSmart enabled. iSmart detects the charging needs of your devices and automatically delivers the output needed to get the fastest charge possible without damaging your device.
This power bank is a great value for the price and perfect for charging devices such as phones and tablets, but the real advantage is it allows you to charge your USB-C devices faster than using a standard USB-A port.
RAVPower USB-C Power Bank: http://amzn.to/2Fw9gIW