GoPro and Action Camera Light From FreeWell Gear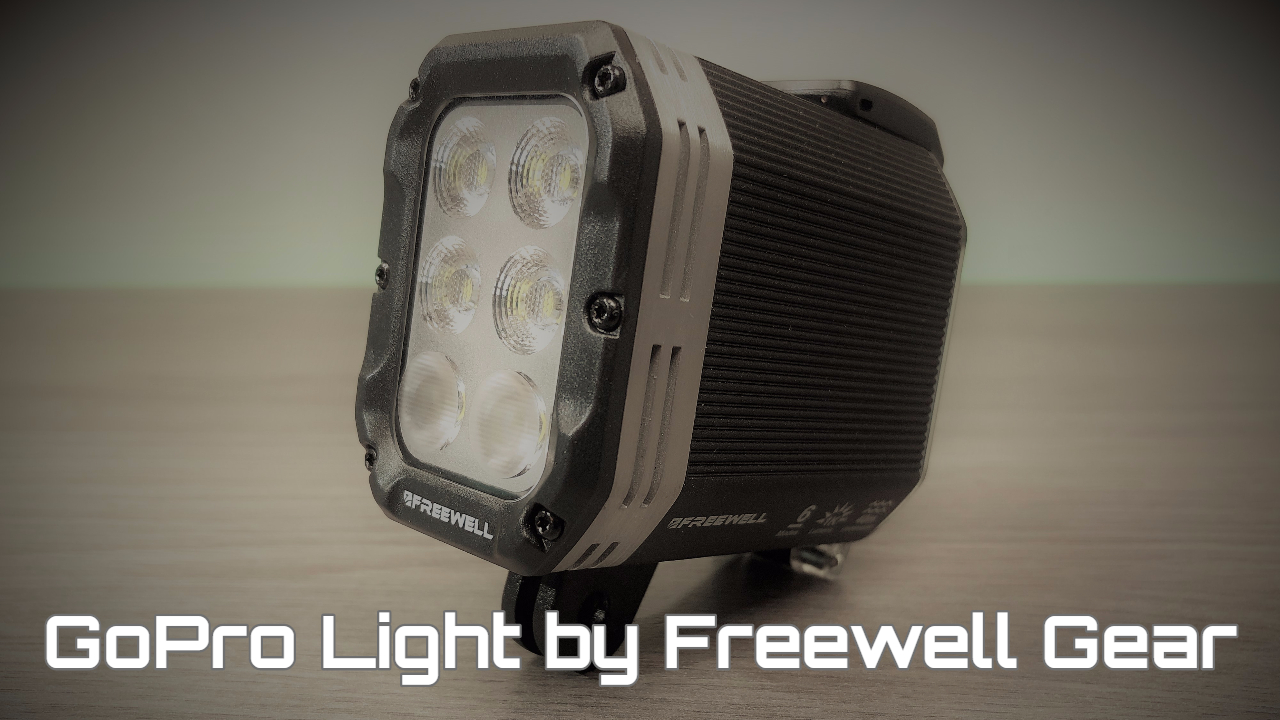 In this YouTube video review, we take a look at the waterproof GoPro and action camera light by FreeWell Gear. This tiny little light is extremely bright and extremely durable as it is constructed of a high-grade aluminum. It is waterproof to at depths of 40 meters (130 ft) with IP 68 rating. This also makes it a great choice for outdoor shooting as dust and elements will not affect its performance.
Unlike other small action camera lights that can easily overheat and shut down, this camera has a built-in overheating system that will kick in when the temperature of the light reaches 55 degrees allowing you to keep on shooting for extended periods of time.
This compact action and GoPro camera light has a removable 2200 mAh battery that can be charged independently from the main camera body, a very nice concept as it allows you to keep shooting while you recharge your spare batteries. It is rated to run for 3.5 hours in between charges. It offers 3 different light modes including targeted, ambient and wide to adapt to a variety of lighting needs. Each mode offers various brightness intensities. All in all, this is one of the best choices for small action camera lighting for both video and photography, a nice durable light that works great outdoors and underwater.
Freewell GoPro Light (USA) http://amzn.to/2BGXNS3
Freewell GoPro Light (CAN) http://amzn.to/2jKYRfM
The following is included with this light kit:
Light Unit
1 Battery
Spare Gasket
GoPro Dual Mount
Short Micro USB Charging Cable
Instruction Manual
1 Short Thumb Screw
1 Long Thumb Screw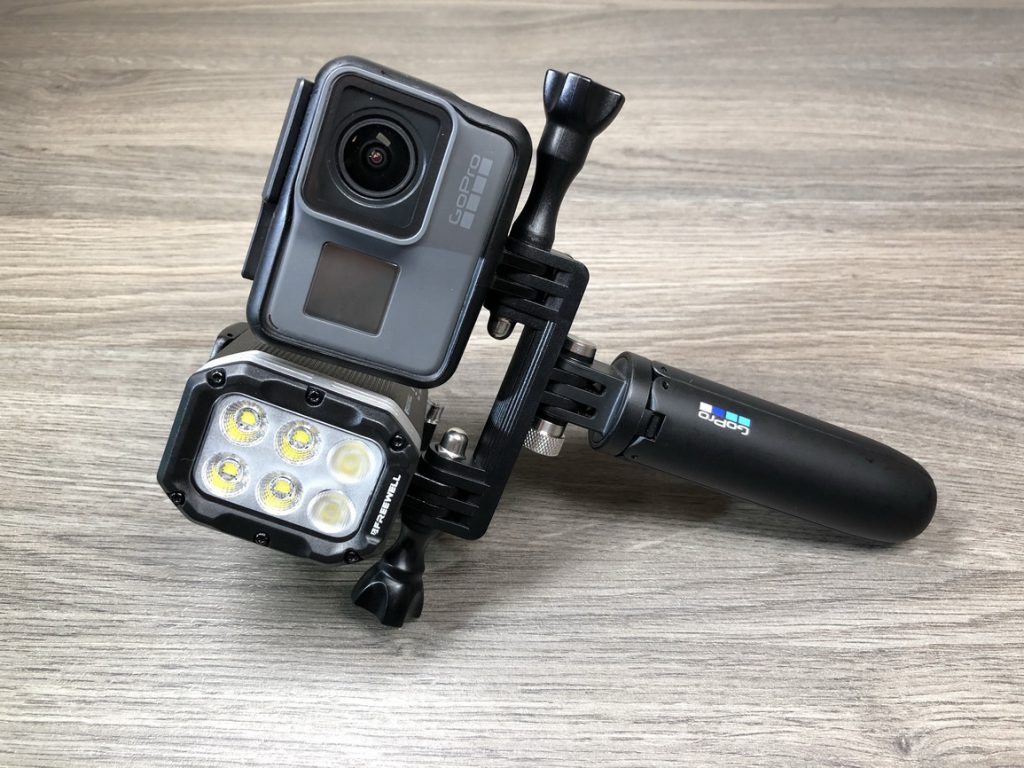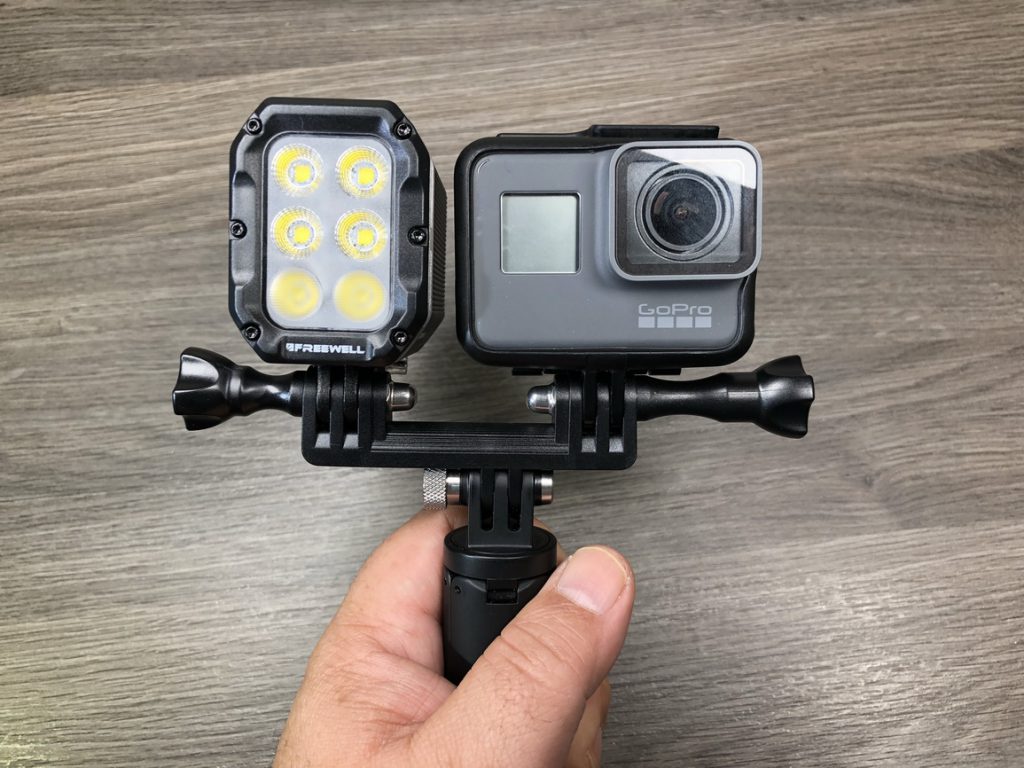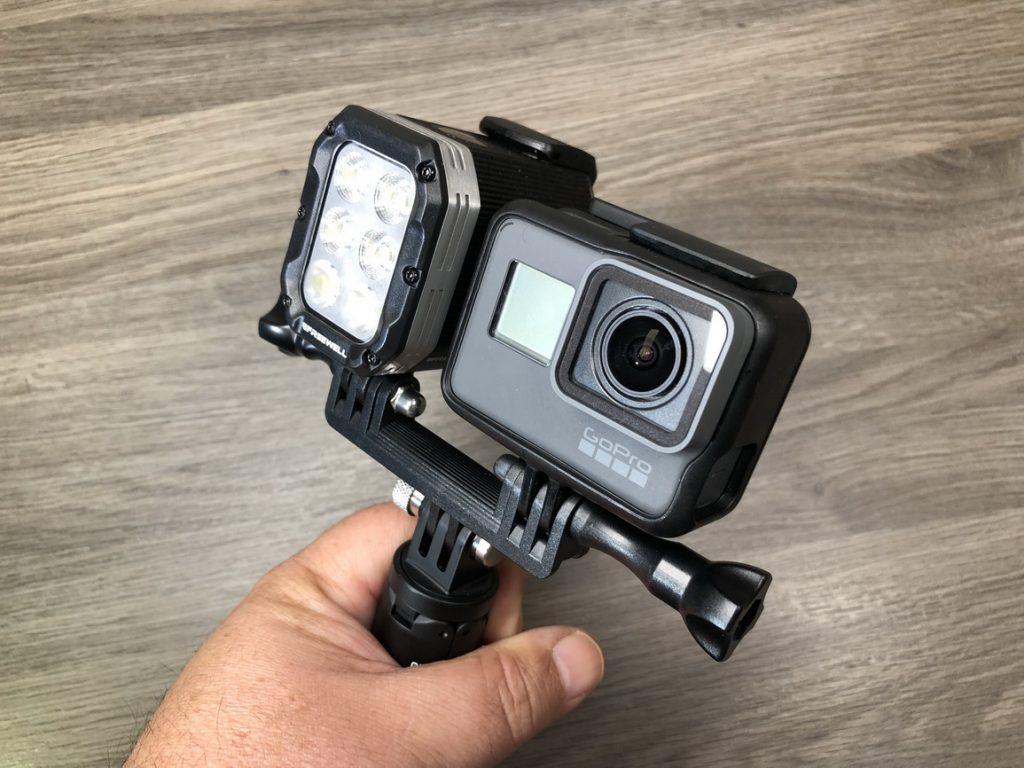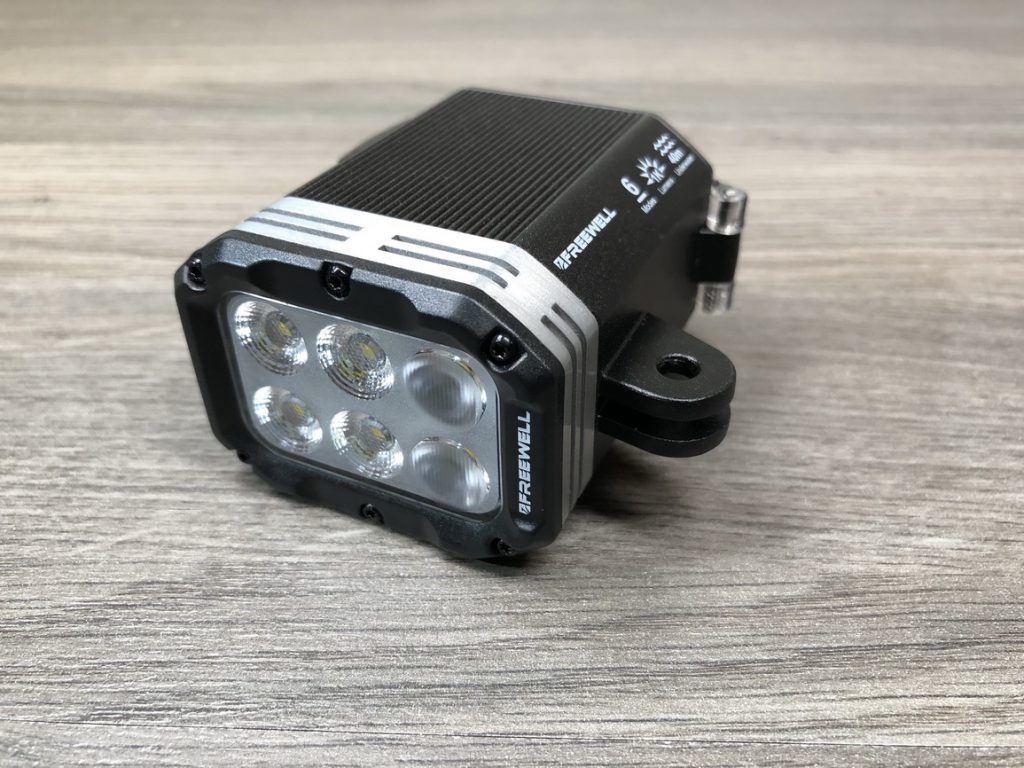 Freewell GoPro Light (USA) http://amzn.to/2BGXNS3
Freewell GoPro Light (CAN) http://amzn.to/2jKYRfM
Hero 7 Black Now Includes A Photo Timer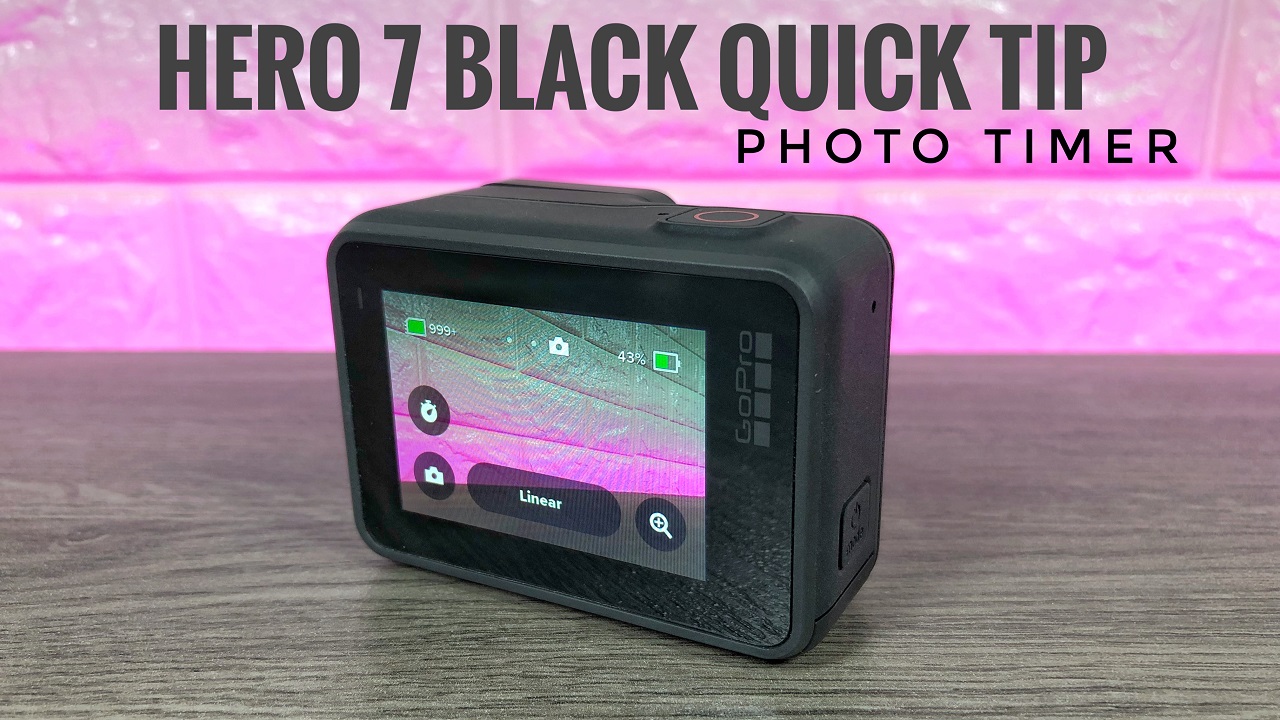 One little talked about feature that is included with the new GoPro Hero 7 Black is the addition of a photo timer. It is a small feature but a very important and welcome addition. In the past, if you wanted to get a shot of yourself you would have to set the GoPro to time-lapse mode, grab some frames and then choose the one you wanted. With the addition of voice commands with the Hero 5 series, you could shout at the GoPro to take a photo. This worked not to bad, however sometimes in noisy environments it did not always work, not to mention looking foolish in certain situations.
With the Hero 7 Black when in photo mode you will notice a new photo timer icon on the left side of the screen. You can select it and set a delay of either 3 seconds or 10 seconds. After the shutter button is pressed a countdown animation and audible beeps indicate when the photo will be taken. Such a simple but important feature. Watch our video demonstration of the new Hero 7 Black photo timer in action.
GoPro Hero 7 Black: https://amzn.to/2IoQ1QK
GoPro Hero 7 Black Unboxing and Setup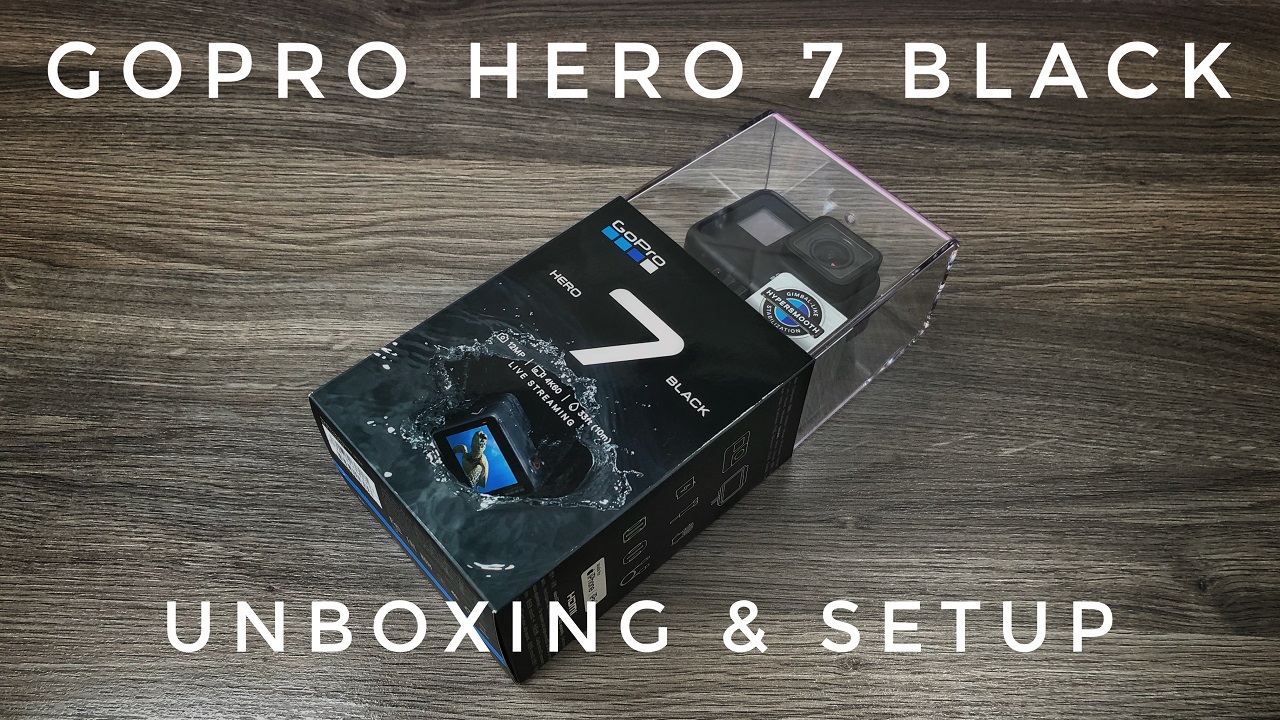 The Hero 7 Black was officially released yesterday and this is our first of many videos to come. We unbox and run through the setup of the new H7B. We talk about some of the new features of the Hero 7 Black and do a full walkthrough of the newly designed menu system. There are many numerous changes and although it does take some getting used to, I do like the new setup it does seem to be more convenient and efficient.
Some of the new features of the GoPro Hero 7 Black include:
HyperSmooth stabilization which also now included 4K 60FPS.
TimeWarp hyper-lapse style timelapses.
Photo timer. Such a simple but much need feature.
Live streaming to social platforms.
New portrait filming mode.
HDR photo mode also knows as "SuperPhoto"
Stay tuned as we will be making many comparison videos as we test out the new features over the coming weeks.
Hero 7 Black: https://amzn.to/2OkjLn9
Best Memory for Hero 7: https://amzn.to/2In7EQG