GoPro Hero 5 Black Beginners Guide | Getting Started
After numerous comments on our YouTube channel and our blog we decided to create this Hero 5 Black getting started guide to help those who have just purchased their first GoPro get up and run quickly and easily. Today GoPro's are no longer used just for extreme sports and by athletes. We are now seeing more and more GoPro's being used by a wide variety of people in many age groups for capturing family vacations, YouTube vlogs, nature enthusiasts and even just some back yard fun. The GoPro Hero 5 Black is a powerful little camera that can doe some amazing things but getting started with your first GoPro can be a little overwhelming and sometimes frustrating. We get many questions such as "what memory do I need" and "what is 4K" or "how do I make a time-lapse" among many others. So We decided to create a series of videos specifically for those who are brand new to the GoPro world. We are going to break up the videos into different segments each with its own theme.
Our first video in this new series is titled "Getting Started" and covers every aspect to get a brand new GoPro owner up and running and recording their very first video.
Subjects Covered In This Video
What Memory To Buy for Your GoPro
Installing The Memory Card and Battery
Charging Your GoPro
Powering On For The First Time and Setup.
Modes Overview
Video Settings and Menu's
Video Resolution and Frame Rate
Recording Your First Video
Capturing Your First Photo
Quick Capture Feature
Basic Voice Control
Browsing and Playback of Recorded Media
Essential Starter GoPro Gear
Over the coming weeks we will be uploading new videos covering other topics such as transferring media, editing videos, advanced settings, slow motion, time-lapses and much more. Below I have compiled a list of what I feel is essential gear and accessories for new GoPro users.
Here is a full list of Voice Commands for The GoPro Hero 5.
Essential GoPro Gear and Accessories
Hero 5 Dual Charger
U.S. – http://amzn.to/2nhJJaO
Canada – http://amzn.to/2ogVP3r
Anker Power Bank
U.S. – http://amzn.to/2nzbpdL
Canada – http://amzn.to/2nhDvYs
Hero 5 Battery
U.S. – http://amzn.to/2mC5o0y
Canada – http://amzn.to/2nz6klC
SanDisk 32GB Memory Card
U.S. – http://amzn.to/2nhGkc6
Canada – http://amzn.to/2ogPrt8
SanDisk 64GB Memory Card
U.S. – http://amzn.to/2nzkovr
Canada – http://amzn.to/2nhAA2b
GoPro 3-Way
U.S. – http://amzn.to/2nhHFzQ
How To Use A Bluetooth Game Controller With Ryze Tello Drone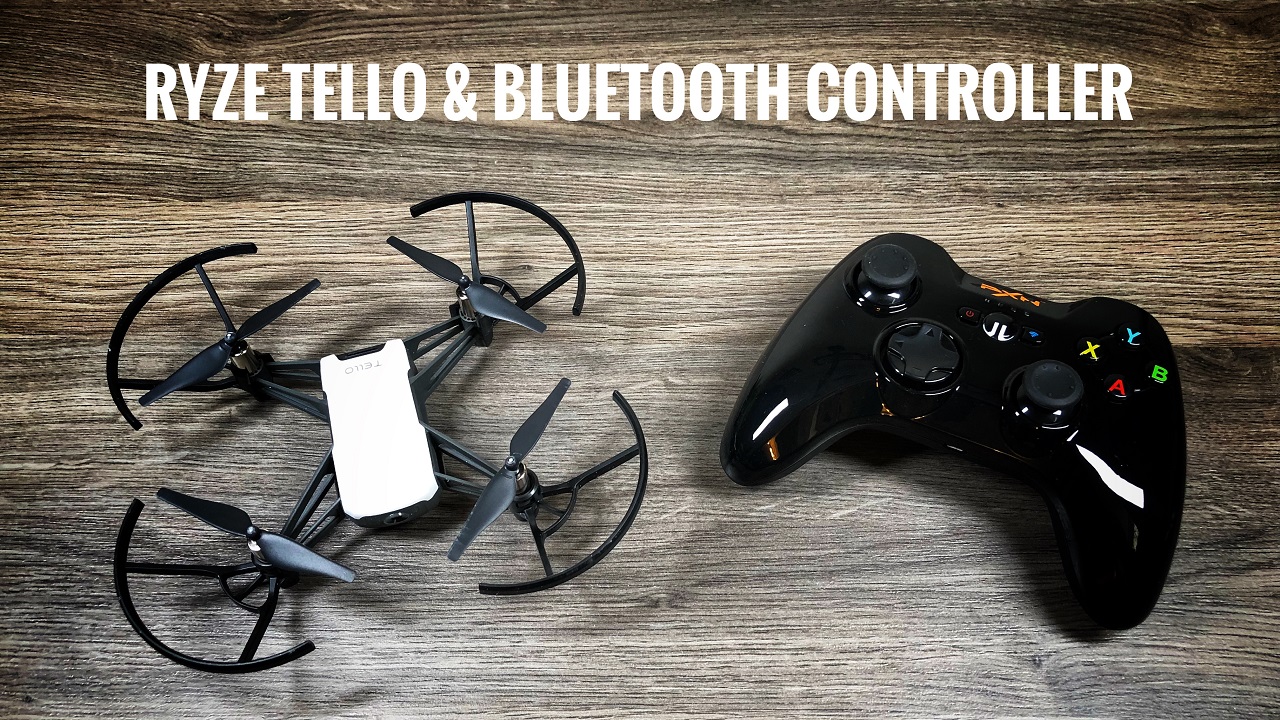 In this video I go over all the steps on how to connect, pair and use a Bluetooth game controller with the Ryze Tello drone. Ryze does not make a dedicated controller for the Tello, you can however use various game controllers to fly the Tello. These Bluetooth controllers for iOS are normally used to play games on you iPhone or iPad but they also work quite well to control some drones. Now one thing I would like to point out is that these Bluetooth controllers will not give you any extra range for your drone unlike other drones such as the DJI Spark. A Bluetooth controller is different in the fact that it does not connect directly to the drone. The controller connects to your iPhone and then the iPhone to the drone.
The controller I opted to go with is the Speedy controller by PXN. Setup is quick and easy and the controller has a nice quality build. What ever brand you go with make sure it comes with a phone mount. This is important so you can mount your phone while flying.
To set up your Bluetooth remote with your Tello Drone you will need to do the following steps.
The first thing you need to do is power on and put your controller into pairing mode. You do so by long pressing the power button for 4 seconds until the battery lights start to blink slowly. Then press the "wireless" icon beside the lights to enter into pairing mode. The lights will now blink fast to signify it has entered pairing mode.
Now you will need to pair the controller to your iPhone/iPad via Bluetooth. Open up the Bluetooth options in the settings app on your iPhone. Find the listing for the "Speedy Controller" or what ever brand you are using and click on connect. Your phone will now be paired with your Bluetooth controller. This step only needs to be done once.
At this point you can connect the Tello drone to your iPhone via WiFi as you normally do.
Launch the Tello app and that is it. The Tello app will automatically detect that there is a Bluetooth remote connected. You can go to the settings within the Tello app to view a diagram of what buttons can be used for shortcuts (see Below).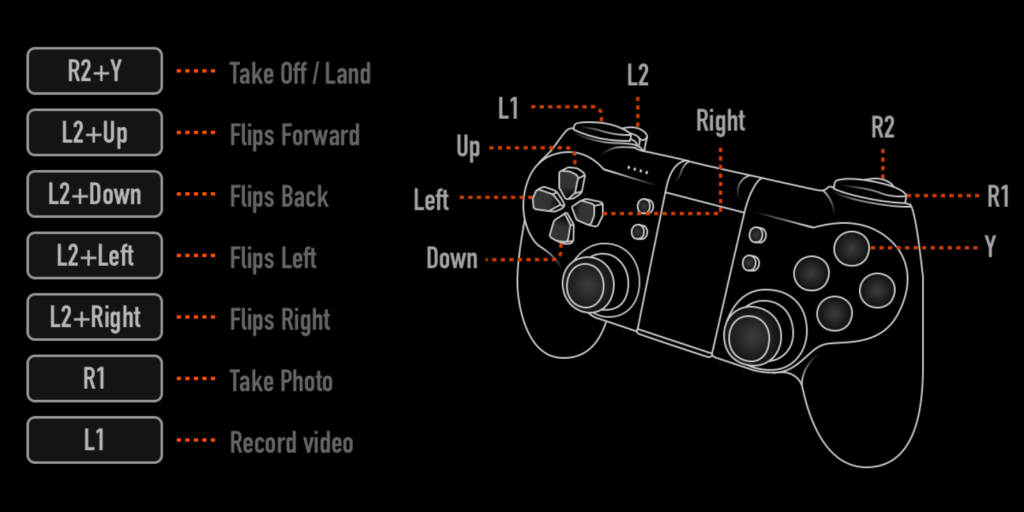 Speedy BlueTooth Controller (USA) https://amzn.to/2IjjPgm
Speedy BlueTooth Controller (CAN) https://amzn.to/2Il8sUW
Ryze Tello Drone (USA) http://amzn.to/2FqSHPH
Ryze Tello Drone (CAN) https://amzn.to/2GpbpYr
Ryze Tello Case (USA) https://amzn.to/2Inivcu
Ryze Tello Case (CAN) https://amzn.to/2GoCPJF
Here is our YouTube video demonstrating how to connect a Bluetooth game controller to the Ryze Tello Drone
Using The DJI Mavic Air With DJI Racing Edition Goggles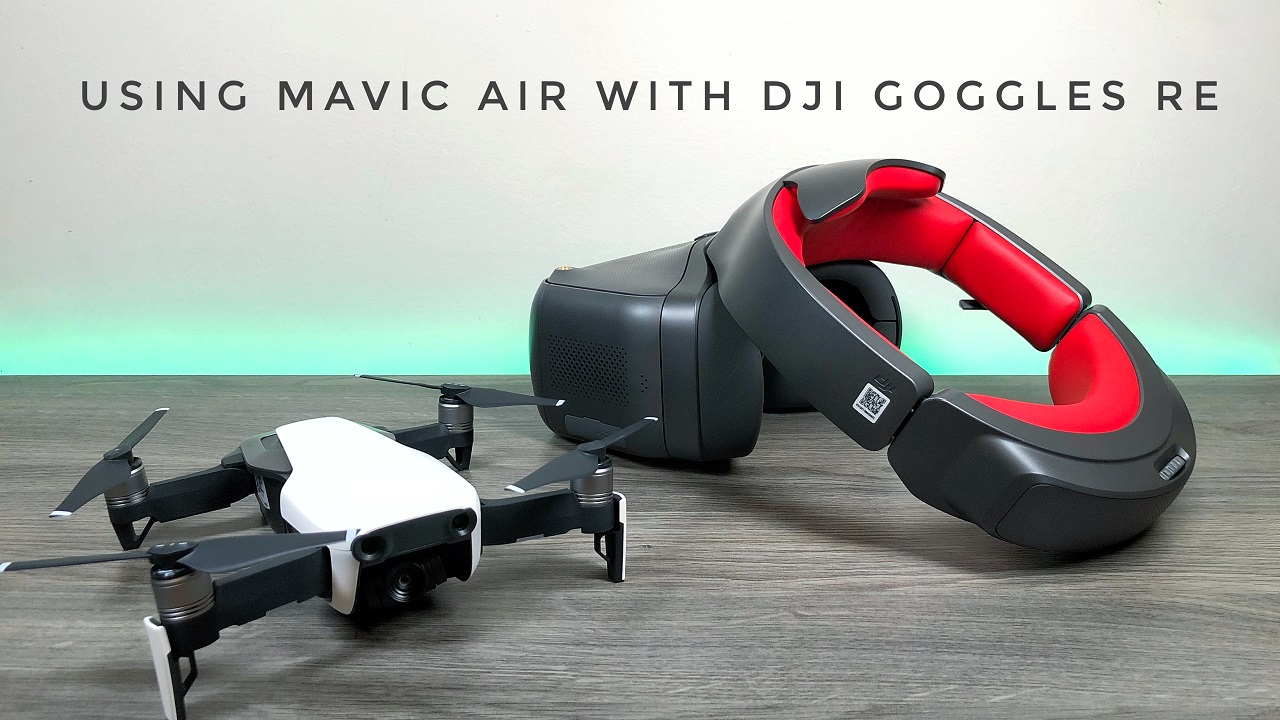 In this video I go over the necessary steps that need to be taken in order to fly your DJI Mavic Air with the DJI Goggle Racing Edition. Before the two are compatible you must update the firmware on the DJI Goggles or you will not get a video feed. To update the firmware on your DJI Racing Edition Goggles simply download the DJI assistant version 2 from the listed location and follow the steps below.
How To Update Firmware On DJI Goggles Racing Edition
Once the DJI Assistant V2 software is installed, plug-in your goggles to a USB port on a desktop or laptop computer with the USB cable that came with your Racing Edition Goggles (same port as charging on goggles). With my computer I must have the goggles powered on and connected first before I launched the DJI Assistant or it will not recognize my goggles. This may not be the case for everyone. Once the DJI Assistant is launched you will notice your goggles listed, click on the goggles icon to detect and upgrade the firmware. You will see a list of available firmware versions. You must install the latest version for your DJI Mavic Air to be compatible with the DJI Racing Edition goggles. The update process will take about 3 to 5 minutes to complete. Once it has finished you are now ready to soar FPV style with your DJI Mavic Air.
How To Connect Mavic Air to DJI Goggles RE
One thing to note before connecting your Mavic Air to the DJI Goggles Racing Edition is that it only supports one display at a time (first one that is connected). The way I like to do it is to set up the Mavic Air and controller as if I was going to be flying with a smart phone display. Launch the DJI Go 4 app and connect to the Mavic Air. At this point you will now have the visual feed on your smart phone. Now Power on your goggles and wait for it to fully load. In the mean time unplug the mini USB connector from the side of the Mavic Air controller. Your video feed will now be lost on your phone. Using the micro USB cable that came with the DJI Goggles, plug the micro USB end into the goggles (Charging Port) and the USB-A end into the USB port on the bottom of the controller. At this point you should now have the video feed from the Mavic Air in your goggles. Your all set to fly. If there is no feed you may have to use the navigation on the goggles to set the correct input.
The reason why I like doing this extra step and connecting the phone first is that at any time during the flight if you want to view the feed on your phone again all you need to do is unplug the goggles and re-plug the micro USB cable back into the side of the controller. You will now have a normal feed back on your smart phone or iPad.
Watch our video tutorial showing you how to update the firmware on the DJI Racing Edition Goggles and how to connect all the equipment.
DJI Goggles RE (DJI Store) https://goo.gl/qaWFrQ
DJI Goggles RE (Amazon) http://amzn.to/2HC1meI
Mavic Air (DJI Store) https://goo.gl/t74LaQ
Mavic Air (Amazon) http://amzn.to/2EccQaM