GoPro Hero 5 Black Review | 60 Days In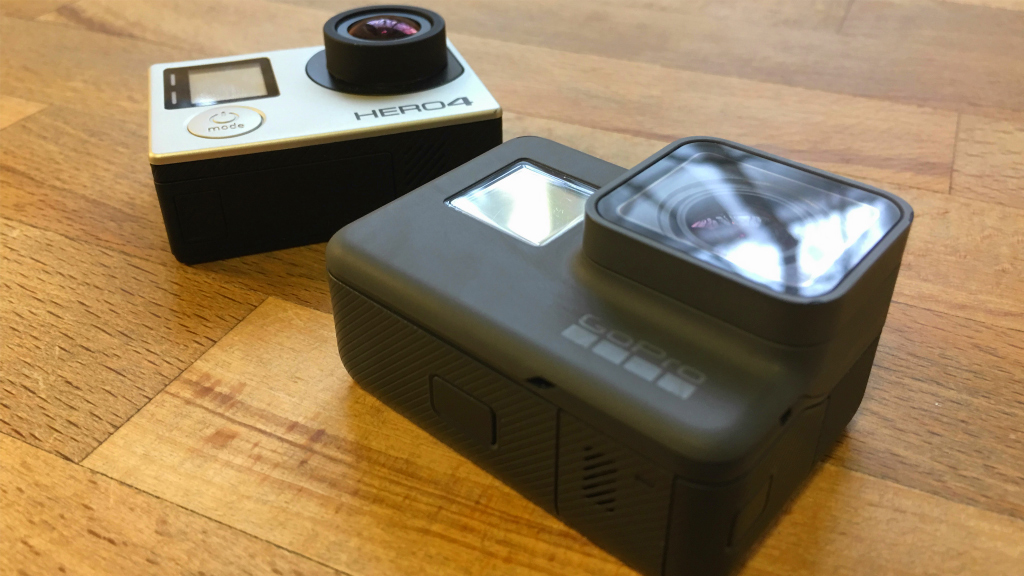 At the time I wrote and created my video review, the GoPro hero 5 Black and Hero 5 Session had been available to the public for about 2 months. I held off making any kind of review video or article after the initial launch as I really wanted to get to know the camera and have a good amount of time to use and test it before I made any kind of judgements or conclusions.
Things I Love About The Hero 5 Black
I have been using the Hero 5 Black quite a bit over the past few months and I now feel comfortable to make a review or thoughts video. I just want to point out that I am by no means an extreme sports kind of guy and so my thoughts on the camera and its functionality could be quite different from somebody who wants to purchase the camera for rock climbing or wind surfing etc. I am more of an "Average Joe" user, I like to film family adventures and create time lapses with my Hero 5 cameras.
Cosmetics: Visually the GoPro Hero 5 Black is quite different from its predecessors. It's now all dark grey with a rubber texture covering the camera. I find this new look to be attractive and functional. The rubber coating adds a bit of durability to the unit and really helps you keep a good grip on the camera. I found the Hero 4's looked cheap and almost like a kids toy. The Hero 5 Black now looks like it means business.
Waterproof: There are many new and drastic changes to the GoPro Hero 5 Black. Most notably the camera is now water proof without any housing. This to me is one of my favourite new features. I found the old waterproof housing to be very bulky and a pain to use some times. Now if you are headed to the beach for the day, you don't have to worry about what kind of housing or frames you need. You can just throw the camera in your bag and off you go.
LCD Screen & Menu: There is now a beautiful new LCD touch screen and wonderfully re-designed menu system to compliment it. GoPro did a great job designing the new menu, I would almost go as far as to call it perfect. Every setting is organised and easy to access. Important settings are right at your fingertips for easy changing on the fly. For me this is great when I am out capturing time-lapses.
GPS Data: The GoPro Hero 5 Black is now capable of embedding GPS telemetry data within your videos. This data can then be added to your edited video in a visual manner via the Quik Desktop App. When enabled you can now add speed, distance and other data gauges to your videos. A very cool feature and I have used it allot more than I first anticipated I would.
Video Stabilisation: The Hero 5 black can now make your videos a little more stable. This is achieved by cropping your videos while recording. It does a pretty good job at taming down camera shake while recording. It's not mind-blowing by any means but definitely a welcome addition.
Voice Control: This is another great new feature for the GoPro Hero 5 Black. This new voice control feature allows you to speak simple commands to your GoPro such as "GoPro Start Recording" and "GoPro Take A Photo" among others. If you have ever tried to take selfie with older GoPro's you will really appreciate the new voice commands, take a selfie is now a breeze. I like the fact you can easily command the GoPro to mark a "HiLight Tag" this makes editing in the Quick App allot easier and less time-consuming.
My Dislikes for The GoPro Hero 5 Black.
As great as the Hero 5 Black is there are a few things that I think GoPro still needs to improve by Firmware update or for the Hero 6 when released.
The new touch screen is great however I find sometime it has a hard time recognising my gestures when trying to bring up menus or change settings. Sometime I find myself have to swipe down from the top 4 or 5 times to get the preferences menu to appear. This is magnified greatly when the Hero 5 black is mounted in its frame. I hope this can be fixed with a firmware update.
The voice commands need some work as well. They generally perform well but on occasion the GoPro will execute a command that was not spoken. Sometimes if you are conversating near your GoPro while powered on, it will do something because it thinks it heard you speaking a command. Not a big issue by can be annoying.
One of the latest firmware updates disabled the use of third party internal batteries. I always use GoPro brand batteries, and I get some of the logic to doing this. I just don't like the fact that I can't choose another brand if I so choose to.
I wish go pro would make it easier to hook up an external microphone. As it stands in order to hook up a microphone to you Hero 5 black you have to purchase an expensive and really bulky adaptor just to plug in a simple microphone. Please GoPro for the Hero 6, allows us to plug a microphone directly into the camera without the need of an adaptor!
My last little complaint about the GoPro Hero 5 Black is the lack of accessory port. On the Hero 4 you could add a battery backpack to dramatically extend the battery life and still have a waterproof unit. As of right now there is no solution to have an external battery hooked up and still maintaining its waterproof integrity. This for me is frustrating because I like to create long night lapses and now I have to worry about moisture from overnight dew or if it happens to rain while the camera is filming overnight.
Some Neutral Thoughts
The battery life of the Hero 5 Black is not great but it's not horrible either. It would be nice if the could make the GoPro last a little longer maybe with larger batteries for the Hero 6.
There are many people complaining about the sound quality of the Hero 5. I agree it is not the best but hey its a GoPro. I rarely every use the sound captured by my GoPro, but when it is needed I find it to be adequate. If I need really good audio I use an external microphone.
Hero 5 Black Final Thoughts
I hope you found this review helpful Personally I find the Hero 5 Black to be a fantastic camera, there are a few negatives but they are far out-weighed by the positives. It really is the Best Hero yet! if you want a small camera with amazing video quality for filming family outing and vacations or to capture stunning time-lapses then the Hero 5 black will definitely not disappoint. You can watch my video review below.
Order Hero 5 Black On U.S Amazon Site
Order Hero 5 Black On Canadian Amazon Site
iSteady Pro Gimbal Review | Budget GoPro Gimbal For Under $100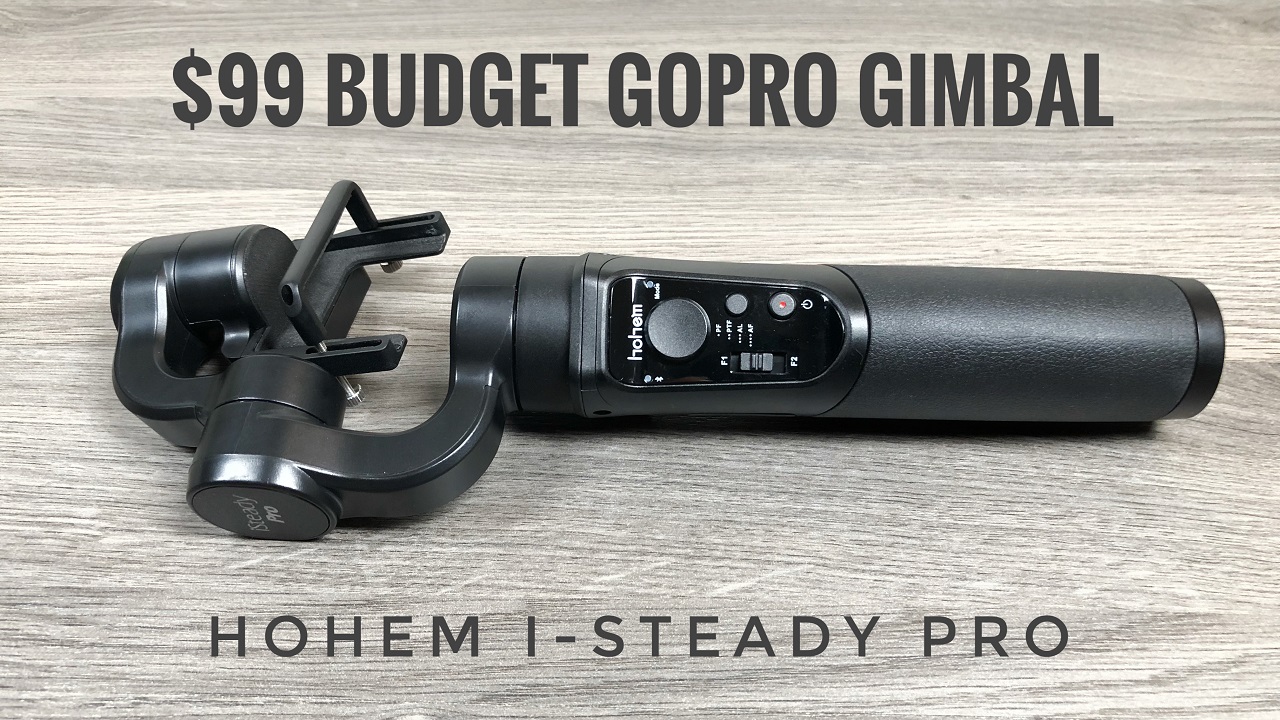 In this review we are taking a closer look at the iSteady Pro, a budget GoPro gimbal that you can pick up for under $100. Before I even get into the review of this new gimbal by Hohem, I want to point out how nice it is to see more competition of GoPro gimbals popping up on the market. Competition fuels innovation and improvements and not to mention forces more competitive pricing. We seen this happen with smart phone gimbals. A few years back DJI release the Osmo Mobile with a price tag of $299. Soon afterwards we seen third-party gimbals launching with prices as low as $99. This caused DJI to lower its price when they launched the Osmo Mobile 2 earlier this year to $129.99.
The Hohem iSteady pro is a simplistic GoPro gimbal that comes packaged in a nice case and even includes a mini tripod for those times when you want your gimbal resting on a suitable surface to create time-lapses. Also included with the kit is a micro USB cable for charging up the unit. I found the gimbal to be very comfortable to hold with its molded hand grip. It is a nice compact gimbal and very light to hold. First impression are good, it is a little plasticky but what do you expect from a $99 gimbal. All in all it does look to be well constructed and even includes a joystick for nice smooth movements.
The Good: The handle features a full-sized USB slot that can act as a power bank to charge any device that can be charged via USB. It also has a micro USB port near the camera mount that can be used to charge your GoPro while using the gimbal. Now this only works for cameras that you mount where the battery door is not blocked by the motor. I found the footage I shot with the iSteady Pro to be quite smooth and was pleasantly surprised. Like all gimbals there is some slight motor vibration noise, however I did find it to be of an acceptable level. Hohem has a nice little app for the iSteady pro that allows you to control the gimbal remotely and make some adjustments to how the gimbal behaves when in use. A very basic app but a nice touch for the price.
The Bad: I did find the gimbal handle would knock the camera on occasion when doing extreme moves/angles, so you have to pay attention to the angle at all times. I also found the horizon a little tilted when doing fast panning, it would correct it self but could be annoying to some film makers while other may like the fluid more natural motion.
All in all I found this to be a nice little gimbal for the price. If you're looking for a low-cost gimbal you might just want take a look at the Hohem iSteady pro, I am sure you will be satisfied with the purchase. Watch our full in-depth review on YouTube.
iSteady Pro (USA) https://amzn.to/2L5wclP
iSteady Pro (CAN) https://amzn.to/2NUUIUN
New Updated GoPro Seeker Backpack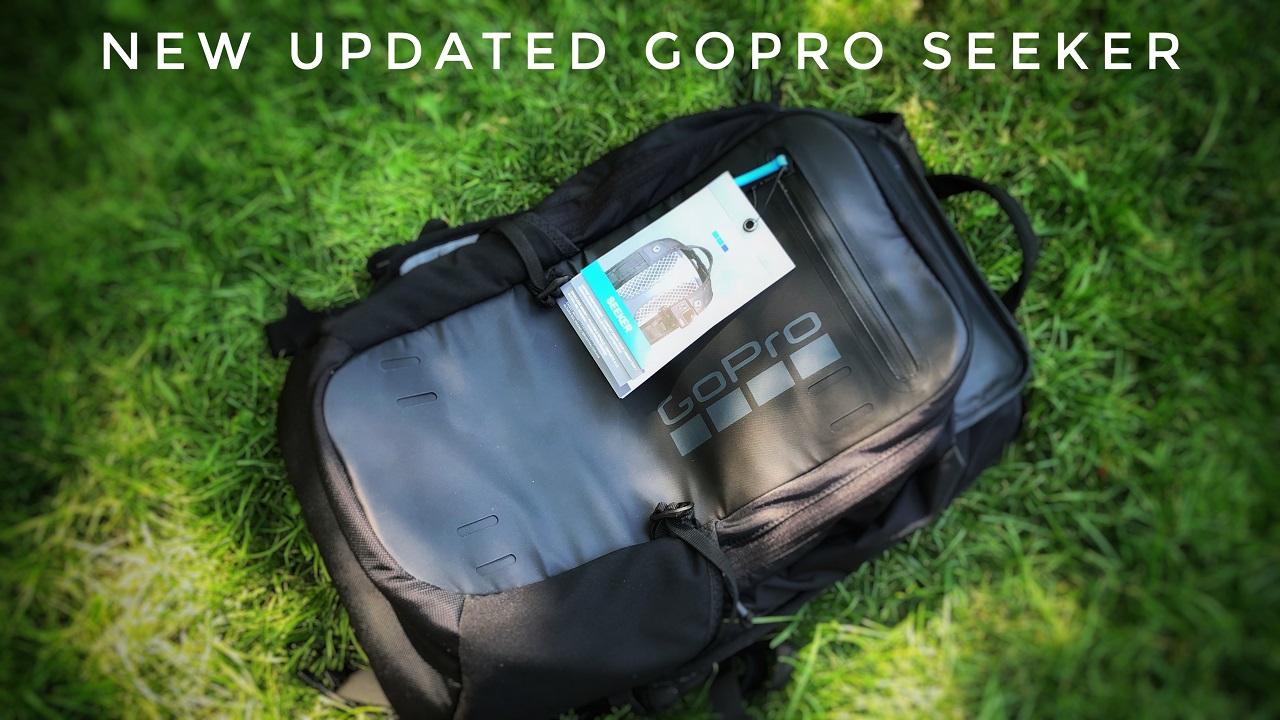 A few weeks ago GoPro quietly updated the GoPro seeker backpack with a few small changes. The first change is they have made the back pack slightly larger and increased its capacity from a 16 liters to a 18 liters. Upon visual inspection this did not significantly increase the overall size of the backpack. When doing a side by side comparison it's very difficult to see any size changes. The other feature that have added is a new laptop sleeve located in the back compartment beside the water bladder compartment that is now capable of holding a 15″ laptop. This was one complaint that many had with the original GoPro seeker and has now been addressed.
Another nice thing is that GoPro has dropped the price of the seeker backpack. For a long time the seeker backpack retailed at $169.99 U.S however the new price of the updated GoPro seeker backpack is $149 U.S. You can still purchase the original seeker backpack on amazon for under $120. The big question is … is it worth the upgrade if you already own the original GoPro Seeker Backpack. Personally I would have to say no, to me the changes are not significant enough to justify the cost. However if you are looking to get a new backpack, now is the time with the new low-cost and updated model. The seeker is a high quality GoPro backpack that is super comfortable to wear for long periods of time and can hold of ton of gear. I highly recommend it.
Updated Seeker Backpack: https://amzn.to/2L8Z9cA
Old Seeker Backpack: https://amzn.to/2NLJrWO