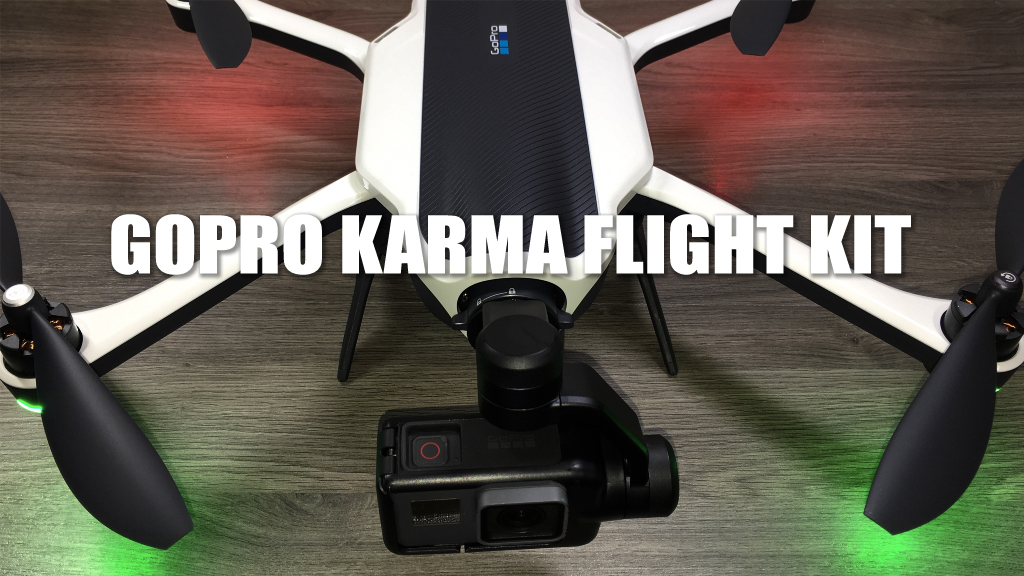 Do you already own the GoPro Karma Grip and are now thinking of getting the GoPro Karma drone? Then the Karma Flight Kit by GoPro is geared just for you. Last year I made the decision that this summer I would be upgrading from my Bebop 2 drone to a better aerial photography / video platform. When GoPro announced the Karma at its media event last September I knew my decision on which drone to get was going to be easy. The karma, a reasonably priced drone that comes with a hand stabilizer and backpack that would fit seamlessly into my GoPro ecosystem … but then … many things happened. The first setback was when GoPro revealed the Karma would only to be released in the U.S. to start. This was very disappointing news because I live North of the border in a little country called Canada, so no Karma for me on launch day. Shortly after the GoPro Karma media event, DJI unveiled its very own portable / fold-able 4K drone called the Mavic Pro that was even smaller. This was a big blow for GoPro who was hoping to market the drone as a small and portable unit. The icing on the cake came when the GoPro Karma was recalled due to a defect in the battery latching system. It seemed like there would be no Karma drone in my future and I started looking into other options.
One of the main reasoned I was leaning towards a GoPro Karma was the fact it also had a nice hand-held stabilizer included with the drone. This is something I knew would be very beneficial to me and the way I captured my world. After the Karma recall GoPro released the Karma Grip as a standalone product, I purchased it as did many others as soon as it was available.
Fast forward 5 months and the GoPro Karma is back with an international releases. GoPro realizing that many users had already purchased the Hand Grip stabilizer, they created a Karma package just for us called the Karma Flight Kit. It comes with everything that the Karma normally ships with except the gimbal and the Grip that costs $200 less than the complete kit. So realistically going this route you pay $100 more than if you just bought the complete system from the get go. However this is not so bad because when you purchase the grip by itself you get a nice little case included which helps offset the cost.
GoPro Karma With Harness Only
U.S. – http://amzn.to/2pxxxpP
GoPro Karma with Hero 5 Black
U.S. – http://amzn.to/2qlH01b
Canada – http://amzn.to/2qlLcOF
When you purchase the flight kit you get everything that comes with the normal GoPro Karma package except the Grip handle and the stabilizer.
Contents of the Flight Kit include:
Karma Backpack / Case
Karma Body
Karma Controller
Karma Charger for Drone and Controller
6 propellers (2 spares)
2 propeller wrenches
USB C Cable
Documentation and  GoPro Stickers.
When I first seen images of the GoPro karma from the press release my first impressions were that it looked a little cheap. But I was more than impressed when the kit arrived. The drone itself is beautiful and photos do not do it justice. The controller is well-built and feels great while holding. I love the fact that it has a built-in screen and I don't have to mount my smart phone.
Included with the GoPro Karma flight kit is the Karma backpack / case. This is a high quality case that is well-built and comfortable to wear. It has a built-in GoPro mount so you can capture interesting video while perhaps hiking to location. I am really glade that GoPro included it with the Karma System. If you have ever owned a drone and purchased a backpack you know that they can be very expensive. So for GoPro to include a case / backpack is simply amazing and also adds to the Karma's incredible value. The case is well laid out and offers great protection for the Karma. If you don't pack your charger or grip you are able to fit 5 batteries into the case which includes one in the drone. With the grip and charge in the case you can still easily pack 3 batteries along with you for filming your adventures.
All in all I am extremely pleased with the build quality of the GoPro Karma. I think GoPro got it right with this drone kit. What it lacks in features like "follow me" and "collision avoidance" it makes up for in the usability and value of the system. The karma controller is very intuitive and makes setup and flying the drone a breeze even if you are a first time drone owner. This is not a review of the Karma, that will be coming in about a month or so. I like to have a good amount of time to use a product in real world conditions before I make any kind of judgement. This is GoPro's first venture into the drone market and personally I think they are off to a great start for a first release. I am pretty excited to see what the future holds for the GoPro Karma Drone.
You can watch our unboxing video of the Karma Flight Kit on YouTube. It is more of a beginner's guide to help those who are first time drone owners to get up in the air quickly and easily. I go over all the steps to get your new Karma drone ready for flight including setup and updating the firmware. GoPro has updated the Karma firmware several times since its released adding many new exciting features.

Smatree Portable Charging Station For DJI Spark | Review and Thoughts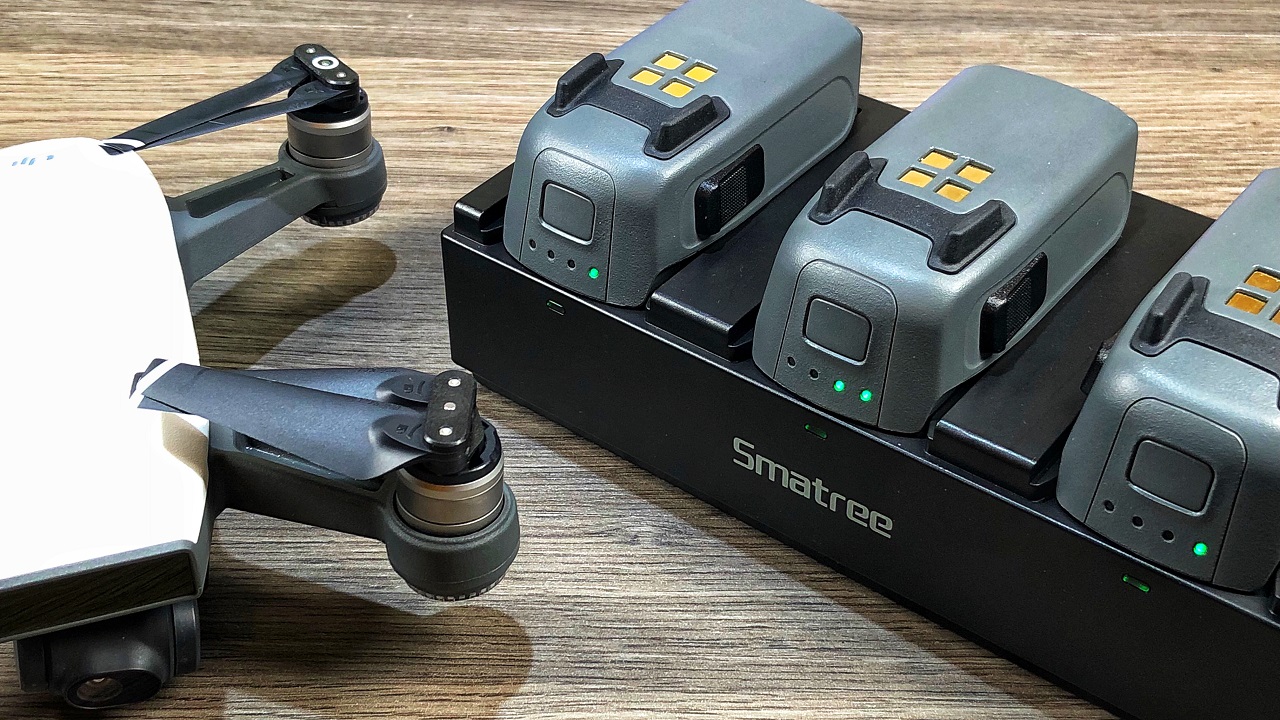 One of the nice features of the DJI Spark is the ability to charge it via a USB cable and a power bank. You can plug the Spark into a power bank and it will charge which is great when you out on location and you have burned through all your batteries. The problem is you can only charge one battery at a time and worse your drone is tied up while charging. This is where the portable charging station by Smatree comes in. Essentially this unit is a 8100 mAh power bank with battery charging bays for the DJI Spark built in. This portable charger allows you to charge 3 spark batteries simultaneously in about 45 minutes…that is supper fast. It can charge a total of 6 batteries before the entire unit needs a recharged. There is also a USB port on the side of the unit that can be used to recharge your Spark controller or even your smart phone. The charger does have some weight to it (12.8 ounces) but still very portable and easily packed in a backpack.
Smatree Portable Charger (Updated Version)
I want to point out that Smatree has updated the portable charging station since I filmed my video and what a great update it was. The old version used a micro USB connector to recharge the power bank at (5V/2A) this worked fine, however it takes over 14 hours to recharge at this rate. The updated unit now comes with it own dedicated charger that plugs into a wall socket and directly into the power bank. The new charging specs are (8.7V/4A) and the unit can now be recharged from empty in about 3.5 to 4 hours. Such a welcome upgrade!
This is a fantastic charger and I think it is a must have accessory for every DJI Spark pilot. I really wish all drones would adopt this method of USB charging, It would save a fortune not having to buy so many extra batteries just so you can have a full day of flying.
Updated Charging Station (USA) https://amzn.to/2ql9Gcp
Updated Charging Station (CAN) https://amzn.to/2v6Yp4u
DJI Spark (DJI Website) https://goo.gl/DvoqK1
DJI Spark (USA Amazon) https://amzn.to/2HoDaxi
DJI Spark (CANADA Amazon) https://amzn.to/2GM5eJX
DJI Sling Bag Review | Best Case For The DJI Goggles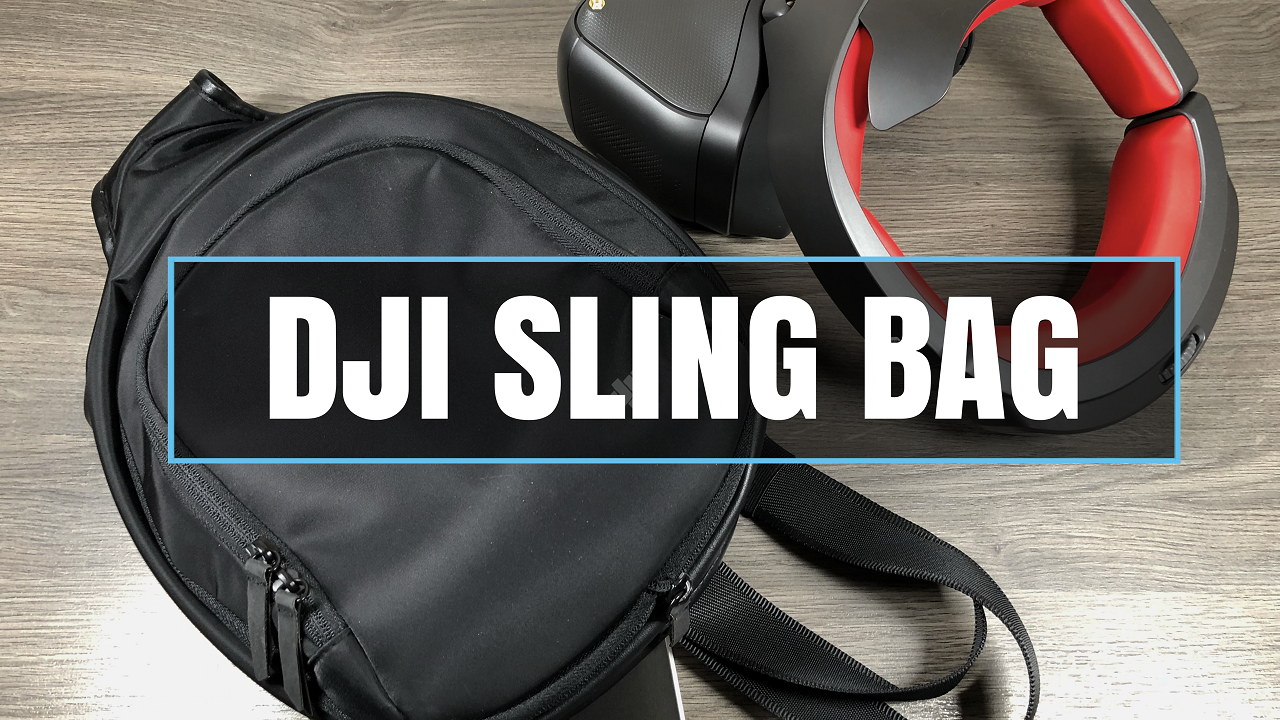 If you have been looking for a storage solution for your DJI Goggles you may want to take a look at the DJI Sling Bag. This sling bag style case is designed to hold the DJI Goggles as well as a Mavic Pro or Mavic Air, it also works well with the DJI Spark. One of the really nice features of the DJI Sling bag is the fact that it is convertible which means if you are only going to be storing the goggles inside, it zips up small so you don't have all the extra bulk. However if you wish to carry a drone in the pack as well, there is plenty of room. It can hold a total of 3 Mavic Pro batteries plus remote, or 5 Mavic Air batteries and remote.
This bag looks and feels like a premium product, something that I have come to expect from DJI gear. One thing I have not been able to find out online is if the bag is water-resistant. Due to the design of the zippers and material I would have to say it is. Overall a nice case for the DJI Goggles. Watch our review video featuring the DJI Goggles sling bag.
DJI Sling Bag (DJI Website) https://goo.gl/pKvG7L
DJI Sling Bag (Amazon) https://amzn.to/2J9fgps
Mavic Air (DJI Website) https://goo.gl/t74LaQ
Mavic Air (Amazon) http://amzn.to/2EccQaM
DJI Goggles RE (DJI Website) https://goo.gl/qaWFrQ
DJI Goggle RE (Amazon) http://amzn.to/2HC1meI