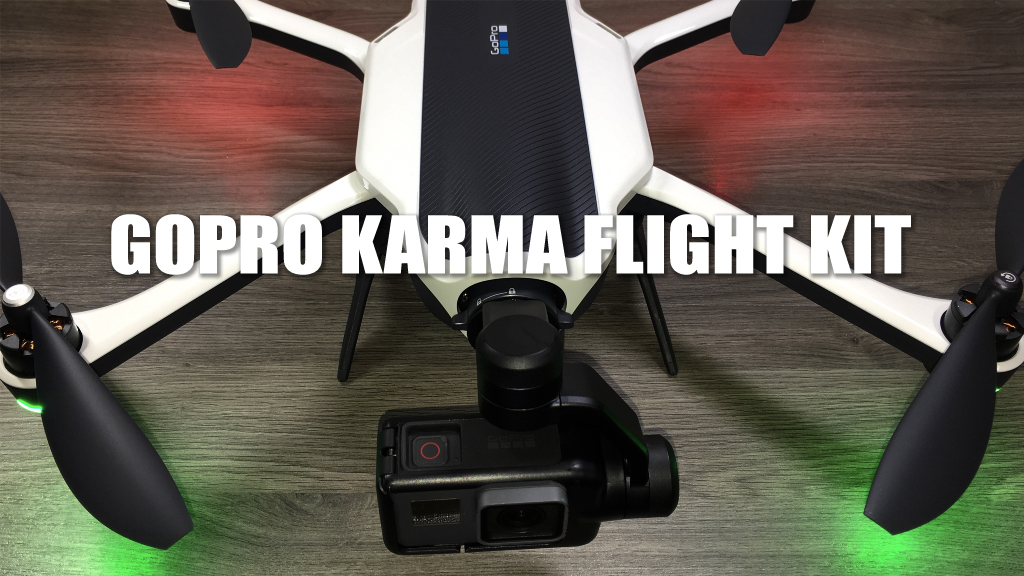 Do you already own the GoPro Karma Grip and are now thinking of getting the GoPro Karma drone? Then the Karma Flight Kit by GoPro is geared just for you. Last year I made the decision that this summer I would be upgrading from my Bebop 2 drone to a better aerial photography / video platform. When GoPro announced the Karma at its media event last September I knew my decision on which drone to get was going to be easy. The karma, a reasonably priced drone that comes with a hand stabilizer and backpack that would fit seamlessly into my GoPro ecosystem … but then … many things happened. The first setback was when GoPro revealed the Karma would only to be released in the U.S. to start. This was very disappointing news because I live North of the border in a little country called Canada, so no Karma for me on launch day. Shortly after the GoPro Karma media event, DJI unveiled its very own portable / fold-able 4K drone called the Mavic Pro that was even smaller. This was a big blow for GoPro who was hoping to market the drone as a small and portable unit. The icing on the cake came when the GoPro Karma was recalled due to a defect in the battery latching system. It seemed like there would be no Karma drone in my future and I started looking into other options.
One of the main reasoned I was leaning towards a GoPro Karma was the fact it also had a nice hand-held stabilizer included with the drone. This is something I knew would be very beneficial to me and the way I captured my world. After the Karma recall GoPro released the Karma Grip as a standalone product, I purchased it as did many others as soon as it was available.
Fast forward 5 months and the GoPro Karma is back with an international releases. GoPro realizing that many users had already purchased the Hand Grip stabilizer, they created a Karma package just for us called the Karma Flight Kit. It comes with everything that the Karma normally ships with except the gimbal and the Grip that costs $200 less than the complete kit. So realistically going this route you pay $100 more than if you just bought the complete system from the get go. However this is not so bad because when you purchase the grip by itself you get a nice little case included which helps offset the cost.
GoPro Karma With Harness Only
U.S. – http://amzn.to/2pxxxpP
GoPro Karma with Hero 5 Black
U.S. – http://amzn.to/2qlH01b
Canada – http://amzn.to/2qlLcOF
When you purchase the flight kit you get everything that comes with the normal GoPro Karma package except the Grip handle and the stabilizer.
Contents of the Flight Kit include:
Karma Backpack / Case
Karma Body
Karma Controller
Karma Charger for Drone and Controller
6 propellers (2 spares)
2 propeller wrenches
USB C Cable
Documentation and  GoPro Stickers.
When I first seen images of the GoPro karma from the press release my first impressions were that it looked a little cheap. But I was more than impressed when the kit arrived. The drone itself is beautiful and photos do not do it justice. The controller is well-built and feels great while holding. I love the fact that it has a built-in screen and I don't have to mount my smart phone.
Included with the GoPro Karma flight kit is the Karma backpack / case. This is a high quality case that is well-built and comfortable to wear. It has a built-in GoPro mount so you can capture interesting video while perhaps hiking to location. I am really glade that GoPro included it with the Karma System. If you have ever owned a drone and purchased a backpack you know that they can be very expensive. So for GoPro to include a case / backpack is simply amazing and also adds to the Karma's incredible value. The case is well laid out and offers great protection for the Karma. If you don't pack your charger or grip you are able to fit 5 batteries into the case which includes one in the drone. With the grip and charge in the case you can still easily pack 3 batteries along with you for filming your adventures.
All in all I am extremely pleased with the build quality of the GoPro Karma. I think GoPro got it right with this drone kit. What it lacks in features like "follow me" and "collision avoidance" it makes up for in the usability and value of the system. The karma controller is very intuitive and makes setup and flying the drone a breeze even if you are a first time drone owner. This is not a review of the Karma, that will be coming in about a month or so. I like to have a good amount of time to use a product in real world conditions before I make any kind of judgement. This is GoPro's first venture into the drone market and personally I think they are off to a great start for a first release. I am pretty excited to see what the future holds for the GoPro Karma Drone.
You can watch our unboxing video of the Karma Flight Kit on YouTube. It is more of a beginner's guide to help those who are first time drone owners to get up in the air quickly and easily. I go over all the steps to get your new Karma drone ready for flight including setup and updating the firmware. GoPro has updated the Karma firmware several times since its released adding many new exciting features.

Mavic Air ND Filters by Freewell Gear | What Are Drone ND Filters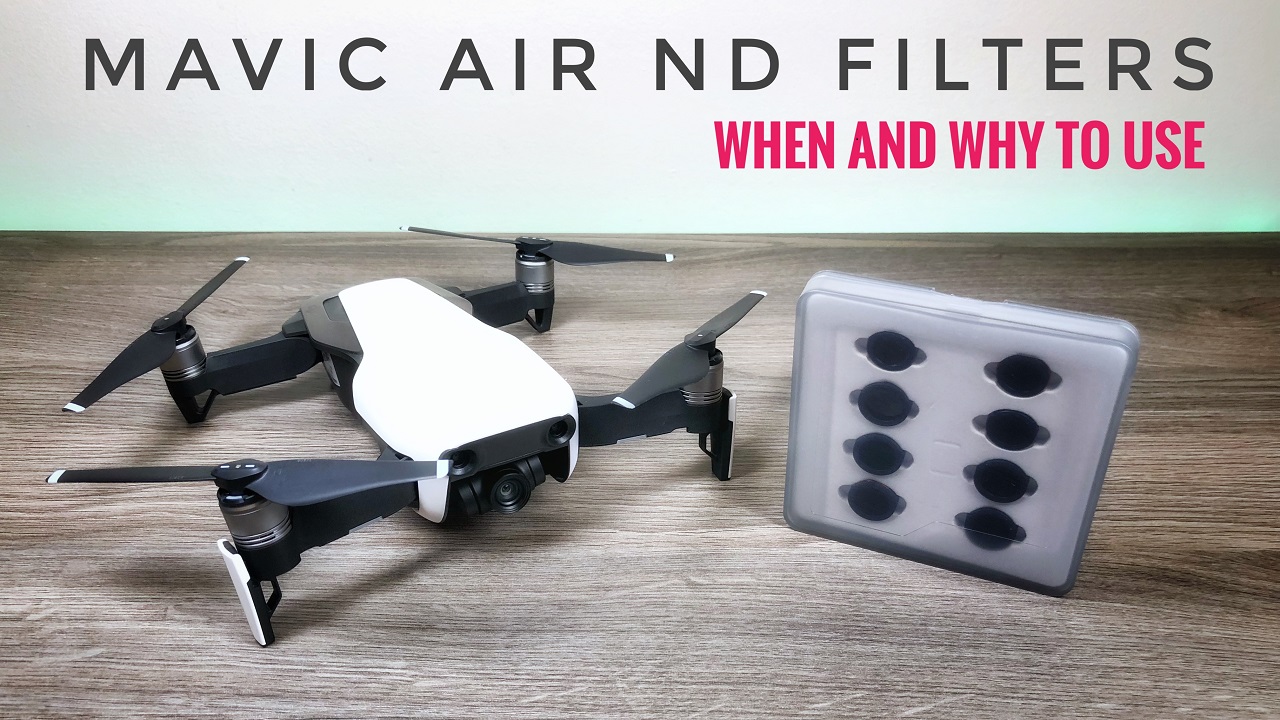 In this video we are taking a look at Freewell Gear's ND filters for the DJI Mavic Air. If your new to drone cinematography you might be wondering what an ND filter is and why you would use them. ND stands for neutral density and in simplest terms it is just like a pair of sunglasses for your drone's camera. There is a lot of confusion on what exactly an ND filter does, so let me clear it up a bit. An ND filter allows you to set the correct shutter speed on your drone's camera to get the perfect amount of motion blur. There is a rule when trying to capture cinematic footage with your drone (180 Degree Rule). Basically the rule is that you want your shutter speed double what your frame rate is. For example if you are filming at 30 fps you would want your shutter speed at 60 (1/60th second). If you're filming at 60 fps then you would want your shutter speed at 120 (1/120th second). This will give the perfect amount of motion blur that the eye and brain are comfortable with.
The problem with setting these low shutter speeds is that it lets in a lot of light and makes the video over exposed and blown out. This is where an ND Filter comes in (sunglasses). They allow you to set a low shutter speed and still have correct exposure.
Freewell gear sells ND filters for all the most popular drones including the DJI Spark, Mavic Air, Mavic Pro, Phantom Series and even your GoPro and Karma Drone. I have used the Freewell gear ND filters for several years for my GoPro and many drones and have always been pleased with the products. When it comes to ND filters they come in several levels ND4, ND8, ND16, ND32, ND64. They even have an ND 1000 for those times when you want to take long exposure photos with your DJI Mavic Air.
They also sell versions of their ND filters that are polarized. Setting polarization within the filter really helps cut out glare from water and can really make for a cleaner image, it also helps make the sky a little deeper blue. With Polarized ND filters they can only be used 90 degrees from the sun. The sun can not be in front or behind your drone. This does make lining up shots a little more difficult. If you just want quick and easy filters I would stick with ones that are not polarized.
Watch our video where I show ND filter installation instructions and a demonstration how ND filers work with the DJI Mavic Air.
ND Filters Standard Day Set: https://amzn.to/2yENG2D
ND Filters Bright Day Set: https://amzn.to/2tr9fPd
ND Filters All Day Set: https://amzn.to/2yFPkRJ
Mavic Air (DJI Website) https://goo.gl/t74LaQ
Mavic Air (Amazon) http://amzn.to/2EccQaM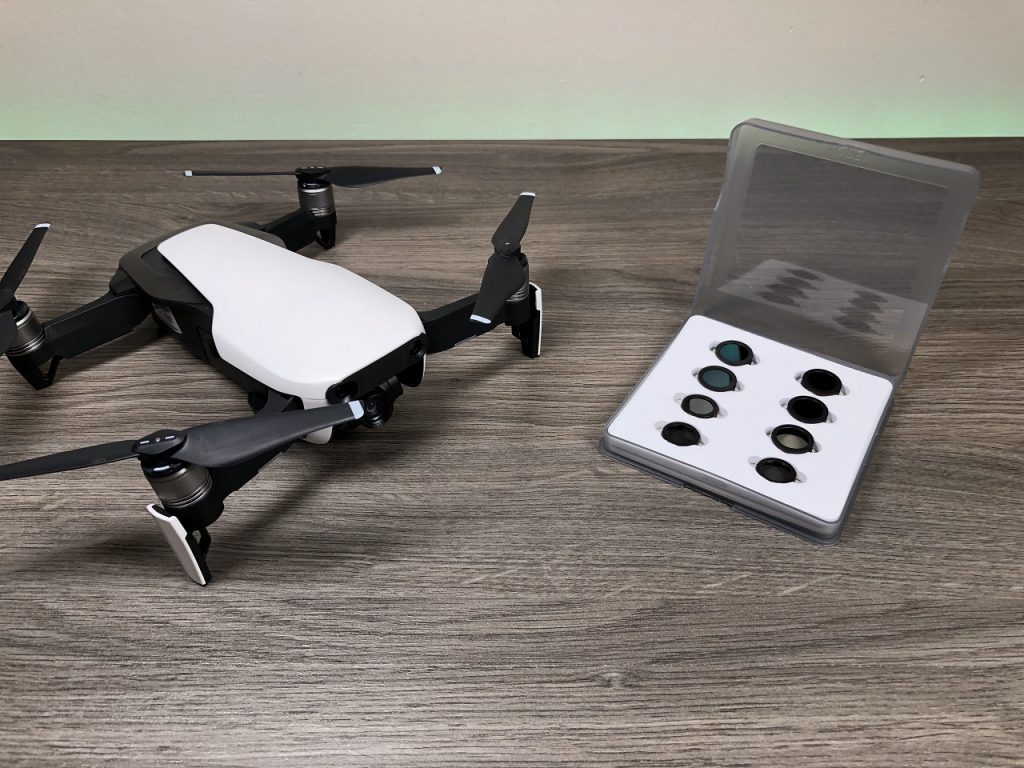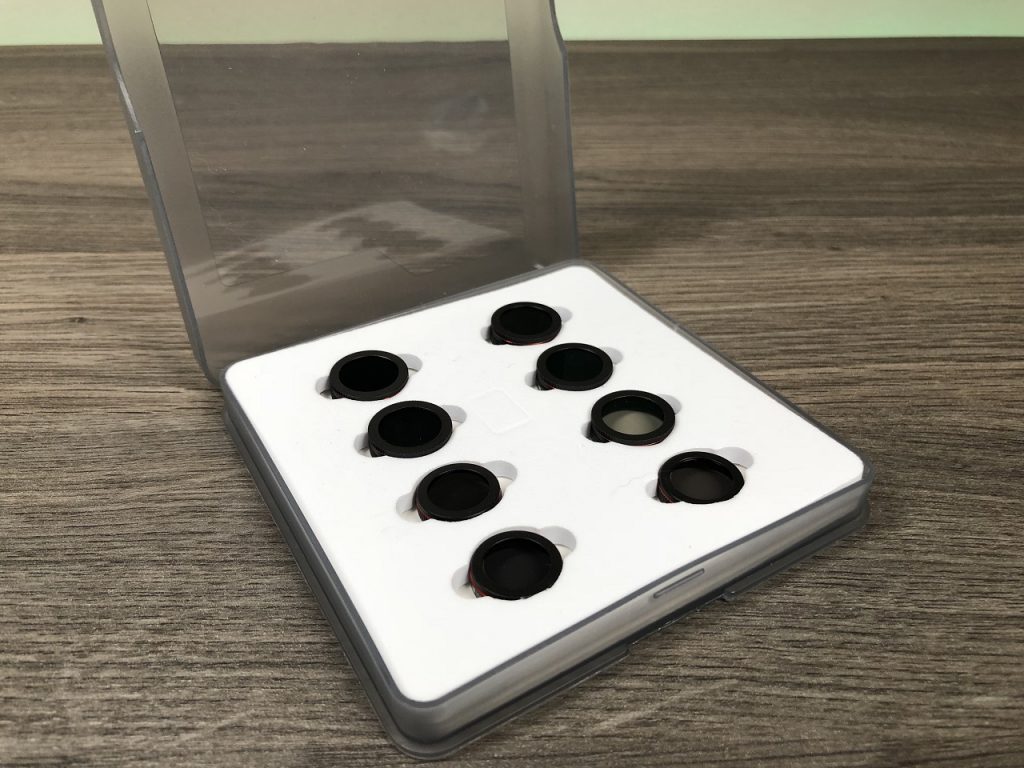 Will We See A DJI Spark 2 or Pro Model | My Spark 2 Wishlist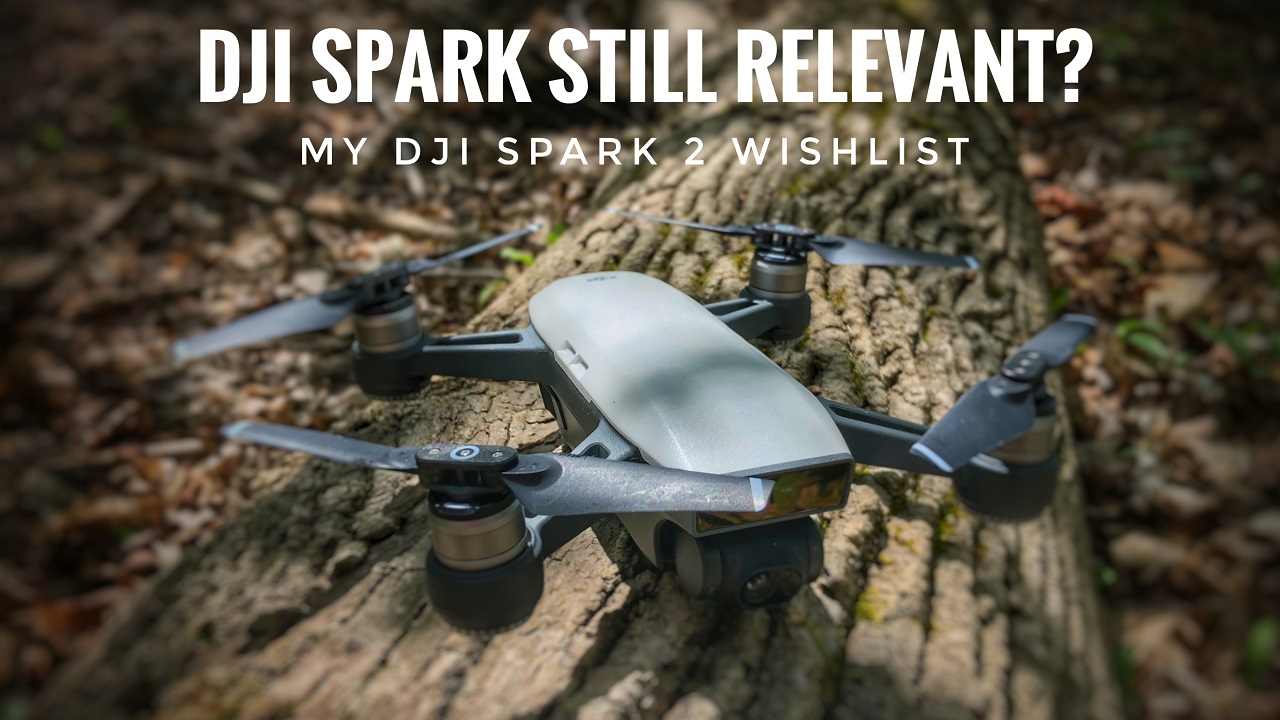 Its been one year since DJI officially launched the DJI Spark and for me and many others it really filled a void in the drone universe. The spark was marketed as a selfie drone but really its capabilities go so much further than that. One of the main features that many like about the spark is small size. The spark was portable, powerful and offered a really high quality 1080 HD video. The spark is easy to pack and can fit easily into a backpack which made it the ultimate travel drone. I myself do a lot of hiking and the DJI Spark always comes along with me just in case I want to grab some footage. The DJI Spark has been on sale for some time at $100 off the original price and now comes with a free remote. When DJI puts their drone on sale it tends to mean that a new drone is coming down the pipe.
$399 DJI Spark With Free Remote: https://bit.ly/2kwcmAK
Fast forward a year later and we now have the Mavic Air alongside the spark and makes one wonder if the Spark is even relevant anymore? The reason I say this is because the Mavic Air actually folds up smaller than the DJI Spark and is easier to pack. This was one of the main selling points to many. Personally I think there is still a market for the DJI spark and here is my reasoning and what features I would like to see introduced with a DJI Spark 2/Pro or whatever they decide to name it.
Lose Some Weight: I think the size of the Sparks is still very important. The Spark comes in at a weight of 300 grams with a battery installed. For many countries 250 grams is where most regulations kick in. Drones over 250 Grams need to follow the drone rules and flight restriction zones. If they could shave off another 50 grams some how I think this would appeal to many people including myself. Those who live in large cities where there are so many no fly zones could actually get back up in the air. This would have to be my number one wish for a new Spark, however I don't want DJI to go too extreme with a smaller size. The lighter a drone is the easier it can be blown around in the wind. The current spark does an amazing job in the wind and I would like it to remain that way.
 Folding Arms & Props: Now many people may disagree with this, but I would like to see the Spark 2 to be a folding drone. This would make the footprint of the DJI Spark 2 super small and super easy to pack and transport. Folding drones are very popular in today's market and I think the Spark 2 would be a perfect candidate for a folding design. Others don't like the folding design as it one extra step needed to getting your bird up in the air and if you in a hurry it can be frustrating. Personally I would rather a folding drone as I really don't find it all that of an inconvenience.
4K Video: Now this is not super important to me as I am okay with 1080 HD Video, but if it could be done, 4K video would be a bonus. However I would like it to be excellent 4K! You see a lot of cheap cameras offering 4K video with low bit rates and bad picture quality. Personally I would prefer superb 1080 than mediocre 4K.
Rear Sensors: I would love to see some rear sensors added to the DJI Spark. Quite often I am flying backwards and having that little extra security would be really nice. Accidents do happen from time to time no mater how careful we are.
Retain Price: Lastly I would really like to see the Spark retain its 499 price point. In-fact the spark has been reduced in price for some time now selling at 399 with a free remote. I like this price point, it makes the drone more affordable and helps it get into the hands of more people.
Well that is my wish-list. I would love to hear what new features you would like to see introduced into a next generation DJI Spark.
DJI Spark (DJI Store) https://goo.gl/DvoqK1
DJI Spark (Amazon) http://amzn.to/2GoBjYN