How To Add GPS Data Gauges To Your GoPro Videos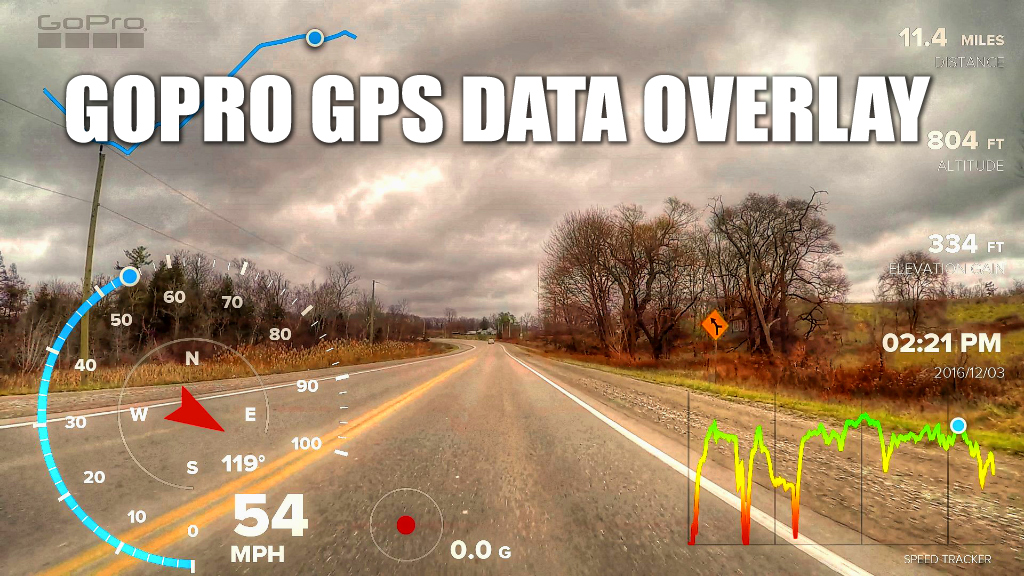 One of the brilliant new features of the GoPro Hero 5 Black is the ability to log GPS telemetry data within videos which can then be displayed over your videos in a visual form of various gauges. Some of the data you can overlay are speed, distance, g-force, altitude, elevation gain and time. All the gauges and data are customizable and can be resized or moved to different parts of the video. This is a great tool for skiing, dirt bike ridding, mountain biking or just a nice drive with your car or motorcycle. This will even work on an air plane, you can track how fast the plane is moving and the distance it traveled.  In order to have your GoPro record all the telemetry data you must enable GPS in the preferences menu.
Tutorial: How To Add GPS Data To Your GoPro Videos Using GoPro Quik
Step 1: Power on your GoPro and make sure you have enabled GPS in the preference menu. Wait until the GPS notification is lit up, this confirms that the GoPro has picked up a satellite. Once you confirm your GPS is connected you can proceed with recording your activity as normal.
Step 2: Once you have recorded your video we now need to transfer your video to your computer. It is best if you use the GoPro Quik desktop app to transfer, we will be using this software anyways to add the telemetry data to your video.
Step 3: Now that your video is transferred to the computer, it's now time to launch GoPro Quik if you have not already done so. At this point you should locate your video in the media section of Quik. Once you have found the video you shot with GPS enabled, double-click it to open up the video for editing.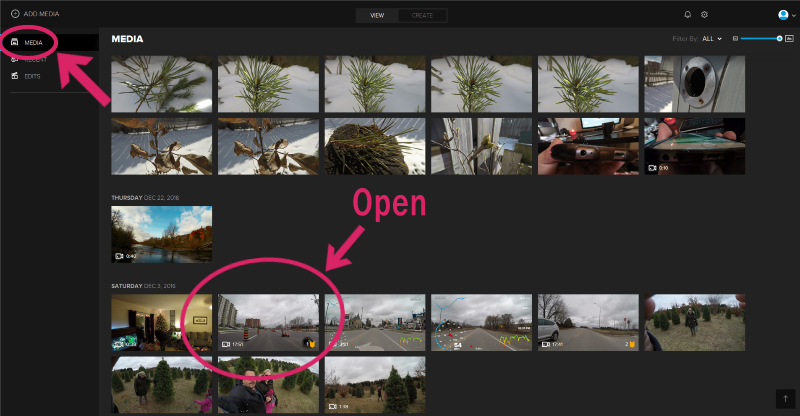 Step 4: Once your video has been selected we are now going to enable the GPS data overlay. At the bottom of the screen click on the icon that looks like a speedometer gauge. This will launch the GPS telemetry data options panel.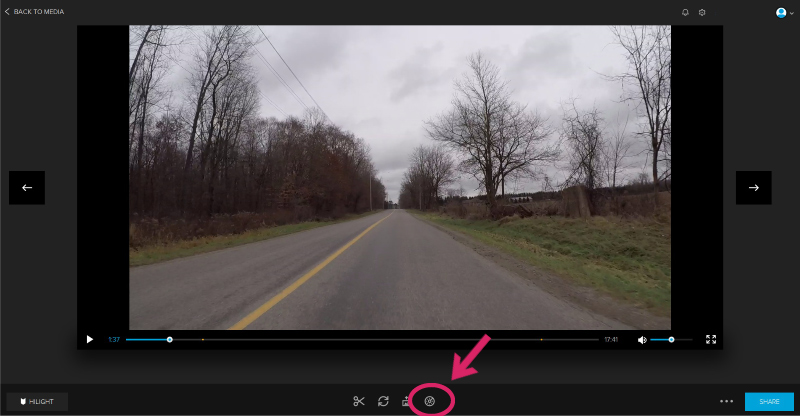 Step 5: The telemetry data options will pop up and here we can enable the specific gauges that we wish. You can select them all or just a few. Slide the toggles to the "on" position and when done click the save button.
Step 6: After clicking save you will be directed back to your video and you will notice all the new data gauges on your video. Every gauge can be customised you can move them to different parts of the screen. They can also be resized if you so wish.
Step 7: To save the video with the GPS data gauges you will now have to click on the scissor icon at the bottom. This will take us to a section were we can trim the clip and save it to our computer.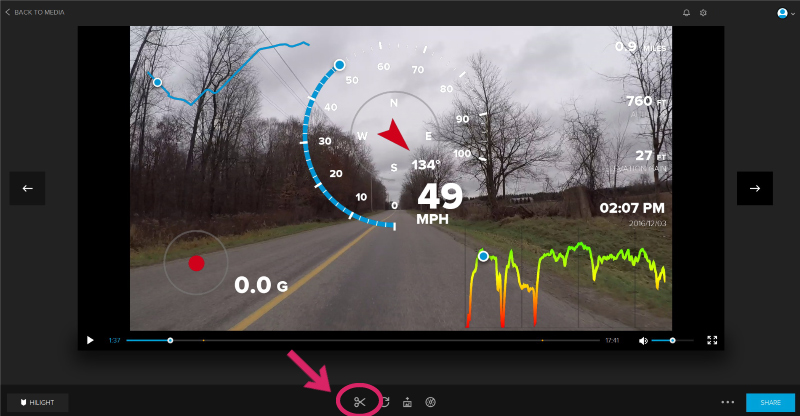 Step 8: Adjust the scrub bar handles to set the start point and end point of our GoPro GPS enabled video. When done click on the save button and the new GPS clip will be saved to your computer in the same location as the original video. The original video will not be modified, this creates a new clip with the GPS telemetry data.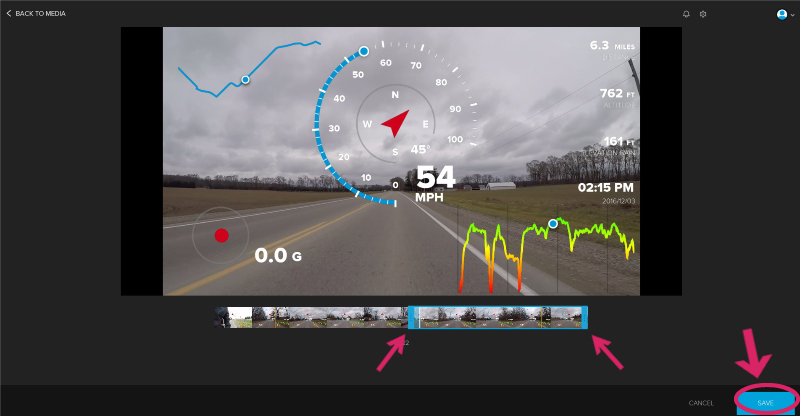 Tip: You can change from imperial to metric in the settings of the Quik App.
That is it, your GoPro Hero 5 Black videos now have GPS data gauges on them. I hope you found this tutorial on how to add GPS information to you GoPro videos helpful.
Beginners Guide To LumaFusion | Mobile Video Editing On Your iPad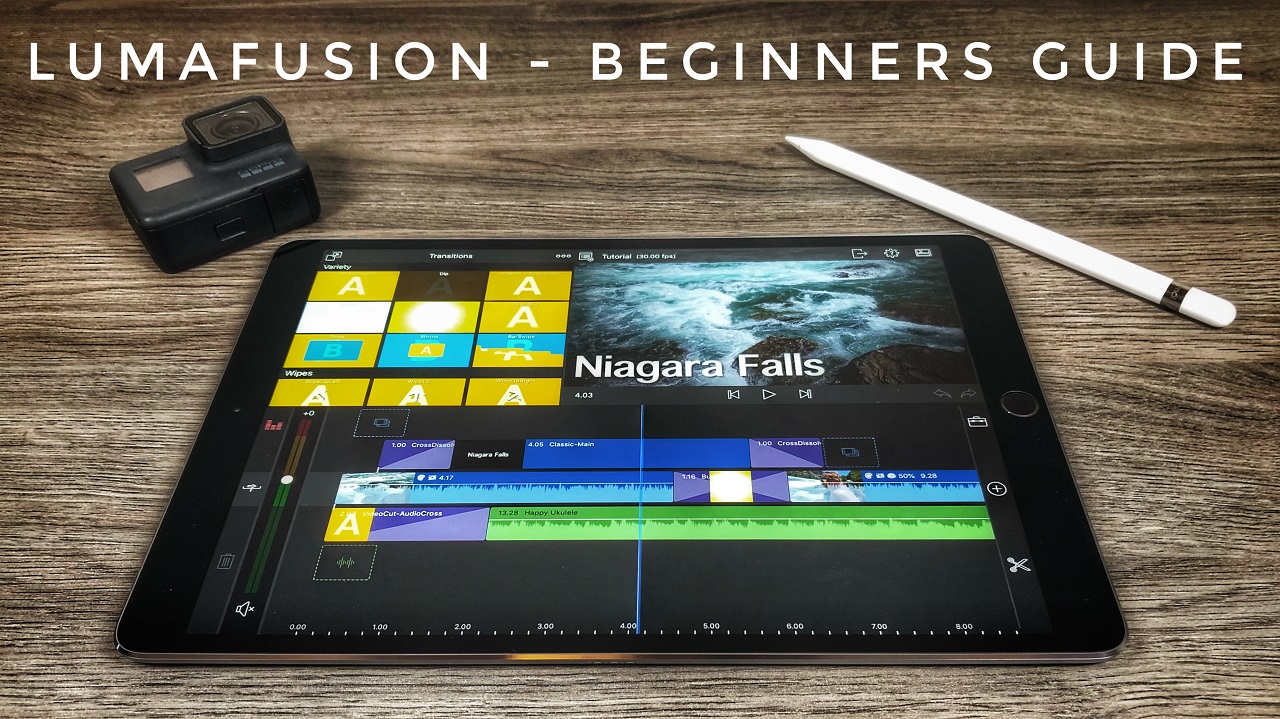 Welcome to our beginners guide to LumaFusion. LumaFusion is a great mobile video editing app for those who want to edit GoPro, Drone and Smart Phone footage on their mobile devices such as iPhones and iPads. Not only is LumaFusion a powerful feature rich video editor that can handle 3 tracks of 4K video, it is also great for new users as it has a simple clean interface that is easy to learn.
In this video we cover all the basics to get you up and running and publishing your very first video. Some of the subjects we cover include.
The user interface of LumaFusion
Opening existing projects and starting a brand new project.
Browsing and previewing media on your device.
Trimming and adding video to you timeline.
cutting, splitting and deleting media from your timeline.
Adding and adjusting transitions to your videos
editing the audio properties of your videos.
adding music to you project.
Creating and editing titles.
Color correcting videos in your timeline.
Exporting your video to your camera roll.
Stay tuned as we will be creating more LumaFusion tutorials soon covering advance editing techniques.
The equipment I use for mobile editing.
10.5 iPad Pro: https://amzn.to/2JyLSJt
Apple Pencil: https://amzn.to/2JvJUt3
Apple Card Reader: https://amzn.to/2I4McQD
Wireless Hard Drive: https://amzn.to/2KeDWy5
Rode VideoMic Me: https://amzn.to/2r3c9Zm
The Equipment I film with.
GoPro Hero 6 Black: https://amzn.to/2LchoOX
FeiyuTech G6: https://amzn.to/2IlCiJo
Mavic Air (DJI Website) https://goo.gl/t74LaQ
Mavic Air (Amazon) http://amzn.to/2EccQaM
How To Do Text Masking On Video Footage In LumaFusion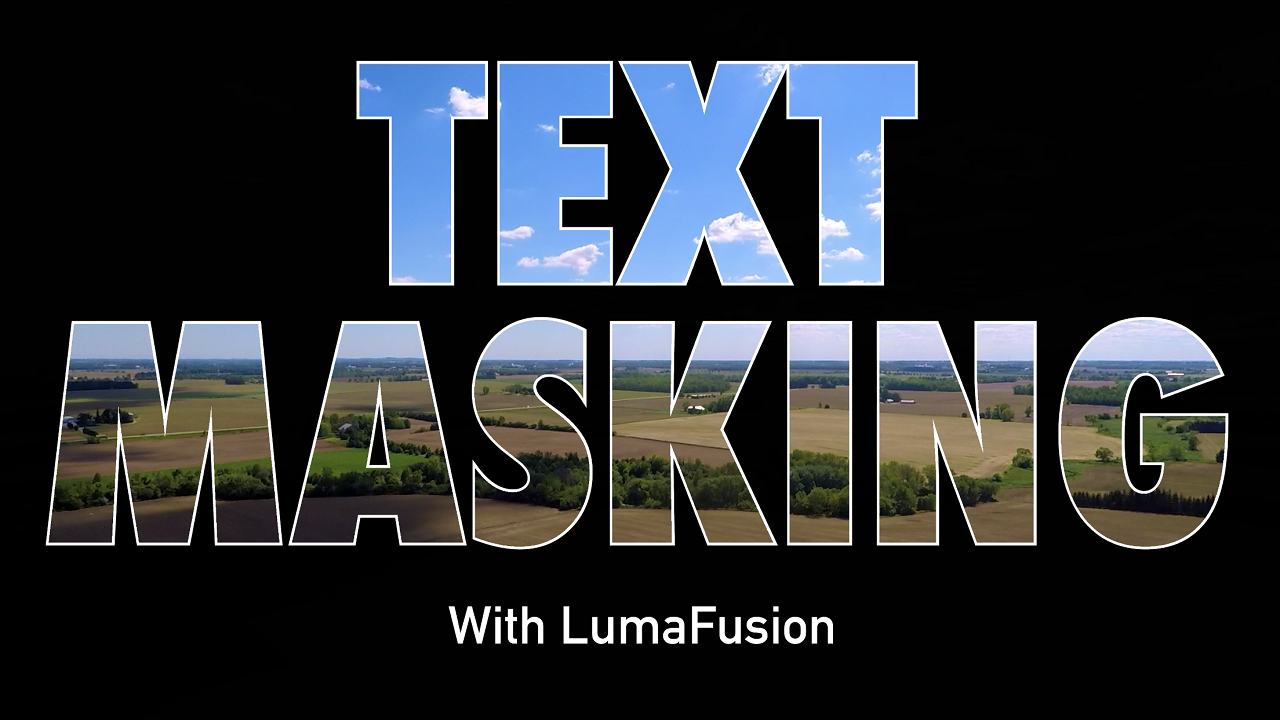 In our latest LumaFusion tutorial I show you how you can easily at text masking over video footage in LumaFusion on your iPhone or iPad. This is an easy to follow step by step tutorial and will help you take your editing to the next level. Text masking is great way to add stunning titles to your drone and GoPro footage. LumaFusion is a powerful mobile editor giving you a professional editing platform while on the go, or if you are like me and prefer to do your editing on an iPad while enjoying a coffee on a patio.
Here is a list of editing tools I use for editing 4K GoPro and drone footage on my iPad.
10.5 iPad Pro: https://amzn.to/2JyLSJt
Apple Pencil: https://amzn.to/2JvJUt3
Apple Card Reader: https://amzn.to/2I4McQD
Wireless Hard Drive: https://amzn.to/2KeDWy5
Rode VideoMic Me: https://amzn.to/2r3c9Zm