Insta360 One Review and Basic Tutorial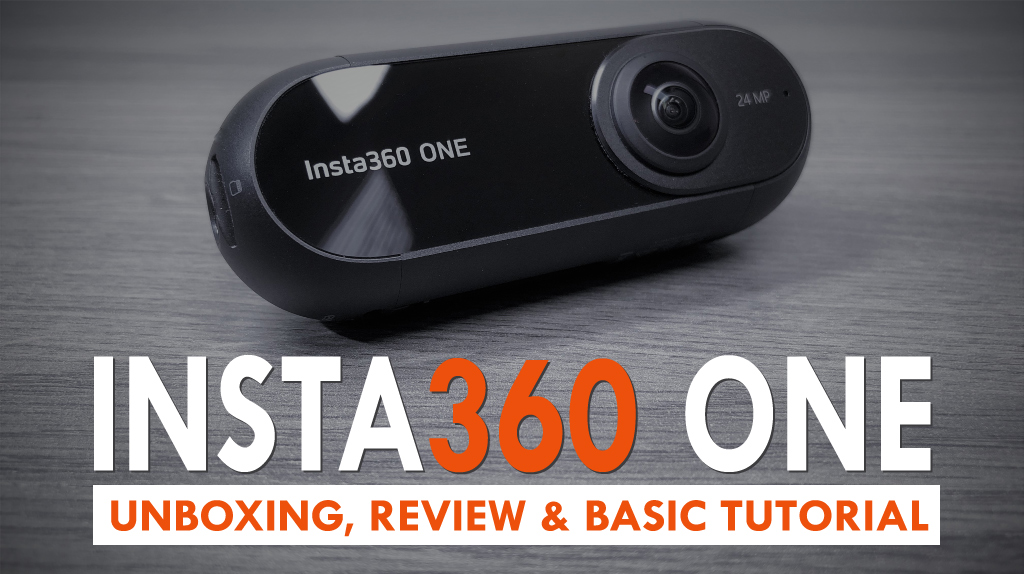 A review and walk-through of the Insta360 one. This small but powerful 360 VR camera is feature rich with a small price tag. With an easy to use iOS app and desktop suite, it might just be the best 360 camera currently on the market.
Insta360 One: http://amzn.to/2iU560d
While I wait for the GoPro Fusion to be available for purchase later this month, I thought I would play around with some other 360 cameras on the market to give me a good feel of the technology that is currently available. I took a look at the Insta360 One and I must say I love the way 360 is heading. I have never been a big fan of 360 videos, I find them a little gimmicky and for the most part annoying to watch on Facebook and YouTube. Sure once and while it looks cool, but I could never really see myself filming in this format on a regular basis.
With the Insta360 One and with the Fusion, manufactures are now steering towards capturing 360 video in the moment, editing and punching out a traditional 1080 flat video later via "OverCapture (Fusion)" or "FreeCapture (Insta236)". Using these new features you will never miss a moment. Its like having multiple cameras mounted in many directions.
I encourage you to watch my Insta360 One video to see just what this little camera is capable of.

New FlowState Update For The Insta360 One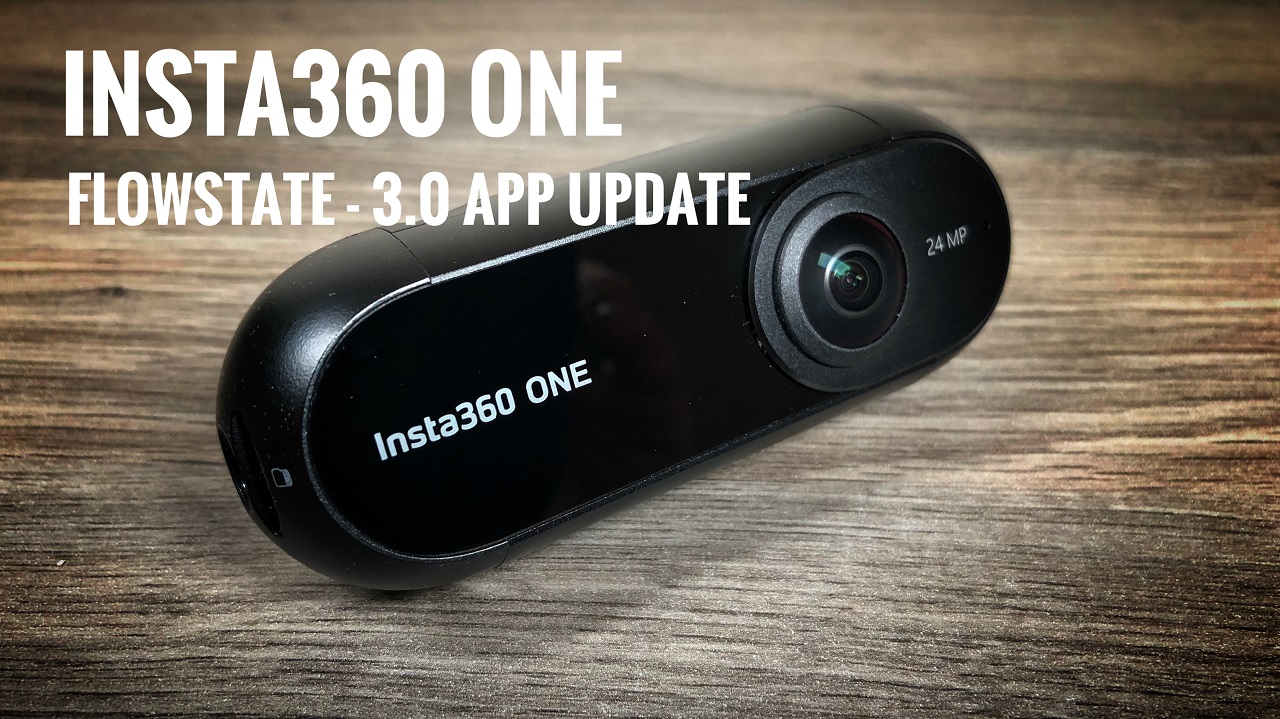 So Insta360 has done something incredible that has just turned the Insta360 One camera into a whole new device. Last week Insta360 released a new update for Insta360 One version 3.0 for the iPhone app and a new firmware update for the camera itself version 2.0. This update introduced a new stabilization technology that they call FlowState and it is just amazing. I have done many test with the new update and I would almost go as far as to call it magic. Even with the camera moving quite dramatically the software was able to stabilize it and make it look nice and smooth.
The new Insta360 update also introduced new editing features such as PivotPoints and SmartTracking. With these new editing features you are able to create smooth videos and re-position the view-point to any angle you so wish.. The points that are created on the timeline can be edited if you wish to make changes which is a very welcome feature. Once you have your points of interested selected you can export the video as a traditional 16×9 video. The smart tracking feature will keep a subject or object in the main viewing area even if the camera is moving. They have also added some new split screen views so you can get a feel of what is happening from both lenses.
This new technology is allowing photographers and cinematographers to capture footage and shots that were not even possible a year or two ago. The Insta360 one is a great alternative to the traditional action camera such as a GoPro. You don't have to worry about lining up your shots and the footage is just as smooth or if not smother that if you have an action camera mounted in a mechanical gimbal. The real benefit is you can stabilize your shots doing activities that you just cant use a gimbal. Try doing cartwheels with a gimbal…it just doesn't work, now try it with the Insta360 One and be amazed. One area that really needs to be improved however is the resolution! Most 360 cameras don't have the sharpest image, but am sure that will improve with time.
Insta360 One: https://amzn.to/2GGeiTP
Accessories for the Insta360 One.
Extra Long Extension Pole: https://amzn.to/2J78MIv
Manfrotto Selfie Stick: https://amzn.to/2GXVgpT
Water Proof Housing: https://amzn.to/2J92Bnc
Here is our video review of the new Insta360 One FlowState software update with video samples.
Stabilization Comparison Of The GoPro Fusion vs Hero 6 Black Mounted In Karma Grip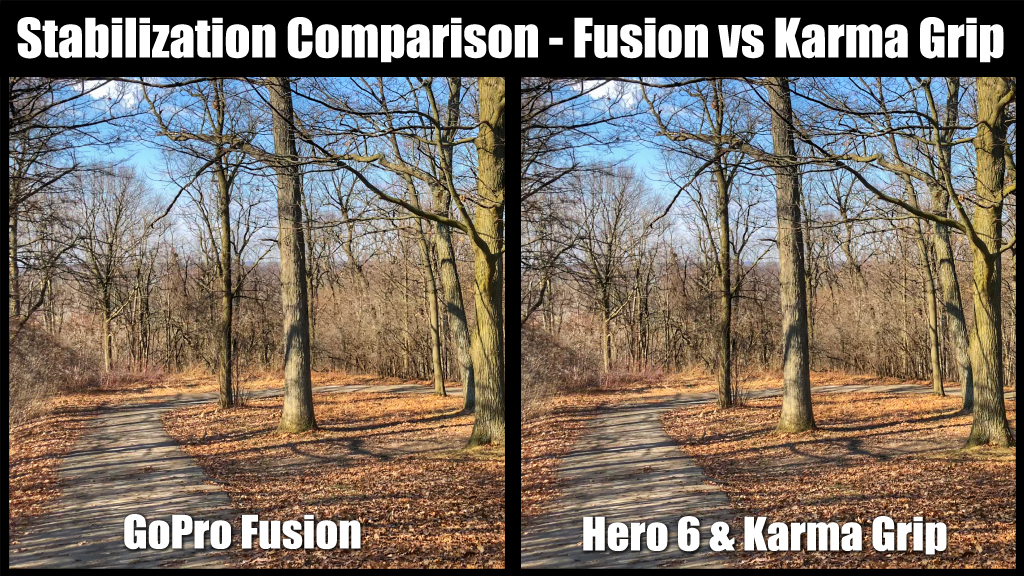 I thought it would be interesting to do a stabilization test of the GoPro Fusion versus the Hero 6 Black mounted in the Karma Grip. So basically a test of a mechanical gimbal verses 360 software stabilized video. There are pro's and con's to both setups. First off importing and editing the footage of the Hero 6 Black is very simple as the video recorded is already stabilized and ready to be edited. The video files on the GoPro Fusion have to be imported, stitched and then rendered to a 16:9 video which can take quite some time depending on the length of the clip. So when it comes to ease of use the mechanical stabilizer is the winner. Another thing to consider is using an action camera such as the Hero 6 Black will produce higher quality videos.
However when it comes to usability, ease of mounting, a 360 camera such as the GoPro Fusion or the Rylo 360 definitely has the advantage and sometimes that is the deciding factor. Of course we all want the best quality video we can get but there are those situation were using a mechanical gimbal such as the Karma Grip just isn't practical or even possible. Using a 360 camera opens up a whole new avenue to capture stabilized video during activities that used to be impossible. When you also factor in that many 360 cameras are waterproof such as the Fusion or have a waterproof housing that can also be a deciding factor. Most mechanical gimbals are not waterproof with the exception of a few and they are extremely delicate and can not be used in some situations.
I think we are just at the tip of the iceberg on what 360 technology will bring us in the future and I can really see it becoming a mainstream way to capture action video over the traditional action camera and gimbal setup. What are your thoughts? Watch our video as we show a side by side stabilization comparison of the GoPro Fusion and the Hero 6 Black mounted in the Karma Grip.
GoPro Fusion: http://amzn.to/2FxIqko
Karma Grip: http://amzn.to/2FB1HgQ
Hero 6 Black: http://amzn.to/2tDGvWa