Smatree Portable Charging Station For DJI Spark | Review and Thoughts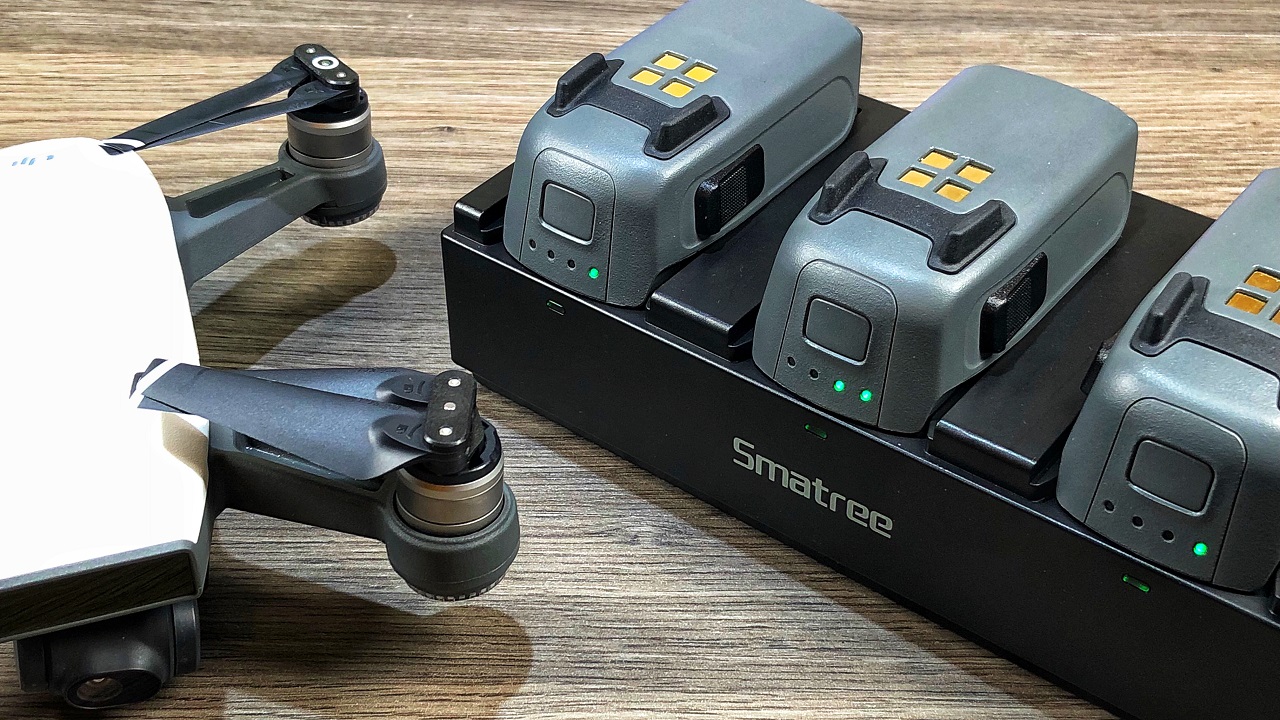 One of the nice features of the DJI Spark is the ability to charge it via a USB cable and a power bank. You can plug the Spark into a power bank and it will charge which is great when you out on location and you have burned through all your batteries. The problem is you can only charge one battery at a time and worse your drone is tied up while charging. This is where the portable charging station by Smatree comes in. Essentially this unit is a 8100 mAh power bank with battery charging bays for the DJI Spark built in. This portable charger allows you to charge 3 spark batteries simultaneously in about 45 minutes…that is supper fast. It can charge a total of 6 batteries before the entire unit needs a recharged. There is also a USB port on the side of the unit that can be used to recharge your Spark controller or even your smart phone. The charger does have some weight to it (12.8 ounces) but still very portable and easily packed in a backpack.
Smatree Portable Charger (Updated Version)
I want to point out that Smatree has updated the portable charging station since I filmed my video and what a great update it was. The old version used a micro USB connector to recharge the power bank at (5V/2A) this worked fine, however it takes over 14 hours to recharge at this rate. The updated unit now comes with it own dedicated charger that plugs into a wall socket and directly into the power bank. The new charging specs are (8.7V/4A) and the unit can now be recharged from empty in about 3.5 to 4 hours. Such a welcome upgrade!
This is a fantastic charger and I think it is a must have accessory for every DJI Spark pilot. I really wish all drones would adopt this method of USB charging, It would save a fortune not having to buy so many extra batteries just so you can have a full day of flying.
Updated Charging Station (USA) https://amzn.to/2ql9Gcp
Updated Charging Station (CAN) https://amzn.to/2v6Yp4u
DJI Spark (DJI Website) https://goo.gl/DvoqK1
DJI Spark (USA Amazon) https://amzn.to/2HoDaxi
DJI Spark (CANADA Amazon) https://amzn.to/2GM5eJX
Will We See A DJI Spark 2 or Pro Model | My Spark 2 Wishlist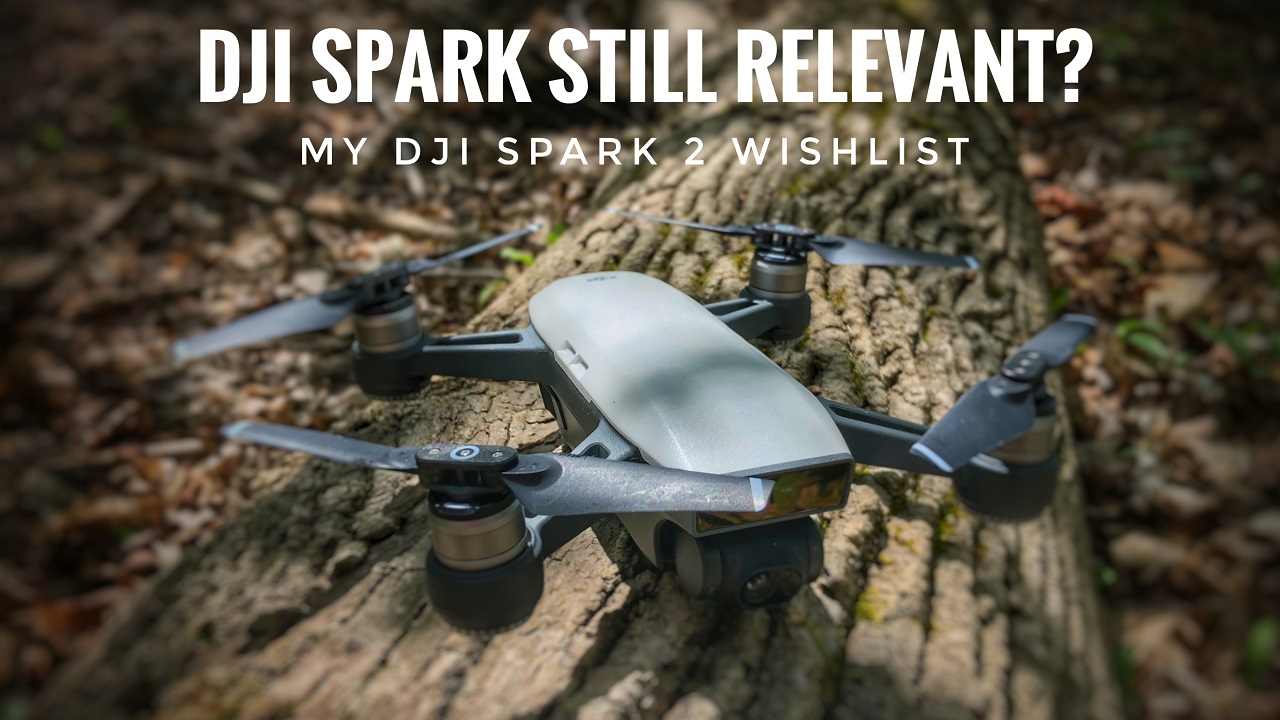 Its been one year since DJI officially launched the DJI Spark and for me and many others it really filled a void in the drone universe. The spark was marketed as a selfie drone but really its capabilities go so much further than that. One of the main features that many like about the spark is small size. The spark was portable, powerful and offered a really high quality 1080 HD video. The spark is easy to pack and can fit easily into a backpack which made it the ultimate travel drone. I myself do a lot of hiking and the DJI Spark always comes along with me just in case I want to grab some footage. The DJI Spark has been on sale for some time at $100 off the original price and now comes with a free remote. When DJI puts their drone on sale it tends to mean that a new drone is coming down the pipe.
$399 DJI Spark With Free Remote: https://bit.ly/2kwcmAK
Fast forward a year later and we now have the Mavic Air alongside the spark and makes one wonder if the Spark is even relevant anymore? The reason I say this is because the Mavic Air actually folds up smaller than the DJI Spark and is easier to pack. This was one of the main selling points to many. Personally I think there is still a market for the DJI spark and here is my reasoning and what features I would like to see introduced with a DJI Spark 2/Pro or whatever they decide to name it.
Lose Some Weight: I think the size of the Sparks is still very important. The Spark comes in at a weight of 300 grams with a battery installed. For many countries 250 grams is where most regulations kick in. Drones over 250 Grams need to follow the drone rules and flight restriction zones. If they could shave off another 50 grams some how I think this would appeal to many people including myself. Those who live in large cities where there are so many no fly zones could actually get back up in the air. This would have to be my number one wish for a new Spark, however I don't want DJI to go too extreme with a smaller size. The lighter a drone is the easier it can be blown around in the wind. The current spark does an amazing job in the wind and I would like it to remain that way.
 Folding Arms & Props: Now many people may disagree with this, but I would like to see the Spark 2 to be a folding drone. This would make the footprint of the DJI Spark 2 super small and super easy to pack and transport. Folding drones are very popular in today's market and I think the Spark 2 would be a perfect candidate for a folding design. Others don't like the folding design as it one extra step needed to getting your bird up in the air and if you in a hurry it can be frustrating. Personally I would rather a folding drone as I really don't find it all that of an inconvenience.
4K Video: Now this is not super important to me as I am okay with 1080 HD Video, but if it could be done, 4K video would be a bonus. However I would like it to be excellent 4K! You see a lot of cheap cameras offering 4K video with low bit rates and bad picture quality. Personally I would prefer superb 1080 than mediocre 4K.
Rear Sensors: I would love to see some rear sensors added to the DJI Spark. Quite often I am flying backwards and having that little extra security would be really nice. Accidents do happen from time to time no mater how careful we are.
Retain Price: Lastly I would really like to see the Spark retain its 499 price point. In-fact the spark has been reduced in price for some time now selling at 399 with a free remote. I like this price point, it makes the drone more affordable and helps it get into the hands of more people.
Well that is my wish-list. I would love to hear what new features you would like to see introduced into a next generation DJI Spark.
DJI Spark (DJI Store) https://goo.gl/DvoqK1
DJI Spark (Amazon) http://amzn.to/2GoBjYN
Review Of Polar Pro Katana For DJI Mavic Air | Hand Held Rig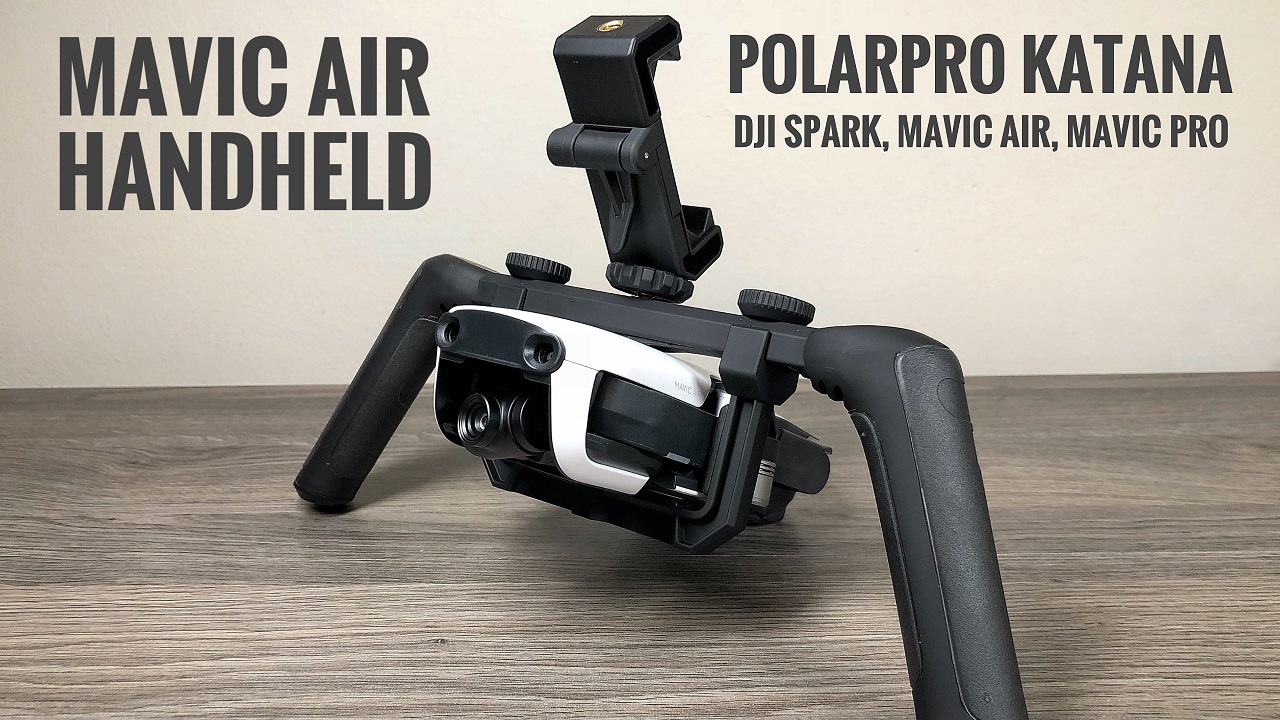 In this video we are taking a closer look at the Katana by PolarPro for the Mavic Air. This unit turns your DJI Mavic Air into a powerful hand-held stabilized camera rig. Now some may ask why you would want to turn you Mavic Air into a hand-held camera, a better question is why wouldn't you want to! The Mavic air has a really good quality camera on board it records at 4K 60 FPS and at 100 MBS. The Mbits per second is higher that the iPhone and the GoPro Hero 6 so theoretically can capture a higher quality video. With its built-in gimbal for stabilized footage it makes for a great hand-held option and doesn't require the expense of perhaps buying another camera if you wish to capture ground footage.
One of the really nice features of the PolarPro Katana is the fact that it is expandable. If you purchase a kit for the Mavic Air, but later purchase a DJI Spark the unit will be compatible. All you need to do is purchase the Spark specific mount, you don't have to purchase a complete kit again. PolarPro also sells separately or in a kit a T-Grip handle that makes it easier to capture low footage. Currently the PolarPro Katana is compatible with the DJI Spark, Mavic Air, Mavic Pro/Platinum and I am confident that as DJI releases new compact drones, Polar Pro will make new mounts for them to make them work with the Katana system.
I have been using the PolarPro Katana for about a month now, I have had a good amount of time to test and play with it. I am really pleased with it performance and ease of use. Mounting the Mavic Air or other DJI Drones is quick and easy. The handles make it comfortable to hold and really helps you grab some beautiful stable footage. It comes apart nicely and easily fits into your backpack until your ready to use it again.
Katana for Mavic Air: https://amzn.to/2KBTzzS
Katana for Mavic Pro: https://amzn.to/2HVEzuA
Katana for Spark: https://amzn.to/2rjunWJ
Katana With T-Grip Mavic Air: https://amzn.to/2KC39CK
Katana With T-Grip Mavic Pro: https://amzn.to/2JTUfPL
Watch our full review on YouTube for sample footage from the DJI Mavic Air mounted in the PolarPro Katana