What Is Better? Video Mode or Photo Mode for Drive-Lapses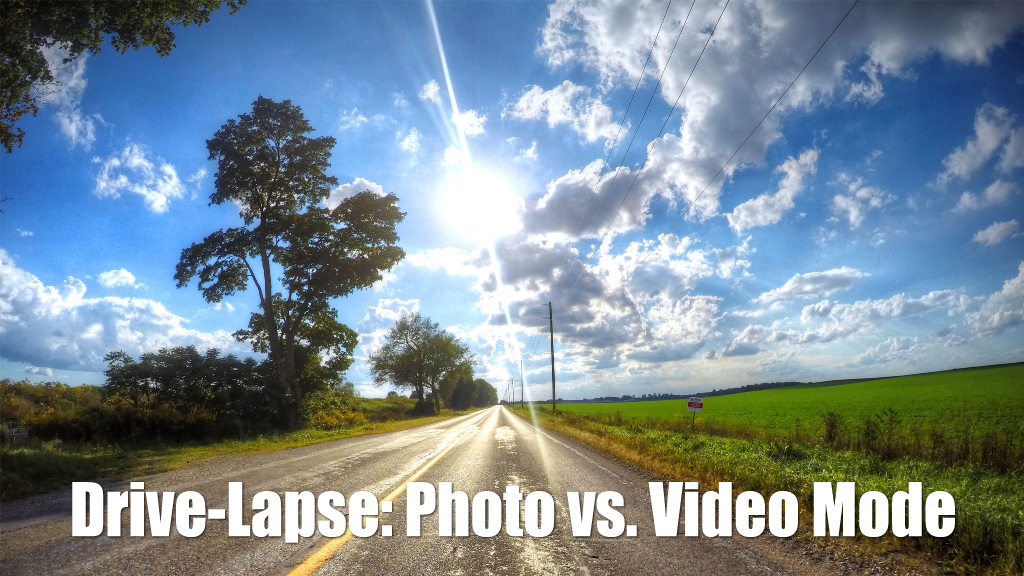 A fun thing to do with your GoPro Hero 5 is to create driving time lapses also referred to as a Drive-Lapse. This can be a great idea if you are heading on a road trip and want to use the driving footage in your edited videos.
What is Better – Video Mode or Photo Mode for Drive-Lapses?
Just like a traditional time lapse you have the option of recording you drive lapse using video time-lapse mode or photo time-lapse mode. This has to be one of the questions I get asked most. What is better? photo mode or video mode when creating GoPro time-lapses or "dive-lapses" and what is the difference.
What Is The Difference Between Video and Photo Time-Lapses?
GoPro Video Time Lapse Mode: This mode is quick and easy, just put your camera in time lapse mode and hit the record button. When your done driving stop recording and your drive-lapses is now ready and waiting for you on your GoPro's memory card. You can do some mild editing if your choose or you can post and share it on social media right away all while on the go. So that is a huge pro for capturing a time lapse in video mode. Quick, easy and ready to share. A negative of time lapses created in video mode is the limitations in editing.
GoPro Photo Time Lapse Mode: Now when you are capturing a time lapse in photo mode on your GoPro it records a series of still images. These photos need to be edited and compiled in a video editor. This can be time consuming and for the most part it will required a desktop computer or laptop to do so. So GoPro photo mode time-lapses are definitely not an instant gratification type of time lapse. Now with that said photo mode time lapses have many more possibilities during the editing process. You are able to edit the image sequence in Light Room to create some absolutely stunning results one could almost use the word epic. In addition another feature you are able to do with GoPro time-lapse photo mode is the ability to add image blending to the sequence that can create a really nice blurred effect. I always find the quality of the final output to be better when captured in photo mode.
How To Choose What Mode To Use?
The best advice I can give in whether to capture your drive-lapse in video or photo mode is basically this. If you just want a quick drive lapse that you can share instantly or just some quick b-roll footage for a video montage your creating then your best to film in time-lapse video mode. However if you want to create a stunning nicely edited drive lapse video with vivid crisp colors that will be the prominent feature of a video then definitely choose photo time-lapse mode. You will be more pleased with the final results.
You can watch the video posted at the top of the page I have included some sample footage of both modes. Hope this helps!
GoPro Hero 6 Black Drive-Lapse Interval Comparison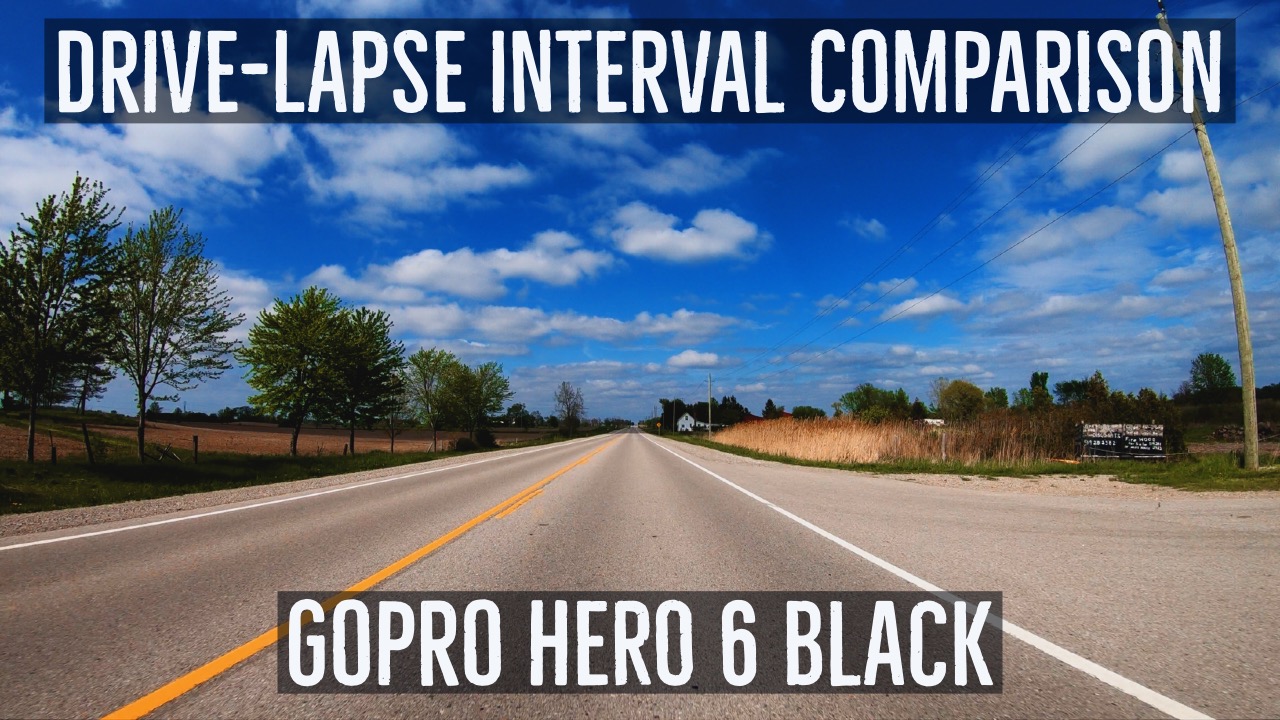 Last year I made a video comparing different intervals when creating a drive-lapse (Driving Timelapse) with the Hero 5 Black. I decided to make an updated video using the Hero 6 Black as it is summer time and there are going to be many hitting the roads and adventuring this summer. This is a good resource to see how different intervals effect the look of your finished drive-lapse. In the test video I used intervals of .5 second, 1 second, 2 second and 5 second. You will notice in the video that the .5 second and 1 second intervals are most appealing and pleasing to the eye. The 2 second and 5 second intervals can look a bit jumpy.
With that said, there is definitely some uses for the higher intervals. For example if you are going on a long road trip and want to time-lapse it, using a low interval will leave you with a very long video when your done. A 5 second interval will leave you with a much more dramatic video that is shorter and won't bore you viewers.
Filmed on a GoPro Hero 6 Black: https://amzn.to/2KrQPZu
Beginners Guide To LumaFusion | Mobile Video Editing On Your iPad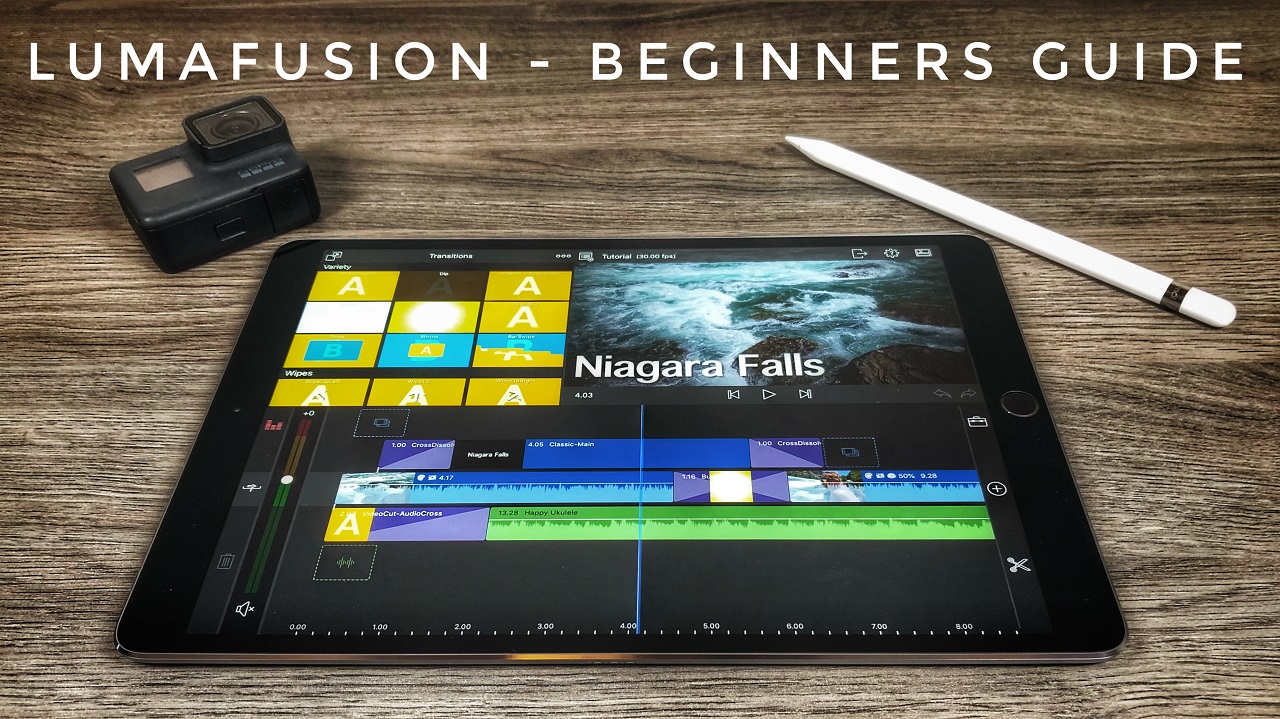 Welcome to our beginners guide to LumaFusion. LumaFusion is a great mobile video editing app for those who want to edit GoPro, Drone and Smart Phone footage on their mobile devices such as iPhones and iPads. Not only is LumaFusion a powerful feature rich video editor that can handle 3 tracks of 4K video, it is also great for new users as it has a simple clean interface that is easy to learn.
In this video we cover all the basics to get you up and running and publishing your very first video. Some of the subjects we cover include.
The user interface of LumaFusion
Opening existing projects and starting a brand new project.
Browsing and previewing media on your device.
Trimming and adding video to you timeline.
cutting, splitting and deleting media from your timeline.
Adding and adjusting transitions to your videos
editing the audio properties of your videos.
adding music to you project.
Creating and editing titles.
Color correcting videos in your timeline.
Exporting your video to your camera roll.
Stay tuned as we will be creating more LumaFusion tutorials soon covering advance editing techniques.
The equipment I use for mobile editing.
10.5 iPad Pro: https://amzn.to/2JyLSJt
Apple Pencil: https://amzn.to/2JvJUt3
Apple Card Reader: https://amzn.to/2I4McQD
Wireless Hard Drive: https://amzn.to/2KeDWy5
Rode VideoMic Me: https://amzn.to/2r3c9Zm
The Equipment I film with.
GoPro Hero 6 Black: https://amzn.to/2LchoOX
FeiyuTech G6: https://amzn.to/2IlCiJo
Mavic Air (DJI Website) https://goo.gl/t74LaQ
Mavic Air (Amazon) http://amzn.to/2EccQaM