DJI Osmo Pocket Accessories From PolarPro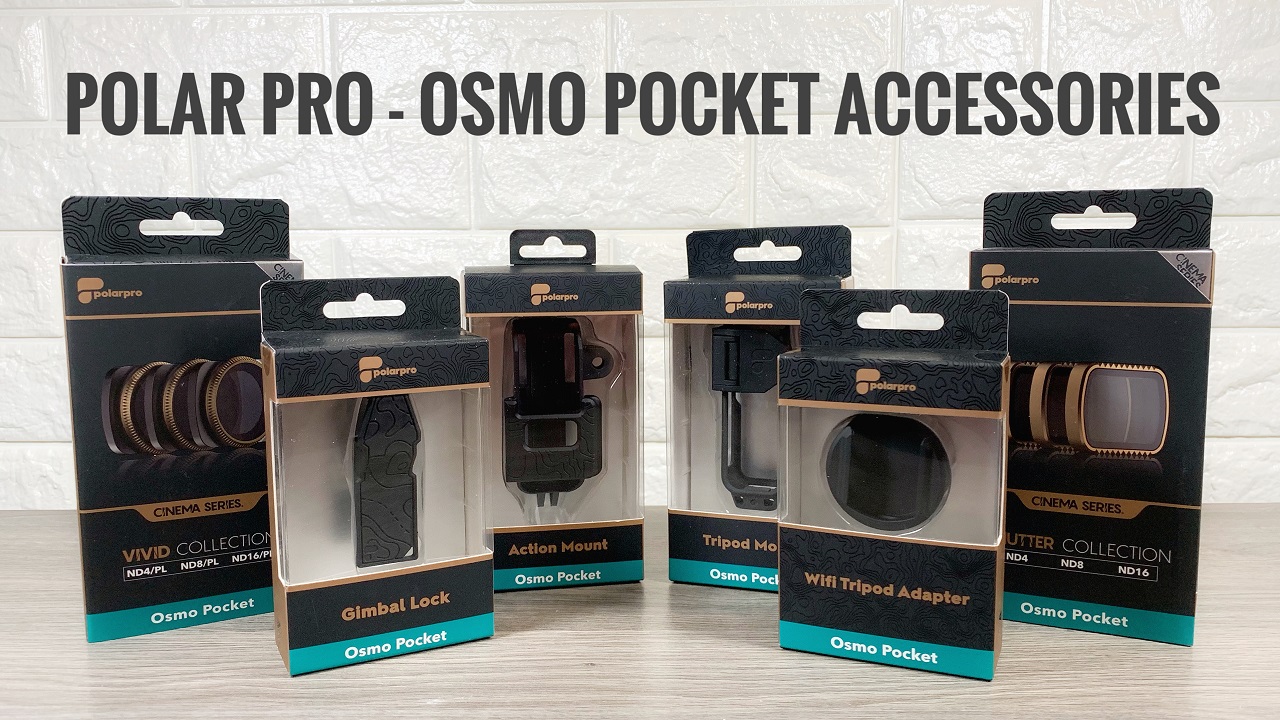 PolarPro has a history of making high-quality ND filters and accessories for devices such as drones and GoPro's and when it comes to the DJI Osmo Pocket PolarPro has given it the same kind of attention. PolarPro recently launched a new line of accessories for the Osmo Pocket and I must say the engineering team at PolarPro has really come up with some useful gear to help you get the most out of your Osmo Pocket.
It's no surprise that PolarPro has developed some high-quality ND Filters for the DJI Osmo Pocket, and just like their line up of ND filters for many of the popular drones they have released several ND filter packages to suit any need. The two most common packages are their cinema series vivid and shutter collection. Both contain ND filters with values of ND4, ND8, and ND16. The shutter collection contains straight-up ND filters while the vivid series are ND filters with built-in polarizers.
PolarPro didn't stop at just ND filters, they have gone on to create some very unique accessories for the Osmo Pocket. The first mount is called the "PolarPro Action Mount for Osmo Pocket". It is a mount that has 3 tradition GoPro finger mounts built in. One on the back, one on the bottom and one on the side. The side mount is perfect for those who wish to mount the Osmo Pocket on the side of a helmet to get some nice action shots. If you own a lot of GoPro gear this is definitely a must-have accessory. When mounted, the charging/microphone port on the bottom of the Osmo Pocket is fully accessible.
The Next mount is simply called the "PolarPro Tripod Mount for Osmo Pocket". This mount is similar to the action mount but instead consist of 1/4 20 tripod mounts, one on the side and one on the bottom. This accessory allows you to mount your Osmo Pocket on a tripod or extension pole and leaves you with an additional 1/4 20 mount on the side for other accessories you may want to attach like a light or a microphone. When your DJI Osmo Pocket is installed in the tripod mount you can attach it to your smartphone like normal, the design also allows you to attach and use the scroll wheel if you wish. When mounted, the charging/microphone port on the bottom of the Osmo Pocket is fully accessible.
Another handy accessory they developed is called the "Polar Pro WiFi Tripod Adapter for Osmo Pocket". If you own the DJI WiFi module for the Osmo Pocket it has one design flaw, there is no way to attach it to a tripod or extension pole. The WiFi Tripod Adapter for Osmo Pocket solves this problem by providing a simple but effective way to be able to mount you Osmo Pocket when using the wireless module. A couple of nice design features includes full access to the charging/microphone port and groves to mount to most tripod heads. Just keep in mind when using this style of mount your Osmo Pocket is only being held in place by friction. You may want to use caution is certain scenarios.
Polar Pro also released the "PolarPro Gimbal Lock for Osmo Pocket". This handy accessory serves 3 purposes. Firstly it locks the Gimbal so no damage can be done to it if you carry the unit in a bag or even in your pocket without the case. Secondly, it protects the camera lens from getting scratched. Thirdly it also protects the small LCD screen from being damaged again if carried in a bag or pocket without the case. PolarPro's design engineers made sure that the gimbal lock is compatible and fully usable if you have your Osmo Pocket installed in the Action Mount or Tripod Mount.
In addition to these accessories, they have also released what the call a minimalist case. This case is small and can hold the Osmo Pocket, Control Wheel, Wireless Module, and both smartphone adapters. There is a mesh pocket in the top for holding other gear such as cables and memory. It also features a pocket on the outside of the case a perfect spot to store your ND Filters.
You can watch my YouTube video where I go over all the new Osmo Pocket accessories from PolarPro in more detail.
Action Mount: https://amzn.to/2tCEiHB
Tripod Mount: https://amzn.to/2NyiVAw
Gimbal Lock: https://amzn.to/2H3ZxKv
Wifi Tripod Adapter: https://amzn.to/2Xrll8n
Minimalist Case: https://amzn.to/2IBek1u
Shutter Collection ND Filters: https://amzn.to/2tIfcqF
Vivid Collection ND Filters: https://amzn.to/2tEtnxh
Osmo Pocket: http://bit.ly/2RU7iVT
Accessory Mount: http://bit.ly/2CMeyhz
Wireless Module: http://bit.ly/2Rs152b
Controller Wheel: http://bit.ly/2F3w2ar
Connecting A Microphone To The DJI Osmo Pocket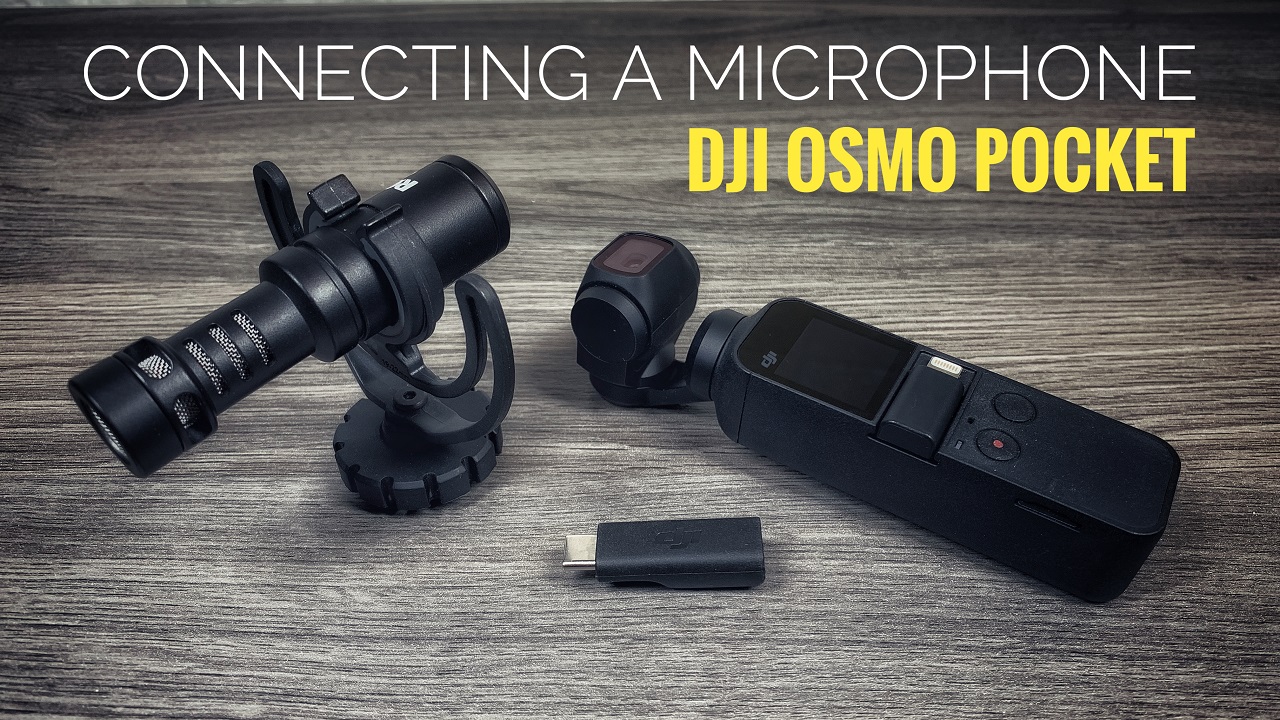 When the DJI Osmo Pocket was first launched in December of last year, one of the accessories that were showcased was a microphone adapter that was needed if you wanted to use an external microphone with the Osmo Pocket. In my opinion, the Osmo Pocket already has pretty decent audio but adding an external mic with a wind cover can be extremely important for vloggers and filming outdoors on windy days, even a slight breeze can ruin your audio. Up until last week, this adapter was not available to purchase but has since arrived on the DJI website.
In this video, I go over how to connect and use a microphone with the DJI Osmo Pocket as well as different vlogging setups you can use with your Osmo Pocket. I also showcase and demonstrate a few different microphone choices that work well with your DJI Osmo Pocket, some that are small and cheap and others that are larger, more expensive but generally have better sound. Watch our video to see some interesting ways to set up a DJI Osmo Pocket vlogging rig with a microphone and light.
Osmo Pocket: http://bit.ly/2RU7iVT
Microphone Adaptor: http://bit.ly/2JfNX1o
Rode VideoMicro: https://amzn.to/2Tcn9yR
Rode VideoMicGo: https://amzn.to/2uc54Xx
Rode smartLav+: https://amzn.to/2ThmcFG
Rode smartLav+ TRRS to TRS: https://amzn.to/2UGnr2o
Small Microphone: https://amzn.to/2TbShP9
PGYTech Osmo Mount: http://bit.ly/2Tuy2jy
PolarPro Mount: https://amzn.to/2NyiVAw
Ulanzi Cold Shoe Extension: https://amzn.to/2F7o6n3
Ulanzi Cold Shoe Extension 2: https://amzn.to/2TL3njd
Small Osmo Light: https://amzn.to/2TdDMKu
Accessory Mount: http://bit.ly/2CMeyhz
Wireless Module: http://bit.ly/2Rs152b
Controller Wheel: http://bit.ly/2F3w2ar
DJI Osmo Pocket Silicone Sleeve and Lanyard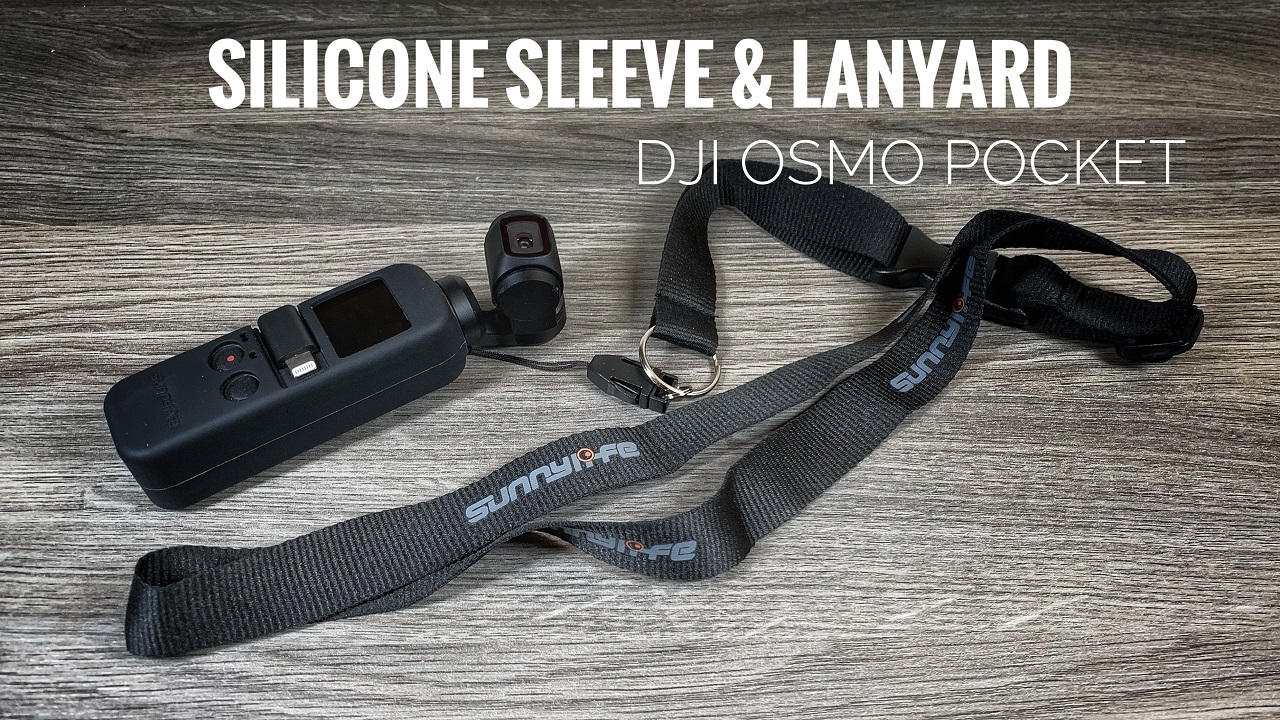 The DJI Osmo Pocket is truly an amazing camera, however, one small complaint I do have is that there is no easy way to connect a wrist strap or lanyard to it. For the most part and for everyday use this is really a non-issue. However, there are those circumstances sometimes where you want the extra security of lanyard or wrist strap. For example, if your zip-lining or on a rollercoaster while holding your Osmo Pocket, dropping it could be disastrous. I recently picked up a silicone sleeve and lanyard kit for the Osmo Pocket from Amazon, it was fairly inexpensive and seemed like it would work for those types of situations.
Installation is pretty straight forward and it fits nicely, once the lanyard is attached you are able to secure the Osmo Pocket nicely or perhaps you just want to hang it around your neck for easy access, it works great for both of these situations. There are some drawbacks however that should be considered. When installed in the silicone sleeve many of the Osmo Pocket accessories will no longer work. The Osmo Pocket will no longer fit in the case, nor will the scroll wheel lock into place. The wireless module cannot be used when the Osmo pocket is fitted in the sleeve, however, you are still able to plug the DJI Osmo Pocket directly into your smartphone. The other thing that could be a problem is overheating, the DJI Osmo Pocket tends to run warm and having it inside the silicone sleeve could potentially cause overheating on really warm days. I ran a test recording at 4K 60 for 25 minutes and I did not run into any problems. This test was done indoors, but outside on a 30 degree (Celsius) day could produce different results. It's still winter in Canada so I cannot test that at the moment.
This sleeve may not be an accessory that you want to use on a daily basis but definitely, if you are getting some riskier shots it would be worthwhile to pick up even for those situations alone.
You can watch my video review below.
Silicone Sleeve & Lanyard (USA) https://amzn.to/2EUP2q7
Silicone Sleeve & Lanyard (CAN) https://amzn.to/2XR80q8