DJI Spark Portable Charging Station Review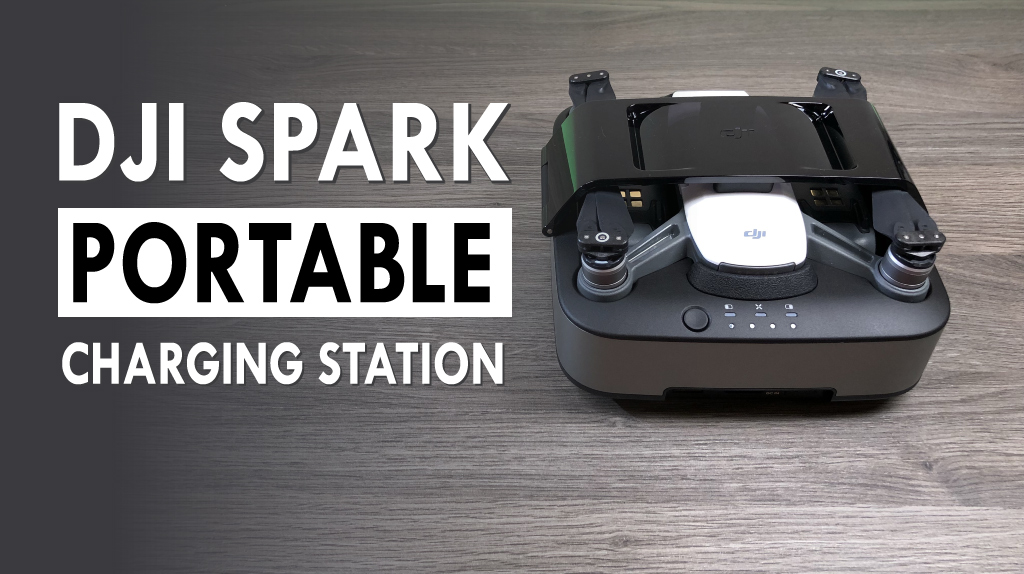 Today we are taking a closer look at the Spark Portable Charging Station from DJI. This portable charger first appeared during the Spark launch event earlier this spring when on display. However, since the Spark launch, there has been not a single hint of this portable power bank charger until now. DJI finally unveiled it a few weeks ago with a statement that it will begin shipping in 10 days.  I ordered it right away and it arrived on my doorstep a few days ago. Watch our YouTube Video Review.
Portable Charging Station: https://goo.gl/m4yZee
Portable Charging Pack with 2 Batteries: https://goo.gl/P1j1jJ
Portable Station Case: https://goo.gl/NBrf3P
DJI Spark: https://goo.gl/DvoqK1
The unit can be purchased in two different variations. You can buy just the standalone charger or you can purchase it as a kit that comes with 2 spare DJI Spark batteries.
The portable charger can charge 3 spark batteries (including one mounted on the aircraft) traditionally by plugging the unit into a wall or use its built-in 5000 mAh power bank to charge away from home while on the go. When you plug the Spark portable charging station into a wall socket it will assess the batteries that are mounted inside. It will start charging the aircraft first and then the two side batteries one at a time and from fullest to lowest. While the portable charger is charging the Spark batteries it will also charge its internal power bank.
In my testing, I found that when charging 3 batteries while plugged into the wall it took about 2 hours (all batteries were between 15-18%). When charging using the built-in power bank I achieved similar results, a full charge took approximately 2 hours and 5 minutes.
The power cable that is included with the spark portable charger is the exact same charger that is included with the DJI Spark Fly More Combo so that is a nice bonus, you can use one charging cord for both chargers. You can purchase a nice little case for the "Spark Portable Charging Station" however I found that the case that comes with the fly more combo will hold the portable charger as well, now it's a little snug but it does work.
All in all a very nice charging solution for your DJI Spark. The only negative comment I really have to make about the spark portable charging station is the arm at the top that holds in the aircraft scratches very easily. Even dusting it with a microfiber cloth left many marks. I wish it had been made of the same material as the body.
I really wish I had this unit this past summer, would have come in really handy. I would personally recommend this charger…a nice solid product from DJI.
Portable Charging Station: https://goo.gl/m4yZee
Portable Charging Pack with 2 Batteries: https://goo.gl/P1j1jJ
Portable Station Case: https://goo.gl/NBrf3P
DJI Spark: https://goo.gl/DvoqK1
Some Photos of the Spark Portable Charging Station.
Portable Charging Station: https://goo.gl/m4yZee
Portable Charging Pack with 2 Batteries: https://goo.gl/P1j1jJ
Portable Station Case: https://goo.gl/NBrf3P
DJI Spark: https://goo.gl/DvoqK1
LifThor Sif XXL The Ultimate Tablet Mount for DJI Mavic 2, Mavic Air and DJI Spark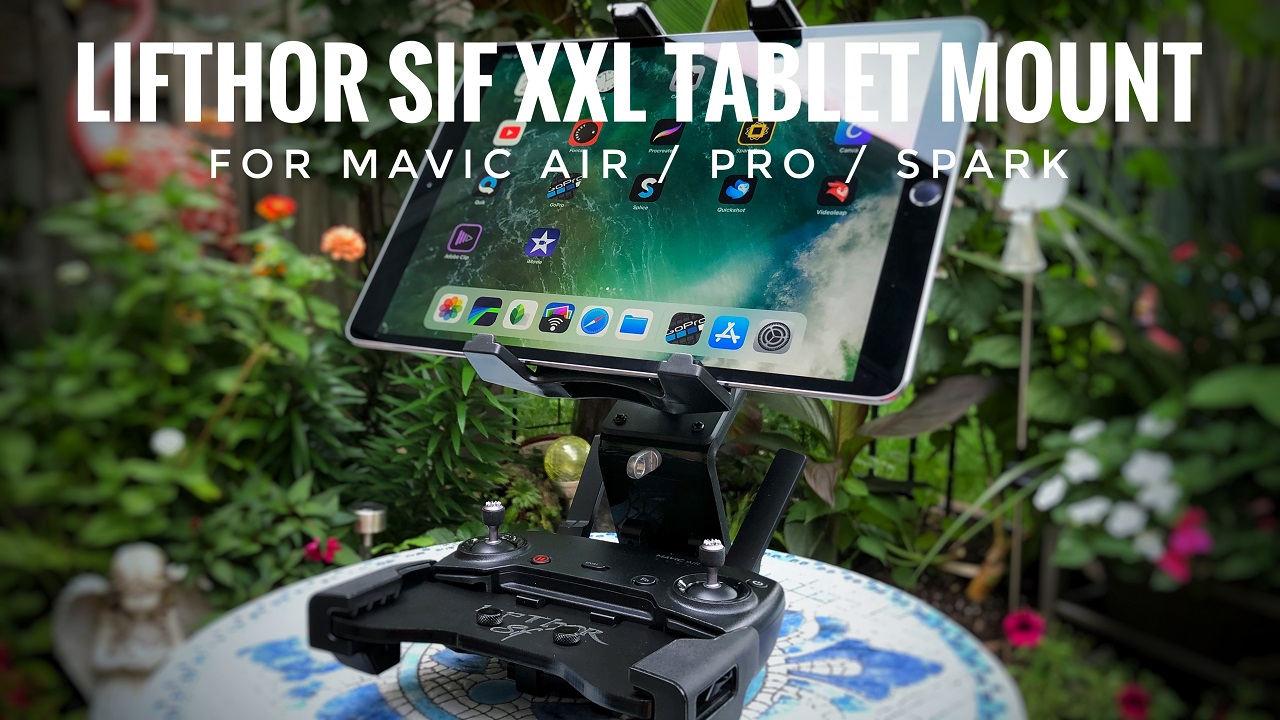 If you are in the market for a strong and durable tablet mount for you new DJI Mavic 2 Pro or Mavic 2 Zoom you might just want to take a look at the Lifthor SIF XXL mount. The Lifthor Sif XXL is capable of holding tablets from 9.7″ all the way up to 13″ This makes it compatible with the iPad Air, 9.7″ iPad Pro, 10.5″ iPad Pro and the 12.9″ iPad Pro. This mount system works with the DJI Spark, Original Mavic Pro/Platinum, DJI Mavic Air and the new DJI Mavic 2 Pro/Zoom models.
What really drew me to this setup when looking for a mount I could use with a larger iPad is how durable it is. If you have used other mounting systems in the past you know that some cheaply built mounts are not very secure and you will find your iPad bouncing around and quite wobbly. The LifThore Sif XXL is rock solid yet still extremely light to hold. Another key benefit to this system is the fact that all your controls are completely visible when a larger iPad is mounted. Other mounts tend to block your view of controls and you are constantly tipping the device just to see your buttons.
The LifThore Sif mounting system can be changed up at any time. If you change the size of your tablet you don't have to re-purchase a whole new kit. You simply have to swap out the clamp to accommodate the new size of phone or tablet. There are optional accessories like lanyards to hang it around your neck you can even purchase a sunscreen to help you view the screen on really bright days.
Watch our full video review of the LifThor Sif XXL tablet mount on YouTube and visit Thors Drone World to purchase.
Will We See A DJI Spark 2 or Pro Model | My Spark 2 Wishlist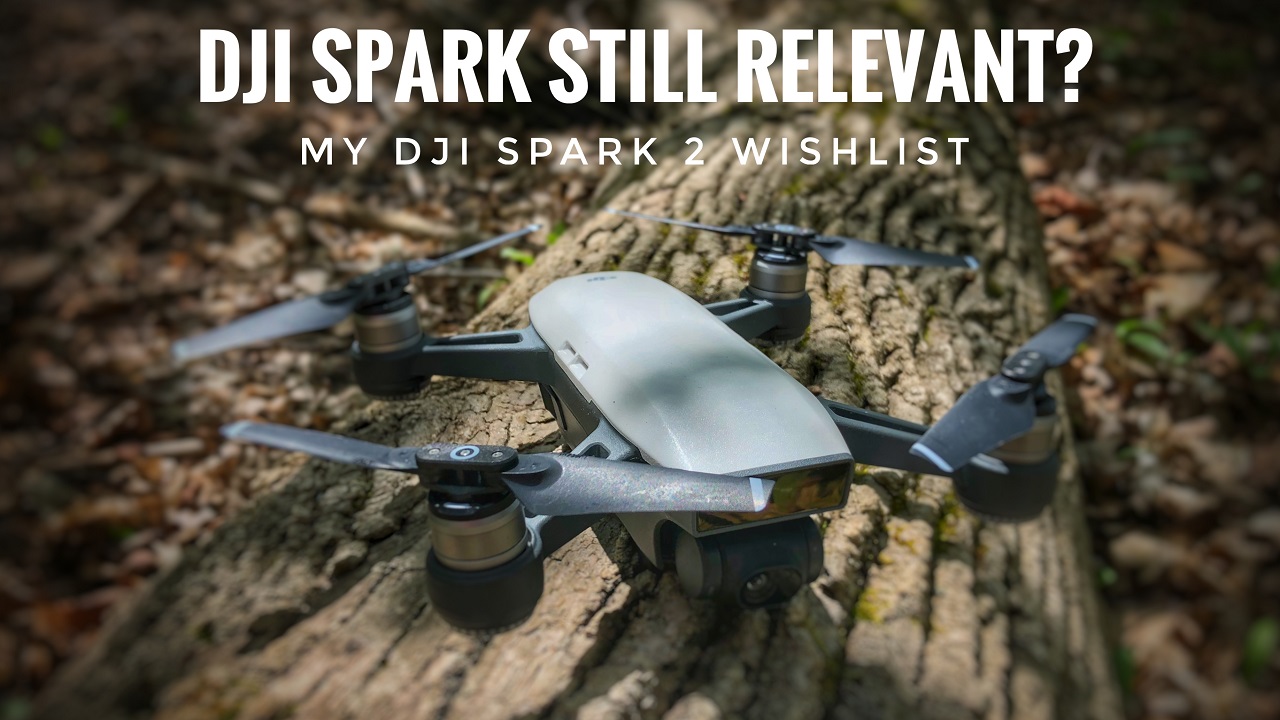 Its been one year since DJI officially launched the DJI Spark and for me and many others, it really filled a void in the drone universe. The spark was marketed as a selfie drone but really its capabilities go so much further than that. One of the main features that many like about the spark is its small size. The spark was portable, powerful and offered a really high quality 1080 HD video. The spark is easy to pack and can fit easily into a backpack which made it the ultimate travel drone. I myself do a lot of hiking and the DJI Spark always comes along with me just in case I want to grab some footage. The DJI Spark has been on sale for some time at $100 off the original price and now comes with a free remote. When DJI puts their drone on sale it tends to mean that a new drone is coming down the pipe.
$399 DJI Spark With Free Remote: https://bit.ly/2kwcmAK
Fast forward a year later and we now have the Mavic Air alongside the spark and makes one wonder if the Spark is even relevant anymore? The reason I say this is because the Mavic Air actually folds up smaller than the DJI Spark and is easier to pack. This was one of the main selling points to many. Personally, I think there is still a market for the DJI spark and here is my reasoning and what features I would like to see introduced with a DJI Spark 2/Pro or whatever they decide to name it.
Lose Some Weight: I think the size of the Sparks is still very important. The Spark comes in at a weight of 300 grams with a battery installed. For many countries, 250 grams is where most regulations kick in. Drones over 250 Grams need to follow the drone rules and flight restriction zones. If they could shave off another 50 grams somehow I think this would appeal to many people including myself. Those who live in large cities where there are so many no-fly zones could actually get back up in the air. This would have to be my number one wish for a new Spark, however, I don't want DJI to go too extreme with a smaller size. The lighter a drone is the easier it can be blown around in the wind. The current spark does an amazing job in the wind and I would like it to remain that way.
 Folding Arms & Props: Now many people may disagree with this, but I would like to see the Spark 2 to be a folding drone. This would make the footprint of the DJI Spark 2 super small and super easy to pack and transport. Folding drones are very popular in today's market and I think the Spark 2 would be a perfect candidate for a folding design. Others don't like the folding design as it one extra step needed to get your bird up in the air and if you in a hurry it can be frustrating. Personally, I would rather a folding drone as I really don't find it all that of an inconvenience.
4K Video: Now this is not super important to me as I am okay with 1080 HD Video, but if it could be done, 4K video would be a bonus. However, I would like it to be an excellent 4K! You see a lot of cheap cameras offering 4K video with low bit rates and bad picture quality. Personally, I would prefer superb 1080 than mediocre 4K.
Rear Sensors: I would love to see some rear sensors added to the DJI Spark. Quite often I am flying backwards and having that little extra security would be really nice. Accidents do happen from time to time no matter how careful we are.
Retain Price: Lastly, I would really like to see the Spark retain its 499 price point. In-fact the spark has been reduced in price for some time now selling at 399 with a free remote. I like this price point, it makes the drone more affordable and helps it get into the hands of more people.
Well, that is my wish-list. I would love to hear what new features you would like to see introduced into a next-generation DJI Spark.
DJI Spark (DJI Store) https://goo.gl/DvoqK1
DJI Spark (Amazon) http://amzn.to/2GoBjYN