Rylo 360 Camera In-Depth Review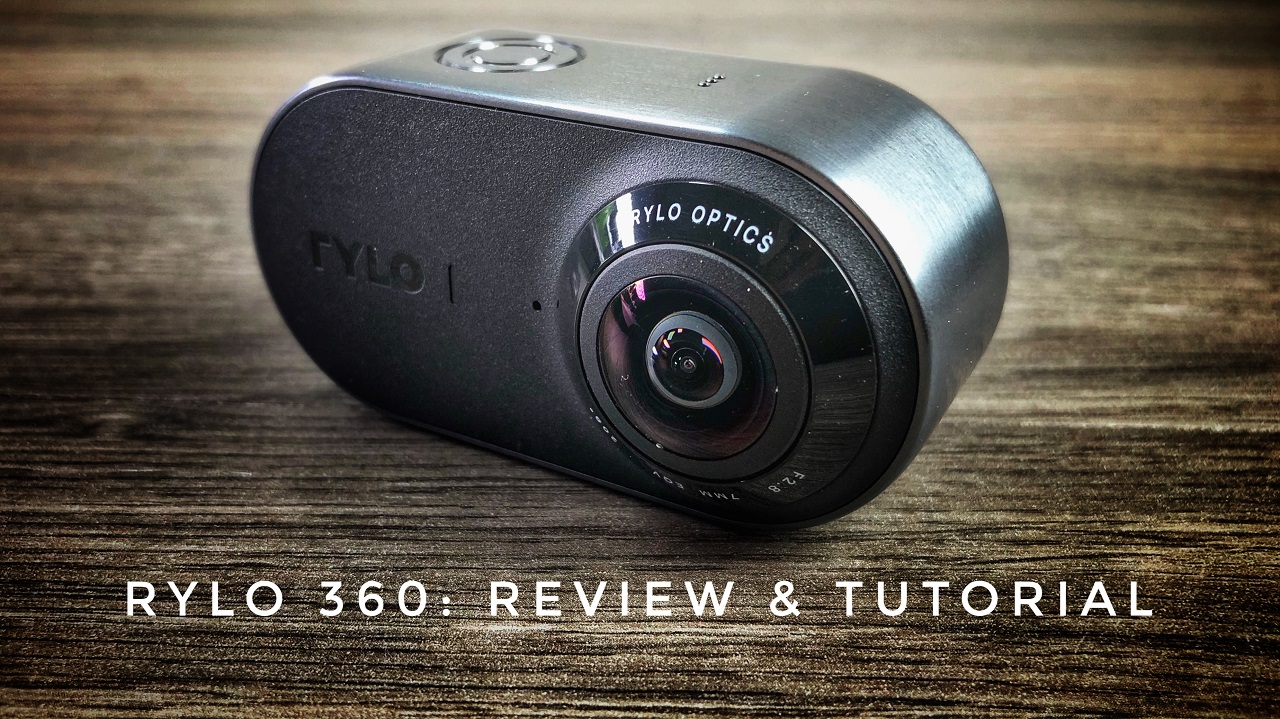 Our first review of 2018 is the new 360 camera from Rylo. To be blunt I love this camera, it has really blown me away and really it has inspired me to get out and film and create interesting content. It's always nice when your hardware inspires you to create. The Rylo was released to the public about 3 weeks before Christmas and it had a lot of hype built up around it due to is ground breaking built-in stabilization and mobile app that allows you to frame traditional 1080 HD videos out of the 360 video in a new and easy way.
Rylo 360 Camera: http://amzn.to/2AuBsFx
Watch our YouTube Unboxing, Review and Mini Tutorial Video.
I am not a huge fan of traditional 360 videos, they can be interesting to watch but the novelty wears off very quickly and your left with content that you really can't use. But the way 360 cameras are now embracing the "shoot everything and re-frame later" model is really compelling and has changed the way I look at 360 cameras to a point were I look at them as an essential part of my photo/video arsenal.
The Rylo 360 is a small yet powerful camera, it has a beautiful brushed aluminum exterior with a simple and elegant design. Rylo wanted to make the camera simple and user-friendly where as anyone can shoot and edited 360 and edit/share right from their smart phone and they very much accomplish this. The camera has a small LCD screen for displaying basic information such as battery life, remaining space on memory card and what mode the camera is currently in. The Rylo 360 uses a simple 2 button design to control the camera, a power/shutter button and a mode selection button.
Whats In The Rylo 360 Box
Inside the box your will find the Rylo Camera, battery, a protective camera pouch, 2 cables, camera housing/frame, handle and a 16GB memory card that is pre-installed in the camera. Now the first thing I would recommend is to purchase some large memory, even a 64 GB card. I believe they decided to include a memory card so users won't try to use old memory cards that just are not fast enough for 360 cameras. The 16 GB will get you up and going but you will find they fill up very quickly. Here is my recommendation for a memory card for the Rylo 360 Camera.
SanDisk Extreme Pro (USA) http://amzn.to/2lVSqHR
SanDisk Extreme Pro (CAN) http://amzn.to/2lVTsnd
Now I would also recommend picking up a good handle/extension pole. The handle included with the Rylo 360 is fairly small. It works good if you just want a nice small unit to carry around. But a nice extension pole can get you those nice dynamic shoots were the camera looks to be out floating in front of you (handle/pole is erased in stitching). Here are two poles I recommend that I really like.
Manfrotto Compact Extreme (USA) http://amzn.to/2CuH9Fm
Manfrotto Compact Extreme (CAN) http://amzn.to/2CtOB3G
Luxebell Adjustable Pole (USA) http://amzn.to/2E8F1n9
Luxebell Adjustable Pole (CAN) http://amzn.to/2CutQVw
I really like the approach that Rylo has taken for transferring media from the Rylo 360 camera to your smart phone. Most cameras use WiFi which is okay but can be problematic at times as well as slow and cumbersome. Rylo has included a Lightning to Micro USB cable to transfer all the media. It work very well and the 360 photos and videos and transferred quickly and easily. In all honesty I wish more camera makers would adopt this method. The Rylo 360 is built for smartphones. You do not need a powerhouse computer to edit and manipulate your 360 videos unlike some other 360 cameras on the market.
As I mentioned the included handle is a little small for me personally, but it does have a trick up its sleeve. The bottom can be unscrewed to reveal a 1/4″ tripod mount and can be easily attached to existing extension poles or selfie sticks to give you the nice reach that you want.
The Magic Is In The Software
The image and stitching quality of the Rylo 360 is quite amazing, and the built-in stabilization is simply stunning. Who needs a gimbal! Now really it's the software that make the Rylo 360 stand out from some of its competitors. The 360 market and competition is really heating up and Rylo has taken a different approach to editing. The insta360 One has a feature called FreeCapture and the GoPro Fusion has a forthcoming feature called OverCapture. Instead of free capture style framing were you move the camera to punch out traditional linear video, Rylo uses something that is similar to key-frames. Now for a new user that can sound a bit confusing and overwhelming but it truly is a breeze to use. You basically touch the screen and add points were you want the camera to look. You can also select an object or person in your video and have the camera follow it. It works very well and you can easily create a nicely edited video in minutes. One of the main reasons I like this approach is that it gives you more control and precision. It also allows you to go in later and edit/change camera angles and delete/add new look points. That can not be done with FreeCapture style editing that some other 360 cameras use.
The rylo 360 has some other handy editing features built into their mobile app. In the editing mode you can crop the image to many common sizes including: Portrait, Square, Wide and a new cinema style. There is a tuning section were you can adjust the light, contrast, shadows ect. This can really help bring out the best in your videos and photos. When editing videos it gives you a few extra tools such as speed for making time-lapse or hyperlapse style videos. A trim tool to select the beginning and end of your video and a level tool to adjust the horizon if needed.
In a recent firmware update Rylo has added a feature to create little planet style photos and videos. It is as simple as pinching the video or photo. There is a button located on the bottom left to then switch it to an inverted little planet. The little planet feature is very limited at this point when it comes to manipulation. Other 360 cameras allow for different zoom levels, but unfortunately the Rylo 360 does not support that yet, however I am sure we will see more little planet tools coming in future updates. One feature I hope they add is the ability to zoom out to a little planet in the timeline while editing.
Now with the good there is always some bad, however with the Rylo the bad is not to bad at all. Some things that I would like to see worked on as mention earlier is the ability to manipulate the tiny planets a bit more. I would also like to see the ability to transition from traditional framing to a tiny planet in the timeline. Another area that needs a little work is the dynamic range. It's not horrible but some areas of the scene can be a little dark. Now in all fairness this is across the board for most 360 cameras. It's really hard to expose an entire 360 scene correctly. I would also like to see the adition of royalty free music being added to the edit for those who want to upload directly to Facebook or Instagram without having to use 3rd party editing software. Also a way to merge and edit several 360 spherical VR videos into one timeline would be amazing.
In closing I would just like to say that I have really enjoyed this camera so far. It really is fun to use. This camera has more than earned a permanent spot in my camera bag. If you're looking to purchase your first consumer level 360 camera I would definitely recommend the Rylo 360.
Stabilization Comparison Of The GoPro Fusion vs Hero 6 Black Mounted In Karma Grip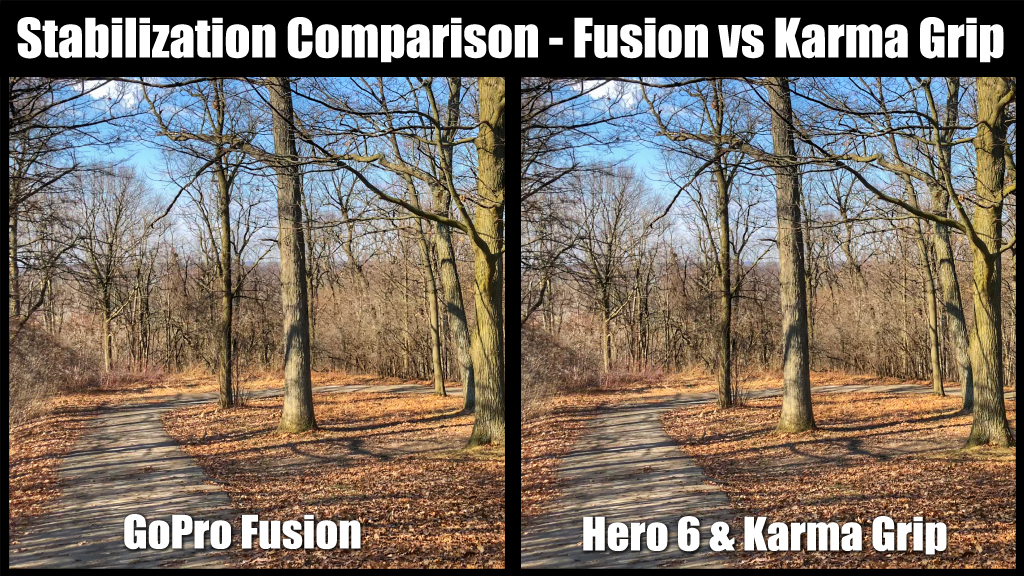 I thought it would be interesting to do a stabilization test of the GoPro Fusion versus the Hero 6 Black mounted in the Karma Grip. So basically a test of a mechanical gimbal verses 360 software stabilized video. There are pro's and con's to both setups. First off importing and editing the footage of the Hero 6 Black is very simple as the video recorded is already stabilized and ready to be edited. The video files on the GoPro Fusion have to be imported, stitched and then rendered to a 16:9 video which can take quite some time depending on the length of the clip. So when it comes to ease of use the mechanical stabilizer is the winner. Another thing to consider is using an action camera such as the Hero 6 Black will produce higher quality videos.
However when it comes to usability, ease of mounting, a 360 camera such as the GoPro Fusion or the Rylo 360 definitely has the advantage and sometimes that is the deciding factor. Of course we all want the best quality video we can get but there are those situation were using a mechanical gimbal such as the Karma Grip just isn't practical or even possible. Using a 360 camera opens up a whole new avenue to capture stabilized video during activities that used to be impossible. When you also factor in that many 360 cameras are waterproof such as the Fusion or have a waterproof housing that can also be a deciding factor. Most mechanical gimbals are not waterproof with the exception of a few and they are extremely delicate and can not be used in some situations.
I think we are just at the tip of the iceberg on what 360 technology will bring us in the future and I can really see it becoming a mainstream way to capture action video over the traditional action camera and gimbal setup. What are your thoughts? Watch our video as we show a side by side stabilization comparison of the GoPro Fusion and the Hero 6 Black mounted in the Karma Grip.
GoPro Fusion: http://amzn.to/2FxIqko
Karma Grip: http://amzn.to/2FB1HgQ
Hero 6 Black: http://amzn.to/2tDGvWa
How To Connect / Pair Remo Remote To The GoPro Fusion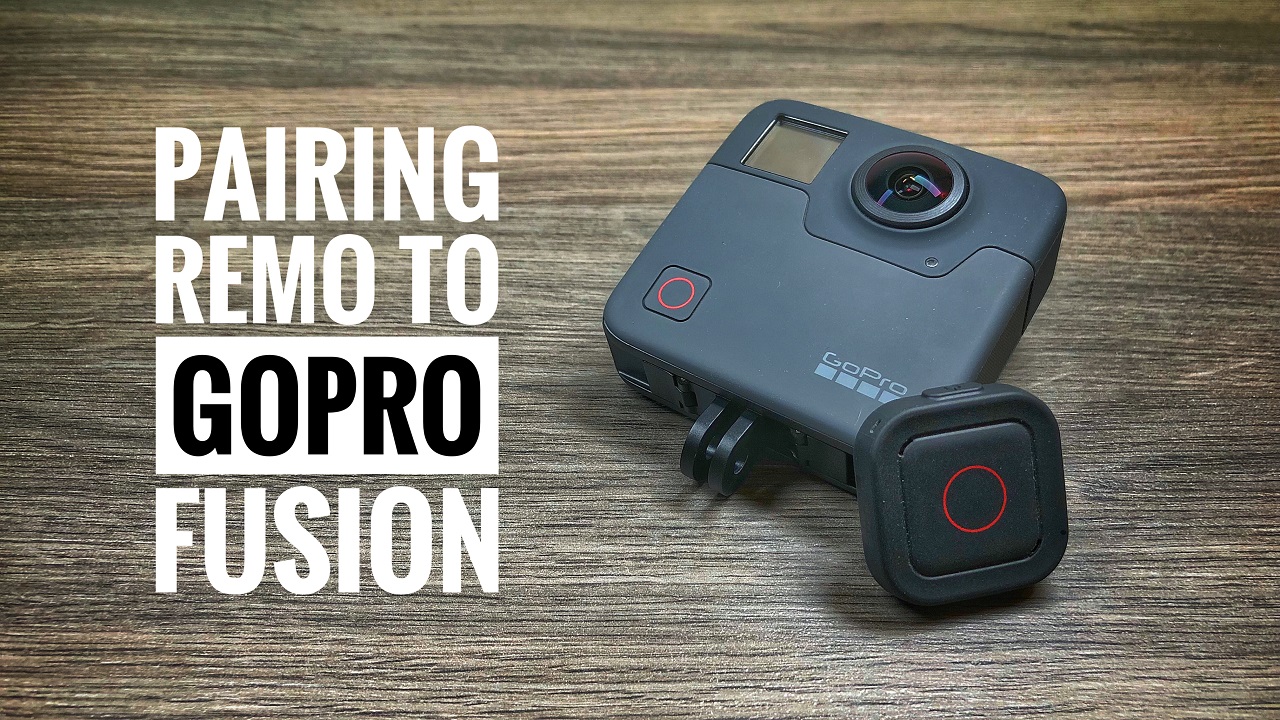 In this video tutorial we go over all the steps on how to connect and pair the GoPro Remo remote to the GoPro Fusion. The Remo remote is nice in the fact that it is a small water proof remote that is compatible with the Hero 5/6 Black, Hero 5 Session and the GoPro Fusion. It has a simple one button design and can also assist with your GoPro to hear voice commands in less than ideal conditions. One downfall however is that the Remo Remote can only be paired to one GoPro at a time.
GoPro Fusion: http://amzn.to/2CNI0An
GoPro Remo Remote: http://amzn.to/2Crmp4Y
How To Pair GoPro Remo to GoPro Fusion
Power on the GoPro Fusion and let it fully load.
Press the mode button on the side of the GoPro Fusion to cycle through the modes unit you come to the settings. It will have an icon of a wrench.
Press the record button on the GoPro Fusion to select and enter the settings menu.
There are several sub menus within the settings mode. press the record button again to cycle through the sub menus until you reach the wireless settings. It will have an icon of an antenna.
Now press the mode button to scroll down to the connect option and press the record button to select it.
From the connect menu, press the mode button to scroll down to the Remo option. Press the record button to select it.
At this point a message will come on the LCD screen of the Fusion telling you to put the Remo Remote into pairing mode. You can set down the Fusion and get your Remo ready.
To put the Remo Remote into pairing mode, long press the power button for 8 seconds.
A LED light on the Remo will flash while it is pairing
Once complete your Remo will vibrate to signify a successful pairing, as well as notification will appear on the Fusion LCD screen.
At this point it is always a good idea to test the connection to make sure it is working as it should.