GoPro Drive-Lapse Interval Comparison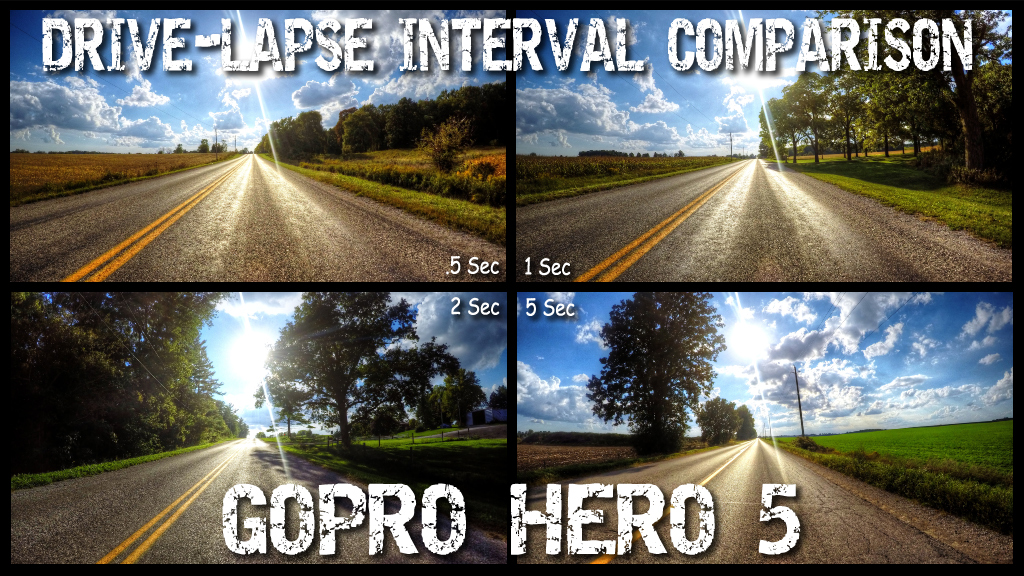 When creating a GoPro driving time-lapse or "Drive-Lapse" you have to decide on the interval speed. The interval speed is how often the GoPro will capture a single frame. A low interval will make your drive lapse appear smoother and allow the viewer to follow the motion easy. Higher intervals will make the drive lapse jump from frame to frame showing for greater travel distance. Unlike a traditional time-lapse were the GoPro is stationary, your vehicle will be moving so you have to choose your interval carefully.
What Interval Is Best For Driving Time-Lapse.
Personally, I find the lower the interval the better when filming a drive-lapse. When creating a sunset time-lapse I always shoot at a 5 sec interval, however, I find 5 seconds to high for drive-lapses as it makes it very jumpy. My preferences for shooting a GoPro driving time lapse is usually .5 to a 1-second interval.
In my experience, I find this allows the perfect amount of data to be captured. The finished drive-lapse is smooth and more enjoyable to watch. There are sometimes however where a higher interval is necessary. A good example is if you are headed on a long drive and you want to make a drive lapse video to document your travels. A low interval would make for a very long drive lapse. Your viewers would lose interest quickly. This is a good time to use a higher interval. Your footage will not be as smooth and the frames will jump quickly but will convey to the viewer the large distance you are traveling.
Not when it comes to the decision of whether to capture in video or photo mode. That is a personal preference and no matter which you choose, you will end up with a beautiful drive lapse.
My Settings When Creating GoPro Drive Lapses
Camera: GoPro Hero 5 Black
Mode: Timelapse Photo Mode
Interval: .5 to 1 Seconds
Megapixels: 12 MP / Wide
Protune: On
White Balance: Native
Colour: GoPro Colour
ISO MIN: 100
ISO MAX: 100
Sharpness: Medium
I like to shoot my GoPro drive lapses in photo mode as it gives me more choice later in post editing. You can watch our video that is posted above to get a feel how different intervals affect your final drive lapse video. It offers a side by side comparison of the various intervals you can choose and what the final drive lapse will look like.
Tips & Tricks For The GoPro Hero 7 Black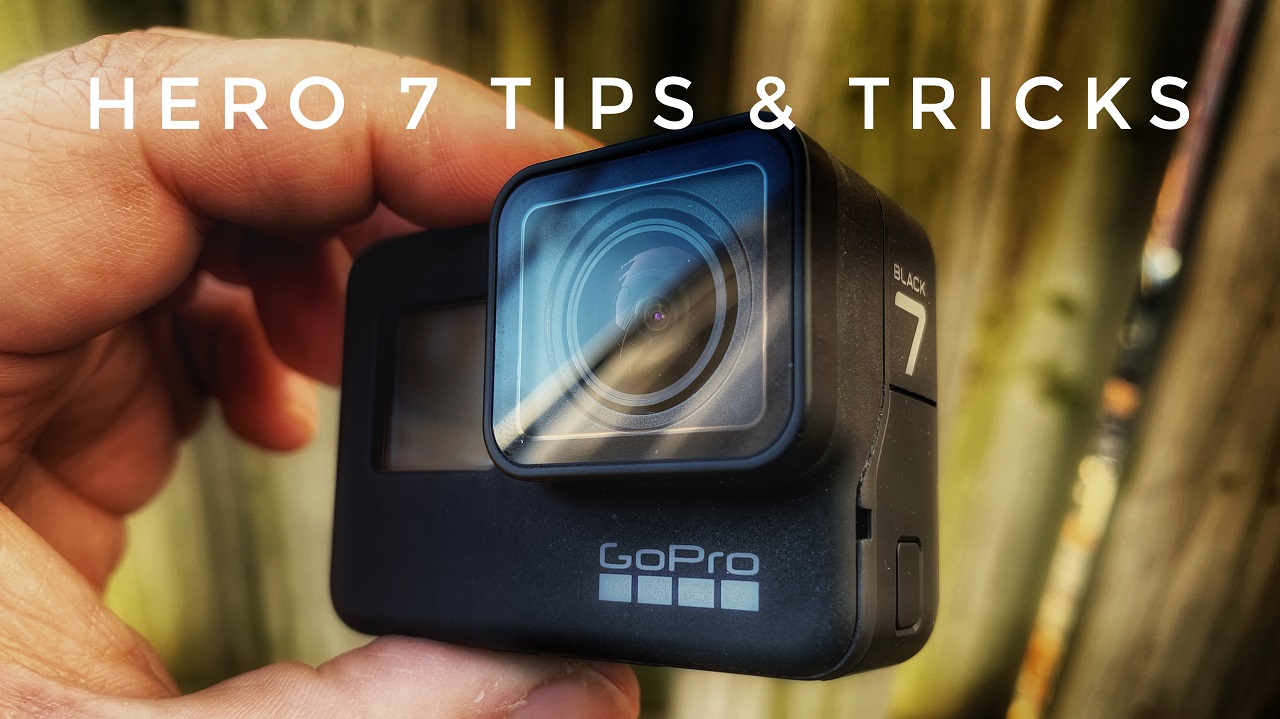 Every year I put together a tips and tricks video for the current generation of GoPro Cameras as a way to help new users get the most out of their GoPro. Some of these tips are similar to the older GoPro"s but there are some new tips that are unique for the Hero 7 Black. Some of the tips include:
Removing Protective Lens Cover
Removing Battery Door
Front LCD Navigation
Charing/Using With Power Banks
ISO Settings for Time-Lapses
Flat Colour Profile
Disabling LED's & Beeps
Playback Footage In SlowMotion
Battery Saving Tips
Watch our YouTube tips and tricks video for the GoPro Hero 7 Black.
Buy GoPro Hero 7 Black: https://amzn.to/2D5Ykjg
How To Color Grade Your GoPro Footage In LumaFusion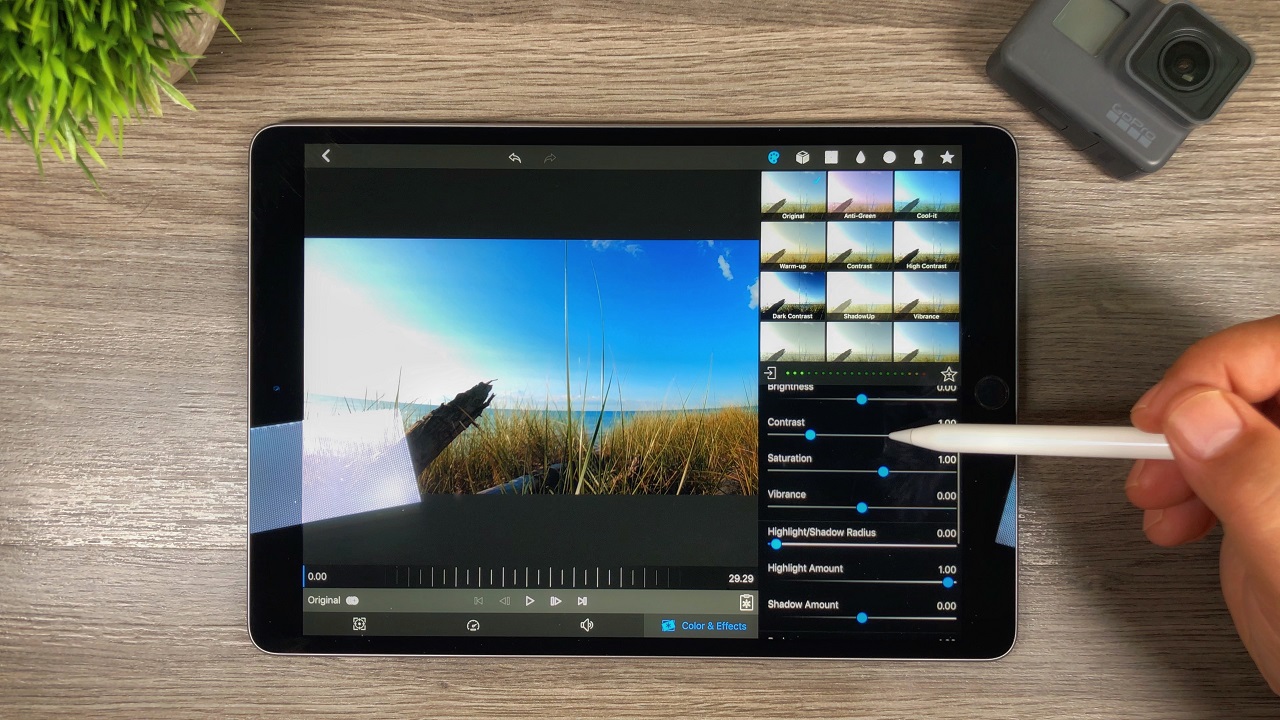 In this video tutorial, I show you how to easily color grade your GoPro footage both manually and with using GoPro Luts. When filming with a GoPro it does a really good job capturing stunning photos and video. The contrast and vibrancy of the content is good and ready to share. There are sometimes however you want to take your footage to the next level and do your own color grading.
If you decide to do your own color grading it is important to shoot in a flat color profile. GoPro offers two color profiles "GoPro Color" and "GoPro Flat. The flat profile basically has low contrast and low saturation thus allowing you to set your own levels in the grading room. You enable the flat color profile by enabling ProTune and selecting flat as the color option.
With today's powerful software and tools such as LumaFusion and the iPad Pro series, it is now possible to do professional level editing on your mobile devices, this includes the use of Luts.  Watch our video tutorial showing you just how easy it is to color grade your GoPro footage in LumaFusion on your iPad Pro. I go step by step to get you up and editing in no time. I show you two different methods of color grading and color correcting, both manually and how to import an use GoPro specific Luts by PolarPro.
The equipment I use for mobile editing.
10.5 iPad Pro: https://amzn.to/2JyLSJt
Apple Pencil: https://amzn.to/2JvJUt3
Apple Card Reader: https://amzn.to/2I4McQD
Wireless Hard Drive: https://amzn.to/2KeDWy5
Here is a screenshot sample of a video captured in GoPro Flat color profile and then after a GoPro Lut has been applied.