PGYTech Phone Holder+ For DJI Osmo Pocket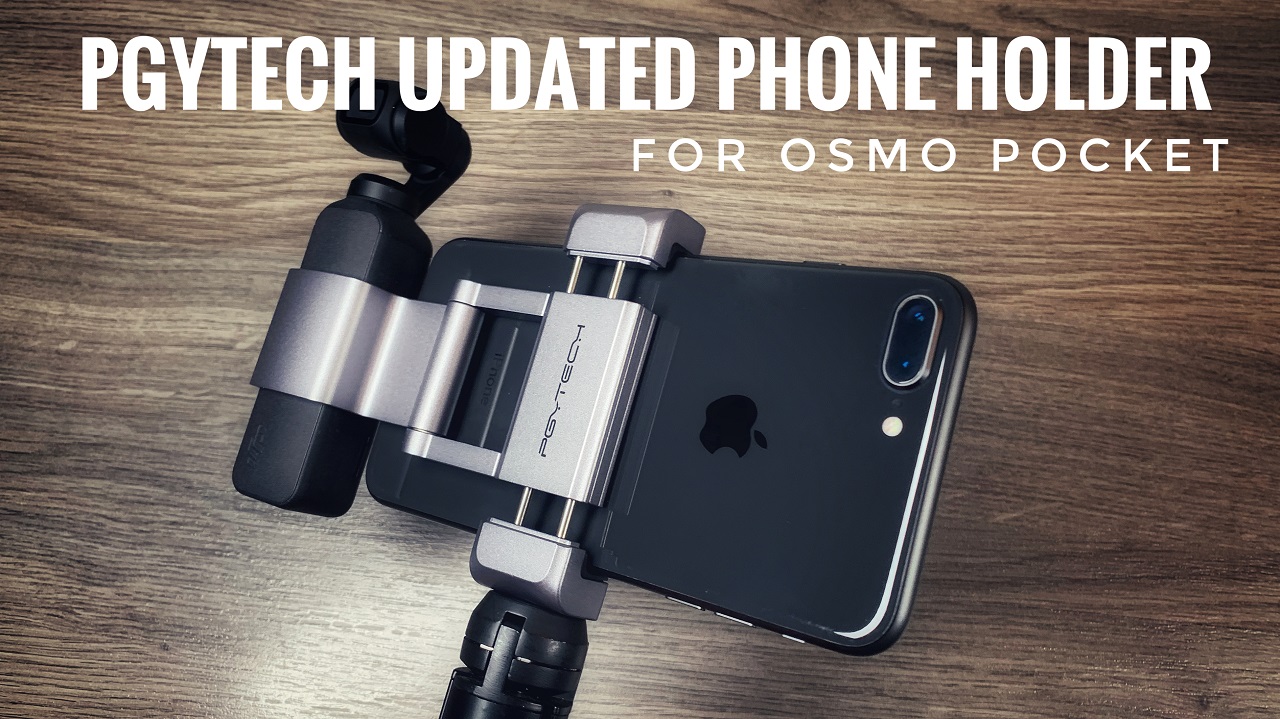 Back when the DJI Osmo Pocket was first released in mid-December, PGYTech was one of the first 3rd part accessory makers to introduce accessories. One of the accessories they introduced for the Osmo Pocket was a phone mount system to keep the Osmo Pocket secured to your smartphone. This mount included a cold shoe on the top and 1/4 20 mount on the bottom. For the most part, it was a good product but was not very compact and could be a little fidgety to install.
Last week a new updated version of this accessory appeared on the DJI website and it was renamed to the Osmo Pocket Phone Holder+. It had a brand new streamlined designed that was more compact and easier to install. When folded up it was quite portable and could easily be carried in a pocket. I am not sure if this is going to be a DJI exclusive item as I have not seen it appear on Amazon as of yet, but It could be coming at some point.
The new design features an all aluminum build and the quality of construction seems to be top notch, there is a little weight to its all-metal design but nothing that would deter me from using it. Just like the original version, it has a cold shoe on the top for attaching microphones or perhaps a light, and a 1/4 20 on the bottom for attaching handles, tripods or even an extension pole. But its main purpose is to hold the DJI Osmo Pocket secure in place when attached to your smartphone. You don't have to worry about it jiggling loose or putting too much stress on your lighting or USB-C port.
The PGYTech Phone Holder+ has a spring loaded phone holder that can adjust to many different sizes of phones and is compatible with both the iPhone and Android smartphones. Watch our YouTube review where we take a closer look and show you how to install and use it.
Osmo Pocket Phone Holder: http://bit.ly/2Tuy2jy
Connecting A Microphone To The DJI Osmo Pocket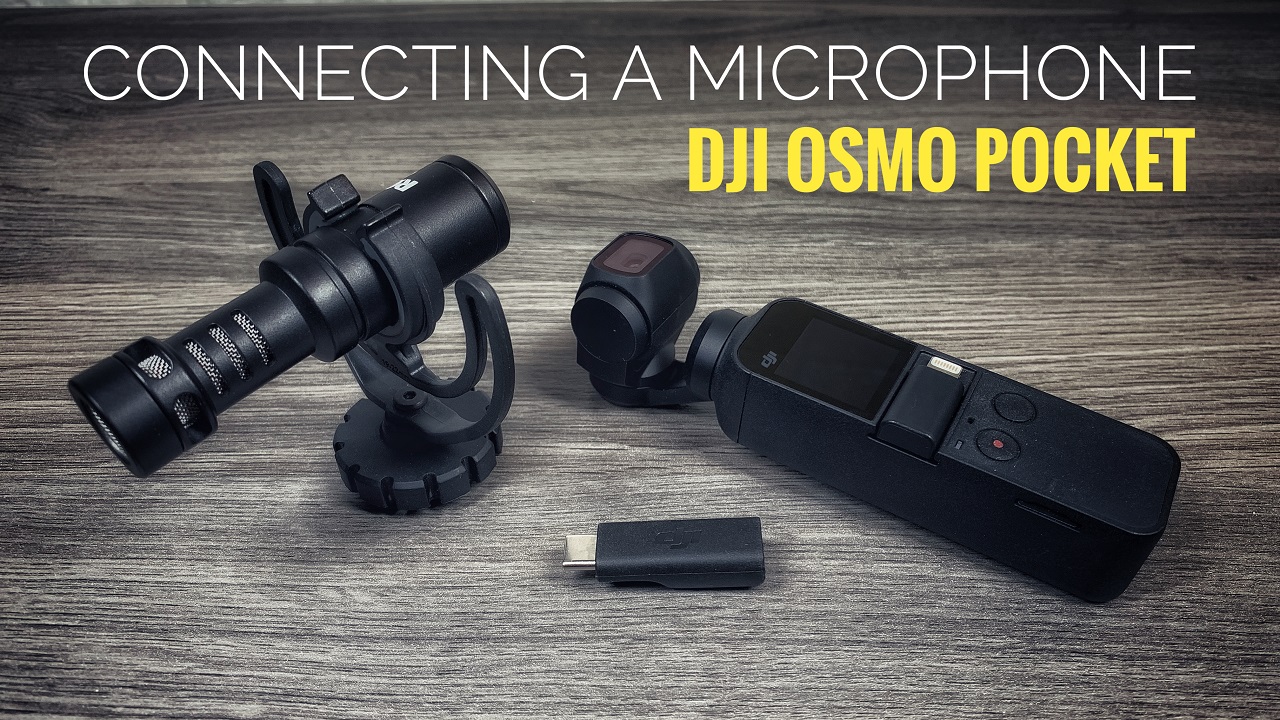 When the DJI Osmo Pocket was first launched in December of last year, one of the accessories that were showcased was a microphone adapter that was needed if you wanted to use an external microphone with the Osmo Pocket. In my opinion, the Osmo Pocket already has pretty decent audio but adding an external mic with a wind cover can be extremely important for vloggers and filming outdoors on windy days, even a slight breeze can ruin your audio. Up until last week, this adapter was not available to purchase but has since arrived on the DJI website.
In this video, I go over how to connect and use a microphone with the DJI Osmo Pocket as well as different vlogging setups you can use with your Osmo Pocket. I also showcase and demonstrate a few different microphone choices that work well with your DJI Osmo Pocket, some that are small and cheap and others that are larger, more expensive but generally have better sound. Watch our video to see some interesting ways to set up a DJI Osmo Pocket vlogging rig with a microphone and light.
Osmo Pocket: http://bit.ly/2RU7iVT
Microphone Adaptor: http://bit.ly/2JfNX1o
Rode VideoMicro: https://amzn.to/2Tcn9yR
Rode VideoMicGo: https://amzn.to/2uc54Xx
Rode smartLav+: https://amzn.to/2ThmcFG
Rode smartLav+ TRRS to TRS: https://amzn.to/2UGnr2o
Small Microphone: https://amzn.to/2TbShP9
PGYTech Osmo Mount: http://bit.ly/2Tuy2jy
PolarPro Mount: https://amzn.to/2NyiVAw
Ulanzi Cold Shoe Extension: https://amzn.to/2F7o6n3
Ulanzi Cold Shoe Extension 2: https://amzn.to/2TL3njd
Small Osmo Light: https://amzn.to/2TdDMKu
Accessory Mount: http://bit.ly/2CMeyhz
Wireless Module: http://bit.ly/2Rs152b
Controller Wheel: http://bit.ly/2F3w2ar
DJI Osmo Pocket Silicone Sleeve and Lanyard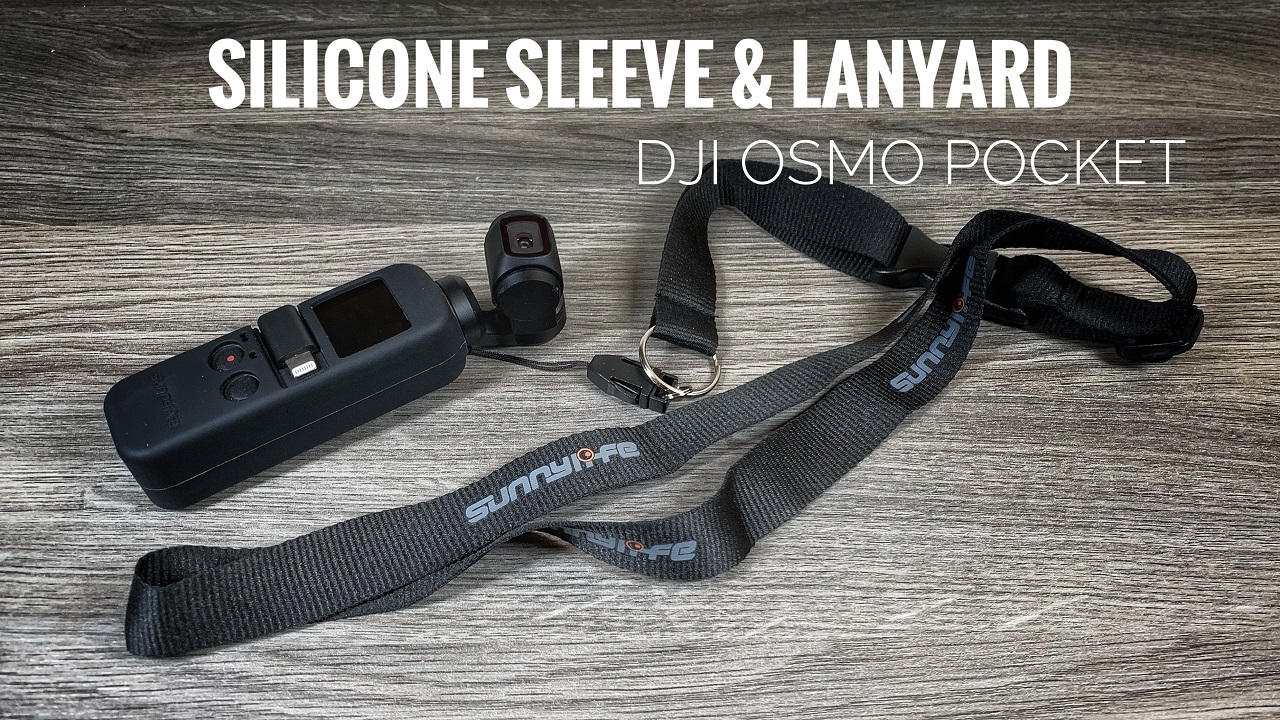 The DJI Osmo Pocket is truly an amazing camera, however, one small complaint I do have is that there is no easy way to connect a wrist strap or lanyard to it. For the most part and for everyday use this is really a non-issue. However, there are those circumstances sometimes where you want the extra security of lanyard or wrist strap. For example, if your zip-lining or on a rollercoaster while holding your Osmo Pocket, dropping it could be disastrous. I recently picked up a silicone sleeve and lanyard kit for the Osmo Pocket from Amazon, it was fairly inexpensive and seemed like it would work for those types of situations.
Installation is pretty straight forward and it fits nicely, once the lanyard is attached you are able to secure the Osmo Pocket nicely or perhaps you just want to hang it around your neck for easy access, it works great for both of these situations. There are some drawbacks however that should be considered. When installed in the silicone sleeve many of the Osmo Pocket accessories will no longer work. The Osmo Pocket will no longer fit in the case, nor will the scroll wheel lock into place. The wireless module cannot be used when the Osmo pocket is fitted in the sleeve, however, you are still able to plug the DJI Osmo Pocket directly into your smartphone. The other thing that could be a problem is overheating, the DJI Osmo Pocket tends to run warm and having it inside the silicone sleeve could potentially cause overheating on really warm days. I ran a test recording at 4K 60 for 25 minutes and I did not run into any problems. This test was done indoors, but outside on a 30 degree (Celsius) day could produce different results. It's still winter in Canada so I cannot test that at the moment.
This sleeve may not be an accessory that you want to use on a daily basis but definitely, if you are getting some riskier shots it would be worthwhile to pick up even for those situations alone.
You can watch my video review below.
Silicone Sleeve & Lanyard (USA) https://amzn.to/2EUP2q7
Silicone Sleeve & Lanyard (CAN) https://amzn.to/2XR80q8