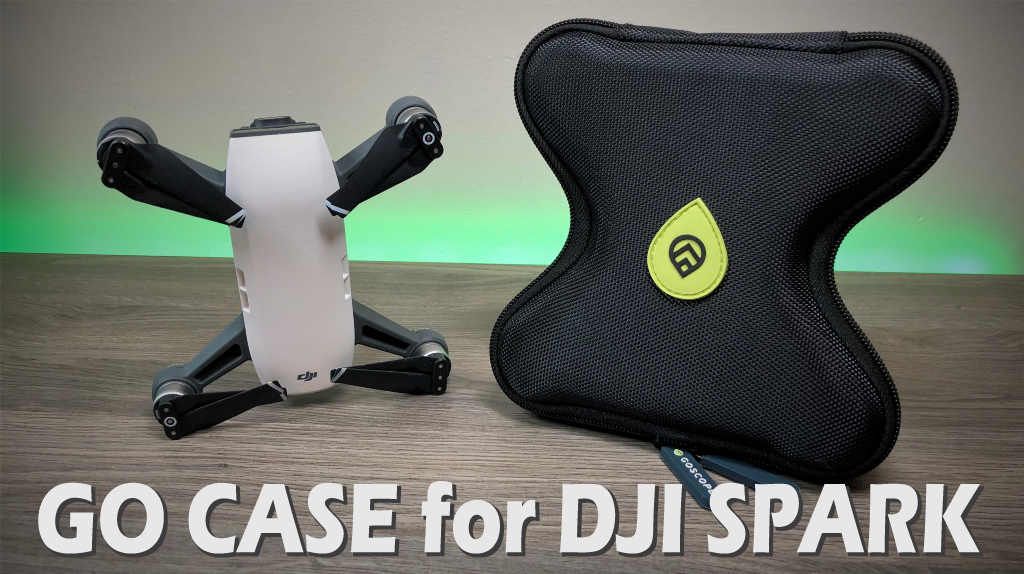 An unboxing and review video of the Go Case for the DJI Spark from GoScope. This is a well made minimal case that fits the DJI Spark perfectly. If you are looking for a case that can store batteries and all the goodies for your DJI Spark then this is not the case for you. However if you are looking for a small and compact case that can easily fit into any camera bag or backpack then this little case may be just what you are looking for. Check out our YouTube review.
Go Case for DJI Spark: http://amzn.to/2zSLHop
I love to hike and explore, and I always take my GoPro gear with me in my seeker backpack. This little case fits perfectly in the bottom with lots of room to spare. The DJI Spark is a nice compact drone that is easy to pack and with the GoScope Go Case you can still pack and protect your drone without sacrificing too much room in your backpack. The package also includes a nice small molded case for the Spark controller.
Go Case for DJI Spark: http://amzn.to/2zSLHop
Review Of Polar Pro Katana For DJI Mavic Air | Hand Held Rig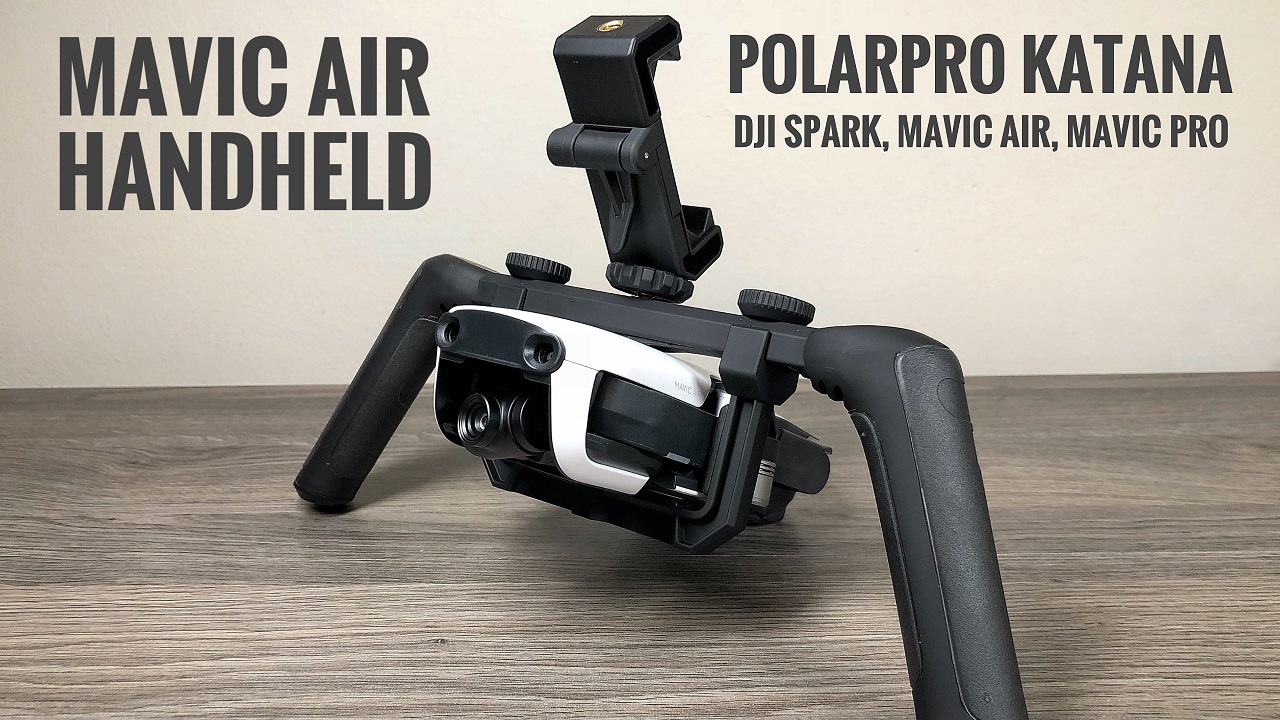 In this video we are taking a closer look at the Katana by PolarPro for the Mavic Air. This unit turns your DJI Mavic Air into a powerful hand-held stabilized camera rig. Now some may ask why you would want to turn you Mavic Air into a hand-held camera, a better question is why wouldn't you want to! The Mavic air has a really good quality camera on board it records at 4K 60 FPS and at 100 MBS. The Mbits per second is higher that the iPhone and the GoPro Hero 6 so theoretically can capture a higher quality video. With its built-in gimbal for stabilized footage it makes for a great hand-held option and doesn't require the expense of perhaps buying another camera if you wish to capture ground footage.
One of the really nice features of the PolarPro Katana is the fact that it is expandable. If you purchase a kit for the Mavic Air, but later purchase a DJI Spark the unit will be compatible. All you need to do is purchase the Spark specific mount, you don't have to purchase a complete kit again. PolarPro also sells separately or in a kit a T-Grip handle that makes it easier to capture low footage. Currently the PolarPro Katana is compatible with the DJI Spark, Mavic Air, Mavic Pro/Platinum and I am confident that as DJI releases new compact drones, Polar Pro will make new mounts for them to make them work with the Katana system.
I have been using the PolarPro Katana for about a month now, I have had a good amount of time to test and play with it. I am really pleased with it performance and ease of use. Mounting the Mavic Air or other DJI Drones is quick and easy. The handles make it comfortable to hold and really helps you grab some beautiful stable footage. It comes apart nicely and easily fits into your backpack until your ready to use it again.
Katana for Mavic Air: https://amzn.to/2KBTzzS
Katana for Mavic Pro: https://amzn.to/2HVEzuA
Katana for Spark: https://amzn.to/2rjunWJ
Katana With T-Grip Mavic Air: https://amzn.to/2KC39CK
Katana With T-Grip Mavic Pro: https://amzn.to/2JTUfPL
Watch our full review on YouTube for sample footage from the DJI Mavic Air mounted in the PolarPro Katana
Smatree Portable Charging Station For DJI Spark | Review and Thoughts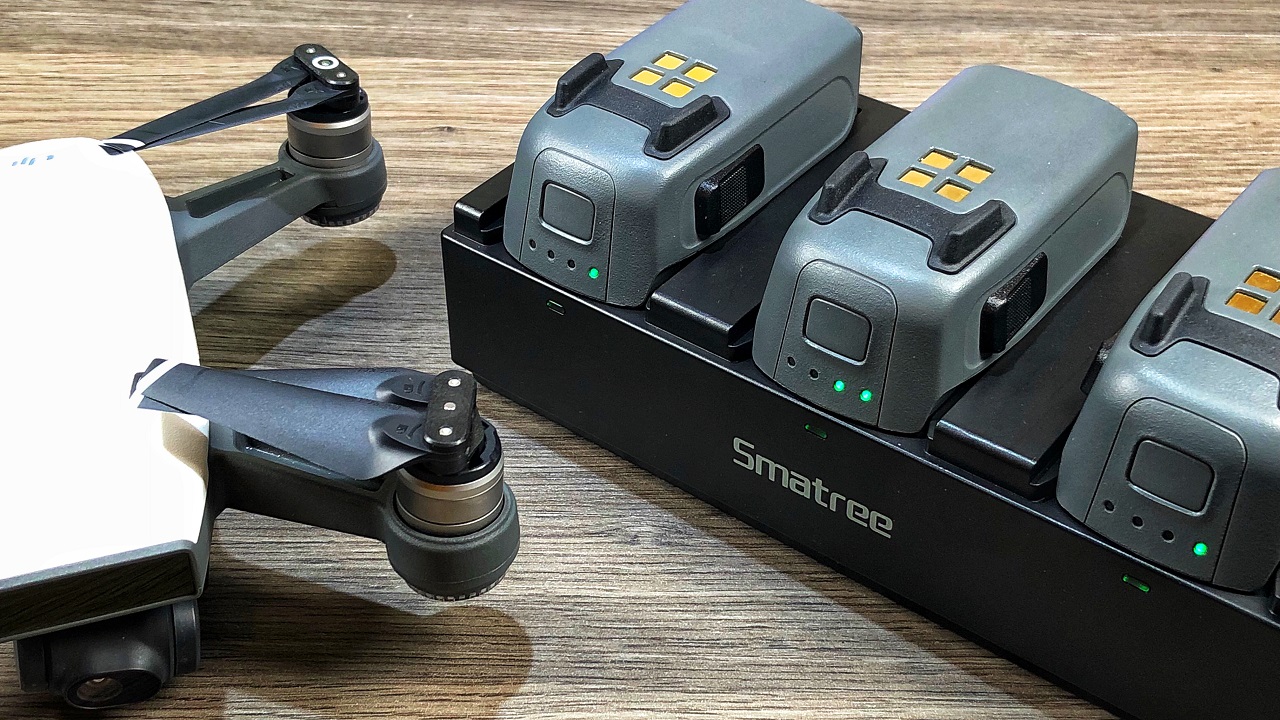 One of the nice features of the DJI Spark is the ability to charge it via a USB cable and a power bank. You can plug the Spark into a power bank and it will charge which is great when you out on location and you have burned through all your batteries. The problem is you can only charge one battery at a time and worse your drone is tied up while charging. This is where the portable charging station by Smatree comes in. Essentially this unit is a 8100 mAh power bank with battery charging bays for the DJI Spark built in. This portable charger allows you to charge 3 spark batteries simultaneously in about 45 minutes…that is supper fast. It can charge a total of 6 batteries before the entire unit needs a recharged. There is also a USB port on the side of the unit that can be used to recharge your Spark controller or even your smart phone. The charger does have some weight to it (12.8 ounces) but still very portable and easily packed in a backpack.
Smatree Portable Charger (Updated Version)
I want to point out that Smatree has updated the portable charging station since I filmed my video and what a great update it was. The old version used a micro USB connector to recharge the power bank at (5V/2A) this worked fine, however it takes over 14 hours to recharge at this rate. The updated unit now comes with it own dedicated charger that plugs into a wall socket and directly into the power bank. The new charging specs are (8.7V/4A) and the unit can now be recharged from empty in about 3.5 to 4 hours. Such a welcome upgrade!
This is a fantastic charger and I think it is a must have accessory for every DJI Spark pilot. I really wish all drones would adopt this method of USB charging, It would save a fortune not having to buy so many extra batteries just so you can have a full day of flying.
Updated Charging Station (USA) https://amzn.to/2ql9Gcp
Updated Charging Station (CAN) https://amzn.to/2v6Yp4u
DJI Spark (DJI Website) https://goo.gl/DvoqK1
DJI Spark (USA Amazon) https://amzn.to/2HoDaxi
DJI Spark (CANADA Amazon) https://amzn.to/2GM5eJX