How To Shoot HDR Photos On A GoPro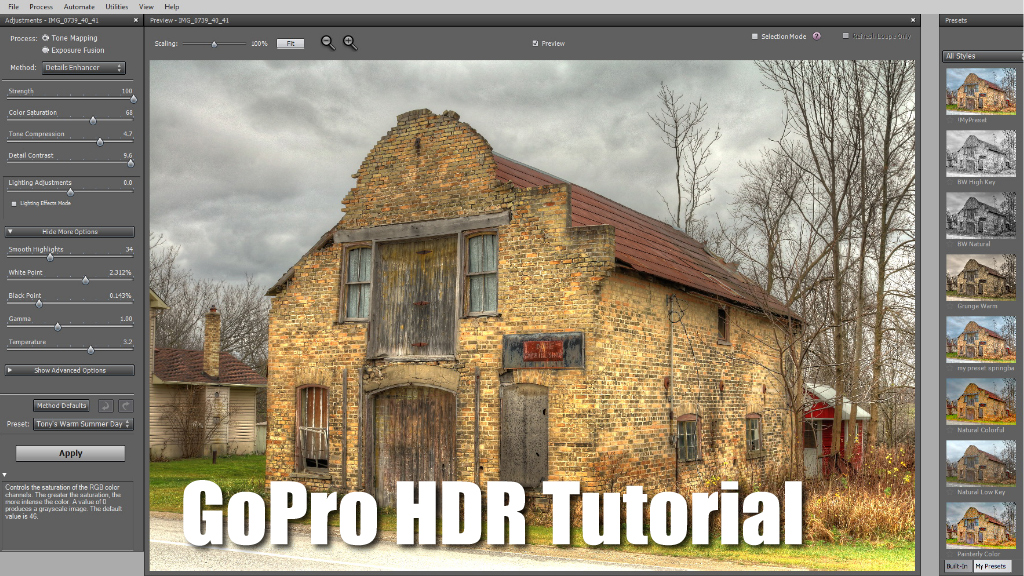 How to capture beautiful HDR Photos with your GoPro
HDR stands for high dynamic range and traditionally HDR images are created with DSLR cameras by capturing a series of usually 3 images at different exposures also referred to as bracketing. There is one image of each capture (over exposed, normal and under exposed) usually by 2 stops per image. The photos are then merged in software to create one single image that has great exposure in all the bright and dark areas. The photos also tend to be very colourful and have a very surreal feel to them.
How To Take Bracketed Photos With A GoPro for HDR
GoPro's out of the box are not really capable of this as you need a reliable way of taking 3 bracketed photos in different exposures. However this problem is solved with a Smartphone app called GoPro HDR. With a click of a button it will capture 3 or more bracketed photos remotely to your GoPro that can then be merged together. Follow the steps below to create stunning HDR Photos on your GoPro. The App is compatible with the GoPro Hero 4 series and GoPro Hero 5 Black. The App is available for download on Android phones and the iPhone.
HDR GoPro Photos Tutorial
Step One: Make sure you have the App installed on your phone. Connect your GoPro to your Smartphone via Wi-Fi and launch the GoPro capture app first. Set the GoPro to photo mode and make sure protune is on. Now Mount Your GoPro and line up your Shot.
Tip: It is very important to use a tripod. The GoPro must stay absolutely still while capturing the bracketed images. Any movement will cause ghosting or blurry images when they are merged later on.
Step 2: Now its time to launch the GoPro HDR App. Select how many shots you would like it to capture. 3 to 5 shots is usually sufficient for the most part I only ever do 3. When you are ready press the "Start Capturing" button and wait for the GoPro to take the bracketed photos.
Step 3: Now its time to transfer the bracketed photos to your computer or laptop. At this point in my tutorial we will be using software from HDRSoft called Photomatix Pro to merge the bracketed images that we just shot. There are other applications that will perform the same functions including plug-ins for Photoshop.
Step 4: Launch the Photomatix Pro software. At the top right side of the screen click the button that reads 'Load Bracketed Photos". Brows to the location on your computer were you saved the GoPro bracketed images you just transferred. Select all 3 or 5 depending how many you shot and open them.
Step 5: A dialog will appear prompting you to input some settings. For this tutorial we will use some basic settings. Use the diagram below to set your options. For the most part we are going to tell the software that the images were created on a tripod so it knows how to align the images and that we want to reduce noise. There can be a lot of noise associated with HDR Photos. When ready press the "Align & Merge to HDR" Button. This can take several minutes to perform.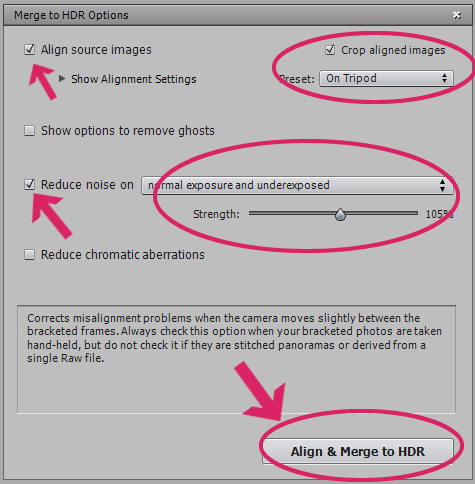 Step 6: The software will now align all images and merge them into one photo. Once ready you will be presented with you newly merged photo that already has some HDR effects applied to it. Now this is not a tutorial on how to use Photomatix, but you can play around with the sliders on the left to achieve a look that you like or you can use the built-in presets on the right. Keep in mind this is just a preview, some things may look a little funny. We now need to render our image with the settings we selected. We do so by clicking on the 'Apply" button on the right hand side of the page. Your image will be rendered and presented to you.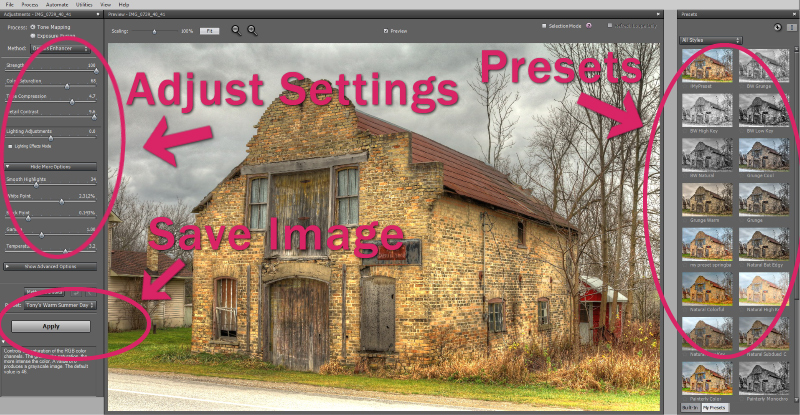 Step 7: You will now see a copy of your final image. At this point we could save our photo or we can make some fine tuning adjustments. A box called finishing touches will pop up with some tools. Under the "Sharpening" tab I like to set it to "Mild Sharpening". Under the contrast tab I like to bump up the shadows just a bit. You can also use the colour tab to pull out some colours or tone them down. Just play with these until you like what you see. When done click on the "Save Final Image" button on the right hand side of the page. Your new beautiful HDR photo that you shot on your GoPro is now done.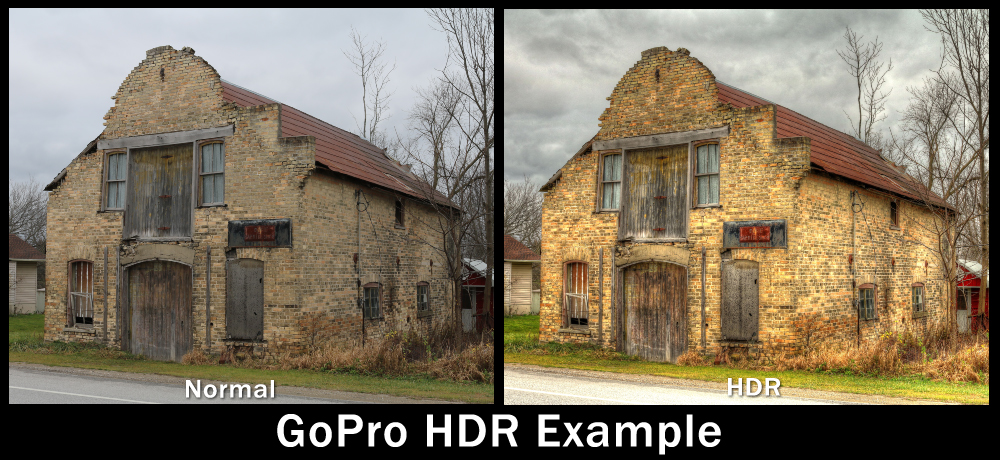 GoPro Hero 6 Black Drive-Lapse Interval Comparison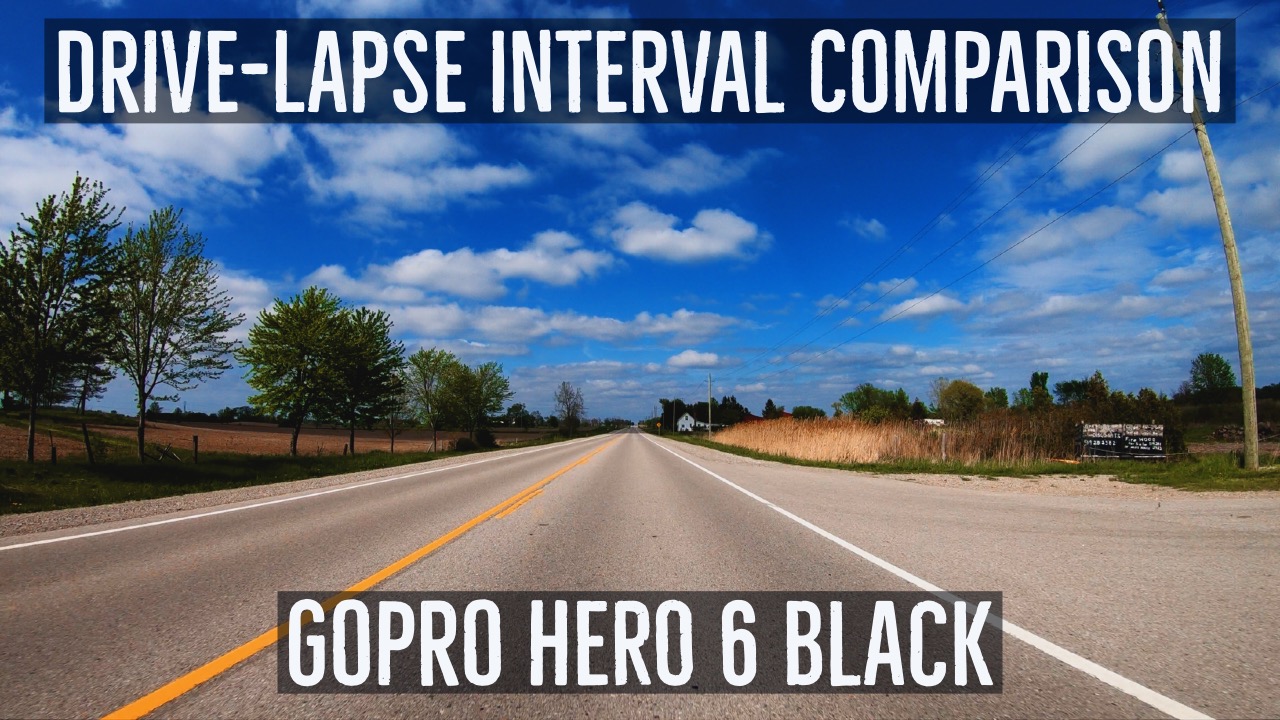 Last year I made a video comparing different intervals when creating a drive-lapse (Driving Timelapse) with the Hero 5 Black. I decided to make an updated video using the Hero 6 Black as it is summer time and there are going to be many hitting the roads and adventuring this summer. This is a good resource to see how different intervals effect the look of your finished drive-lapse. In the test video I used intervals of .5 second, 1 second, 2 second and 5 second. You will notice in the video that the .5 second and 1 second intervals are most appealing and pleasing to the eye. The 2 second and 5 second intervals can look a bit jumpy.
With that said, there is definitely some uses for the higher intervals. For example if you are going on a long road trip and want to time-lapse it, using a low interval will leave you with a very long video when your done. A 5 second interval will leave you with a much more dramatic video that is shorter and won't bore you viewers.
Filmed on a GoPro Hero 6 Black: https://amzn.to/2KrQPZu
Beginners Guide To LumaFusion | Mobile Video Editing On Your iPad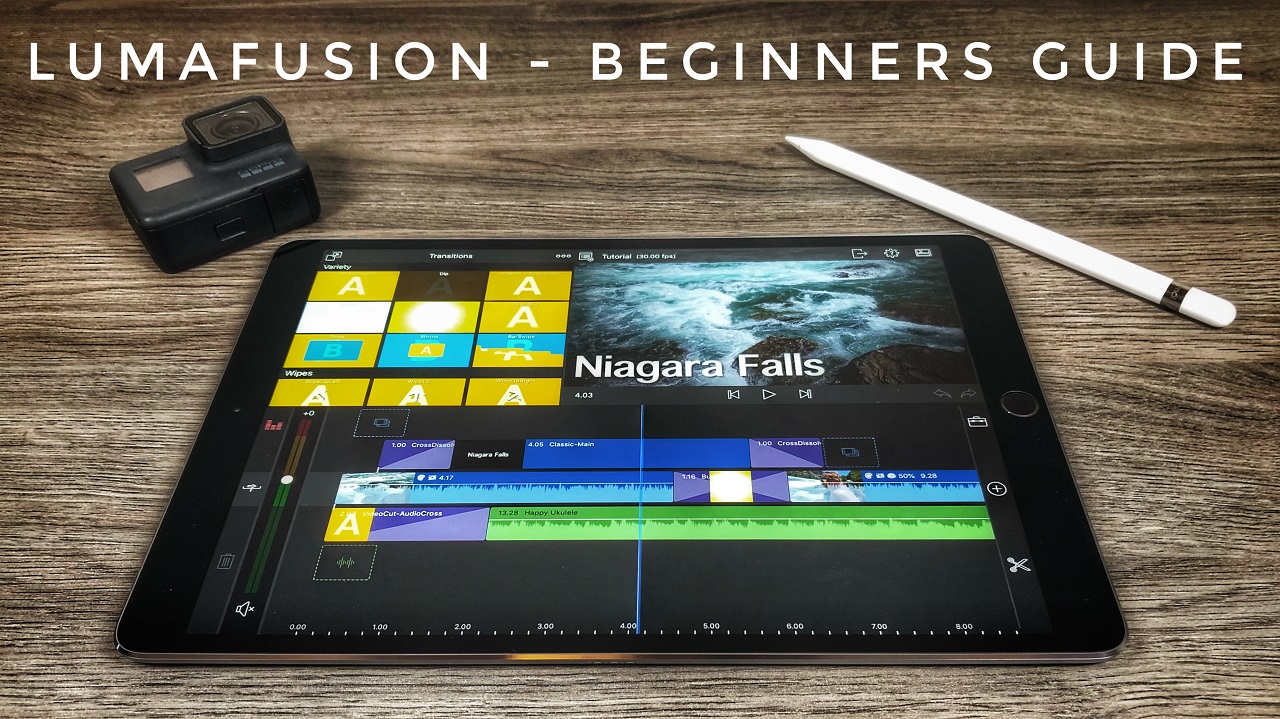 Welcome to our beginners guide to LumaFusion. LumaFusion is a great mobile video editing app for those who want to edit GoPro, Drone and Smart Phone footage on their mobile devices such as iPhones and iPads. Not only is LumaFusion a powerful feature rich video editor that can handle 3 tracks of 4K video, it is also great for new users as it has a simple clean interface that is easy to learn.
In this video we cover all the basics to get you up and running and publishing your very first video. Some of the subjects we cover include.
The user interface of LumaFusion
Opening existing projects and starting a brand new project.
Browsing and previewing media on your device.
Trimming and adding video to you timeline.
cutting, splitting and deleting media from your timeline.
Adding and adjusting transitions to your videos
editing the audio properties of your videos.
adding music to you project.
Creating and editing titles.
Color correcting videos in your timeline.
Exporting your video to your camera roll.
Stay tuned as we will be creating more LumaFusion tutorials soon covering advance editing techniques.
The equipment I use for mobile editing.
10.5 iPad Pro: https://amzn.to/2JyLSJt
Apple Pencil: https://amzn.to/2JvJUt3
Apple Card Reader: https://amzn.to/2I4McQD
Wireless Hard Drive: https://amzn.to/2KeDWy5
Rode VideoMic Me: https://amzn.to/2r3c9Zm
The Equipment I film with.
GoPro Hero 6 Black: https://amzn.to/2LchoOX
FeiyuTech G6: https://amzn.to/2IlCiJo
Mavic Air (DJI Website) https://goo.gl/t74LaQ
Mavic Air (Amazon) http://amzn.to/2EccQaM