PolarPro Iris Review | Best ND Filters For Your iPhone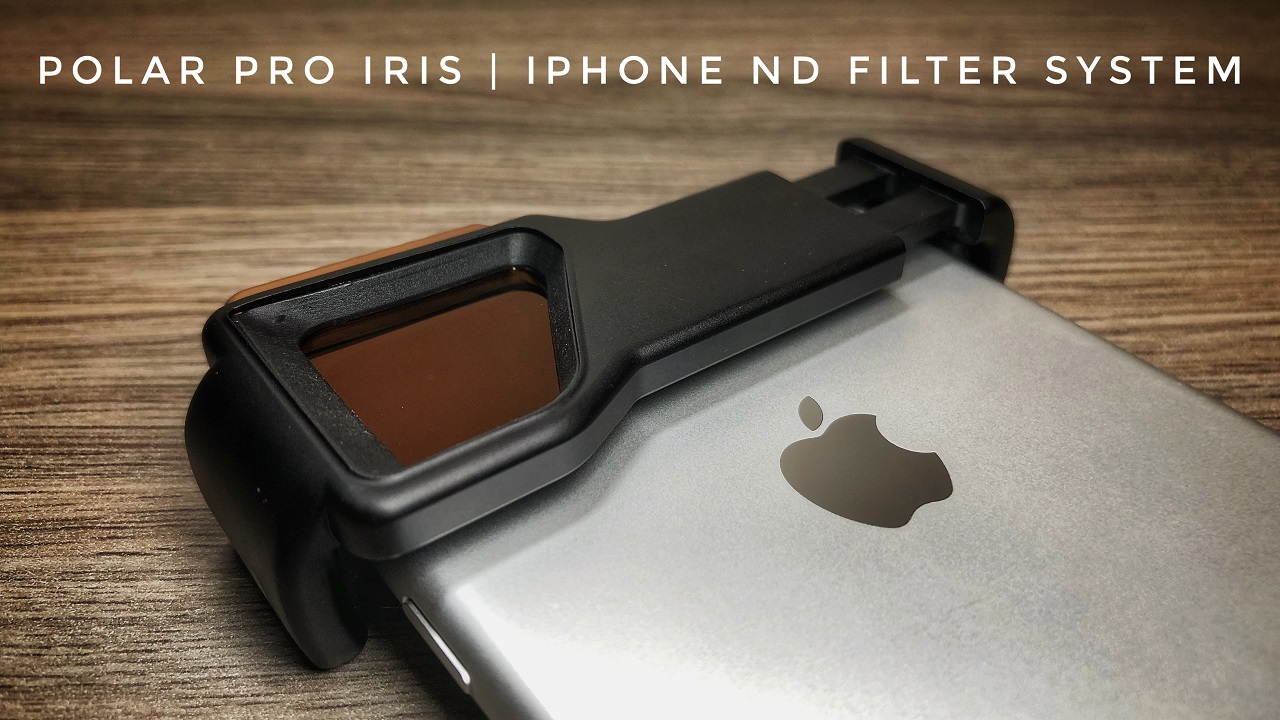 In this review, we are taking a closer look at the PolarPro Iris ND filter for iPhone. You may be wondering what an ND filter is and why you would want to use them with your iPhone. Well, first let's talk about what they are and then why you would use them. I want to first say that iPhone's do a great job capturing video and for the most part you really don't need ND filters for everyday videos you may capture like the kids playing or maybe you cat acting crazy.
What is an ND Filter? And why do I need one?
In its simplest terms, an ND filter is like a pair of sunglasses for your camera lens and it allows you to set the appropriate shutter speed on your camera without it being too overexposed. Early on in filmmaking, it was discovered that there should be a slight amount of motion blur in your videos when filming things with movement. This replicates natural vision and makes it more comfortable and pleasing to the eye. To achieve the perfect amount of motion blur in videos there is something called the 180-degree rule which basically states that your shutters speed should be double your frame rate to achieve this. For example, if you are filming at 30 FPS your shutter speed should be 1/60th of a second. If you are filming at 60 FPS your shutter speed should be 1/120th of a second. Now, this can be hard to achieve on point and shoot devices like our iPhone's, GoPro's and consumer drones. This is due to the fixed aperture, we can't adjust the amount of light coming in (how big the hole is that lets light in). What ends up happening is if we lower the shutter speed to 1/60th of a second, everything is blown out and way overexposed. This is where the ND filter (sunglasses) comes in. We place it over the lens and then when we lower the shutter speed it is exposed correctly. ND filters can come in many strengths the most common are ND8, ND16, ND32, and ND64. The one you use would depend on how bright the sun is. On an overcast day, you may only need an ND8, on an extremely bright day you may need an ND64. This is usually trial and error. You may have to try a few filters to get the right one.
We see more and more that amateur photographers and even professionals end up grabbing B-Roll footage with their smartphones, after all, we always have them with us. Even vloggers tend to use their iPhone's to capture their latest vlog. So this is where having ND filters for your iPhone can be important. It helps the footage captured blend in better with footage that you captured following the 180-degree rule with your other devices such as mirror-less and DLSR cameras or perhaps your drone.
PolarPro has developed a nice ND filter system for your iPhone and works with the iPhone 6/6 Plus, iPhone 7/7 Plus, iPhone 8/8 Plus and iPhone X. It even works with the Google Pixel 2/2XL phones. When you purchase the starter set it comes packaged with a nice case, a mount and 3 ND filters (ND8, ND16, ND32). Installation is quick an easy and you can swap out ND filters on the fly without having to remove the mount. PolarPro has been manufacturing ND filters for many devices for a long time and they are top quality, I would have to say in my opinion one of the best. The PolarPro Iris ND filters allow you to lower your shutter speed on bright sunny days to achieve that nice motion blur that is associated with cinematic footage.
Now if you are shooting on really bright days you may want to pick up the expansion pack. The expansion pack contains an ND64, ND128, and an ND256. The higher ones work best for motion photography but the ND64 is very crucial on blinding sunny days. Last week I was at the beach and I had to use the ND64 to get the correct shutter speed on my iPhone 8 Plus. The case that comes with the starter set has a removable foam tray that reveals 3 empty slots to store the expansion pack as well.
You can use the PolarPro Iris ND filters while just holding your phone in your hand. However, if you wish to mount your phone in something like the Osmo Mobile or Osmo Mobile 2 to capture nice smooth footage you will need to pick up a counterweight as the Iris ND filters will throw off the balance. PolarPro has release two counterweights for the Osmo Mobile and Osmo Mobile 2. You will also need some type of camera app that allows you to manually adjust your shutter speed such Filmic Pro. The stock camera on the iPhone does not have this option.
The only negative thing I have to say and it is very minor is that when the ND filters are being stored in the case, the number is facing down and you can not tell which filter is which. The cut-outs should have been the other way around so you can see the numbers easily at a glance.
All in all the PolarPro Iris ND filter set for Smart Phones are a great investment for both amateurs and professionals looking for a viable way to capture stunning cinematic footage with the proper amount of motion blur.
Iris Starter Set: https://amzn.to/2vQ0TSp
Iris Expansion Pack: https://amzn.to/2KYiT1N
Osmo Mobil Counterweight: https://amzn.to/2vOYU0Z
Osmo Mobile 2 Counterweight: https://amzn.to/2MTSvYC
Osmo Mobile 2: https://amzn.to/2MAWSv3
Tips And Tricks For iPad Pro 2018 | Hidden Features and Must Know Gestures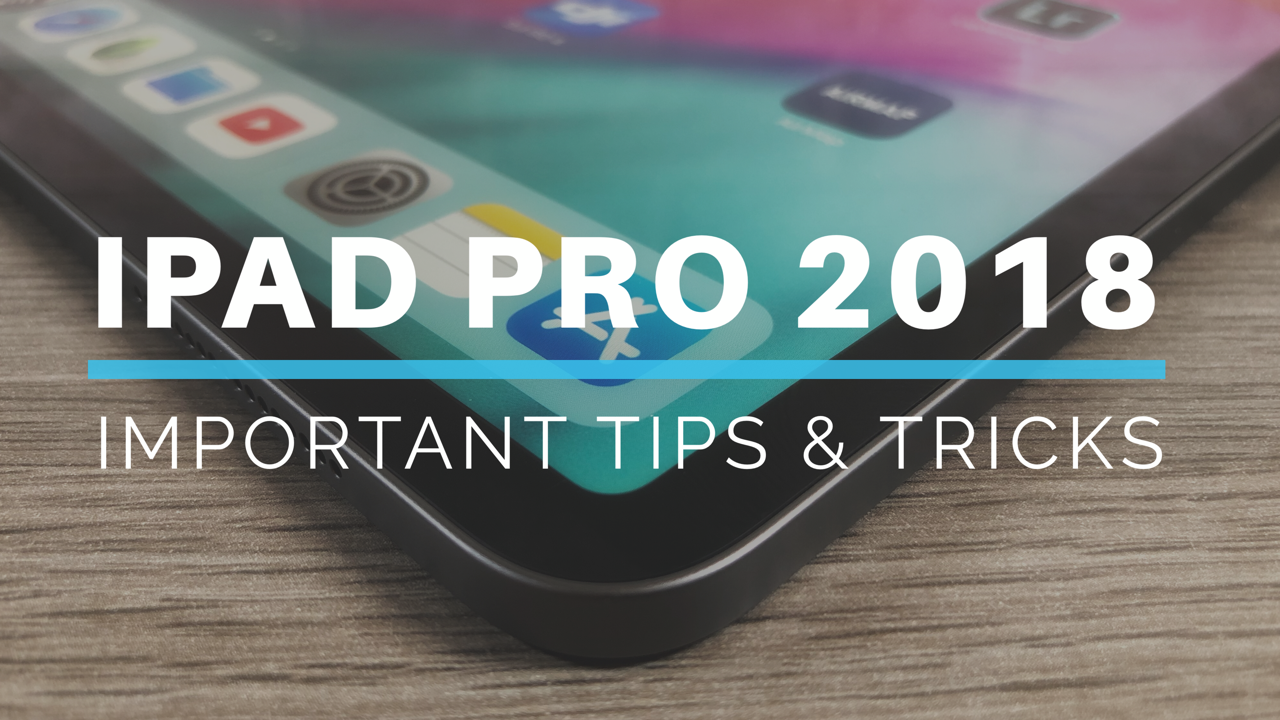 So with the removal of the home button on the new 2018 iPad Pro how you go about various tasks is quite different from previous generations. Most of the gestures that can be used have been worked into older iPads as well and carried over from the iPhone X and Xs series. In this video, I go over important tips on how to perform everyday tasks that you may not be familiar with such as:
How to activate Siri on iPad Pro 2018.
How to do a hard reboot or restart the iPad Pro 2018 (two methods).
How to take a screenshot on the iPad Pro 2018.
How to finalize an iTunes or app store purchase using Face ID.
How to add a virtual home button on the iPad Pro 2018.
In addition, I go over how to transfer photos and videos from an iPhone or iPad to your new iPad Pro 2018 using a USB-C to Lightning cable, as well I demonstrate how you can plug in compatible cameras such as GoPro's or drones directly into the iPad Pro 2018 to transfer media directly from the device.
Watch our YouTube tips and tricks video for the new iPad Pro 2018.
12.9″ iPad Pro 2018: https://amzn.to/2qQdKBo
11″ iPad Pro 2018: https://amzn.to/2DxNPWM
Apple Pencil 2: https://amzn.to/2Biz88x
USB-C to Lightning Cable: https://amzn.to/2TpfYVi
USB-C to 3.5 mm Headphone: https://amzn.to/2zhDivC
USB-C to Card Reader: https://amzn.to/2DvspJG
USB-C to USB Adapter: https://amzn.to/2qTsm2P
USB-C Digital AV Multiport Adapter: https://amzn.to/2TrBtVF
iPad Pro 2018 Cases: https://amzn.to/2JOy8LQ
iPad Pro 2018 Review | Amazing Video Editing Machine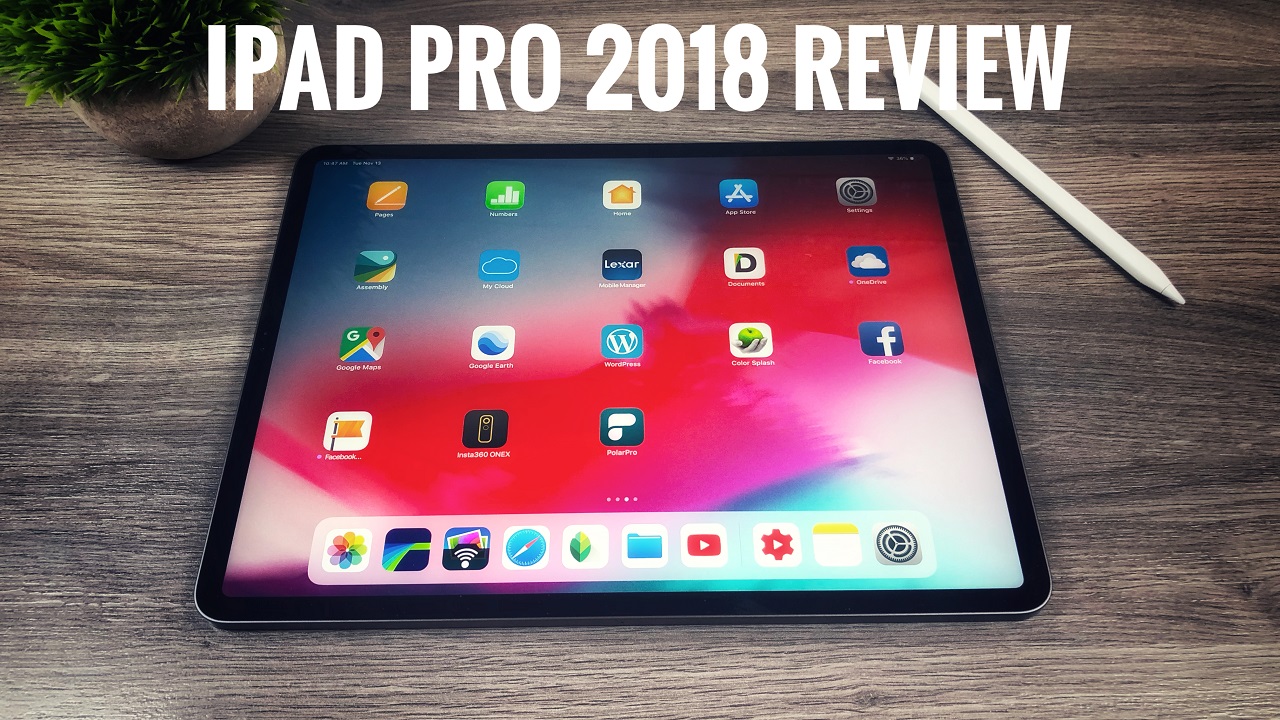 Here is my review of the new 12.9″ iPad Pro 2018. I did not jump on the review bandwagon on release day as many tend to do. I feel I like to use the product for a good amount of time in normal real-world scenarios like I would use it on a day to day basis. The new iPad Pro 2018 has been out for a little over a week now and I feel I am ready to make a review. Now, this review comes from the view of a video editor. Last year I transitioned to 100% mobile video editing and now only edit on my iPad Pro. Every day I edit video for my YouTube channel, Drone and GoPro videos as well as some work for clients, so having a fast and reliable device is important for me. Up until last week, I had been using the 10.5″ second generation iPad Pro and I have been really pleased with its performance.
Which Size To Get 11″ or 12.9
Like last year Apple is offering the iPad Pro 2018 in 2 different sizes. They have managed to make the screen on the smaller iPad Pro 11 inches this year due to the smaller bezels. The larger iPad comes with a screen size of 12.9″ but the overall size is quite a bit smaller. After Apple announced the new 3rd Generation iPad Pros I decided I would step up to the 12.9″ now that Apple has shrunk the footprint of the device into what I feel is a more manageable size. Size is important to me as I tend to hold my iPad a lot when editing as I quite often edit in my living room and while out on a patio having a coffee. Moving to the larger iPad Pro 2018 did take a little getting used to, that extra 2″ inches of screen does make quite a bit of difference to the overall size and handling of the iPad. But after a few days, I easily adapted and I am quite glad I made the jump to the larger screen size. If any of you are on the fence about what size to get, I truly recommend going to the larger size if you will be editing photos or videos. You will love the extra canvas size and even with its larger size, it is still very comfortable to hold, even for long periods of time.
Physical Changes To The 2018 (3rd Gen) iPad Pro
These years iPad Pro's have seen a massive change in both appearance and functionality. Apple has removed the home button and replaced it with its true depth camera and face ID system. The bezels have shrunk and the corners of the screen are now rounded. I was a little skeptical at first on how I would like the removal of the home button, and for me, it did take some getting used to. Without the home button, all the gestures from the iPhone X series have been carried over to the iPad Pro. The first few days using the new setup was quite awkward for me, always reaching for the home button that was not there. A week in an now I don't miss it at all. The only issue I have is quite often I have the FaceID camera covered with my hands so it will not unlock, however, the iPad offers up a friendly reminder that camera is covered and life moves on.
iPad Pro 2018 Video Editing Performace
Like I stated I mainly use my iPad Pro for video editing, and for the most part, I edit with an app called LumaFusion which is a full featured and advance editing app for iOS devices. In general, when doing simple edits the is no noticeable difference in performance after all the old iPad Pro and LumaFusion were already a great pair. You start to notice just how powerful these new iPad Pro's are when you start to get into multi-Track 4K editing with lots of edits, luts, speed changes and effects. The new iPad Pro is much snappier and has less hesitation. One thing to note if you are looking for a massive decrease in render times you will be disappointed. In my tests when rendering a simple 4K video the old iPad Pro and new iPad Pro 2018 finish in the exact same amount of time. You will notice a slight improvement when you start adding transitions, filters and speed changes, but not by much. I have found that LumaFusion seems to crash now and then on the new iPad Pro most likely the app needs to be updated to fully support the iPad Pro 2018. Personally, I am not too worried about that, the folks at LumaFusion are most likely hard at work tweaking the code and preparing a new version that will be optimized for the new iPad Pro 2018.
In closing, I have been quite happy with the new iPad Pro 2018, however it was a pretty hefty price to pay. The new Apple Pencil 2 works flawlessly and a much better implementation than the first generation. You can watch my full iPad Pro 2018 YouTube review below.