RAVPower Upgraded USB-C 26800 mAh Power Bank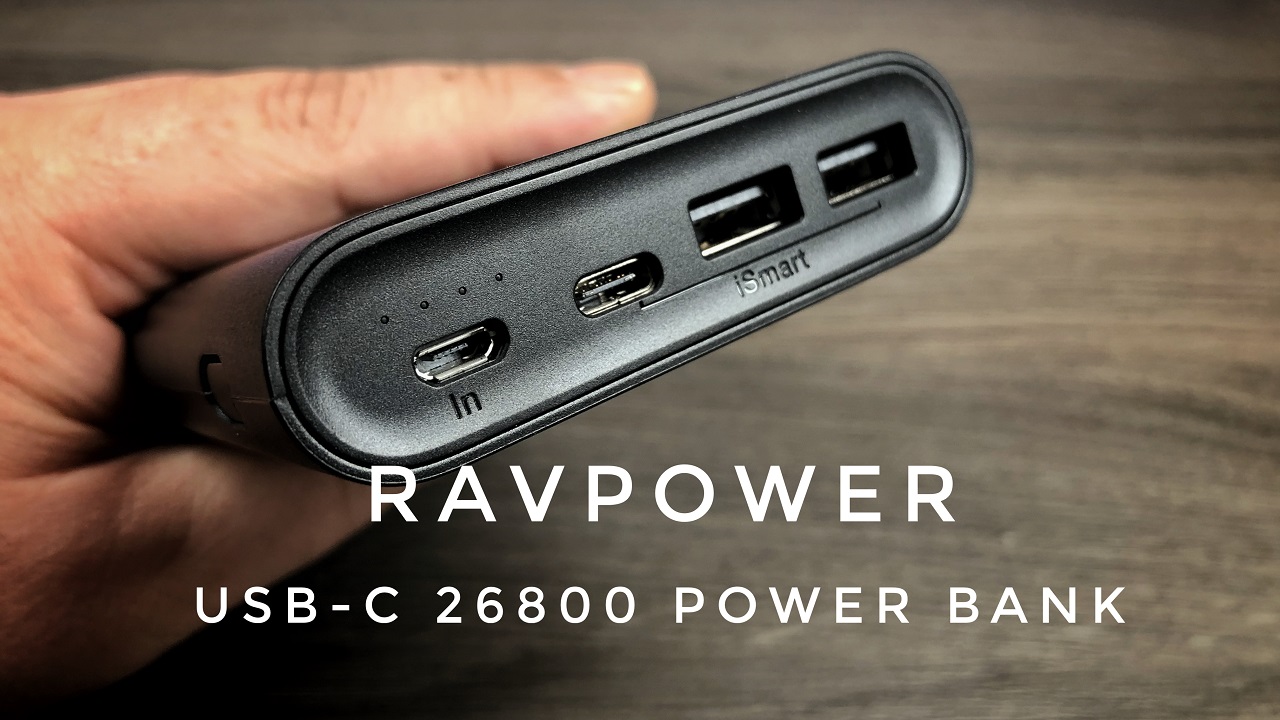 Power banks are an essential part of any "GoPrographers" camera bag. They help us keep our GoPro charged when not around traditional power and also allows us to create extended night-lapses and long time-lapses. Here we are taking a closer look at the new upgraded RAVPower 26,800 mAh power bank that now includes USB-C support. The USB-C port on this power banks is used for both input and output, you can charge your USB-C devices but you can also use the USB-C port to quickly recharge the power bank.
The power bank features two USB-A ports at 5V 2.4A max output for each port. It also has a USB C-Port that is capable of 5V 3A output for faster charging of devices such as the GoPro Hero 6 Black or GoPro Fusion. Lastly it has a micro USB port for recharging the Unit. When it comes to charging the RavPower 26800 mAh USB-C power bank there are a few different methods. Firstly you can charge the device via the micro USB Cable only and it will take approximately 15 hours. You can also charge via the USB-C port only using the included USB-C adapter, a full charge will take approximately 10 hours. But ideally the best way to charge this power bank is to use both the micro USB and USB-C simultaneously, this allows the unit to be charged in as little as 7 hours which is quite good for a power bank with this much power. All 3 charging ports including the USB-C port are iSmart enabled. iSmart detects the charging needs of your devices and automatically delivers the output needed to get the fastest charge possible without damaging your device.
This power bank is a great value for the price and perfect for charging devices such as phones and tablets, but the real advantage is it allows you to charge your USB-C devices faster than using a standard USB-A port.
RAVPower USB-C Power Bank: http://amzn.to/2Fw9gIW
Create Your Own DIY Double Ended Extension Pole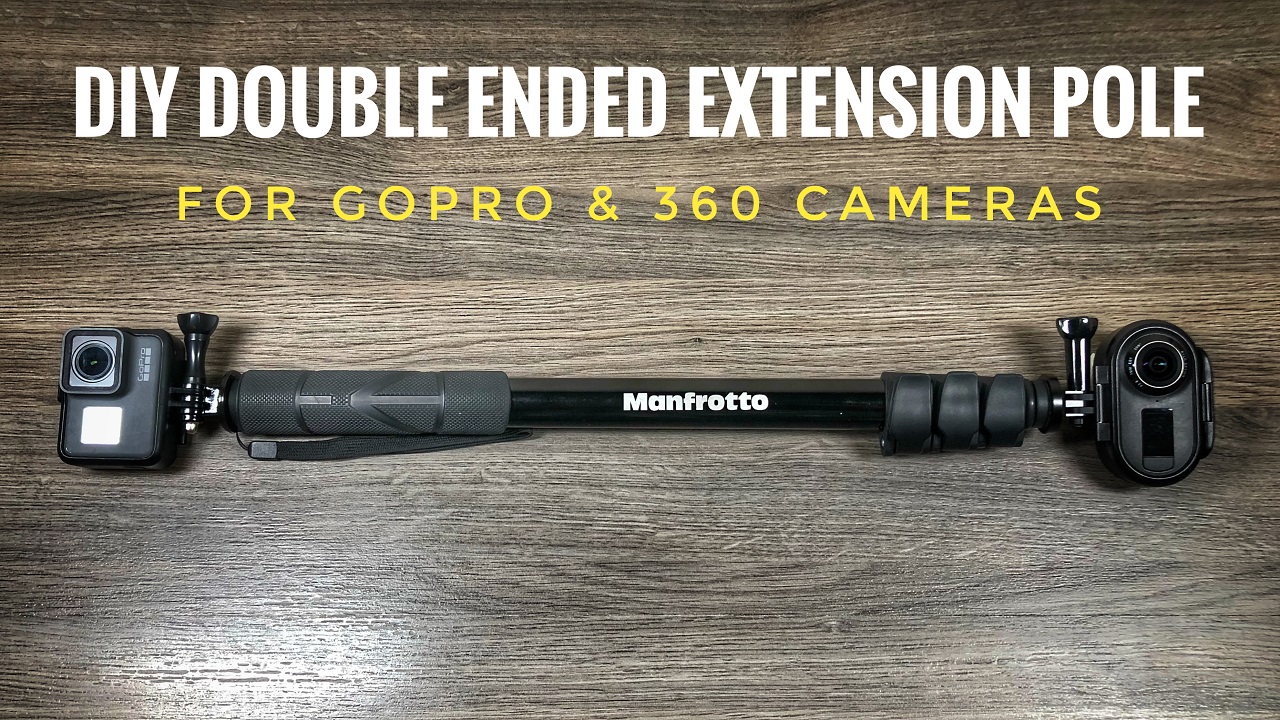 In this video I show you how to make your own DIY double ended extension pole for GoPro's and 360 cameras. Now you may be asking why on earth would you want a double ended extension pole? Well the answer is very simple. It allows you to film with two camera (one at a time) without having to constantly fiddle around swapping camera and wasting time. For me this invention came from necessity. I like to film my travels and adventurers with both my GoPro and my Rylo 360 camera. I was finding it frustrating to have to carry so much gear and was constantly swapping the cameras on different handles and poles. I came up with this solution and it does work extremely well. Now when I am out adventuring all I need to do is flip the pole around and can easily shoot with any camera I wish, and I only have one pole to carry around with me. Watch our video on how to create this handy extension pole and what parts are needed for this DIY project.
Parts featured and needed to build this double ended extension pole for your GoPro and 360 Camera.
Manfrotto Pole (USA) https://amzn.to/2LwlNvM
Manfrotto Pole (CAN) https://amzn.to/2JGdJa3
Tripod Base (USA) https://amzn.to/2uPorFP
Tripod Base (CAN) https://amzn.to/2LCeMcL
Tripod Base Adapter (USA) https://amzn.to/2uy0gfR
Tripod Base Adapter (CAN) https://amzn.to/2NyMGjt
GoPro Tripod Mount (USA) https://amzn.to/2JEKqVi
GoPro Tripod Mount (CAN) https://amzn.to/2Lz02vs
Rylo 360 (USA) https://amzn.to/2zXuJcq
Rylo 360 (CAN) https://amzn.to/2zWR8GA
GoPro Hero 6 Black (USA) https://amzn.to/2uTOsUG
GoPro Hero 6 Black (CAN) https://amzn.to/2LbciWD
iSteady Pro Gimbal Review | Budget GoPro Gimbal For Under $100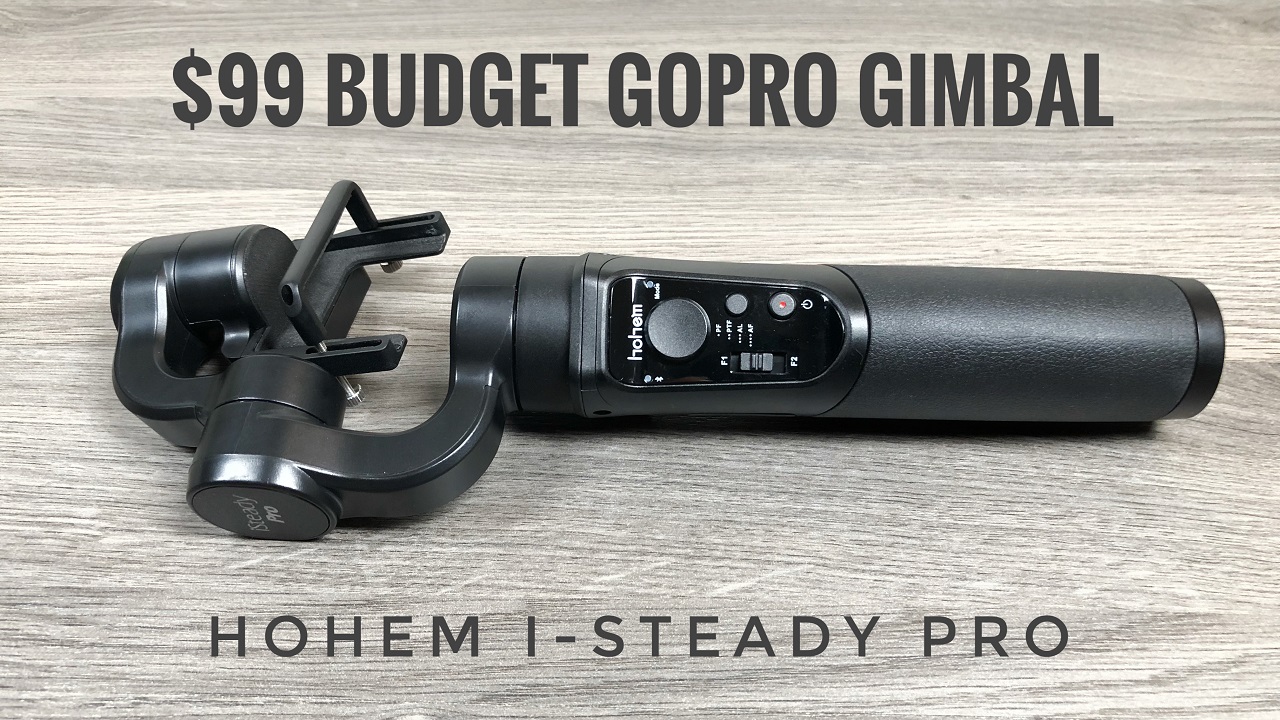 In this review we are taking a closer look at the iSteady Pro, a budget GoPro gimbal that you can pick up for under $100. Before I even get into the review of this new gimbal by Hohem, I want to point out how nice it is to see more competition of GoPro gimbals popping up on the market. Competition fuels innovation and improvements and not to mention forces more competitive pricing. We seen this happen with smart phone gimbals. A few years back DJI release the Osmo Mobile with a price tag of $299. Soon afterwards we seen third-party gimbals launching with prices as low as $99. This caused DJI to lower its price when they launched the Osmo Mobile 2 earlier this year to $129.99.
The Hohem iSteady pro is a simplistic GoPro gimbal that comes packaged in a nice case and even includes a mini tripod for those times when you want your gimbal resting on a suitable surface to create time-lapses. Also included with the kit is a micro USB cable for charging up the unit. I found the gimbal to be very comfortable to hold with its molded hand grip. It is a nice compact gimbal and very light to hold. First impression are good, it is a little plasticky but what do you expect from a $99 gimbal. All in all it does look to be well constructed and even includes a joystick for nice smooth movements.
The Good: The handle features a full-sized USB slot that can act as a power bank to charge any device that can be charged via USB. It also has a micro USB port near the camera mount that can be used to charge your GoPro while using the gimbal. Now this only works for cameras that you mount where the battery door is not blocked by the motor. I found the footage I shot with the iSteady Pro to be quite smooth and was pleasantly surprised. Like all gimbals there is some slight motor vibration noise, however I did find it to be of an acceptable level. Hohem has a nice little app for the iSteady pro that allows you to control the gimbal remotely and make some adjustments to how the gimbal behaves when in use. A very basic app but a nice touch for the price.
The Bad: I did find the gimbal handle would knock the camera on occasion when doing extreme moves/angles, so you have to pay attention to the angle at all times. I also found the horizon a little tilted when doing fast panning, it would correct it self but could be annoying to some film makers while other may like the fluid more natural motion.
All in all I found this to be a nice little gimbal for the price. If you're looking for a low-cost gimbal you might just want take a look at the Hohem iSteady pro, I am sure you will be satisfied with the purchase. Watch our full in-depth review on YouTube.
iSteady Pro (USA) https://amzn.to/2L5wclP
iSteady Pro (CAN) https://amzn.to/2NUUIUN