Secret Voice Commands for GoPro Hero 5
At some point GoPro has snuck in some hidden voice commands for the Hero 5. I don't know when or why they added these secret and strange voice commands but I do have a theory and I'll explain in a minute but first let's get to the secret and undocumented commands for the GoPro Hero 5.
Speak the following commands to your Hero 5 while capturing video and see what happens!
"That Was Sick"
"Oh S**T"
You will notice that those two secret voice commands will add new hilight tags to your captured GoPro footage. If your unfamiliar with GoPro hilight tags, basically it is a way of marking specific spots in video footage so later while editing via the GoPro Quick app you can easily find interesting parts or highlights of a video where you made a tag either by hitting the mode button while recording or by speaking "GoPro HiLight". Now these two secret hidden voice commands will add a tag as well if you have the voice commands feature enabled. This can save a lot of time going through hours of footage just to find the good parts.
Now the big question is WHY? Why would GoPro sneak in these strange secret and hidden commands and will there be more?
I have a theory of what is going on here, I think we are seeing a glimpse into the future of GoPro … and the future is awesome! Now if you watched any of Nick Woodman's (founder and CEO of GoPro) interviews from CES 2017 he spoke about the future of GoPro and his vision of a seamless user experience were the GoPro camera is an extension of the smart phone and the users media or parts of it are uploaded to phone and edited/shared automatically.
So lets back up a bit. One of GoPro's main mobile editing apps for tablets and smart phones is called Quik. Simply put the Quik desktop and smart phone app is an incredibly powerful yet simple video editor that can take several clips that you have recorded and make quick edits by analyzing the data and putting it all together with effects, transitions and music. You can let Quik do all the work or you can go in a fine tune it yourself. This is where tagging hilights can play an important part. Quick can read these hilights so it knows when interesting this are happening in the footage and it will make sure those parts make the edit.
So Mr. Nick Woodman talked about what could possibly be available to GoPro users later on this year. His vision of a system that would record video, and when your done automatically upload the content to your smart phone and have a beautiful edit waiting for you.
In order for this to work on the level that Mr Woodman has envisioned. There will need to be some very smart algorithms and calculations going on in the background not only to make it work but to make it work on a level that the consumers would be happy with. Who wants an automatically edited video that is random and doesn't show the good parts..
It all needs to start with the hardware and that is what we could be seeing with these hidden voice commands. When recording and something interesting happens we usually react audibly in some manner. Whether it be a scream, shouting, laughing or even vulgar words. The GoPro Camera could listen for audio clues and make HiLight tags based on a combination of audio, visual and even telemetry data . You combine these new audio/telemetry tags along with some smart algorithms for analyzing video footage you will end up with an amazing edited video all done without any input from user. Now that would be truly fantastic.
Just imagine, your skiing down a hill and you have your GoPro capturing every moment. You get to the bottom and before you can even take your skis off you have an epic edit of your run already edited and uploaded to social media.
Nick Woodman stated that this could be a reality this year (2017) It would make sense to possibly launch alongside the GoPro Hero 6 this fall. 2017 could shape up to be an exciting year for GoPro enthusiasts. Lets keep an eye out on firmware updates to see if they sneak other secret voice commands in.

GoPro Fusion App Updates to Support OverCapture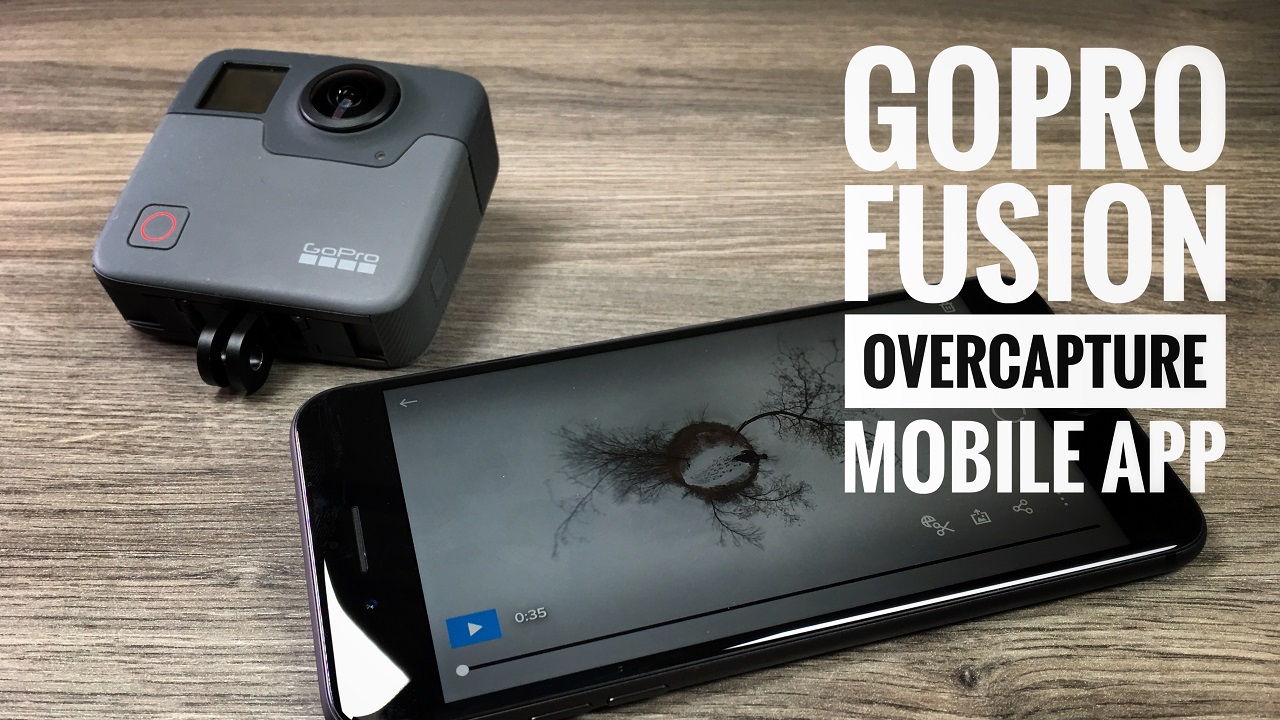 So a few days back GoPro released an update the iOS app for iPhone and iPad to support OverCapture on the GoPro Fusion 360 Camera. This feature was first promoted back at the September GoPro launch event. When the fusion was released in November only a basic version of OverCapture was available via the Fusion Studio desktop software. GoPro stated OverCapture would be brought to mobile in early 2018 and it is now here. From what I have read this is just a preliminary version and many new features and enhancements will be added over the coming months including possible support of the GoPro Quik App for incredible auto edits from the 360 videos you capture.
GoPro Fusion: http://amzn.to/2Exe00q
For those that don't know, OverCapture is a feature to allow you to frame a traditional HD video out of a spherical video. You can move around with in the scene to grab any angle you wish. This makes capturing content from different perspectives very easy as you don't have to point the camera at one fixed position to make sure you always capture the action. Its like having many GoPro's pointed in many different directions. OverCapture also allows you to create visually interesting tiny planet style videos and photos.
My first initial impression of the Mobile OverCapture feature was quite good. I found it easy to use and can produce excellent results. There are many features that I would like to see added in future revisions such as the ability to do basic image editing. Being able to adjust exposure and saturation right in the app would be very handy. I would also like to see a way to edit your completed OverCapture. The way it stands right now when you create your OverCapture edit you can not go back and make a change if you are not happy with the way something looks. With the Rylo 360 camera and their version of "OverCapture" it is possible to go back and make changes via keyframes. I would really like to see GoPro implement a similar style of editing.
Watch our YouTube video demonstrating the GoPro app and OverCapture in Action.
How To Add GPS Data Gauges To Your GoPro Videos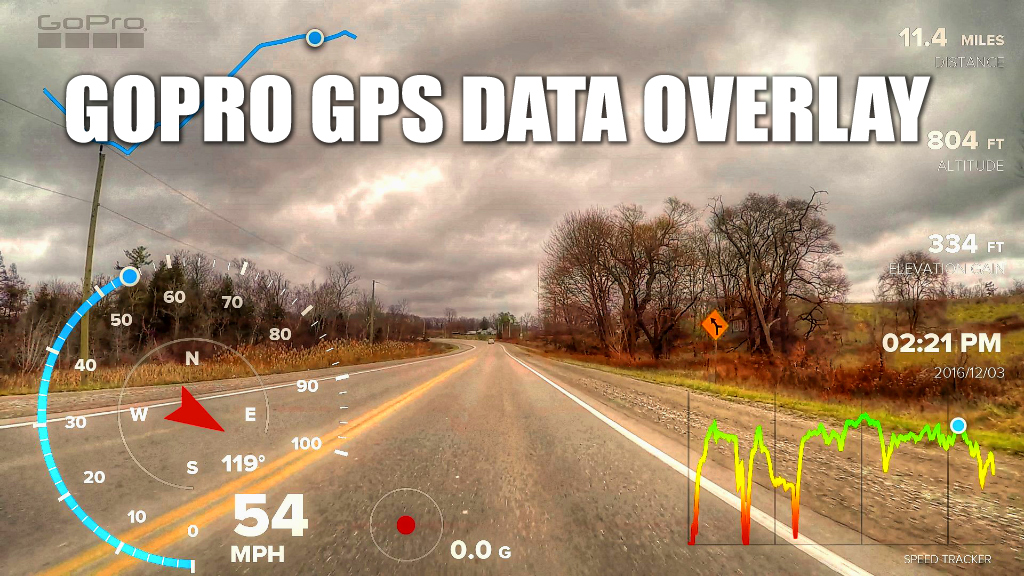 One of the brilliant new features of the GoPro Hero 5 Black is the ability to log GPS telemetry data within videos which can then be displayed over your videos in a visual form of various gauges. Some of the data you can overlay are speed, distance, g-force, altitude, elevation gain and time. All the gauges and data are customizable and can be resized or moved to different parts of the video. This is a great tool for skiing, dirt bike ridding, mountain biking or just a nice drive with your car or motorcycle. This will even work on an air plane, you can track how fast the plane is moving and the distance it traveled.  In order to have your GoPro record all the telemetry data you must enable GPS in the preferences menu.
Tutorial: How To Add GPS Data To Your GoPro Videos Using GoPro Quik
Step 1: Power on your GoPro and make sure you have enabled GPS in the preference menu. Wait until the GPS notification is lit up, this confirms that the GoPro has picked up a satellite. Once you confirm your GPS is connected you can proceed with recording your activity as normal.
Step 2: Once you have recorded your video we now need to transfer your video to your computer. It is best if you use the GoPro Quik desktop app to transfer, we will be using this software anyways to add the telemetry data to your video.
Step 3: Now that your video is transferred to the computer, it's now time to launch GoPro Quik if you have not already done so. At this point you should locate your video in the media section of Quik. Once you have found the video you shot with GPS enabled, double-click it to open up the video for editing.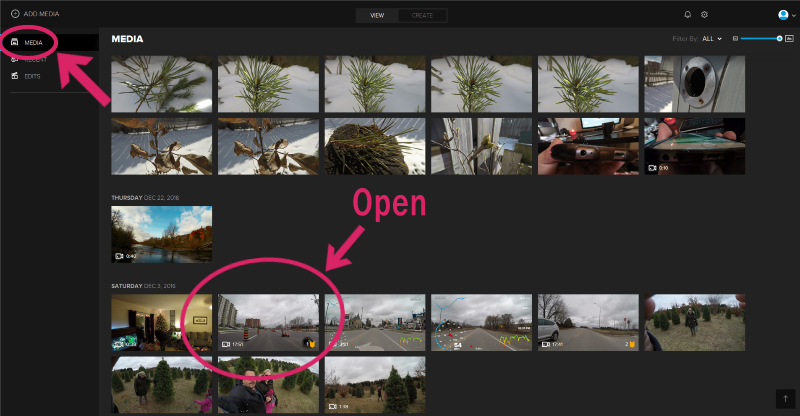 Step 4: Once your video has been selected we are now going to enable the GPS data overlay. At the bottom of the screen click on the icon that looks like a speedometer gauge. This will launch the GPS telemetry data options panel.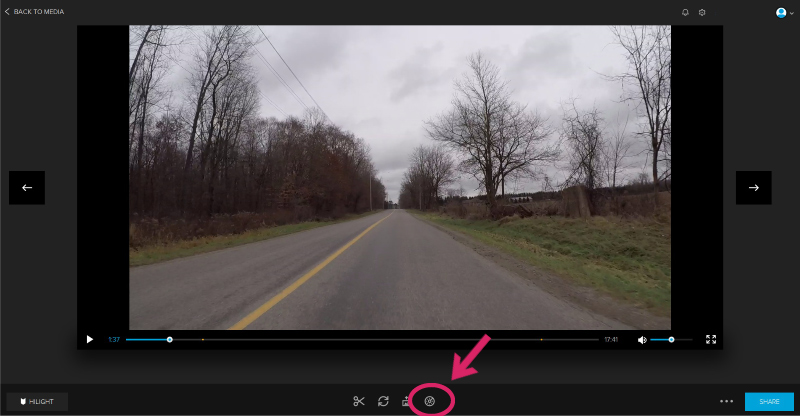 Step 5: The telemetry data options will pop up and here we can enable the specific gauges that we wish. You can select them all or just a few. Slide the toggles to the "on" position and when done click the save button.
Step 6: After clicking save you will be directed back to your video and you will notice all the new data gauges on your video. Every gauge can be customised you can move them to different parts of the screen. They can also be resized if you so wish.
Step 7: To save the video with the GPS data gauges you will now have to click on the scissor icon at the bottom. This will take us to a section were we can trim the clip and save it to our computer.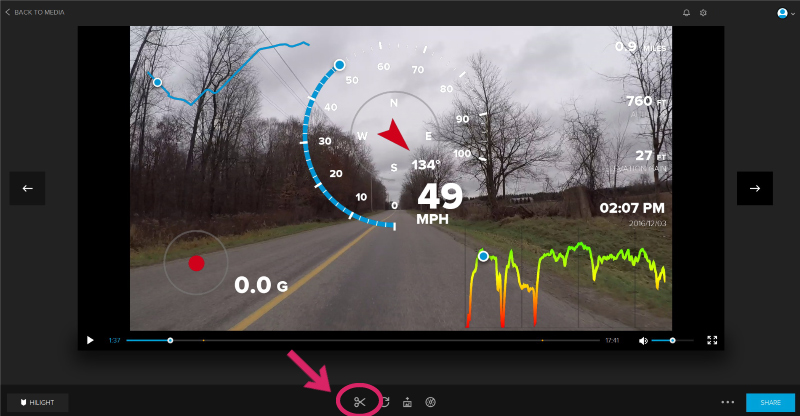 Step 8: Adjust the scrub bar handles to set the start point and end point of our GoPro GPS enabled video. When done click on the save button and the new GPS clip will be saved to your computer in the same location as the original video. The original video will not be modified, this creates a new clip with the GPS telemetry data.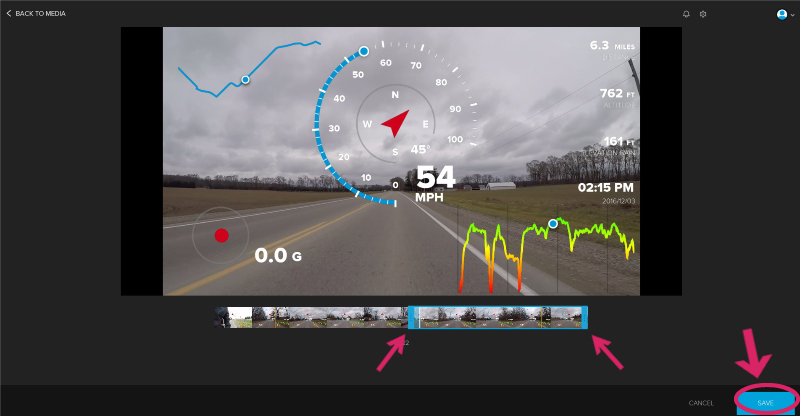 Tip: You can change from imperial to metric in the settings of the Quik App.
That is it, your GoPro Hero 5 Black videos now have GPS data gauges on them. I hope you found this tutorial on how to add GPS information to you GoPro videos helpful.