LowePro DroneGuard BP 250 Review | My 2018 Summer Adventuring Kit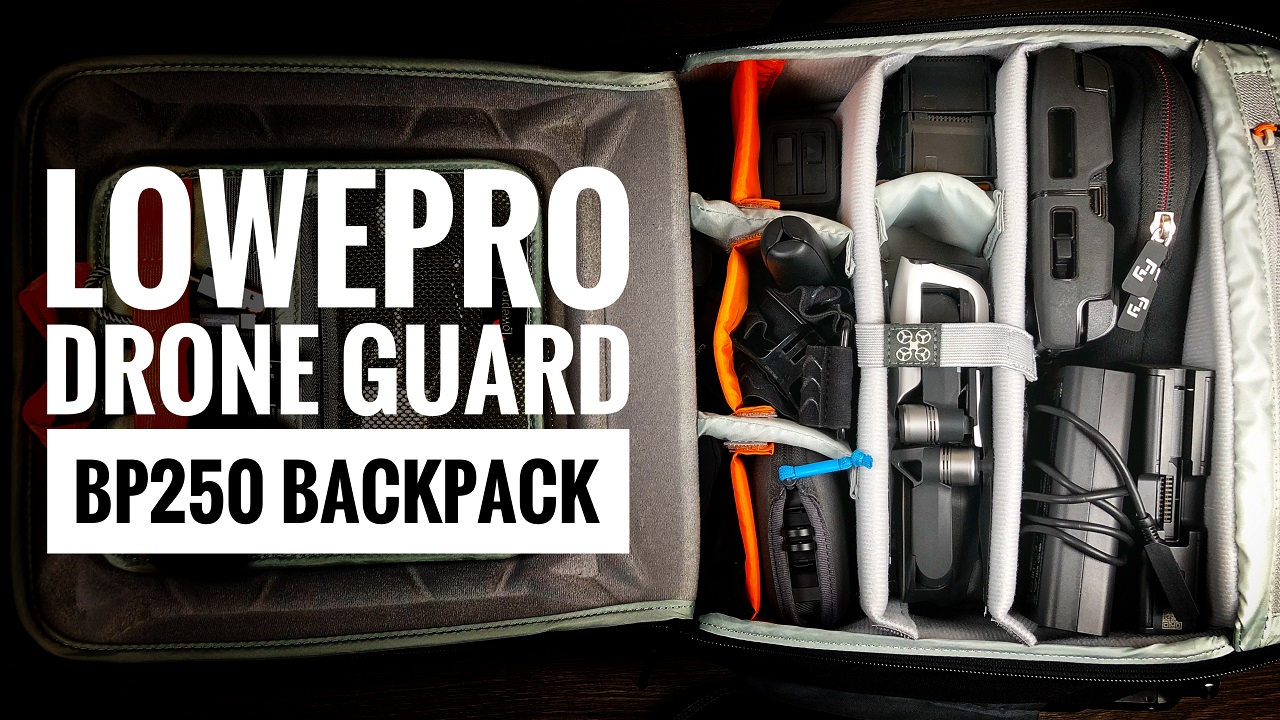 So about this time of year, we start to plan and book some of our summer excursions and at the same time, I like to get my drone/camera gear ready for our summer adventuring. This year I wanted to change the backpack I was using to something better suited to what I need. I had been using the GoPro Seeker, it's an excellent backpack but was no longer meeting my needs. What I didn't like about it was the fact that most of your gear had to be stored in the main cavity, it's quite deep and hard to access the gear that is stored in the bottom. I found myself having to empty everything to find what I was looking for. I'll still use it for short hikes and maybe family day-trips to the zoo or beach when I won't have a lot of gear to bring.
So after researching many camera/drone backpacks, I decided to go with the Lowepro DroneGuard BP 250. It's better suited for me and my gear. When the main cavity is opened, all your gear is in full view and easily accessible. The interior is fully customizable and can be configured to accommodate a variety of drones, GoPro and camera gear. The Lowepro DroneGuard BP 250 looks to be well-built and is extremely comfortable to wear which is important especially on those day-long hiking trips.
Lowepro DroneGuard BP 250: http://amzn.to/2F9XkgE
Here is our YouTube video as we go over the backpack in detail, do a quick review and show you what drone / GoPro gear I will be packing for this years summer adventuring.
Here is a list of some of the drone, GoPro and 360 camera gear I will be packing in this backpack.
Mavic Air: https://goo.gl/t74LaQ
Polar Pro Mavic Air ND Filters: http://amzn.to/2oFCPy3
Mavic Air Tablet Mount: http://amzn.to/2FbldBn
GoPro Hero 6: http://amzn.to/2GZcxh8
GoPro Hero 6 ND Filters: http://amzn.to/2F9Hm1T
GoPro Hero 6 Macro Lens: http://amzn.to/2FNXYgY
GoPro Fusion: http://amzn.to/2CWhc0P
GoPro Shorty: http://amzn.to/2FP0xQ1
GoPro Dual Charger: http://amzn.to/2F8vi0V
Rylo 360 Camera: http://amzn.to/2CXxLJF
FeiyuTech G5 Gimbal: http://amzn.to/2FRTiXy
GoPro Floating Handle: http://amzn.to/2oHI1l9
RavPower USB-C Power Bank: http://amzn.to/2FO5wAg
Joby Gorillapod: http://amzn.to/2Fn66Yd
Manfrotto Extension Pole: http://amzn.to/2oHiMPK
PolarPro Flight Deck Review | The Best Crystal Sky & Tablet Mount for DJI Drones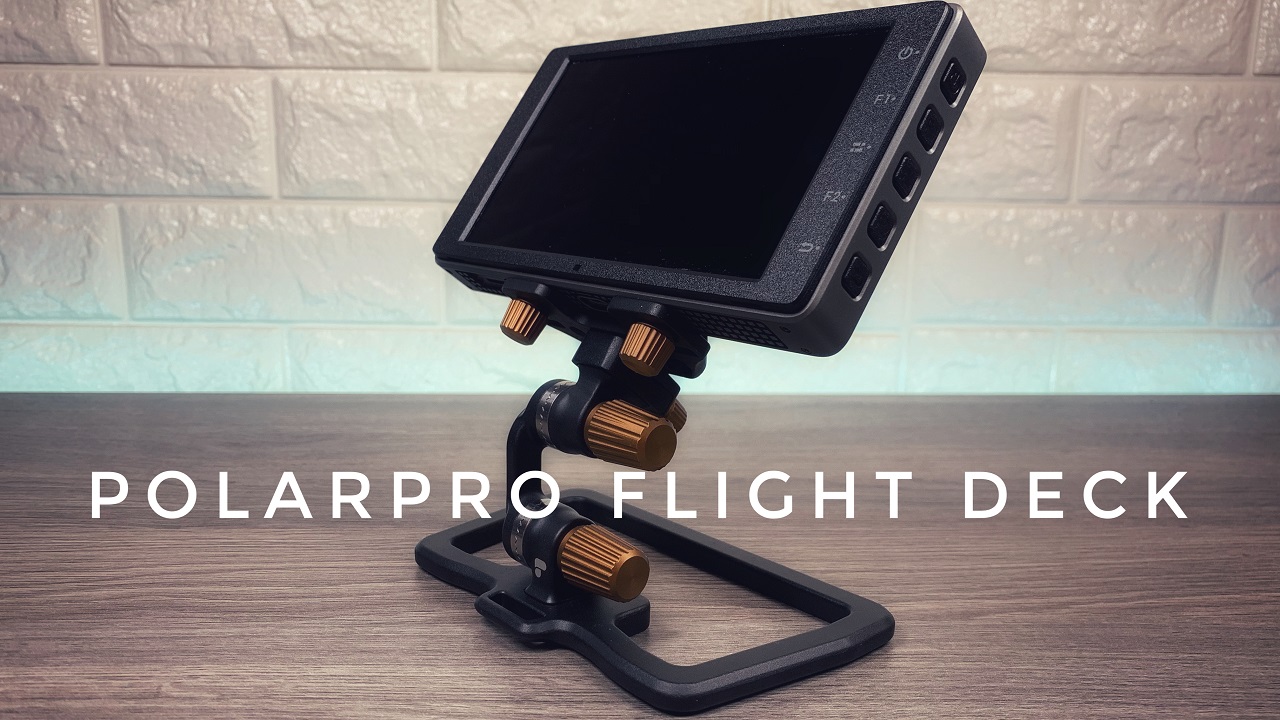 A few weeks back Polar Pro launched one of its newest products called the Flight Deck and I have been waiting for a mount like this for a very long time. Flight Deck is a system for mounting your Crystal Sky monitor in you DJI Mavic Pro/Mavic 2 and Mavic Air controller. However, with the included free tablet mount it is also a great solution for mounting tablets in the controller as well. The best part is, with its quick mount feature you can swap monitors on the fly quickly and easily with no hassle. Up until now if you wanted to fly with a Crystal Sky and a tablet or phone it meant you had to bring several types of mounts out in the field with you, not anymore!
One nice feature that PolarPro included is the removable mounting plate that is attached to the tablet mount, this allows you to remove it and attach it to any smartphone or tablet mount that you wish. This makes the Flight Deck even more versatile. The PolarPro Flight Deck is compatible with Both the 5.5 inch and 7.85 inch Crystal Sky monitors and can be mounted in the DJI Mavic 2 series, Mavic Air and the Mavic Pro/Platinum. One feature that really makes the Flight Deck stand out from other mounts is the fact that you can adjust both the height and angle of the Crystal Sky, most mounts only allow you to adjust the angle. It has a small loop at the bottom for those who like to attach a lanyard to their remote. When attaching the Crystal Sky to the Flight Deck, no screwdrivers are needed. The flight deck used thumb screws that can even be attached to itself so they won't get lost when not in use. The PolarPro Flight Deck also feature tapered edges that give the unit a much more natural feel when mounted in the controller. PolarPro states that other mounts will be introduced over time for devices such as smartphones and possibly extra large tablets, making the system even more adaptable.
PolarPro's engineers did a fantastic job in the development of the Flight Deck, a quality build, and a truly useful product. I highly recommend the Flight Deck to anyone looking for a mount for their Crystal Sky or tablet.
PolarPro Flight Deck: https://amzn.to/2W5sx9J
DJI Crystal Sky: http://bit.ly/2RYu9CX
Crystal Sky Sun Hood: http://bit.ly/2FDlArk
PolarPro Extension Remote Sticks Review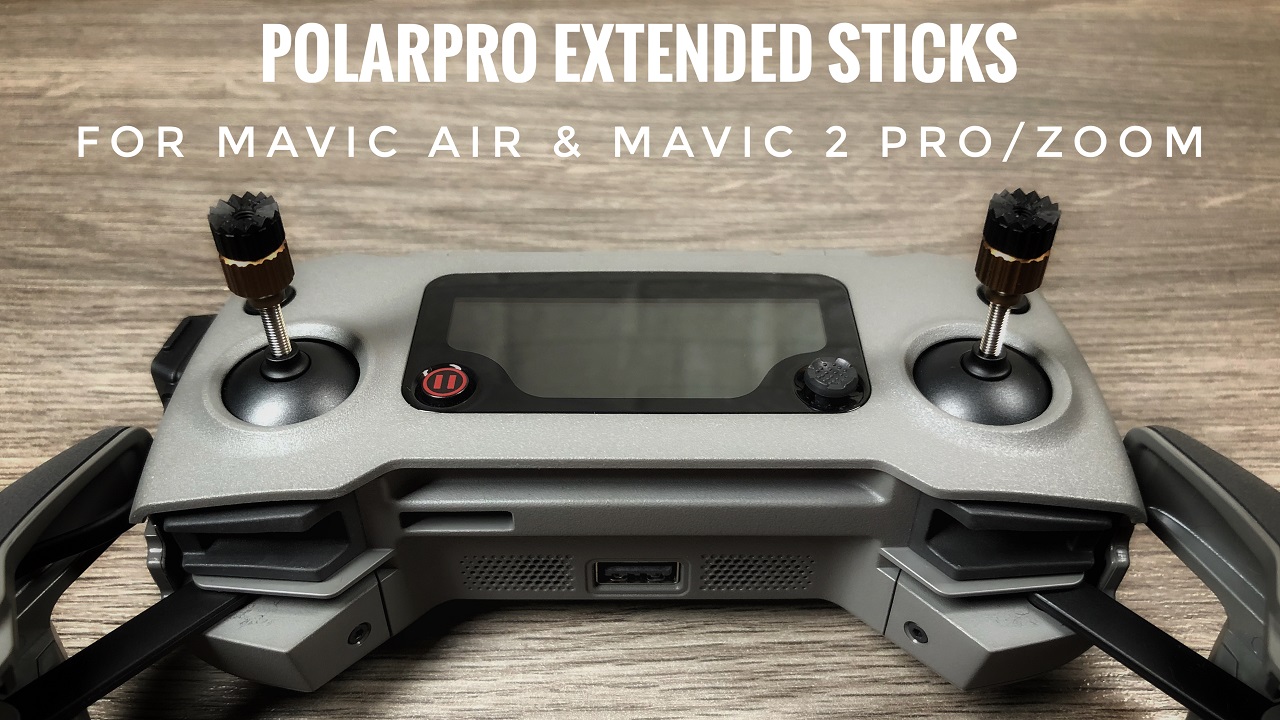 In this video review, we are taking a closer look at the remote extension sticks by PolarPro for the DJI Mavic Air and DJI Mavic 2 Pro/Zoom. When DJI introduced the original Mavic Pro they also introduced its new compact remote. In order to keep the remote small and portable, the control sticks were designed a little shorter than traditional remote sticks. This also rang true when DJI launched the DJI Spark, it also had a small remote and remote sticks. This became the new standard for DJI's portable drones. When DJI Released the Mavic Air and the Mavic 2 Pro/Zoom they stuck to the smaller remote sticks even though they could now be removed for even easier packing, this is most likely due to the fact that users are now accustomed to the shorter style remote sticks.
The problem with a shorter stick is that it does not give you the fine control as a longer stick, think back to science class and what you learned about levers. PolarPro has released an ingenious new stick for the Mavic 2 Pro/Zoom and Mavic air. This new stick comes in the same size as the stock sticks from DJI but have the added feature of extending from .75 inch to 1.25 inches. This allows you to set the length to what you feel is best for you. When the sticks are collapsed they are the exact size of the original remote sicks and thus will stow away in the Mavic Air or Mavic 2 Pro/Zoom remote.
This is a great product for those who need nice precision controls when filming very specific shots with their DJI Drones. Watch our video review to see the PolarPro DJI Mavic Air/Mavic 2 remote extension sticks in action.
Remote Extension Sticks: https://amzn.to/2Sqb8qw