How To Shoot An Epic Sunset Time-Lapse on A GoPro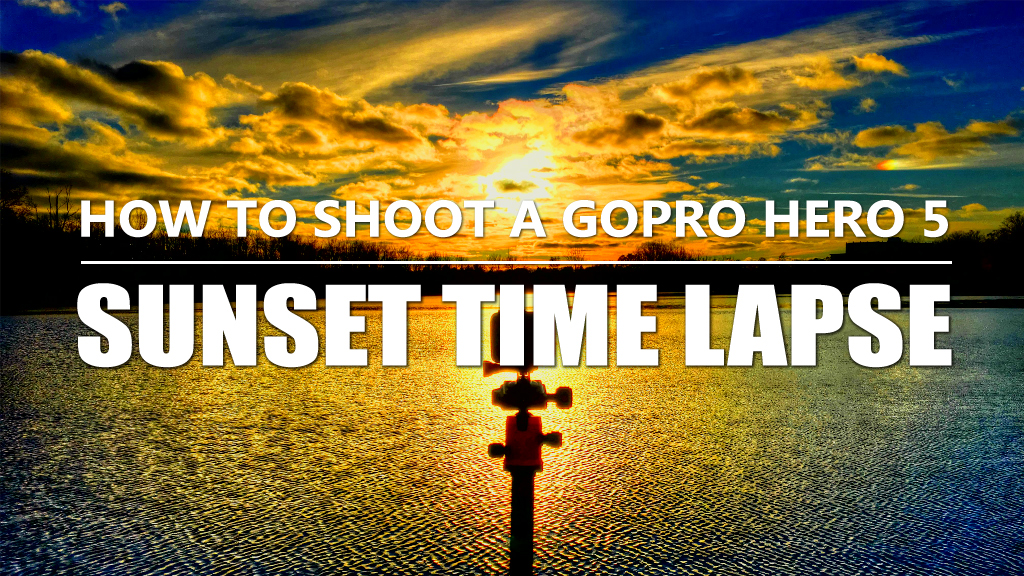 Here is a video I made a few months back going over some important tips and tricks on how to film and epic sunset time lapse on your GoPro. Feel free to comment down below if you have any questions.
When shooting a sunset timelapse with your GoPro Hero 5 there are a couple of things to keep in mind that will help you capture amazing timelapses.
Planning: Make sure you allow yourself enough time to get to your location. Allow sufficient time for travel and setup. Make sure you pack your camera gear carefully, rushing can lead to a forgot item or sloppy composition. Pay close attention to the time this is especially important when filming a sunset or sunrise time lapse. There are calculator and data sites that help you plan your sunset time lapse providing good information on sunset/sunrise times in your area. I like to pack my camera bag well in advance just so I don't in hast forget to pack an important piece of gear. This includes double checking to make sure your GoPro batteries are full charged.
Location: Try and avoid people and populated areas when possible. Nothing can be more frustrating or ruin a great shot than someone walking in your GoPro's field of view. It has happened to me several times and is sometimes just part of the possess. By choosing unpopulated areas to shoot you lessen the chance of this happening. On the other hand sometimes this can add to the shot, for example a busy beach at sunset can be visually interesting.
Composition & Clouds: Of all the tips one can offer for creating beautiful time lapses, composition tops my list. Arriving at your location a little early allows you time to survey the landscape and decide the best angels to line up your shot. At this point its all personal preference, be creative and don't be afraid to try new things. Our best teacher is trial and error. Personally I only shoot sunsets on days were the clouds are perfect, and by that I mean, not to many and not to few. Proper clouds help reflect the colors of the sunset and the movement makes it more dramatic Make sure to include lots of sky when composing your shot. Unfortunately the clouds are not always cooperative. Many times I have left to shoot a sunset time lapse with perfect cloud cover and by the time I reached my location the clouds had dissipated. Try shooting threw trees or grasses, even a nice rock in the for ground can add a nice dynamic dimension to your finished time lapse.
Duration of Shot: Allow your GoPro to capture a sufficient amount of data. Personally I like to film sunsets for about and hour and a half. This gives me a desirable length when shooting at a 5 sec interval. It allows for for more choices when editing. Its better to have to much data to work with than not enough.
Editing: To really make your final time lapse pop, some basic editing is required. There are many great paid or free applications such as GoPro Studio to help pull out the colors of the sunset and even add some zoom or pan effects, play around, be creative and most importantly…have fun!
One of my favourite aspects of shooting time lapses on my GoPro is it allows me to slow down and enjoy the moments. Life can be busy and hectic and being at a location for over an hour allows me to enjoy the beauty of nature around me, relax, maybe catch up on some reading and just catch my breath.

How To Do Text Masking On Video Footage In LumaFusion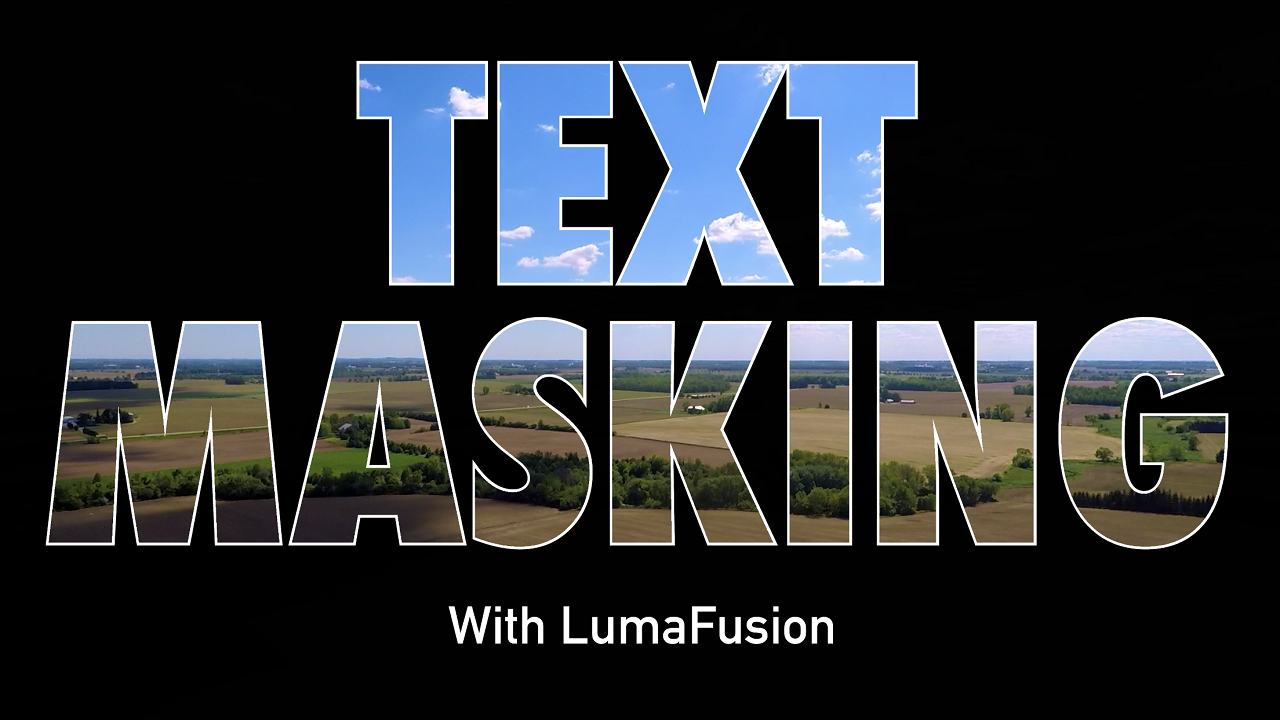 In our latest LumaFusion tutorial I show you how you can easily at text masking over video footage in LumaFusion on your iPhone or iPad. This is an easy to follow step by step tutorial and will help you take your editing to the next level. Text masking is great way to add stunning titles to your drone and GoPro footage. LumaFusion is a powerful mobile editor giving you a professional editing platform while on the go, or if you are like me and prefer to do your editing on an iPad while enjoying a coffee on a patio.
Here is a list of editing tools I use for editing 4K GoPro and drone footage on my iPad.
10.5 iPad Pro: https://amzn.to/2JyLSJt
Apple Pencil: https://amzn.to/2JvJUt3
Apple Card Reader: https://amzn.to/2I4McQD
Wireless Hard Drive: https://amzn.to/2KeDWy5
Rode VideoMic Me: https://amzn.to/2r3c9Zm
How To Use A Bluetooth Game Controller With Ryze Tello Drone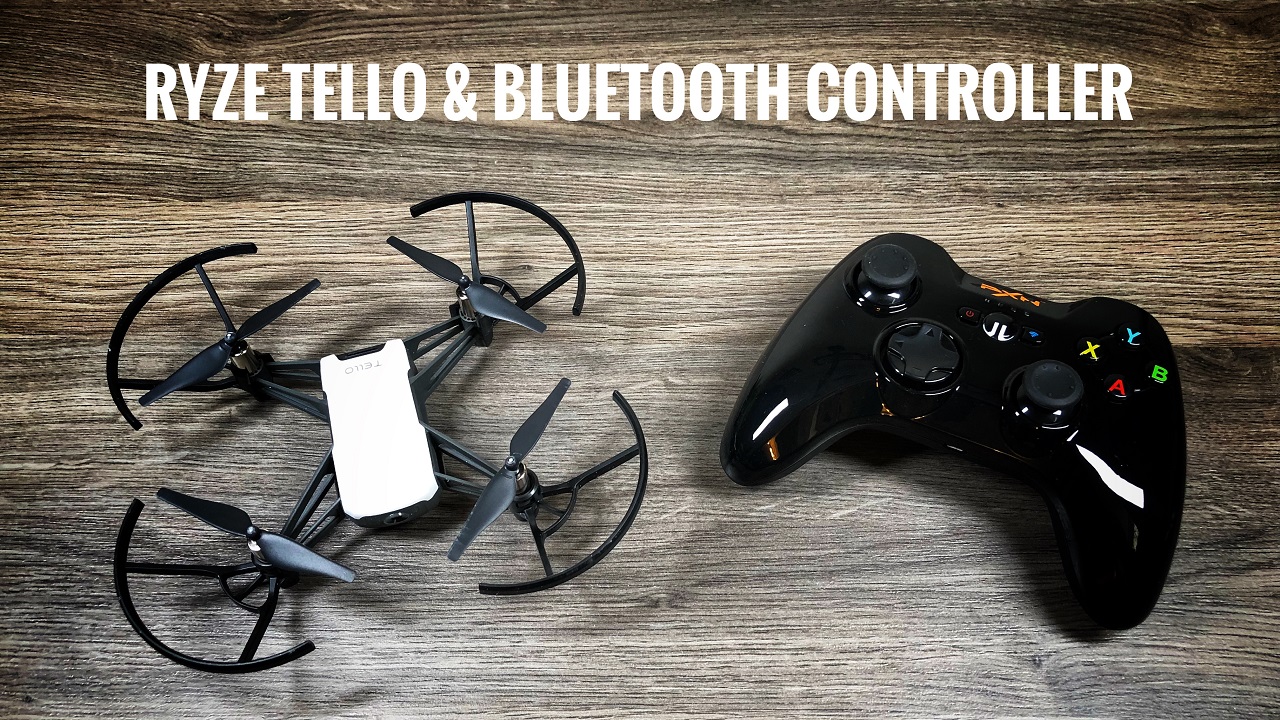 In this video I go over all the steps on how to connect, pair and use a Bluetooth game controller with the Ryze Tello drone. Ryze does not make a dedicated controller for the Tello, you can however use various game controllers to fly the Tello. These Bluetooth controllers for iOS are normally used to play games on you iPhone or iPad but they also work quite well to control some drones. Now one thing I would like to point out is that these Bluetooth controllers will not give you any extra range for your drone unlike other drones such as the DJI Spark. A Bluetooth controller is different in the fact that it does not connect directly to the drone. The controller connects to your iPhone and then the iPhone to the drone.
The controller I opted to go with is the Speedy controller by PXN. Setup is quick and easy and the controller has a nice quality build. What ever brand you go with make sure it comes with a phone mount. This is important so you can mount your phone while flying.
To set up your Bluetooth remote with your Tello Drone you will need to do the following steps.
The first thing you need to do is power on and put your controller into pairing mode. You do so by long pressing the power button for 4 seconds until the battery lights start to blink slowly. Then press the "wireless" icon beside the lights to enter into pairing mode. The lights will now blink fast to signify it has entered pairing mode.
Now you will need to pair the controller to your iPhone/iPad via Bluetooth. Open up the Bluetooth options in the settings app on your iPhone. Find the listing for the "Speedy Controller" or what ever brand you are using and click on connect. Your phone will now be paired with your Bluetooth controller. This step only needs to be done once.
At this point you can connect the Tello drone to your iPhone via WiFi as you normally do.
Launch the Tello app and that is it. The Tello app will automatically detect that there is a Bluetooth remote connected. You can go to the settings within the Tello app to view a diagram of what buttons can be used for shortcuts (see Below).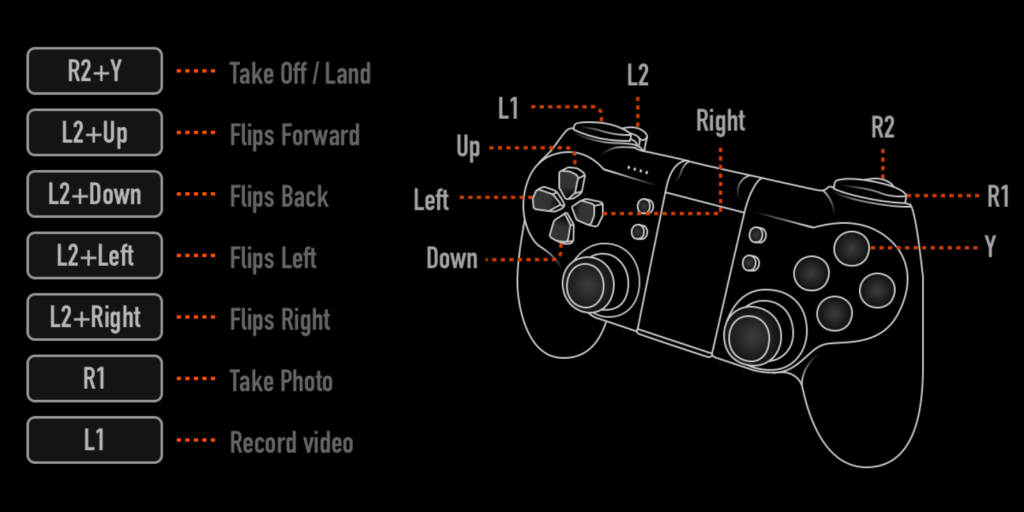 Speedy BlueTooth Controller (USA) https://amzn.to/2IjjPgm
Speedy BlueTooth Controller (CAN) https://amzn.to/2Il8sUW
Ryze Tello Drone (USA) http://amzn.to/2FqSHPH
Ryze Tello Drone (CAN) https://amzn.to/2GpbpYr
Ryze Tello Case (USA) https://amzn.to/2Inivcu
Ryze Tello Case (CAN) https://amzn.to/2GoCPJF
Here is our YouTube video demonstrating how to connect a Bluetooth game controller to the Ryze Tello Drone