PGYTech Drone & Photography Gloves Review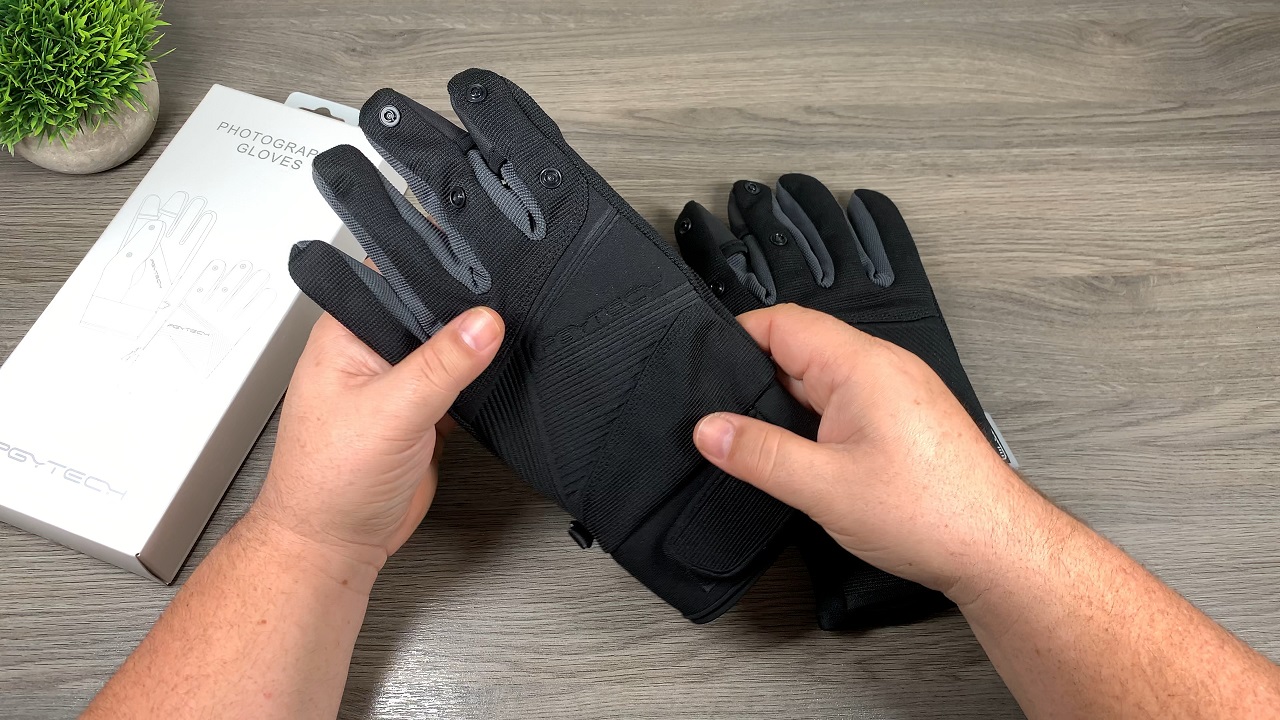 Living in a Canada and having some harsh winters as we do, you think I would have invested in a good pair of drone and photography gloves a long time ago. Surprisingly I haven't, but this year I thought I would pick up a pair and see if they would work for me. I guess I have been apprehensive about buying gloves for flying drones in the winter, just for the fact I felt they would not be practical and even as far as to say counterproductive. I felt I would not have precision control and they would just get in the way, so I just toughed through it.
This year I planned on flying more in the winter and I thought it was about time to pick up a pair a test them out. After some research, I decided to go with the PGYTech drone and photography gloves that DJI was now selling on their website. I knew I wanted a pair that were comfortable and still allow me to have fine control of my sticks. I wanted them to be decently warm, I didn't need really high warmth rated gloves just because if its more than -10 C outside I would not be flying anyways.
After testing out the PGYTech drone gloves I was pleasantly surprised at how well I could still control my drone when I was wearing them. The fold-back fingers are perfect for those precise movements and did not affect my ability to get the shot I wanted to get. They feature Thinsulate and are decently warm. Being waterproof, breathable and windproof is a nice bonus as well. I would definitely recommend these gloves to anyone looking for a pair, they come in at a decent price compared to similar photography and drone gloves. You can watch my YouTube video review below.
PGYTech Drone Glove (DJI) http://bit.ly/2MQ1hHW
PGYTech Drone Glove (Amazon) https://amzn.to/2MW1MAw
DJI Crystal Sky Waypoints 2.0 Firmware Update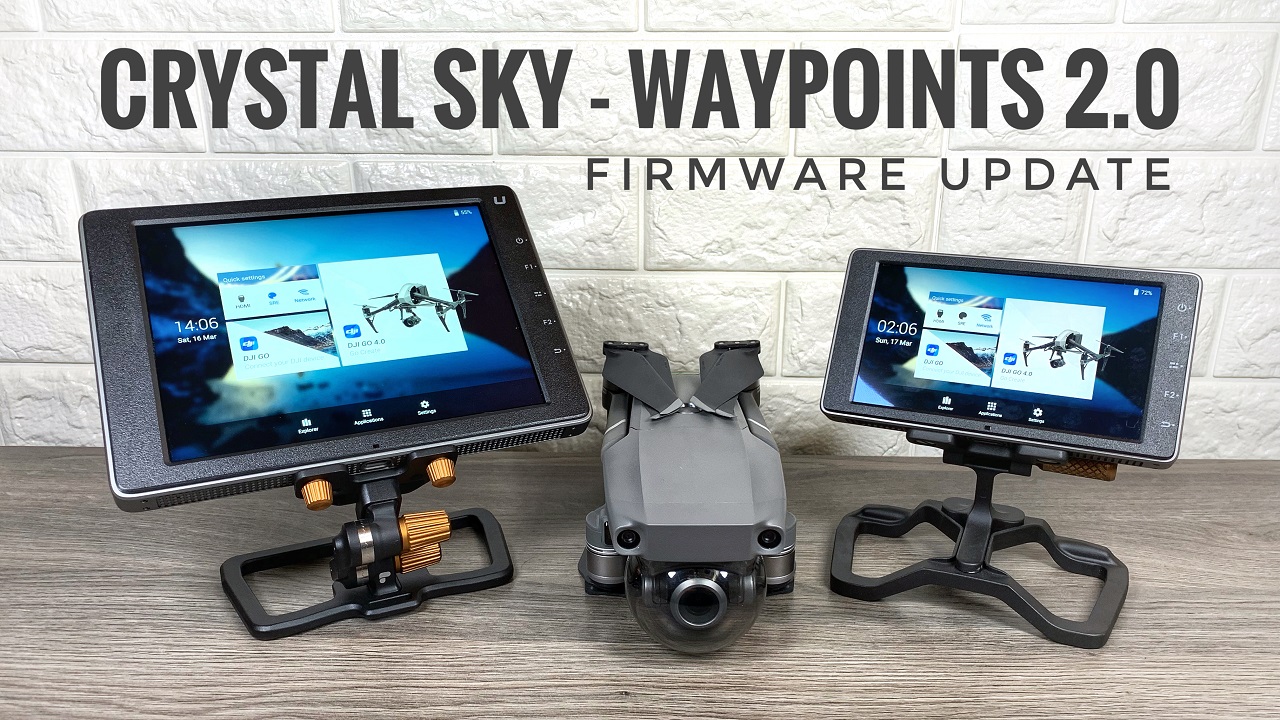 A few days ago DJI released a new firmware update for the Crystal Sky that brought support for waypoints 2.0. Many users of the Crystal Sky have been patiently waiting for this new feature that was first introduced for the Mavic 2 Pro and Zoom well over a month ago. Waypoints 2.0 has been available for smartphone or tablet uses and even owners of the new Smart Controller for quite some time, unfortunately, the Waypoints update for the DJI Go4 app was not available for Crystal Sky users until a few days ago and this did not sit well with many Crystal Sky owners.  When you pay premium prices for a high-end device such as the Crystal Sky you would think DJI would make updates for it a priority. This has been a common issue with Crystal Sky so far, hopefully going forward updates will be released in a more timely manner.
Waypoints 2.0 is a Go4 app update only, not a complete system update. To update your DJI Go4 app to get the new Waypoints 2.0 update simply launch DJI Go 4. Navigate to settings and click on "Check For Updates". You should then be prompted to install the new update. You can watch my video were I demonstrate Waypoints 2.0 running on the DJI Crystal Sky.
DJI Crystal Sky: http://bit.ly/2RYu9CX
Charging The DJI Smart Controller With A Power Bank While Flying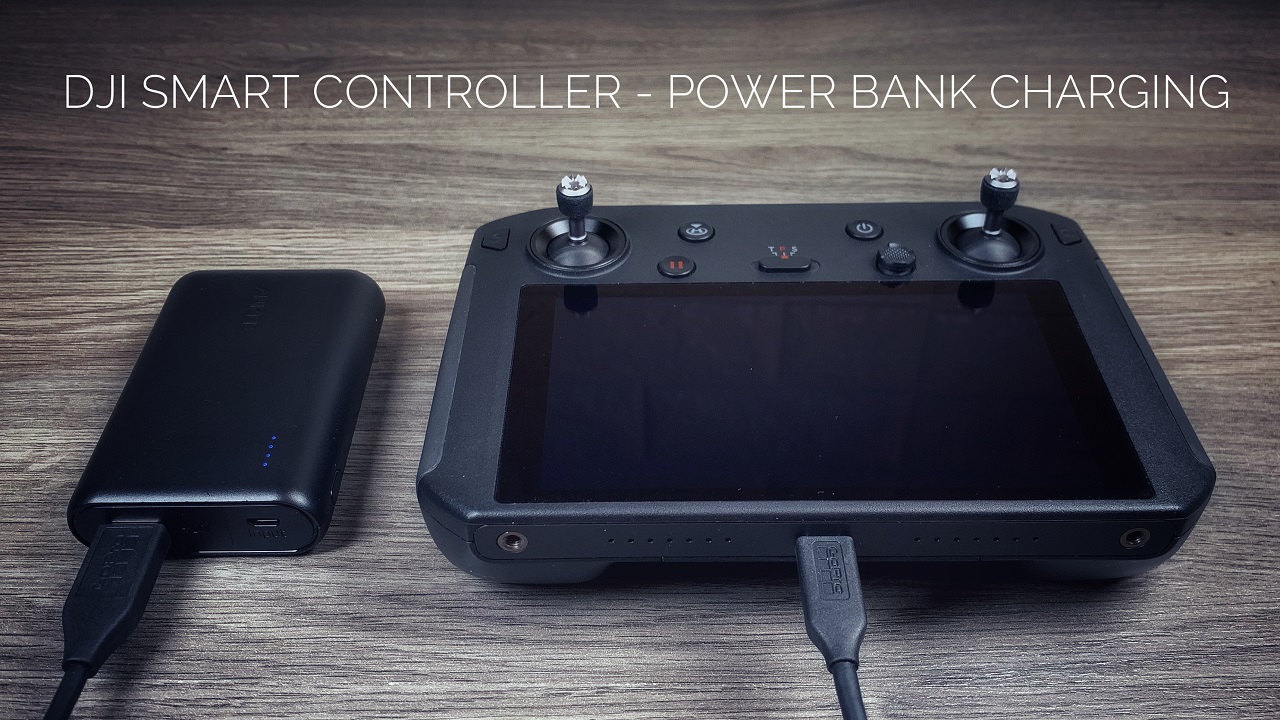 Here is a quick tip for those who have purchased the DJI Smart Controller. You can charge it via a power bank even while flying your drone. We have all done it, head out to fly and we have charged all our drone batteries only to arrive at our flight location to realize we forgot to charge the controller. Or perhaps you have been flying all day and your battery level on the controller is starting to get low but you want to get one more flight in. With The DJI Smart controller, you can plug a power bank into the bottom USB-C port and charge the remote even while you continue to fly. The Smart Controller supports fast charging with the stock charger, when charging via a power bank it will charge at a slower rate but enough to keep you flying or get you back up in the air. Using a small power bank such as the Anker 10,000 Mah with a 6′ charging cable allows you to conveniently place the power bank in your pocket while attached to your controller. During my unboxing video of the DJI Smart Controller, I even mention that DJI could potentially release a battery pack addon for the smart controller that connects to the bottom and would work in a similar fashion. You can watch me demonstrate charging the DJI Smart Controller with a power bank while I power on the DJI Mavic 2.
DJI Smart Controller: http://bit.ly/2FViHlU
Small Anker Power Bank: https://amzn.to/2u7P8FZ