How To Use A Bluetooth Game Controller With Ryze Tello Drone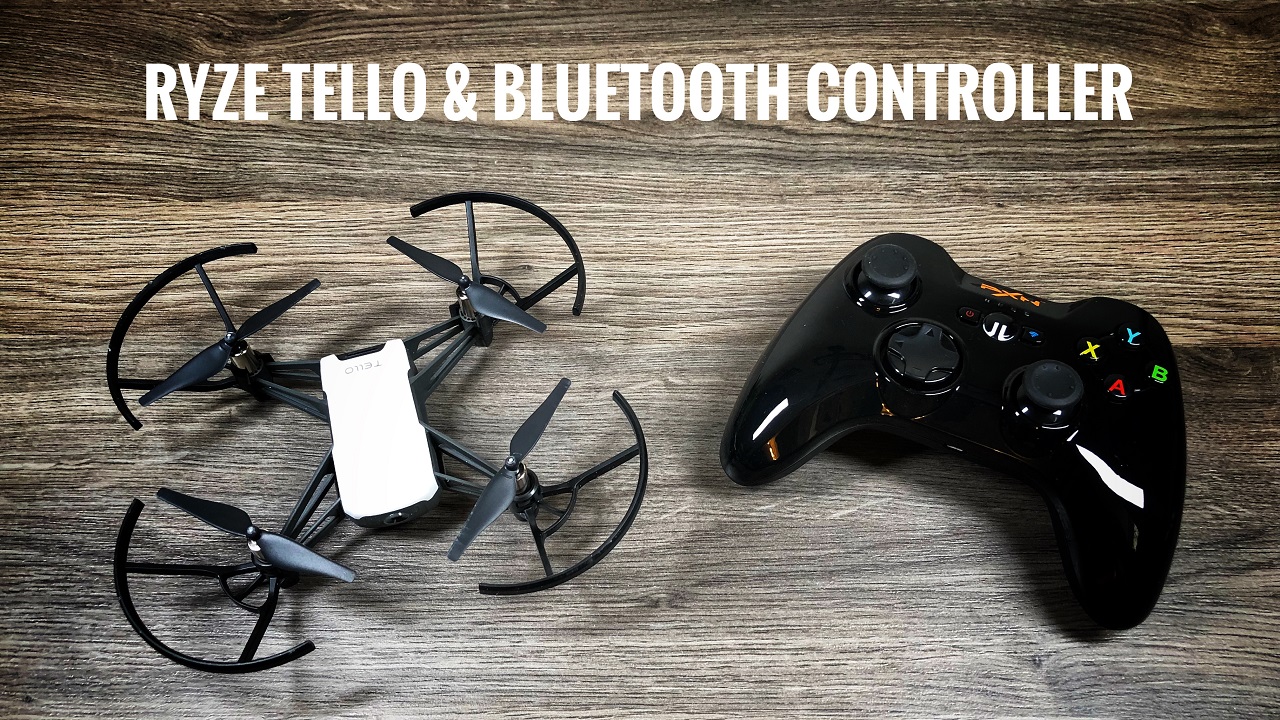 In this video, I go over all the steps on how to connect, pair and use a Bluetooth game controller with the Ryze Tello drone. Ryze does not make a dedicated controller for the Tello, you can, however, use various game controllers to fly the Tello. These Bluetooth controllers for iOS are normally used to play games on your iPhone or iPad but they also work quite well to control some drones. Now one thing I would like to point out is that these Bluetooth controllers will not give you any extra range for your drone unlike other drones such as the DJI Spark. A Bluetooth controller is different in the fact that it does not connect directly to the drone. The controller connects to your iPhone and then the iPhone to the drone.
The controller I opted to go with is the Speedy controller by PXN. Setup is quick and easy and the controller has a nice quality build. Whatever brand you go with make sure it comes with a phone mount. This is important so you can mount your phone while flying.
To set up your Bluetooth remote with your Tello Drone you will need to do the following steps.
The first thing you need to do is power on and put your controller into pairing mode. You do so by long pressing the power button for 4 seconds until the battery lights start to blink slowly. Then press the "wireless" icon beside the lights to enter into pairing mode. The lights will now blink fast to signify it has entered pairing mode.
Now you will need to pair the controller to your iPhone/iPad via Bluetooth. Open up the Bluetooth options in the settings app on your iPhone. Find the listing for the "Speedy Controller" or whatever brand you are using and click on connect. Your phone will now be paired with your Bluetooth controller. This step only needs to be done once.
At this point, you can connect the Tello drone to your iPhone via WiFi as you normally do.
Launch the Tello app and that is it. The Tello app will automatically detect that there is a Bluetooth remote connected. You can go to the settings within the Tello app to view a diagram of what buttons can be used for shortcuts (see Below).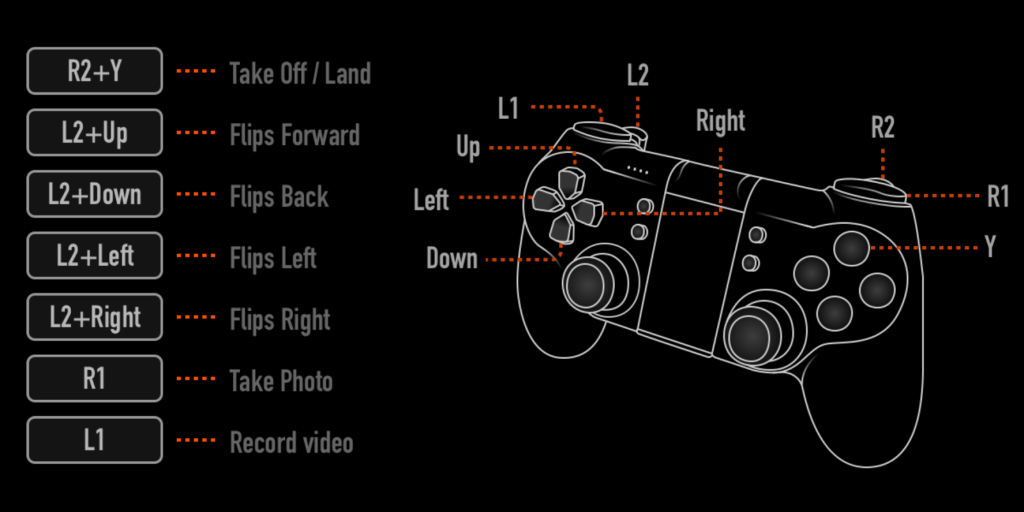 Speedy BlueTooth Controller (USA) https://amzn.to/2IjjPgm
Speedy BlueTooth Controller (CAN) https://amzn.to/2Il8sUW
Ryze Tello Drone (USA) http://amzn.to/2FqSHPH
Ryze Tello Drone (CAN) https://amzn.to/2GpbpYr
Ryze Tello Case (USA) https://amzn.to/2Inivcu
Ryze Tello Case (CAN) https://amzn.to/2GoCPJF
Here is our YouTube video demonstrating how to connect a Bluetooth game controller to the Ryze Tello Drone
DJI Mavic 2 Pro/Zoom Foldable Landing Gear | PolarPro Versus CamKix, Which One Is The Better Buy?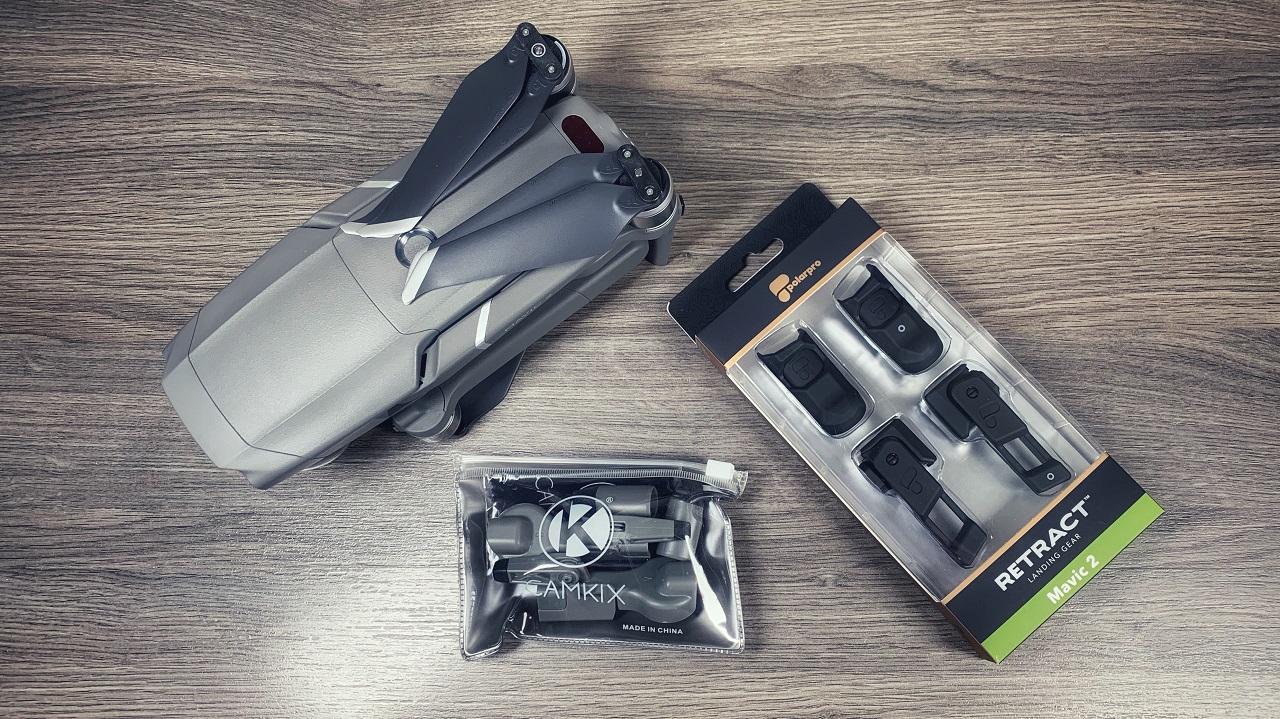 In this video, we are doing a comparison of two popular foldable landing gear sets for the DJI Mavic 2 Series one from PolarPro and one from CamKix. These retractable folding landing gear extensions allow you to get some extra height from you drone when sitting on the ground before takeoff or landing. They help in keeping the props and gimbal/cameras out of grass, gravel, and debris. These landing gear sets both fold up and retract allowing you to still fold up you Mavic 2 drone without having to remove the landing gear when you pack it away.
There is quite a price difference between the two sets, the PolarPro set comes in at $29 and the CamKix set comes in at $13 and it is quite apparent in the build quality. The "PolarPro Retract" landing gear is made of a nice rubberized plastic while the CamKix Mavic 2 landing gear seems to be made of cheaper plastic, it looks and feels cheap when holding them. The PolarPro landing gear set just really seem to have a more premium feel to them.
CamKix Mavic 2 Foldable Landing Gear
I first tested the CamKix landing gear set and one thing I noticed right away is that there were no installation instructions or diagrams, not a big issue though as I was able to figure it out pretty quickly. They went on easily and felt secure when installed. They give the drone about an extra 3/4 inch lift when installed. I noticed when installed, the Mavic 2's natural slope was gone. The landing gear made the drone almost level and not have a slight angle like it normally does when getting ready to take off from the ground. I am not sure if this could affect the flight, I did not have any issues during a test flight but it could possibly mess up calibration at some point, however that is just a guess. I tested the folding feature and noticed that the Mavic 2 arms would not fold in as easily as they normally would and there was some contact of the landing gear against the Mavic 2 body. This contact was leaving some marks on the Mavic 2 and over time I am sure would leave quite a few scratches. All in all, I was not terribly impressed with the way the Mavic 2 drone folded up with the CamKix landing gear installed.
PolarPro Retract Foldable Landing Gear for Mavic 2
Next, I tested out the PolarPro foldable landing gear for the Mavic 2 series and right away I was impressed by the detailed instructions that came with the unit, not only did it offer easy to follow instructions the landing gear itself had markings so you knew which side of the aircraft it should attach to. They installed easily and felt secure when attached. When folding up the drone I was quite happy with the way the arms of the drone. The landing gear has soft rubber on the straps and this will not damage the aircraft, unlike the CamKix version. When installed, the Mavic 2 gets approximately an extra 1 1/2 inches of extra clearance and retains its natural sloped profile when taking off.
My preferred Landing Gear for Mavic 2 Pro and Zoom
After taking all things into consideration I feel the Polar Pro landing gear set for the Mavic 2 Pro/Zoom is the better choice. You get higher clearance, the drone maintains its natural slope, it folds up nicer and the landing gear will not cause any cosmetic damage to you Mavic 2 when folding it up for storage.
PolarPro Landing Gear (USA) https://amzn.to/2RjOt1W
PolarPro Landing Gear (CAN) https://amzn.to/2M6Vrl0
CamKix Landing Gear (USA) https://amzn.to/2VN9aSO
CamKix Landing Gear (CAN) https://amzn.to/2H6KnWh
GoPro Selling $299 Refurbished Karma Drones | What Condition Are They In?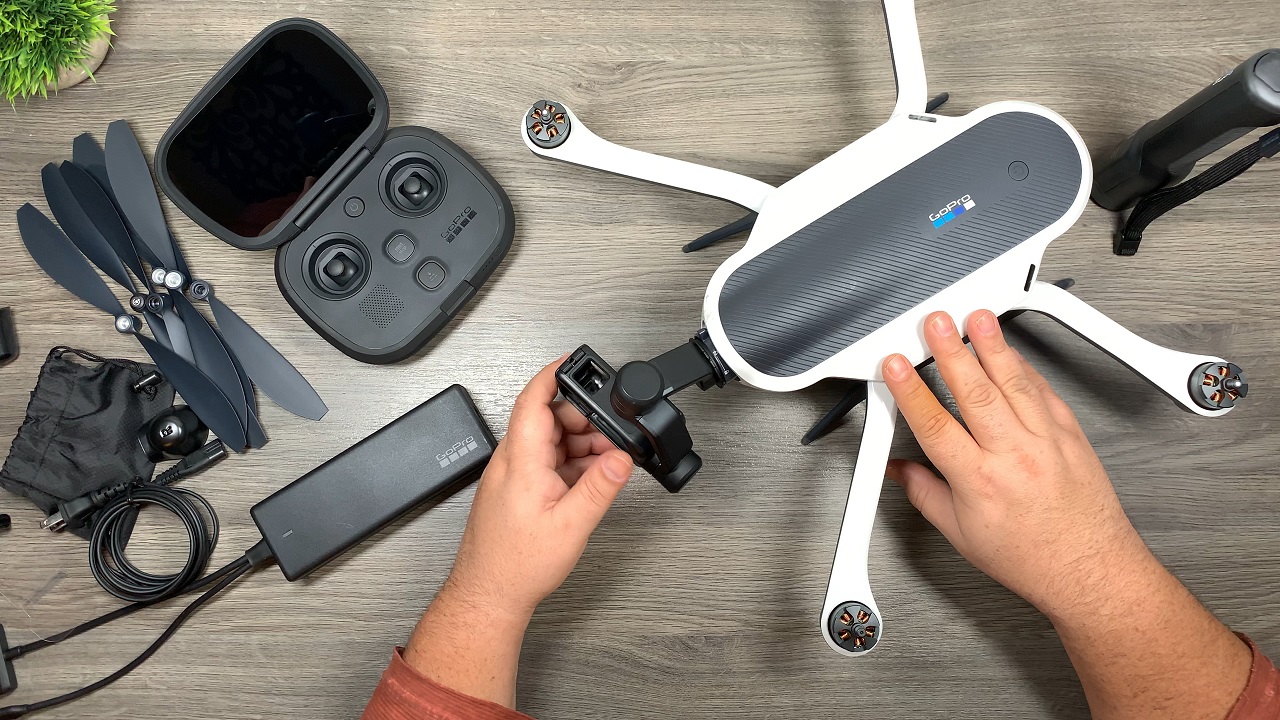 Right now GoPro has a sale on their refurbished Karma Drones which means you can pick up a complete Karma system for $299 U.S. minus the GoPro camera. The Karma is compatible with the Hero 5/6/7 Black. This is an amazing deal considering the Karma stabilizer is $299 by itself, at this rate you are basically getting the drone, controller, and accessories for free. I was very curious to see what condition a $299 refurbished karma drone would be in so I ordered on in so I could check them out. With refurbished units sometimes you never know what you are going to get, however, the GoPro website states that all refurbished Karma Drones are thoroughly tested and certified. They also state that the drones may have minor cosmetic flaws such as scratches or nicks.
Upon inspection of my refurbish Karma Drone I was quite surprised on the condition it was in, for the most part, everything looked brand new, a few minor marks on the plastic but I think that could just be from handling during the recertification testing. There was some sticky residue on the Karma body I think from maybe a sticker, perhaps identification and information that was attached to the unit when it was sent in to be refurbished.
Even though by today's standards the Karma is out of date and lacking many features such as obstacle avoidance, the Karma is a fun drone to fly and you can capture some amazing content with it. If you already own a Karma grabbing it at this price might be a good idea even if only for a backup or parts. Watch our YouTube video as we unbox and examine this $299 refurbished Karma Drone.
Refurbished Karma Drone: http://bit.ly/2ABnLrg